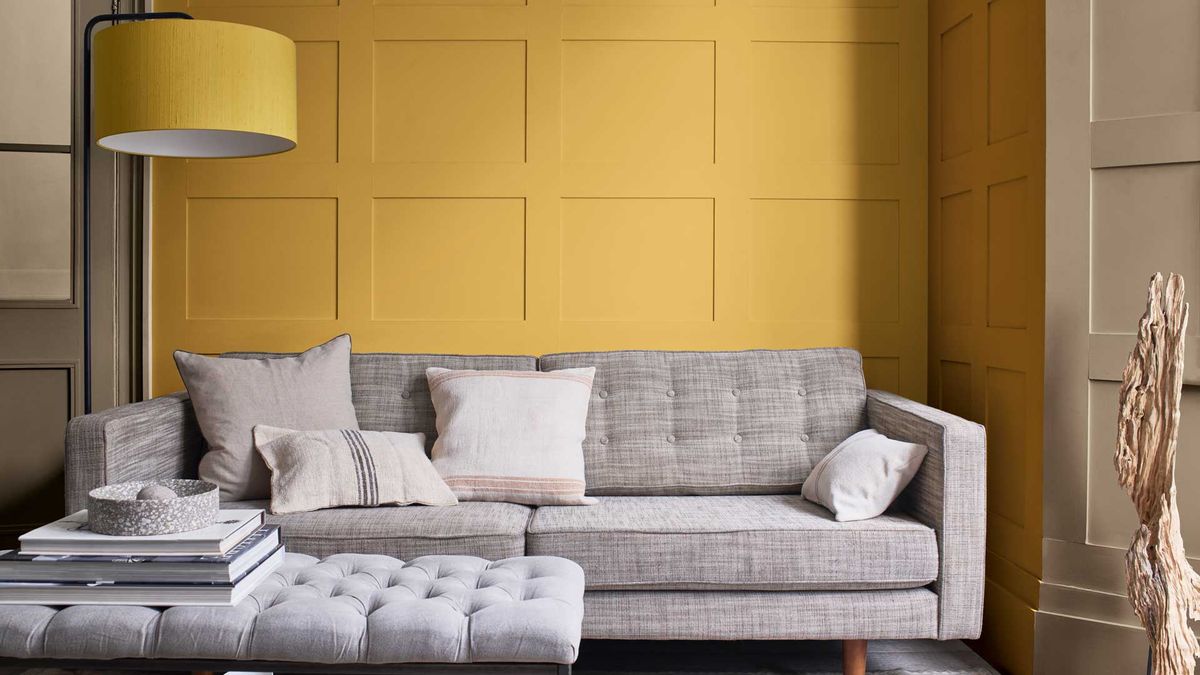 We've spotted a crop of cool yellow living room ideas – and it's clear this spectrum of golden shades is having its moment in the, erm, sun light. 
With tastemakers and designers from Suzy Hoodless and Lucy Barlow to Tricia Guild and Matthew Williamson stylishly splashing yellow into their living rooms and design schemes, more of us are taking a shine to this joyful hue. 
This had started before the world took a turn for the worse, but with its warm, energetic and optimistic overtones, unsurprisingly, the yearning for yellow has gathered pace.
It also coincides with colour authority, Pantone releasing its Colours of the Year 2021, 'Ultimate Grey' and 'Illuminating Yellow' and the slew of stylish furniture and accessories that followed to suit yellow and grey living rooms. 
Forget play school primary tones, these yellow modern living room ideas are all about bursts of rich ochre through to zingy citrus and the palest sherbet shades, delivered boldly and beautifully. 
Want to know how to get yellow right? Read on to see how the design world does it. 
EARTHY TONES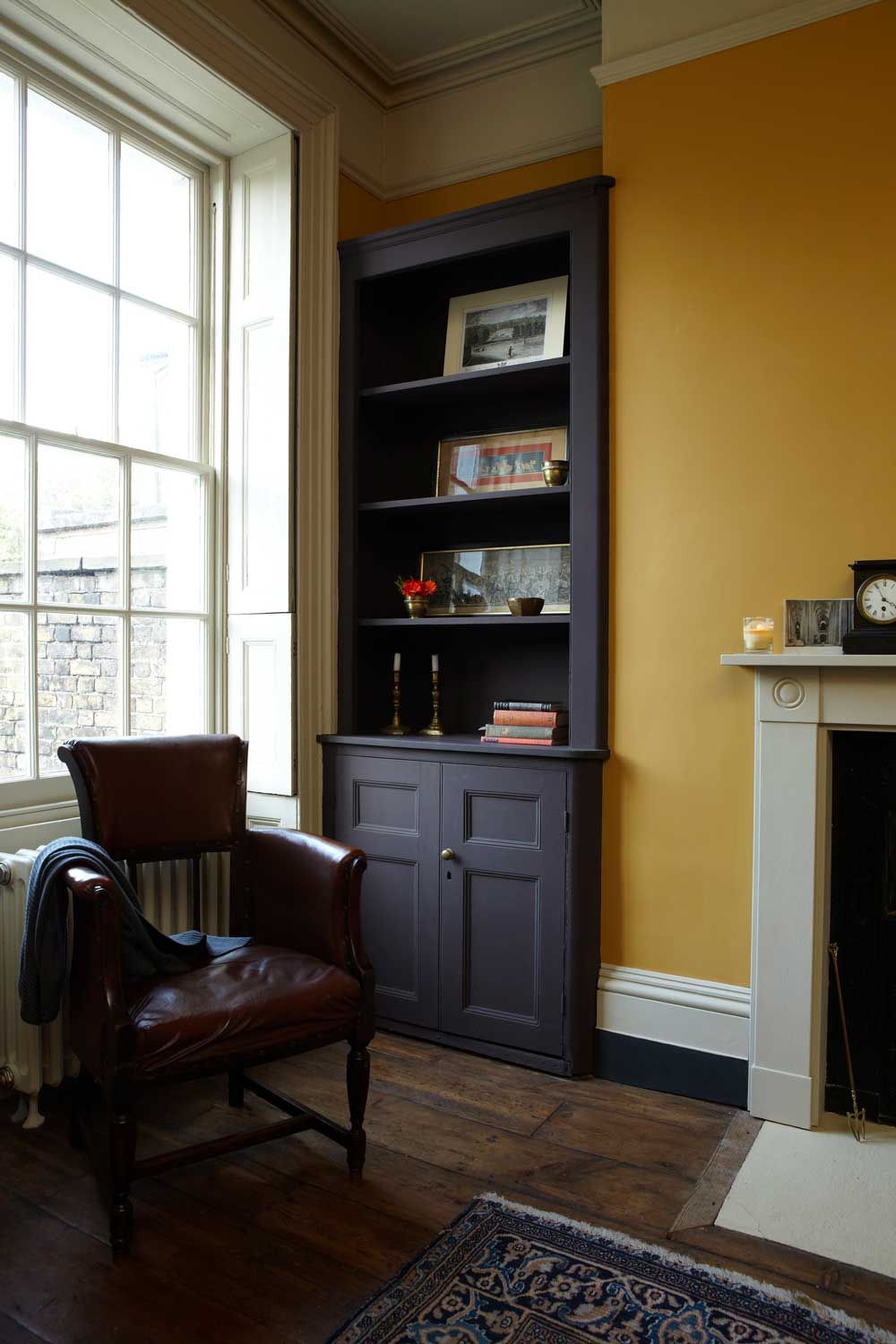 India Yellow, Farrow & Ball
(Image credit: Farrow & Ball)
"Yellow is the ideal colour to use in a living room, because although it can sometimes appear raw in bright light, if the right tone is used in the right space it can feel uplifting during the day and then have a magic glow at night," says Joa Studholme, Farrow & Ball, Colour Curator. 
"Clean yellows like Citron or Babouche are perceived as sunshine and feel vibrant and stimulating, filling rooms with energy especially when used on window reveals and combined with 'white' woodwork. 
In the more contemporary home earthier yellows like India Yellow used on both walls and woodwork create the ultimate in relaxed warm rooms that contribute to our wellbeing. India Yellow has a modern strength despite its aged appearance and is the perfect colour for 2021 – especially when used on walls and ceiling combined with rich Tanners Brown on woodwork for a look firmly planted in the natural world."
BALANCE WITH NEUTRALS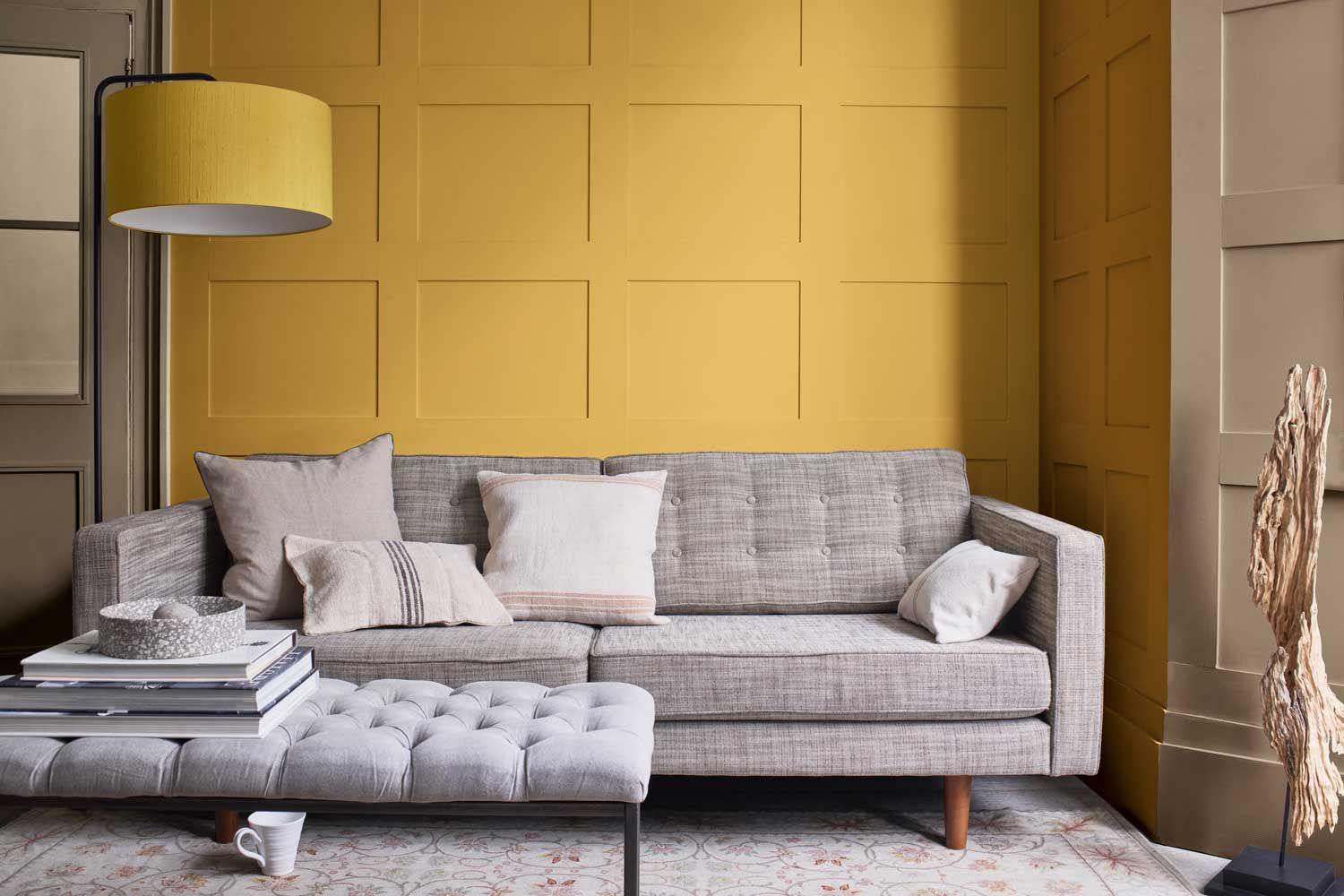 (Image credit: Dulux)
"Shades of yellow and ochre balanced with neutrals, such as Dulux' Colour of the Year, Brave Ground, can help create a classic contemporary backdrop that will work with any mix of furniture, and that won't date," says Marianne Shillingford, Creative Director, Dulux."
ELEGANT DETAILS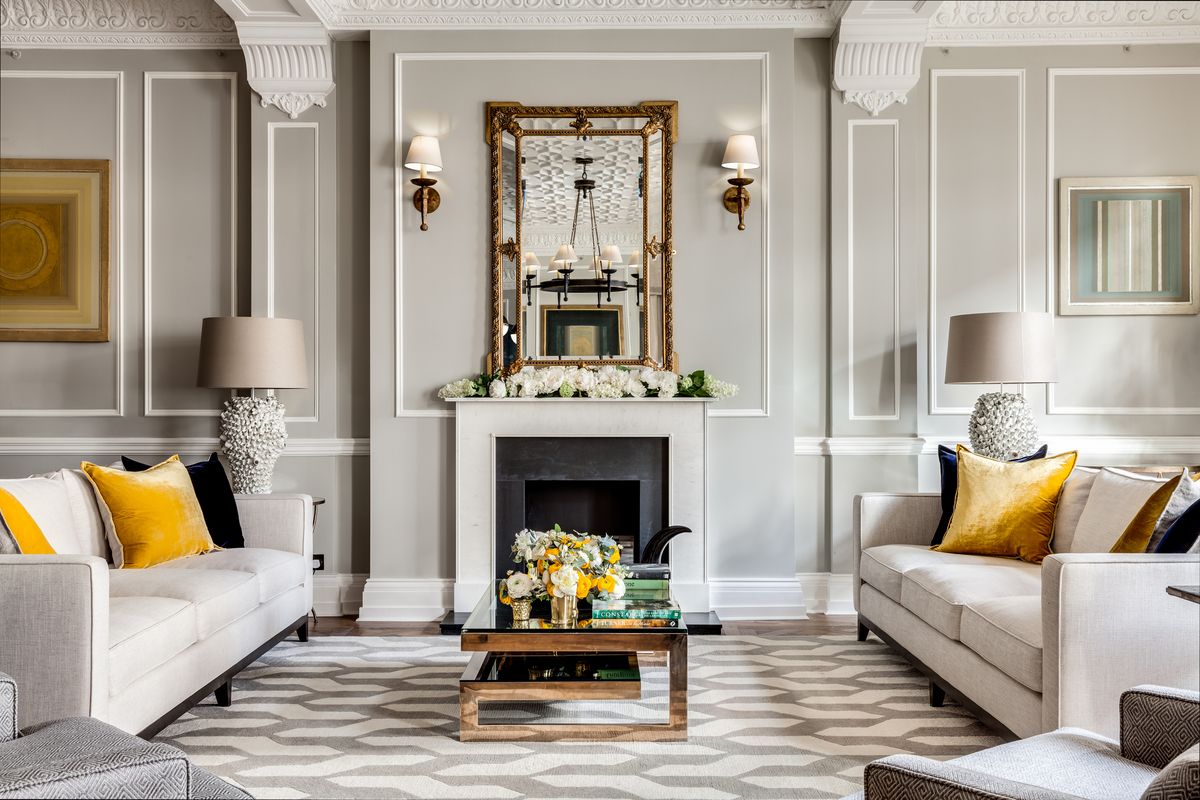 (Image credit: Barlow & Barlow)
Introducing a new colour doesn't mean a total overhaul though, a subtle hint can work well too. Here Lucy Barlow of design studio, Barlow & Barlow has enlivened an elegant neutral scheme with splashes of gold, brass and buttercup yellow cushions.  
BACK TO NATURE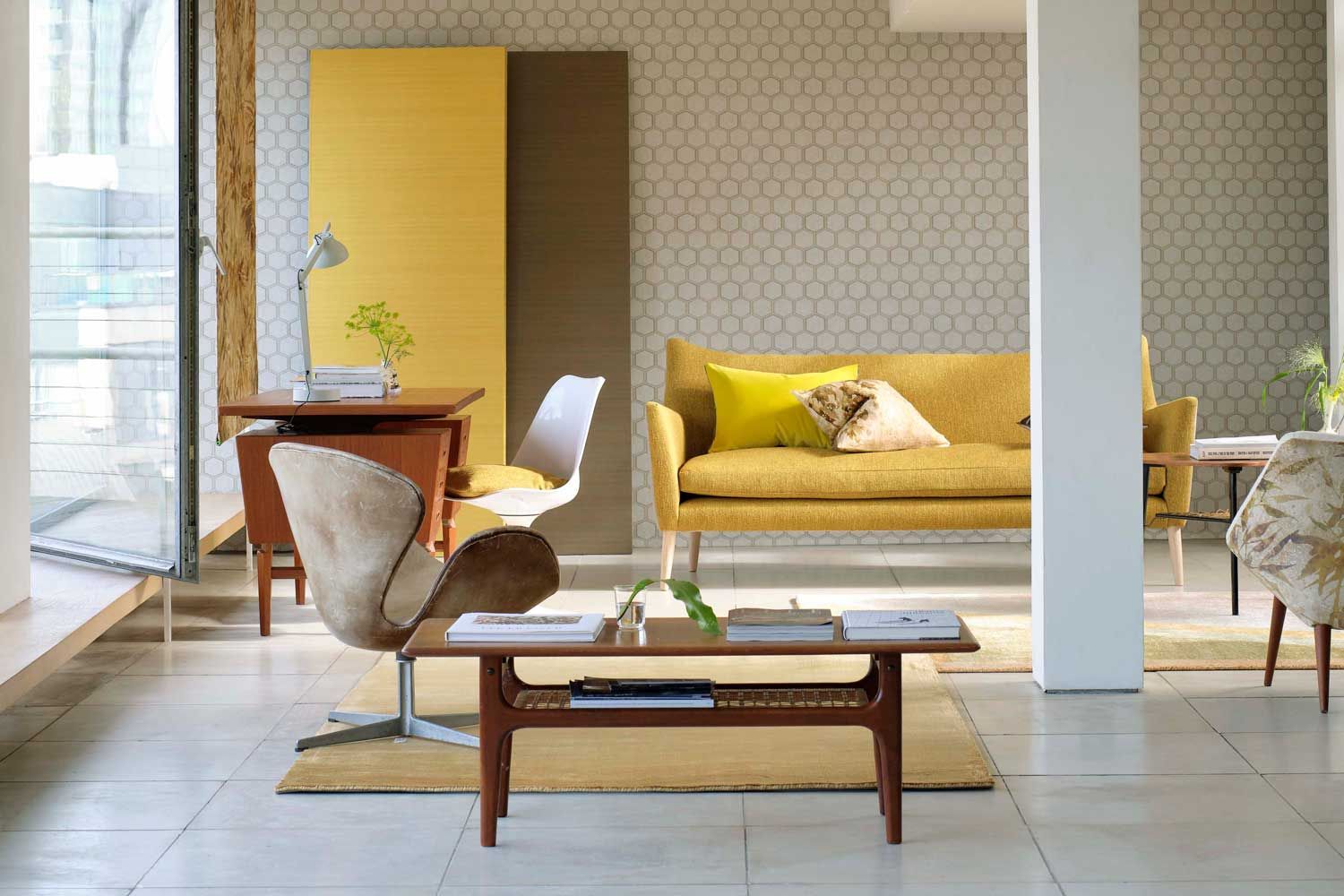 (Image credit: Designers Guild)
"Delicate, poetic or vibrantly zingy – decorating with yellow can deliver a dash of optimism and joy to your space. These warming hues open the door to a new perspective to our palette, that brings a modern twist to what is typically referred to as a retro mood," says Tricia Guild, OBE. Founder & Creative Director, Designers Guild
"We especially love the golden glow of our 'Shore Lichen 'paint shade from our Earth Tones range – with cool undertones this soft rich ochre looks wonderful with greys and sepia tones for a sophisticated, contemporary look. Inspired by the soothing beauty of the natural world – many are looking to nature, more than ever and are inspired by shades of lichen, smoky mushroom and ochre to offer a natural warmth and richness."
RICH ACCENTS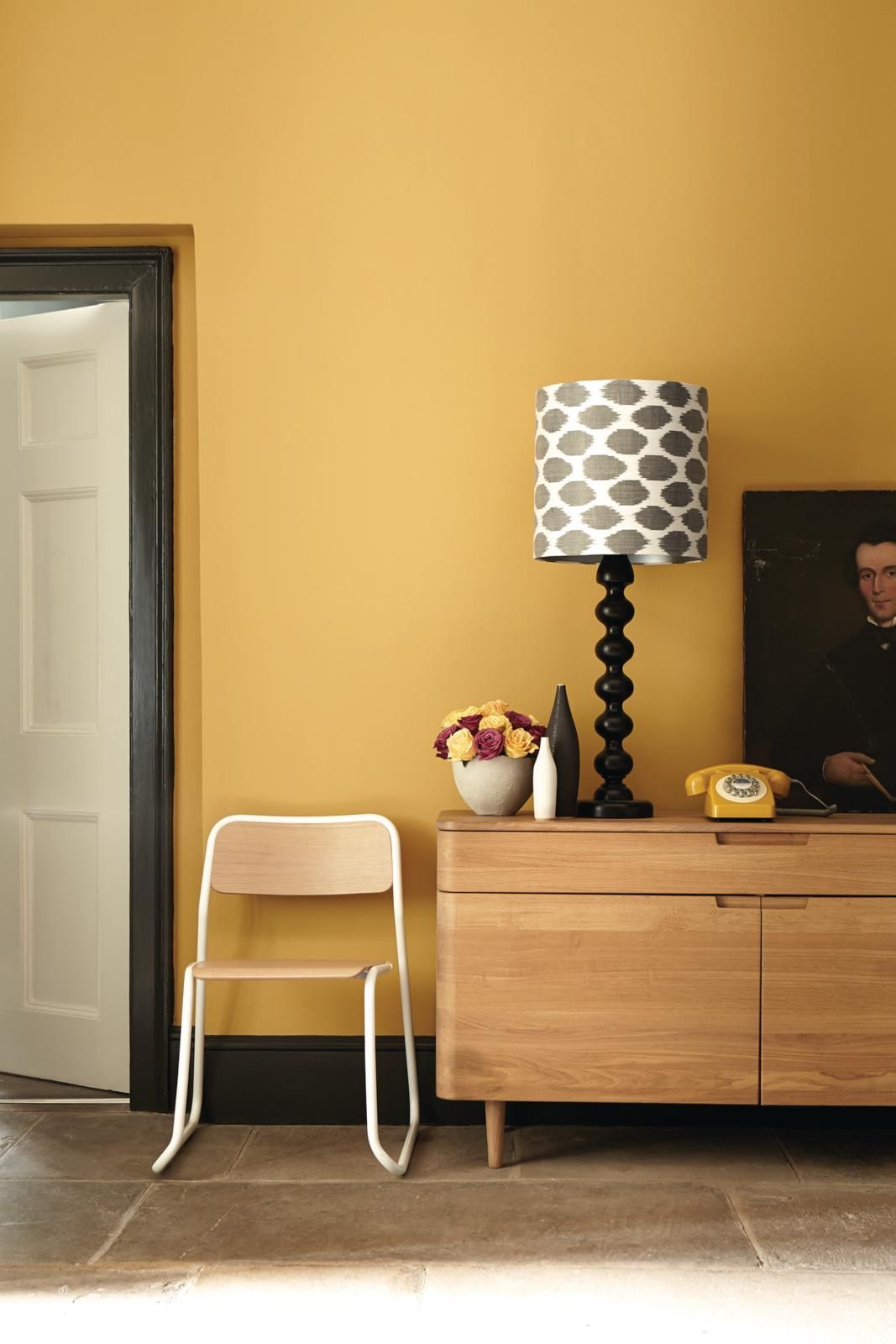 (Image credit: Little Greene)
If yellow seems overpowering, ground it by teaming it with accents of black or chocolate brown for a sophisticated look that will appeal to classicists and mid-century modernists alike. In this room the bold ochre walls are tempered with dark architraves and skirting boards.
'Ochre can come into its own in darker spaces,' says Lucy St George, co-founder of Rockett St George. 'It adds a happy glow to any room and is perfect for north-facing rooms that need to bring their own sunshine'. 
BE BOLD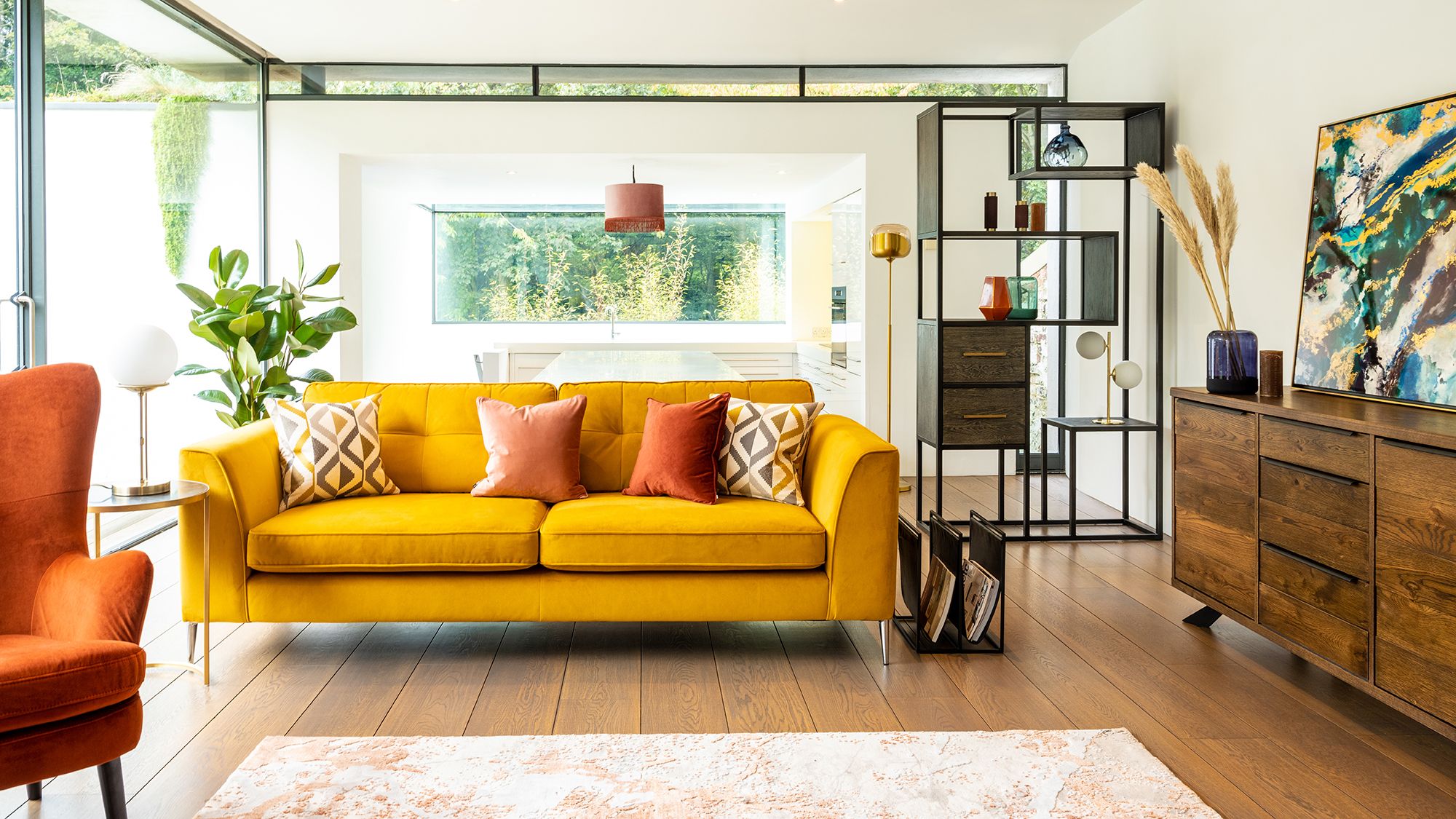 Conza Large Sofa, from £1,269, Miro Shelving Unit With Drawers, £939, Vincenti Side Table, £179; all Barker & Stonehouse
(Image credit: Barker & Stonehouse)
"In terms of sheer joyfulness, no hue can quite rival yellow and it will instantly add life and vitality to a space," says Claire Hornby, Head of Creative at Barker & Stonehouse. 
"When it comes to creating a living room scheme, I would always recommend picking an array of tonal shades and textures to create variation and tactility, especially if you have a strong block of one colour in the form of a sofa or chair. This can be easily achieved using a mix of soft furnishings such as cushions, throws and rugs.
Natural materials, such as rattan and cane, pair beautifully with yellow tones, as do warm shades of terracotta and rich walnut browns. For a finishing touch, oversized house plants or cacti will bring a cool, Californian-living vibe to your space, even if it doesn't feel like that outdoors!".
KEEP IT LIGHT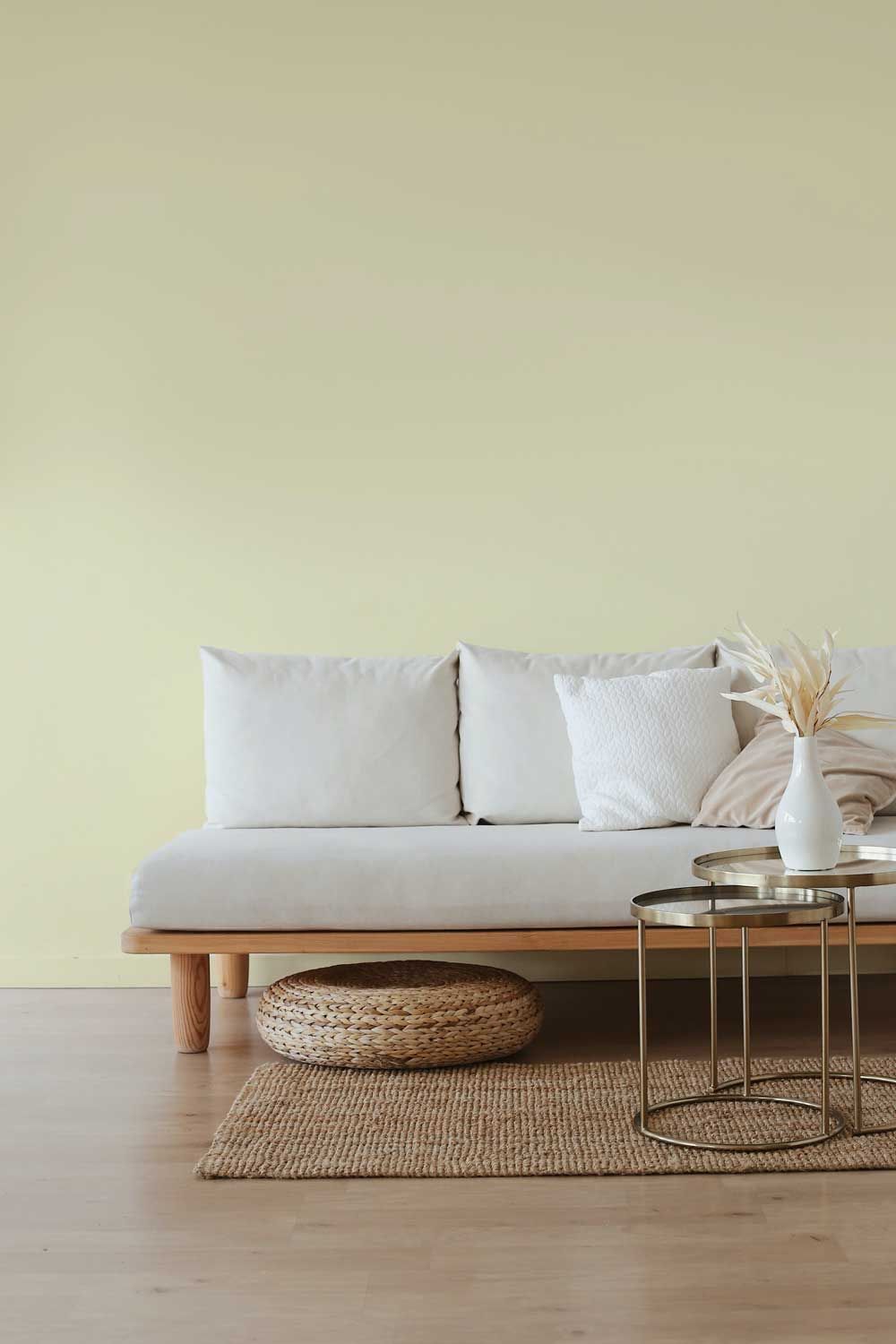 Fantone 21, coatpaints.com
(Image credit: Coat Paints)
"2021 is a year pinned with hope for lots of us and yellow can help us fill our homes with the kind of optimistic vibe we're after," says Rob Green Founder, Coat Paints. "Fantone 21 channels that. As a muted pastel yellow, it works well as a versatile colour in most homes."
BRIDGE THE GAP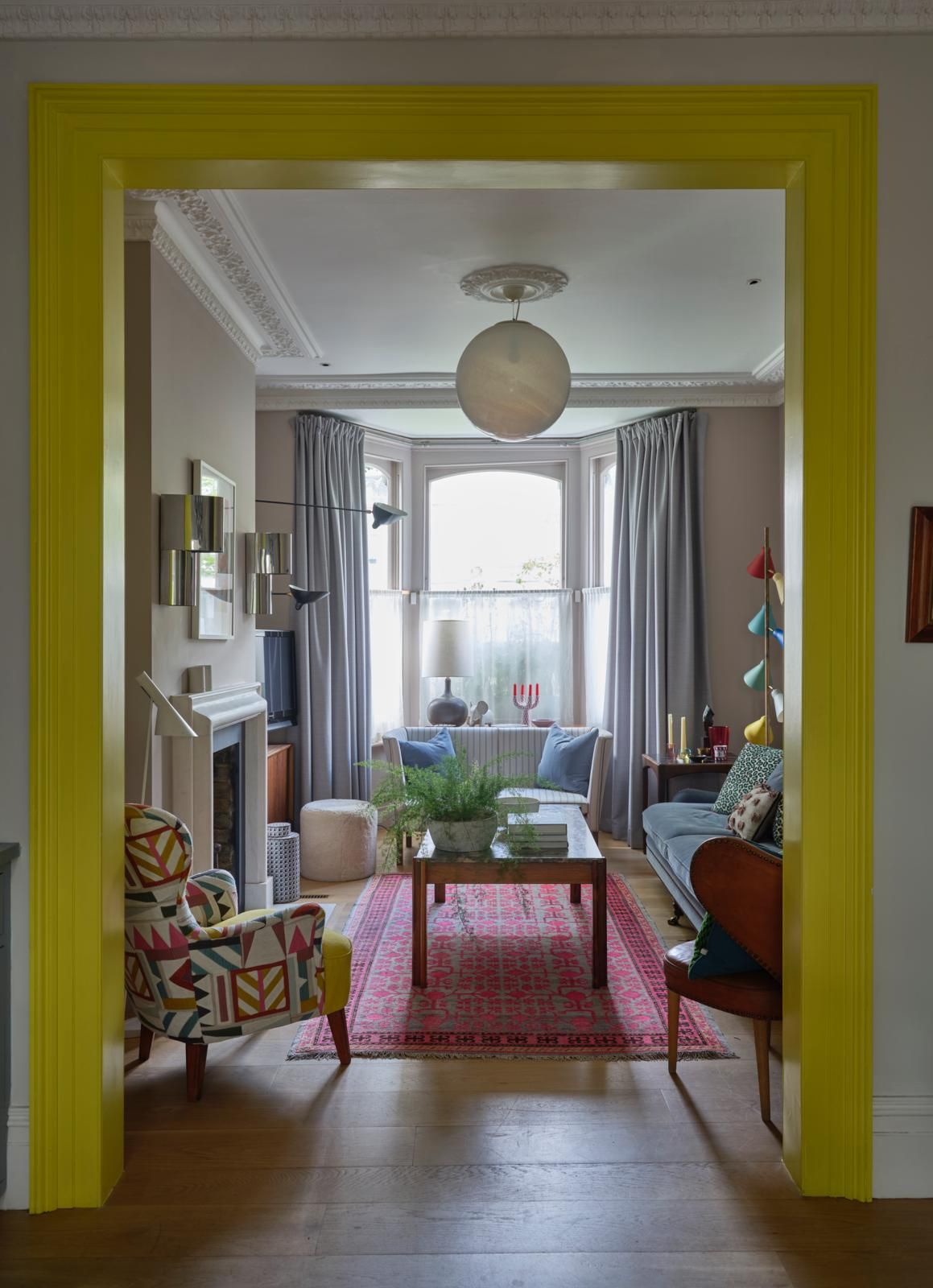 (Image credit: Paul Massey)
A dash of incandescent yellow – Trumpet by Little Greene – delivers a burst of energy and links the front living room to the middle sitting room in the home of interior designer Suzy Hoodless. It also saves the two spaces from being 'too polite'. "Colour is an easy way to create a dramatic effect," says Suzy. 
HOT HUES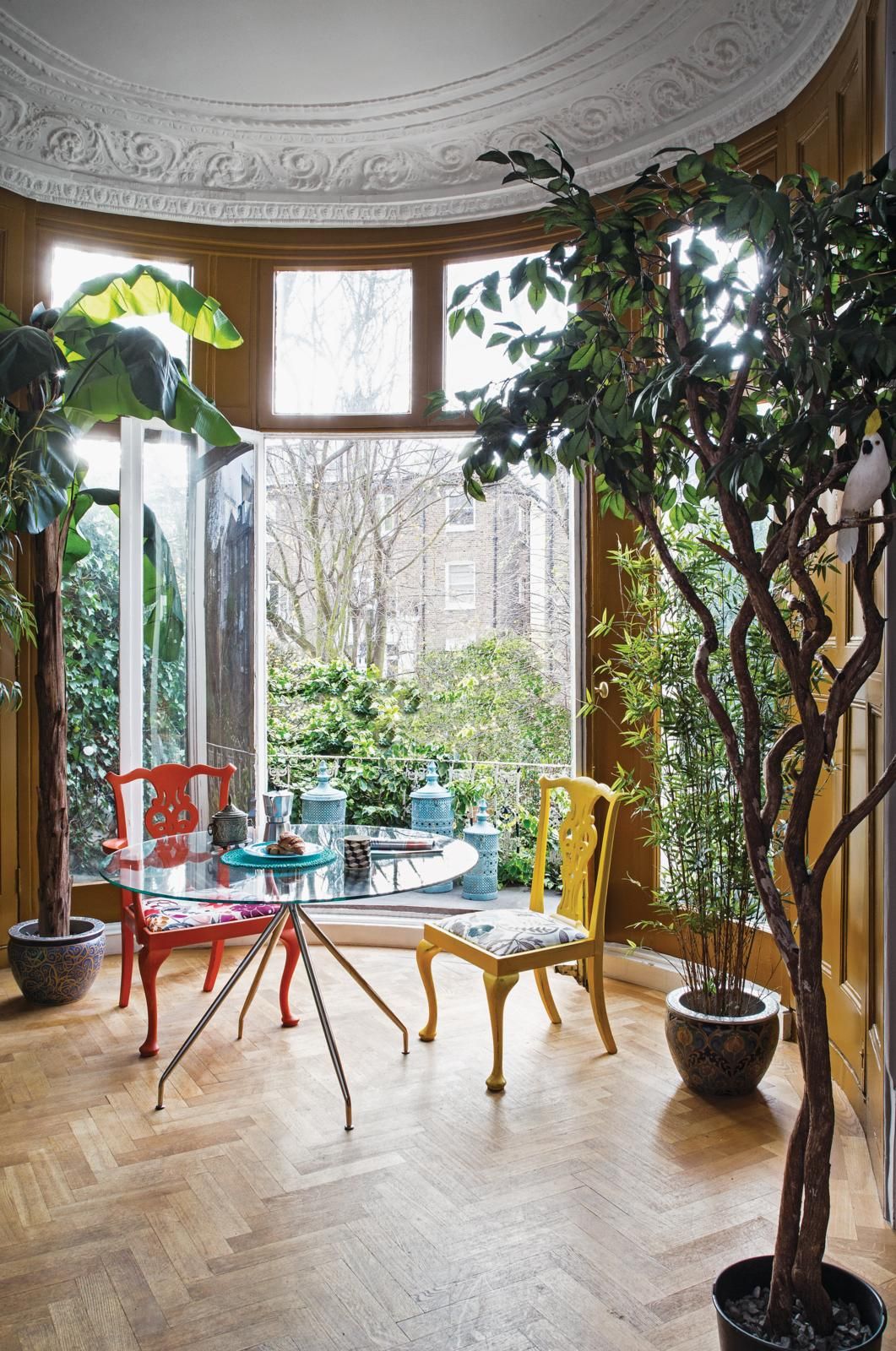 (Image credit: Future / Paul Raeside)
Designer, Matthew Williamson has used hot mustard hues on the walls of his living room, at the dining end, which opens onto a beautiful outdoor terrace, so it feels sunny even on the greyest of days. 
"Without doubt, colour affects your mood,' says Matthew. "It's such a powerful tool for both fashion and interiors. To keep things contemporary yet uplifting, I team classic colours with a pop of neon or an unexpected contrasting tone."
PAINT EFFECTS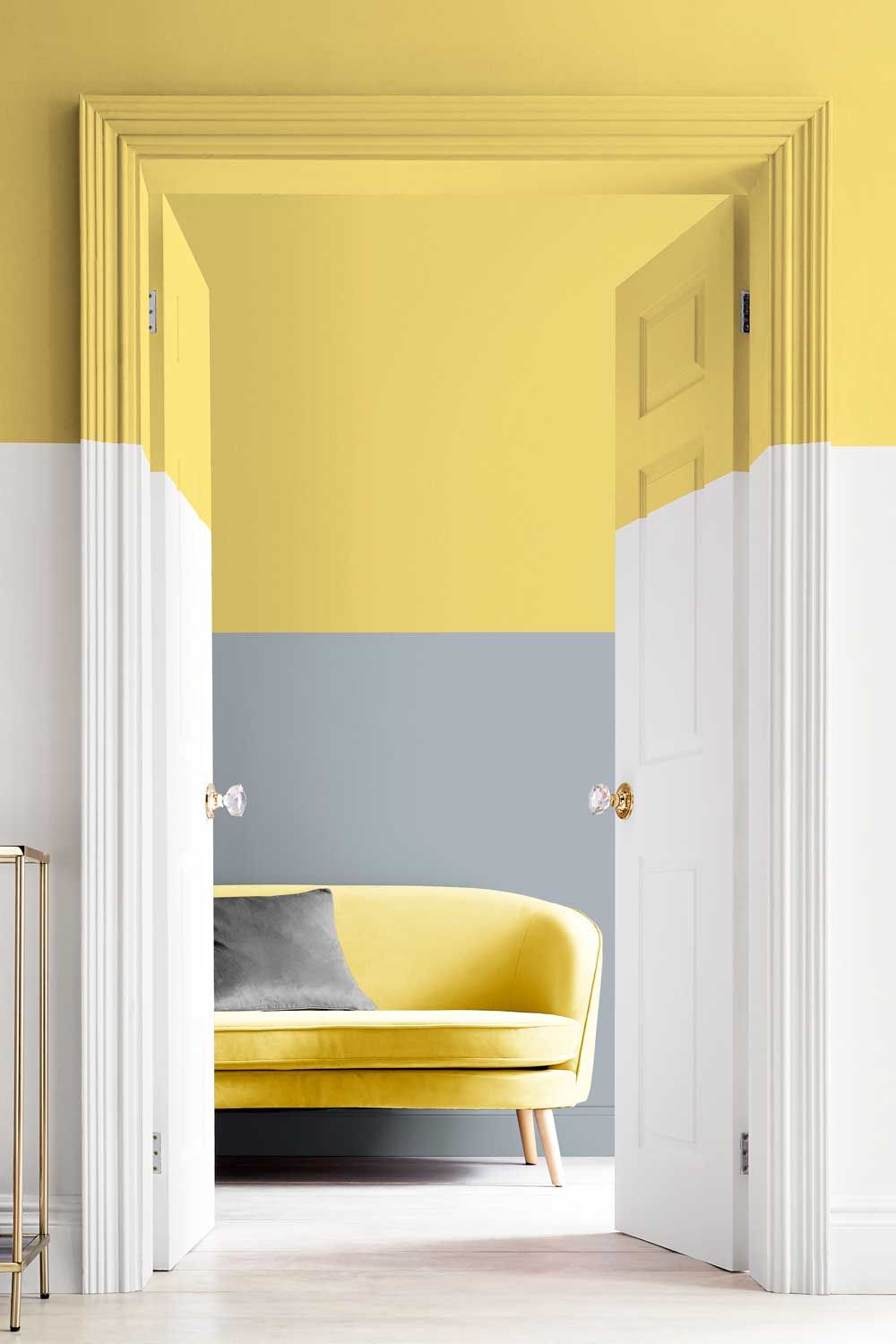 Charmed and Lillium paints, Graham & Brown
(Image credit: Graham & Brown)
Yellow and grey living rooms are another key trend. Paula Taylor, Colour & Trend Specialist at Graham & Brown, says. "The juxtaposition of steely monochrome and vibrant yellow strikes a harmonious balance between warm and cool, denoting resilience and hope for the coming year. Grey has long been the go-to for an on trend modern aesthetic, providing a neutral base for statement home accessories to stand out. Yellow, on the other hand, cuts through the cool grey hue adding dimension and a splash of freshness. 
Our Charmed and Lilium shades are perfect for recreating this palette at home. Break with tradition and use yellow on the walls with grey as your accent colour to bring life to furniture, window frames, and alcoves."
See the best pieces for yellow and grey living rooms