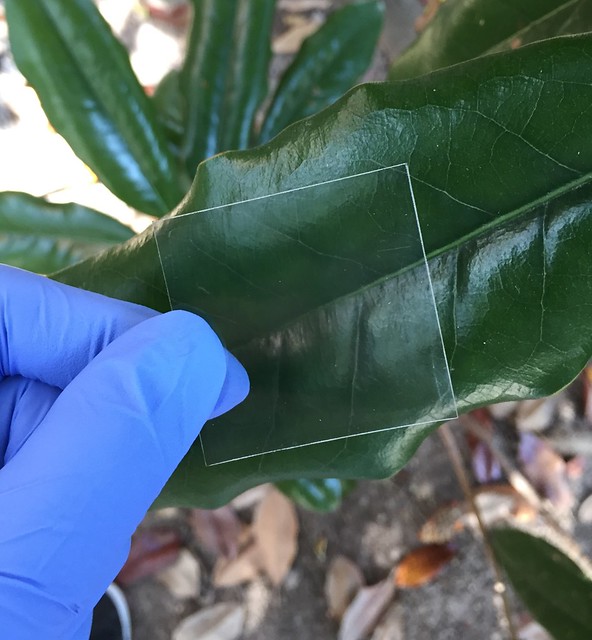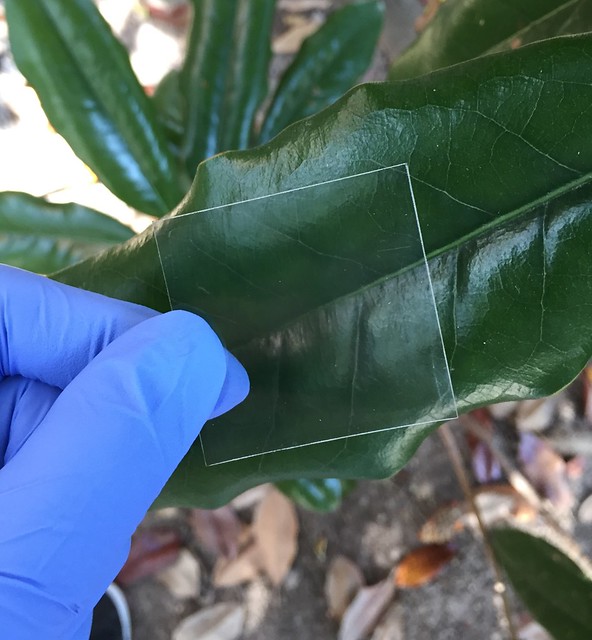 Posted by Amy Androff, Forest Products Laboratory and Posted by Robert Westover, Communications Office, USDA Forest Service in Forestry
January 05, 2021
The piece of glass in the photo above was made from wood. Research at the Forest Products Lab into using wood to make transparent windows is making great strides. (Photo USDA Forest Service)
Could a look through trees be a look into a greener future? Trees that replace the clear glass in your windows are not science fiction works. It happens now.
Forest Products Laboratory (FPL) researcher Junyong Zhu, in collaboration with colleagues from the University of Maryland and the University of Colorado, has developed a transparent wood material that may be the window of tomorrow. The researchers found that transparent wood has the potential to outperform the glass currently used in construction in almost every way.
Their results were published in the Journal of Advanced Functional Materials in their article "A clear, strong and thermally insulated transparent wood for energy-efficient windows".
While glass is the most common material used in window construction, it comes at an expensive economic and environmental price.
Heat transfers easily through glass, especially through a single pane, and increases energy costs when it escapes in cold weather and flows in when it is warm. Glass manufacturing in construction also has a high carbon footprint. The production emissions are around 25,000 tons per year.
Now transparent wood is developing into one of the most promising materials of the future.
Transparent wood is created when wood from the fast-growing, low-density balsa tree is placed in an oxidizing bath at room temperature, which bleaches it from almost any visibility. The wood is then permeated with a synthetic polymer called polyvinyl alcohol (PVA), creating a product that is virtually transparent.
The natural cellulose in its wood structure and the energy-absorbing polymer filler in transparent wood make it far more durable and lighter than glass. It can withstand much stronger impacts than glass and, unlike glass, bends or splinters instead of breaking.
Switching to transparent wood could also prove cost effective. It is about five times more thermally efficient than glass and lowers energy costs. It is made from a sustainable, renewable resource with low carbon emissions. It's also compatible with existing industrial processing equipment, making the transition to manufacturing an easy prospect.
With all these potential benefits for consumers, production and the environment, the case for transparent wood couldn't be … clearer.
Write an answer
Remarks