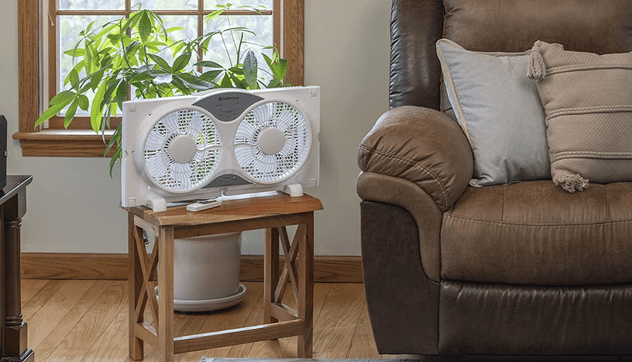 Power
The amount of power you require or desire will most likely vary based on the size and use of the space you're attempting to cool. A powerful box fan creates the most airflow but is also the noisiest. A smaller fan will not blast the skin away from your cheeks, but it will be quieter and gentler in confined areas.
Effectiveness
In general, window fans are a more cost-effective alternative to central air conditioners. They are less expensive to buy and, if properly sized, are less expensive to run in the grand scheme of things.
Cooling speed (CFM)
The number of speeds available on each fan type impacts how fast the blades can revolve and the fan's cooling power. Cooling power is determined by cubic feet per minute (CFM), the quantity of air a fan moves every 60 seconds. The CFM is determined by the fan's motor and blades (their pitch, length, and shape). The more air a fan circulates, the greater the CFM. Low CFM fans are only ideal for tiny settings.
Noise
When purchasing a window fan, consider the noise level, especially if the fan will be positioned in a bedroom, workplace, or common area. On product packaging or the web product page, noise levels in fans are specified by decibel level (dB). Fans may have decibel levels ranging from 40 to 80. A fan with a noise level of 40 decibels will generate a low whirring sound similar to that of a silent library, but a fan with a noise level of 80 dB will be just as loud as a vacuum.
Ease of use
Window fans are not difficult to use. Models with thermostats, auto shut-offs, timers, and remote controls are available. None of them will be excessively difficult, and a brief look through the owner's handbook should have you up and running. Remember that the more functionality you add, the higher the cost. And there will be a slew of other things that may go wrong with the fan.
Easy set-up
Installation should be so easy that, with a few basic skills, anyone can install the window fan themselves in an hour or so. Almost all window fans come with step-by-step instructions, so your new fan can be up and working efficiently in no time at all.
Weight
When purchasing a window fan, it is also crucial to consider the weight of the fan. This is because a lightweight fan is easier to maneuver. So, a lightweight window fan is the best alternative if you want to utilize the fan in any room in the house.
Size
Window fans should be chosen in accordance with the window size. If the window is small, go with the smaller fan; if it's large, go with the larger one. Make sure there is no gap between the window and the fan's body. If there is still a gap, make sure to fill it in to allow for the best possible ventilation.
Wiring system
Electrical wiring may be required depending on where you plan to install the fan. Some fans just need to be hooked up to the socket that is nearest to the window. Sometimes, you might have to move the fan to a different window to find a nearby outlet, depending on the layout of your house.
Energy efficiency
The majority of models have timer switches, eco settings, and sleep modes. Window fans that are "smart" can be linked to a voice assistant or smartphone app, giving the user even greater control over the room's temperature. If you worry about your monthly power bills rising, you should always think about buying energy-efficient equipment that may save you a significant amount of cash on power.
Window size and shape
Generally speaking, all fans will come with accordion-fold side panels to fit a normal window, although they are not universal. Since a window fan is designed to fit within a window, its size shouldn't exceed that of the window. Because of this, the majority of ordinary window fans can fit windows that are between 26 and 38 inches wide.