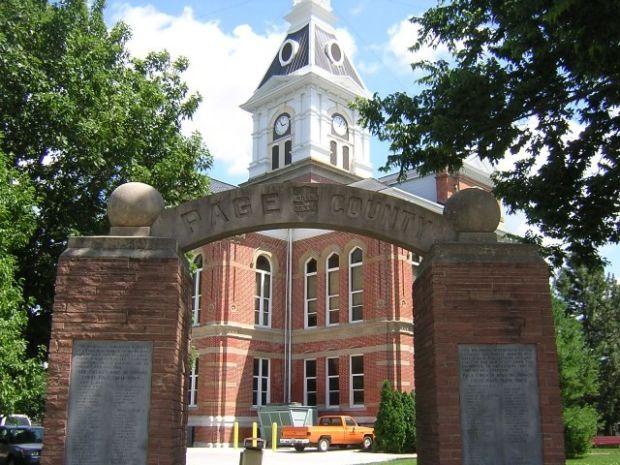 (Clarinda) — Page County officials continue to explore replacing 40-year-old windows at the county courthouse.
More discussion on the possible project took place at Tuesday morning's county board of supervisors meeting. Originally, the board discussed replacing the county recorder's office windows. However, Supervisor Jacob Holmes sought additional bids after the board received only one bid for the project. Holmes says all three bids received were similar in costs. But, after inspecting the entire courthouse, Holmes believes all of the facility's windows should be replaced. He says most of them date back to 1981.
"They all need it, basically," said Holmes. "And, I think they all act like if we do more, it will be less per window. I don't know if this counts with the COVID capital, like working on the existing building. I think it needs done, but I don't know. They need to match the courthouse–we need to make them look uniform."
Supervisor Alan Armstrong also expressed preference on replacing all of the courthouse's windows. However, Armstrong says the federal government has yet to inform the county on whether COVID relief dollars can be utilized for structural repairs.
"I'd like to do them all," said Armstrong. "But, in visiting with Melissa (Wellhausen) some, and visiting with Tom (Nordhues), I'm still not sure about the dollars, and whether we can use it. We're getting closer to knowing, but we're still not there yet."
Holmes says the supervisors looked at replacing the windows in the early 1990's, but didn't have the funding at that time. Armstrong says the information gathered back then for window work may not be relevant now.
"I would say that the study from the sides of the windows and all those would not be applicable from before," said Armstrong, "because everything has changed in 30 years. I would imagine every window has shifted just a little tiny bit. I think the window companies can determine, they have to measure each exact unit, anyway."
Supervisors Chair Chuck Morris says the county must start the whole bidding process over again. While saying he, too, likes using COVID dollars for the project, Morris says the board has time to make a decision.
"I don't know," said Morris. "We've gone eons, it seems like. We've been talking windows for years. They're not getting better, but they're not getting substantially worse."
Morris suggested that Holmes contact architects for potential request for proposals–or RFPs–on window replacement. Armstrong, meanwhile, asked Holmes to contact Taylor County officials regarding their recent courthouse window replacement efforts.
Thank you for reading kmaland.com
At KMA, we attempt to be accurate in our reporting. If you see a typo or mistake in a story, please contact us by emailing kmaradio@kmaland.com.