Angry residents have hit the roof and accused city hall chiefs of shaming them as "poor" after changing the color of meetinghouses on one street – to GREEN.
Council workers have replaced the roofs of ten lots with garish tiles, leading to allegations that tenants have been "stigmatized" for not owning homes.
People living in meetinghouses on Dugdale Crescent in Sutton Coldfield, West Mids, have now complained about the tile change that was completed last week.
The issue was raised by Marc Buck, 52, who made a Freedom of Information Act request to the Birmingham City Council and requested answers.
In a letter to the local council, the father of one said: "The green roofs immediately highlight every piece of land as the property of the city council.
"As a result, some residents have stated that the local council is shaming its tenants by removing their properties from the majority of the rights to purchase houses.
"The color is completely at odds with the existing roof colors on the street and within the general location."
The former police officer who owns his semi-detached house on the Crescent added, "I am considering challenging the planning department about the roof color.
"We are very grateful that the local council has completed this property, as the houses are very poorly insulated and many people receive benefits here.
"But there are a number of people who, for one reason or another, are not very happy with the advice.
"The city council decided last year to modernize the properties. Around 50 percent of the properties are privately owned, and those that are green will stick out like a sore thumb."
Another man, who refused to be named, said, "It is embarrassing enough to live in a meetinghouse, but being visible to everyone feels a little too much.
"The council might as well have told us to ring a bell so everyone would know we are poor.
"Fortunately, my neighbors who own their house are wonderful people, but they even told me they felt like the council had made us victims."
The colored tiles were chosen when the council was making repairs to the properties last week.
Another resident, who has rented a house from the local council for two years, said, "I'm glad the roof was fixed because we had some loose tiles, but why use green ones?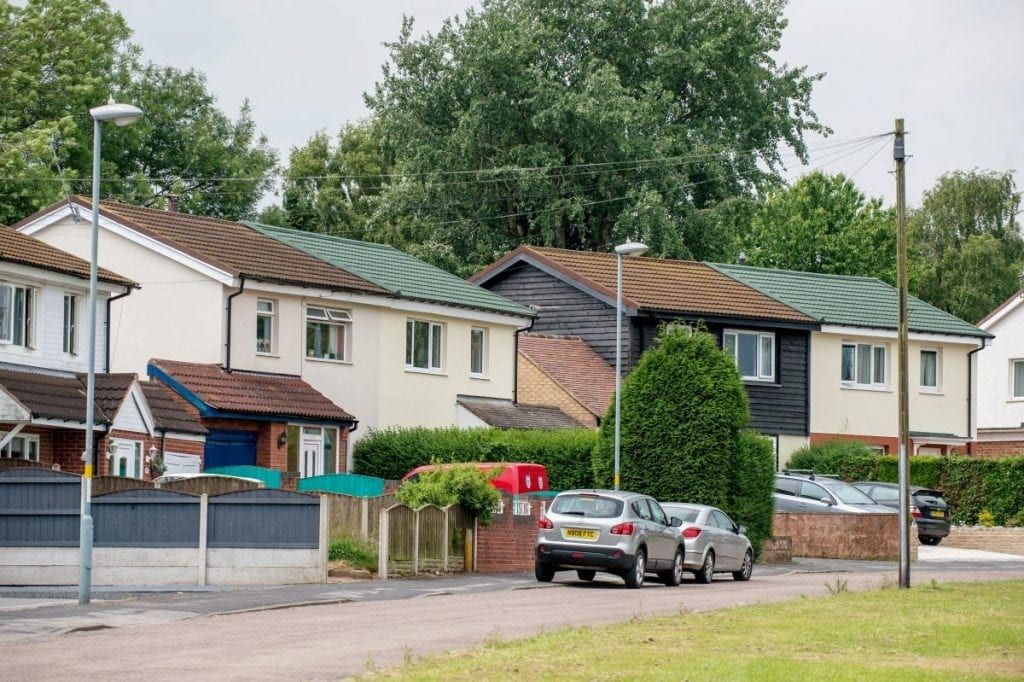 "It clearly shows which properties are meetinghouses and which are not. I don't think it's fair and otherwise the color of the tiles looks gross. "
Others have complained that the roofs are creating a "stigma" for living in meetinghouses in the Crescent, where house prices averaged £ 200,000.
A woman named Sue added, "A friend from Devon visited me the other day and commented on the tiles and said the roofs looked weird.
"He was quite shocked that the council had used green tiles to basically identify the council houses.
"It's a stigma to live in a meetinghouse. People think you are a scoop or an advantage, but the fact is that most people work hard like everyone else. "
The Labor Run Council has defended the tile choice, stating that they have used red tiles on other properties they own.
A spokesman said: "So far, both red and green tiles have been used on other roofs, and based on these facts, a green tile was chosen.
"There is a permanent site manager, a customer liaison officer, who has visited all of the properties on the project. At the time of the inquiry, no resident had complained to a member of the project delivery team.
"Additionally, Dugdale Crescent has different styles of architecture with different features and changes to properties that have been installed by different owners over time."
* In January 2016, the Home Office opened an investigation after asylum seekers in Middlesborough received the front doors of the red-painted properties.
Townsfolk protest mother who was criticized for hanging her laundry outside
Watch – The Cambridge University student confronts a sexist and racist man in a doctor's office
There you are here
Since you are here, we wanted to ask for your help.
Journalism in the UK is under threat. Government is becoming increasingly authoritarian and our media is run by a handful of billionaires, most of whom live overseas and all of whom have strong political ties and financial motivations.
Our mission is to hold those in power accountable. It is important that free media exist to expose hypocrisy, corruption, wrongdoing and abuse of power. But we can't do it without you.
If you can afford to make a small donation for the website, we can continue our work in the best interest of the public. We only ask that you donate what you can afford. You can cancel your subscription at any time.
Click here to donate or subscribe to The London Economic.
The TLE shop is now open too, and all profits go into our work.
You can find the shop here.
You can also subscribe to our newsletter.