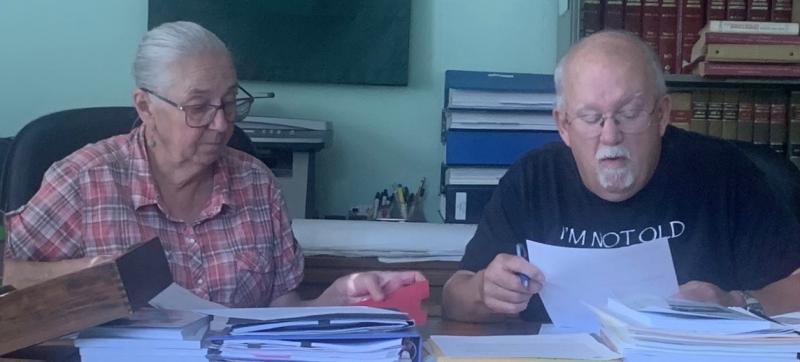 A big school committee purchase made an impression on Southport selectmen Aug. 31. While reviewing the school warrant, Selectman Smith Climo spotted a $27,503.67 purchase for 28 replacement windows for Southport Central School. "Twenty-eight new windows, think of it. Wow, 27 thousand, 500. Dang," he said. "We'd have a pretty small warrant if it weren't for that." 
In other action, selectmen signed the warrant for the Nov. 8 election. There will be one local question, on fluoridation of Boothbay Region Water District's drinking water. The Fluoride Opposition Committee, a local coalition of residents, successful lobbied Boothbay and Southport select boards to place a special warrant question on the ballot. The question reads: "Shall fluoride be added to the public water supply for the intended purpose of reducing tooth decay?" Once two of the three BRWD member towns approved the question, it automatically required the third member, Boothbay Harbor, to add the question to its local ballot.
Lincoln County officials approved Southport's request to extend the ASK (Assistance with Specific Know-how) Grant to March 2023. Lincoln County Regional Planning Commission approved the $2,000 grant to aid Southport with engineering costs regarding its project for providing water to the town hall. 
County officials are also seeking input from towns on how to spend their $6.7 million in American Rescue Plan Act funds. "A list of priorities has been developed and actions to put these funds to good use have already been undertaken," wrote County Administrator Carrie Kipfer in an Aug. 19 letter to selectmen.
Among the projects already identified as priorities by commissioners are tuition payments for emergency medical technician training for county residents, $43,200; replacement of 911 dispatch consoles and equipment, $185,000; replacement of communication tower microwaves and power supply banks, $567,141; 2021 and 2022 hazard pay stipends for essential county employees and Two Bridges Regional Jail employees, $366,010; funding 50% of a regional water study with the remaining funds to be contributed by the state, $150,000; infrastructure projects identified by each of the sewer districts in Lincoln County, $800,000; and matching funds for broadband infrastructure projects identified by towns/regional committees to leverage Maine Connectivity grants, $1.5 million. 
Selectmen also authorized two town hall usage requests. One is for Southport Island Association on Sept. 22. The second is for Friends of the Southport Historical Society on Sept. 12.
Selectmen meet next at 5 p.m. Wednesday, Sept. 7 in the town hall.