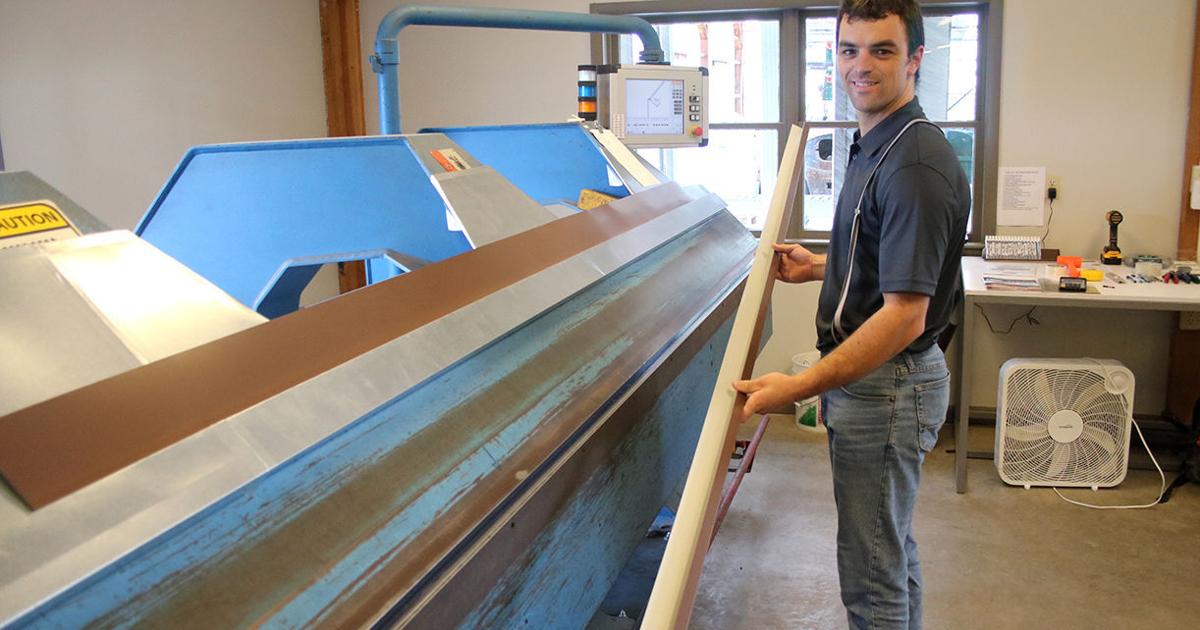 MIFFLINBURG — A local man's ingenuity has not only resulted in the opening of a new business, but also the repurposing of a former home and garden center.
Bryan Nolt, owner of Premex Inc. Metal Roofing Supply, has reconfigured 7801 Old Turnpike Road east of Mifflinburg into place where metal roofs are shaped and measured from rolls of unfinished product.
Nolt said contractors are his most likely customers, though ambitious homeowners with do-it-yourself skills will also find what they needed.
Nolt gained experience as he lived on a farm in his formative years. He described how, by necessity, farm operations has always included ongoing maintenance. 
"We were constantly improving, remodeling and building," he said. "I have a decent experience in actually installing metal exteriors on buildings."
Nolt said he also gained experience at a manufacturing plant in the Lewisburg area.
"I really loved the manufacturing process," he added. "I really felt like there was a void in the valley where small and medium size contractors could go for exterior packages."
The interior of the Country Farm and Home, Gift and Garden Center has been refitted with tools to shape 28-gauge steel into roofing panels and customer trim.
Premex offers steel with Akzonobel coil coating, which Nolt affirmed was a quality product from a company that provides paint systems for more than 75% of the vehicles on the road.
It allows Nolt to offer exterior materials in 18 standard colors and others available on special order.
"The research showed (Akzonobel) has a superior product to some of the other paint systems on the market," Nolt added. "If just made sense to handle them as a good way to stand out against everybody else."
Nolt said Premex opened in early July and currently has no other full time employees. But as things pick up, he said adding employees would be likely.
"It seems like the consumer is becoming more aware that metal is the way to go," Nolt said. "They might choose shingles initially, I'm guessing for appearance, but then 20 years down the road they are seeing what performance is actually like. So they choose something more durable the second time around."
In-house manufacturing lets Premex buy its own coiled steel for roofs and trim. It also allows for manufacturing to the exact length needed.
"If a customers needs let's say, (9 feet, 6 inches), that's what he orders and that's all he pays for," Nolt said. "He's not buying 10-foot or 12-foot pre-stocked length where he pays for the full length and needs to cut off the extra."
Nolt said manufacturing to exact specifications has given Premex a competitive edge. Call 570-217-7682 for more information.