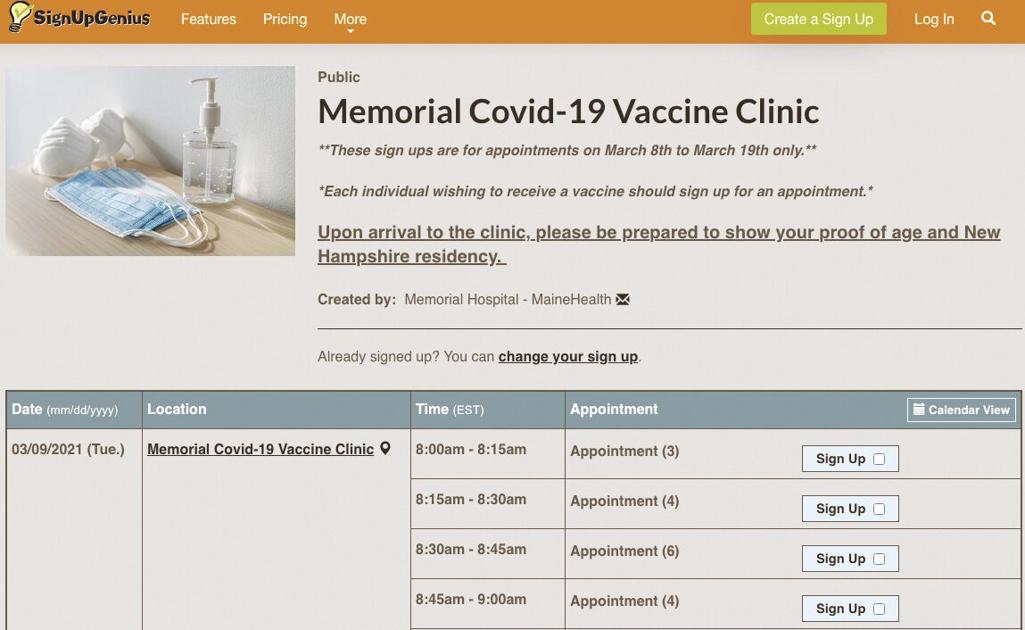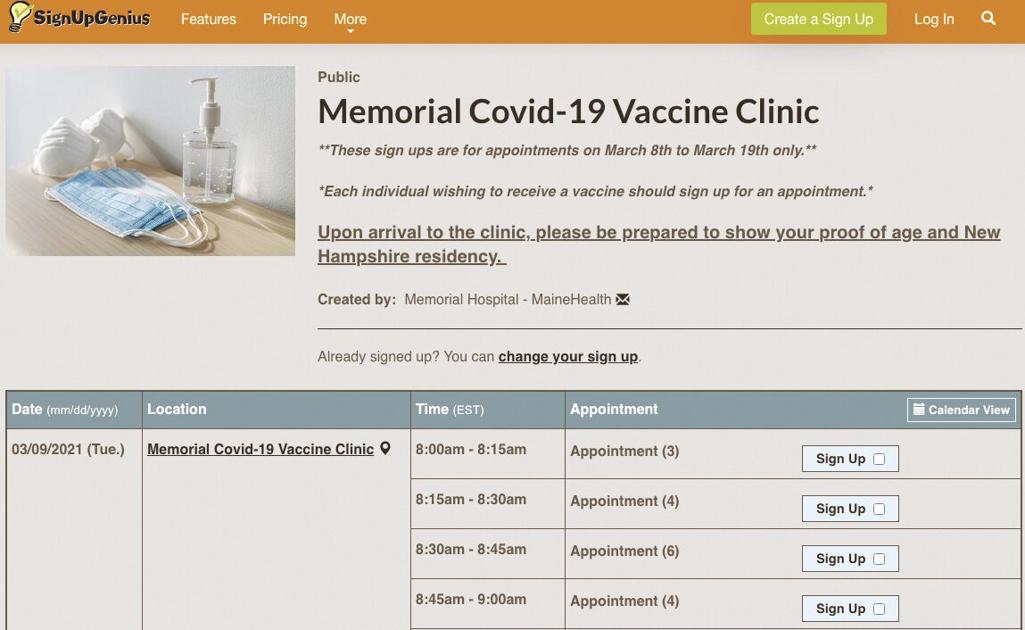 CONWAY – Memorial Hospital has announced it will open more appointments for Phase 1B of the COVID-19 vaccinations and says people can now schedule these appointments directly on the hospital's website.
The site is open to people who want to sign up at 7 a.m. on Saturday.
Commemoration officials announced Friday that the hospital had received an additional 2,200 doses of COVID-19 vaccine from the state to expedite the completion of Phase 1B.
All vaccines given under this program are Pfizer or Moderna two-shot vaccines.
Appointments start on Monday March 9th and run for the next two weeks and end on Friday March 19th.
Appointments are planned from Monday to Friday.
A second appointment is planned at the time of the first appointment.
The website is supported by a SignUpGenious planning website. Planning is simple and straightforward. The website offers a homepage where people can choose a 15-minute slot for their appointment between 8:15 am and 4:45 pm. If you then scroll down and click "Submit & Register" you will be taken to a page to add your name and address and answer a short series of questions about whether you will qualify for Phase 1B and whether you will be taking a first or second dose getting the vaccine.
Registrations for the first or second dose are available for those in Phase 1B who have already made an appointment via Vaccines.nh.gov or the 211 Call Center.
Those who have indicated in the VAMS system that they would bring someone else with them to take an admission (known as a Plus-One) should make individual appointments for each person in the Memorial Hospital planning system.
In addition to people aged 65 and over, Phase 1B also includes residents and employees in meeting environments. Prison staff; and people with two or more pre-existing medical conditions who were placed on the Phase 1B list by their health care provider.
However, only people aged 65 and over are allowed to use the new memorial system to schedule appointments via the SignUpGenius website.
Will Owen, RN, Emergency Preparedness Coordinator at Memorial, said the hospital is reaching out to those scheduled because of their illness in other ways.
Staff will also continue to liaise with people who qualify for 1B and have appointments in April and beyond, as well as people who may not have signed up for the vaccine yet.
Governor Chris Sununu said the state's goal is to reach everyone in Phase 1B who wants the shot to be vaccinated by the end of March. He said at his press conference on Thursday that the state was on track to achieve this goal.
Owen emphasized that the SignUp Genius site is only for the next two weeks.
He added that he expects the state to use its own website Vaccines.nh.gov and call center 211 to make appointments for Phase 2A and Phase 2B.
Phase 2A includes teachers at K-12 schools and child carers. General registrations in this category are expected to begin on March 17th. The first vaccinations start on March 22nd. Approximately 50,000 people are in Phase 2A.
Phase 2B includes people aged 50 and over. Registration starts on March 22nd. The first vaccinations are scheduled for March 25th.
Sununu said Thursday that the new state vaccination scheduling system would be used for Phase 2 planning, replacing the CDC's VAMS system, which had problems handling planning volume from Phase 1A.
There are now three different types of vaccines – Pfizer, Moderna, and Johnson & Johnson (a single dose vaccine). Health officials say all are safe and effective.
The state reported that 340,000 vaccinations had been given in New Hampshire as of Thursday, including 235,000 first doses and 105,000 second doses. The weekly vaccination rate continues to rise, with 50,000 doses given in the past week.
Approximately 17 percent of New Hampshire residents received a first dose, and 8 percent of the population are now fully vaccinated.