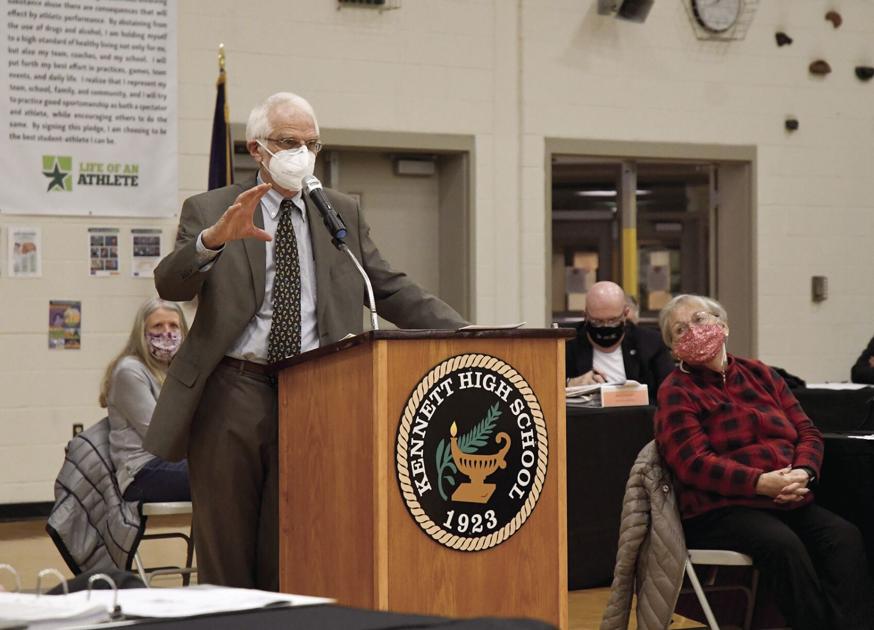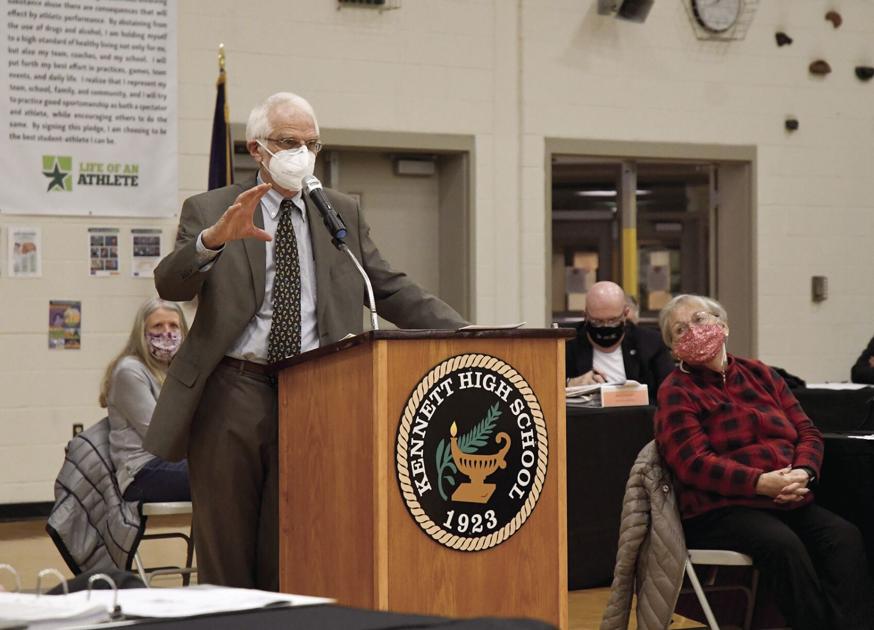 CONWAY – Less than 100 people attended the advisory portion of the annual Conway School District Meeting at Kennett High School on Wednesday evening.
The hot topic was whether the district should apply for a five-year loan to replace all 511 broken windows in the high school or invest in trust funds to offset some of the cost.
The session, which lasted 93 minutes, was almost as long as the two previous annual meetings combined.
Last year's session was the shortest ever since Conway switched to the SB 2 form of school assemblies in 2001, pausing after just 40 minutes to easily surpass the 57-minute session in 2019.
All participants on Wednesday went through a health screening before entering Peter Ames High School. This included a temperature test with an inconsistent thermometer.
"92.7, I'm dead," joked Virginia Schrader, director of the MWV Career and Tech Center, after receiving her reading.
Once inside, all wore face masks and were socially distant. Only six citizens chose to sit in folding chairs on the gym floor. The majority was distributed in the stands, including Kathleen Murdough's AP government class who stayed throughout the session.
Two articles in this year's arrest warrant deal with high school windows. Article 2 was originally a $ 1.3 million bond to replace it. Interest for the first year of payment was estimated at $ 32,500. The bond transition would require a 60 percent support rate.
Conway wasn't going to pay the entire bill. The sending cities (Albany, Bartlett, Eaton, Freedom, Hart's Location, Jackson, Madison and Tamworth) would be hooked for $ 855,000 of the $ 1.3 million.
Article 2A would only be decided if Article 2 failed. The Expendable Trust Fund (new Kennett High Facilities Maintenance Fund) is to be increased by $ 750,000 to replace the windows. Approximately $ 493,727 would be offset by sending cities through the study agreement.
Prior to discussing Article 2, Joe Lentini, Chairman of the Conway School Board, decided to lower the bond amount to $ 1,186,345 after the board received a lower bid. He said the initial payment would be for $ 29,600 instead of $ 32,500.
Lentini said the new offering was from Lockheed Window Corp. received from Burrillville, RI
Peter Donohoe, vice chairman of the local budget committee, preferred the original plan presented by the school board's facilities committee last spring. The facility committee recommended that the board on June 22nd award Granite State Glass a four-phase, four-year project for $ 937,400 for the work. However, since the committee had not advertised the project, which is required according to the requirements of the school board's policy, the board reluctantly.
"I think if this option is not considered it is doing the taxpayers a disservice," Donohoe said, recommending that the district use the maintenance trusts and fund balances to get the job done and the district's maintenance staff to do so to remove the windows as recommended by the home furnishings committee.
Donohoe heard that the windows were only guaranteed for five years, but the district could also purchase an extended 10-year warranty that would cost more.
Hill said windows are guaranteed for 10 years. The district is spending $ 1,600 to extend the warranty from five to ten years.
Board member Joe Mosca, chairman of the facilities committee that made the original recommendation, said the board was "in a catch-22" whichever direction they go.
"If we didn't get it out to bid, we'd be hammered," he said. "If we went along with the commandment and it cost more, we'd be hammered."
Mosca added, "I think it was a fair trial and it was done right and I stand by the board's decision to go that route."
Former school council member Mark Hounsell said, "I think what we did is unwise. We basically accepted the low bid before a background check was carried out. That seems unwise to me. My father used to say, "You don't have to be smart to be the one who made the low bid."
On Thursday, Superintendent Kevin Richard told the Sun that Gale Associates, a Bedford consultancy that has been hired by the school board, has done at least 10 projects with Lockheed.
"They are very well respected in the field," he said.
For Article 2A, Lentini requested that the amount to increase the consumable trust fund be lowered from $ 750,000 to $ 636,345, and to lower the $ 493,727 that would be offset by posting cities to $ 418,906.
"Personally, I think 2A ​​is the way to go," said Jim Lefebvre, chairman of the budget committee.
Comrade Ellin Leonard asked what rate the current trust funds are getting.
Lilli Gilligan, director of household and finance at SAU 9, said when she worked for the city in that role, the earnings rate was 0.002 percent.
While everyone was masking themselves for the meeting, it was often difficult to understand what some were saying. LeFebvre once tried to remedy this by taking off his mask before speaking. This prompted Deb Fauver, city presenter, to immediately bring him a new, lighter mask, which he quickly put on.
Item 7 is the proposed operating budget for 2021-22 of $ 38,653,496.
If voters reject it on April 13, the district would have to hit the standard budget, which is $ 238,000 less than what school district officials recommend.
LeFebvre hopes voters will go for the standard budget. He acknowledged that the difference between the proposed and the standard budget is only 0.61 percent of 1 percent, "which is practically no reduction at all. My argument would be that something less is better than what is proposed."
The approved budget for 2019-20 was $ 38,566,756. The approved budget for 2020-21 was $ 37,873,652.
He added, "If you can't afford a $ 238,000 cut on a budget of $ 38 million, it is either an extremely efficient budget or something else."
Under "Miscellaneous," Citizen Bill Marvel took the microphone and turned to host Doug Burnell.
"It's safe to say that you and I have known each other for more than 60 years," he said, and Burnell agreed.
Wondering how long Burnell had served as the school moderator, he said he had looked through his collection of school reports.
"You were first elected in March 1986," Marvel told Burnell, adding, "I didn't bring you any flowers (regarding the bouquet that Fauver, who is stepping down after five years, was deliberating in town on Monday ), but I wanted to know you. "
The crowd rose and gave Burnell a long standing ovation.
"Thank you, you're too nice," Burnell said, adding, "Even my wife (Kathy) stands up. (Jokingly) No, she's just stretching. "