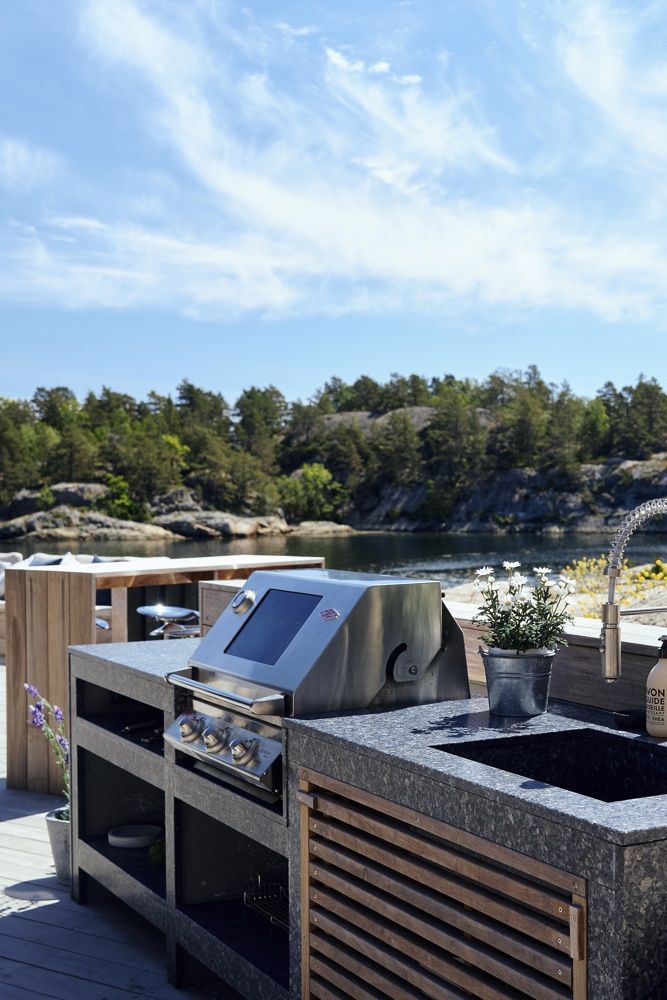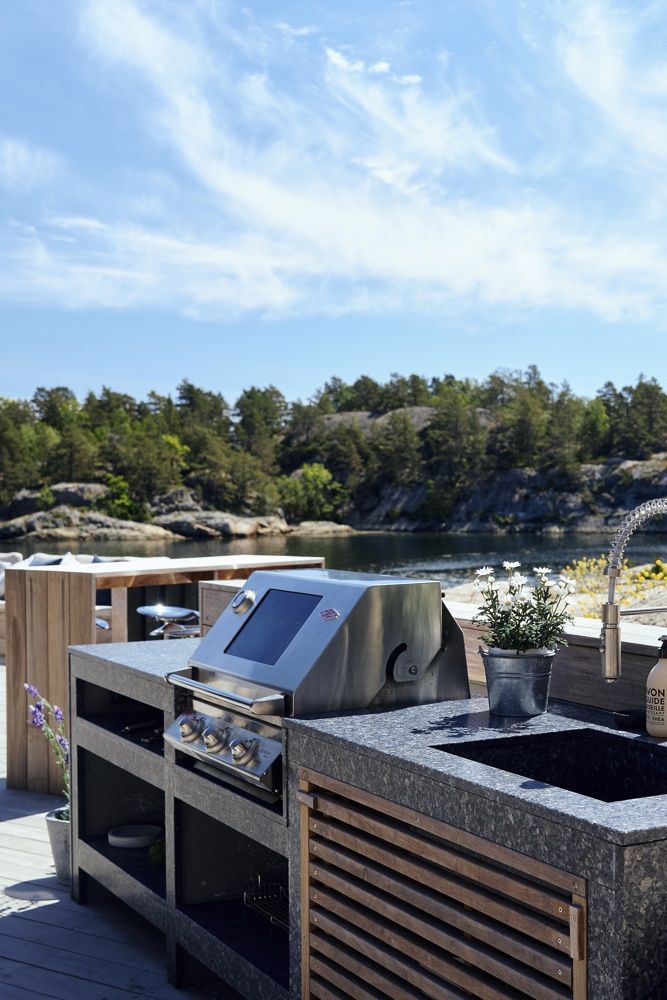 Looking to learn a bit about how to install an outdoor kitchen? Maybe you've decided on creating an alfresco cooking and dining area, but what do you need and where do you start?
As our homes have become our sanctuary more than ever before, we're continually looking for ways to make the most of the space we've got. Creating entertaining spaces in the garden is a fantastic way to increase your home's versatility and give you extra room to enjoy with friends and family. We've asked the experts how to install an outdoor kitchen, so you can get cooking al fresco.
According to Living Spaces, searches for 'outdoor kitchens' have soared 106% in the last six months.
And, don't worry, an outdoor kitchen is not just for summer; by adding warming features like fire pits or patio heaters and layering up with cosy blankets, you can ooze all the hygge vibes and use your outdoor kitchen all year round.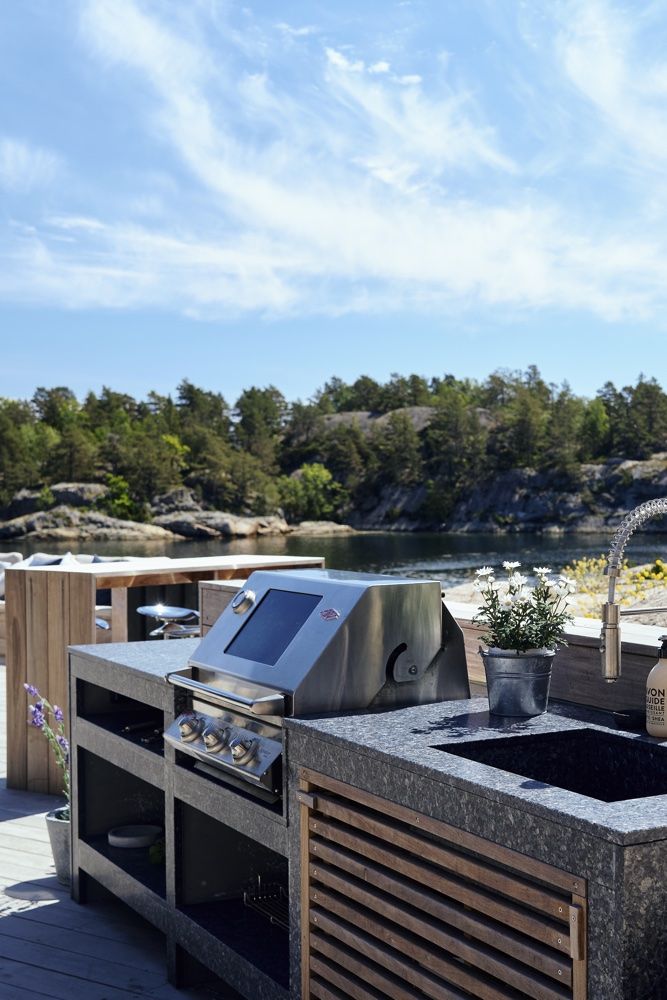 (Image credit: Lundhs / Morten Rakke)
HOW TO INSTALL AN OUTDOOR KITCHEN
We've teamed up with a host of experts to bring you top tips on the best way to create your outdoor kitchen for a stylish new garden space.
CAN I BUILD AN OUTDOOR KITCHEN WITH WOOD?
The simple answer is yes, but the type of wood is important. Make sure that you choose materials that will stand up to the climates that it is intended for use in. Too often people start off with the best of intentions for maintaining their outdoor kitchens but enthusiasm quickly wanes. The experts at Blakes London suggest choosing hardwood timbers such as Iroko, a lower-cost alternative to teak, means that you won't be revarnishing your kitchen at the start of every season.
Similarly, renders and poured concretes don't tend to do as well in damp cold northern European climates. Consider tiled surfaces such as the super hardy UV/frost resistant Xtone as an alternative outdoor worktop.
Declan Kingsley-Walsh, Managing Director at Morsø UK, says: 'Your outdoor products may be outside for most of the year, so you'll need durable materials, like cast iron, which is resilient and long-lasting. Woods are also tough but will often need treating.'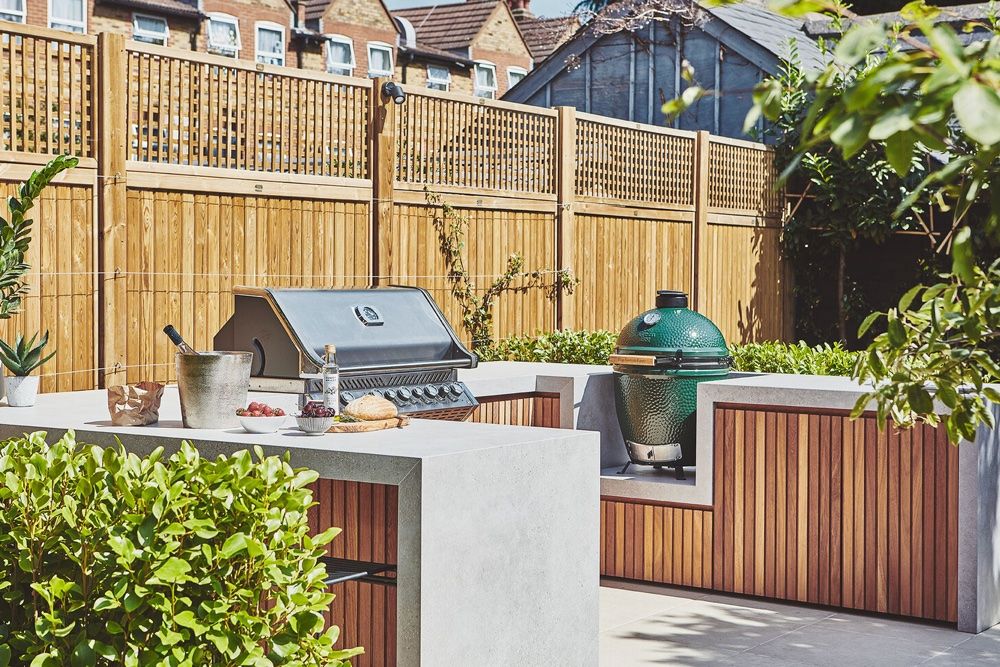 (Image credit: Blakes London)
CAN YOU PUT AN OUTDOOR KITCHEN ON A DECK?
Absolutely. Unlike a fire pit, the heat source will not be directly on the timber, so this is perfectly safe. In fact, many indoor kitchens are build on timber flooring as opposed to solid surfaces like concrete. Building an outdoor kitchen on a deck can actually be beneficial for running services in the cavity underneath from the house to your new entertaining area.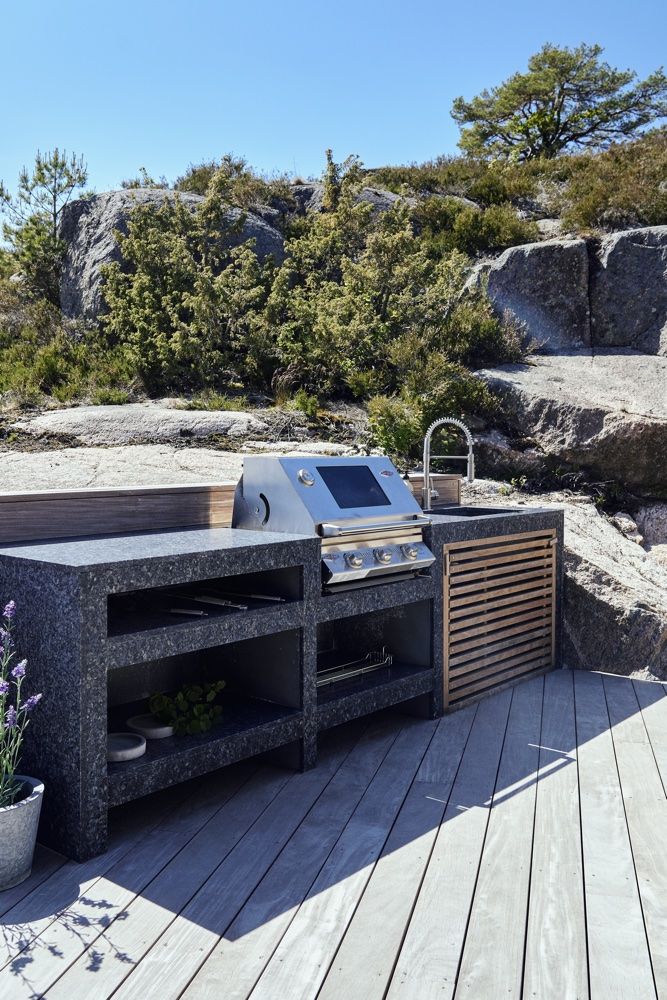 (Image credit: Lundhs / Morten Rakke)
WHICH IS BETTER FOR OUTDOOR COOKING, GAS OR COAL
Not everyone is lucky enough to have the budget or space for both gas and coal BBQs so, for most, it will be a choice between gas or coal. The common view is that gas is for those who want low fuss, convenient everyday cooking. Coal is for back-to-basics enthusiasts with more patience to build a fire and wait for it to heat up, they tend to be rewarded in the flavour stakes.
Blakes London says: 'An alternative option could be to invest in a gas BBQ and have a smaller fire pit that can be used with logs and a grill tray for overflow cooking space when entertaining. Either way, it's important to know which type of heat source you wish to use at the outset as this will influence where you position your kitchen and the space you need to allow.'
Wondering if you can you put an oven outside? Outdoor pizza ovens are also a fantastic idea for easy and quick cooking that will definitely impress your guests. And, of course, you can use them for cooking other things, like fish and vegetables too. It's safe to cook on concrete, as it's a non-combustible material.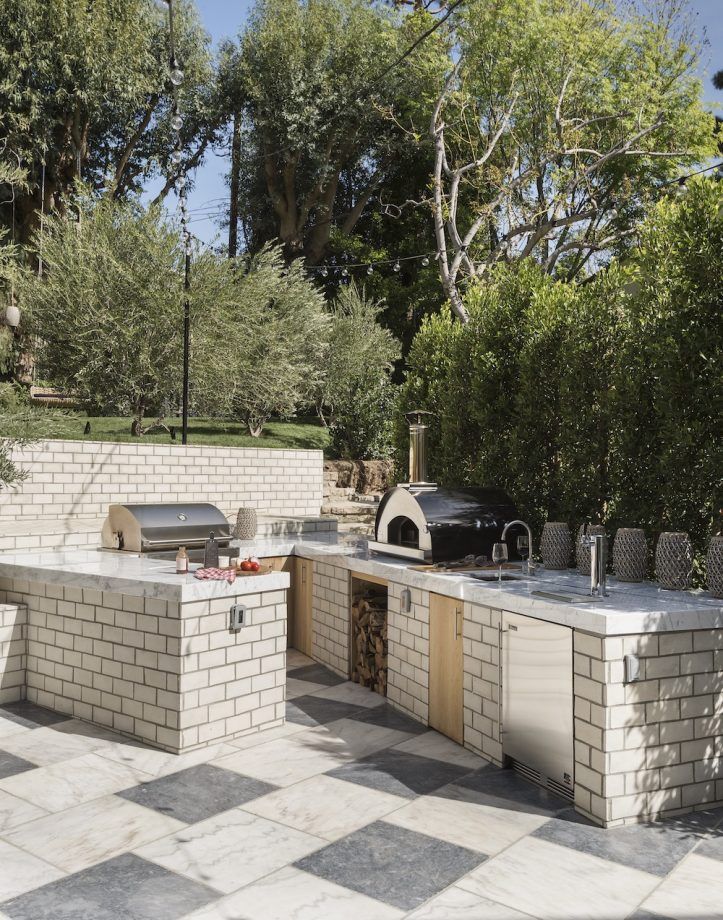 (Image credit: Design by The Novogratz)
See Also: Patio Ideas
WHERE SHOULD I PUT MY OUTDOOR KITCHEN?
Think about how you wish to use your kitchen and the orientation of your garden. Consider what times of day you imagine using the kitchen most and where the position of the sun will be at that time.
'Some gardens may only have specific areas of the garden that gets sun at certain times of day, you probably want to have soft seating in this area and keep the kitchen out of this prime real estate,' says Blakes London.
'Perhaps it's a party kitchen intended for use mainly at night? If so, you may wish to place it at the end of the garden away from bedrooms. In this scenario it may be an idea to build a pergola around it and hang ambient lighting and heating, perhaps include a wine fridge so it's not a long walk back to the indoor kitchen fridge. If your kitchen sits on a patio directly outside your main kitchen then perhaps an outdoor wine fridge is less necessary.'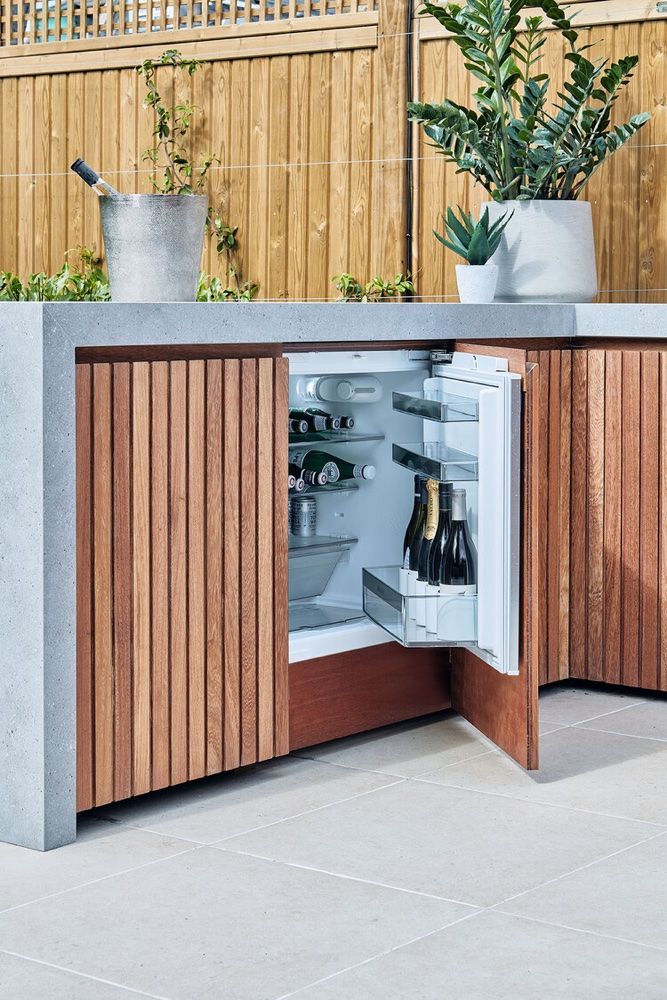 (Image credit: Blakes London)
HOW TO BUILD AN OUTDOOR KITCHEN ON A BUDGET
Be realistic with what you want and what you can afford. Work within your means, you can do less but still do it well. To cut costs, you could try building your own DIY outdoor kitchen with wood or reclaimed bricks; glazed tiles are a nice decorative finishing touch.
It's also a good idea to buy a barbecue that comes with kitchen units as part of the package to create the look instantly, and use outdoor trolleys pushed together to create extra workspace.
BE STORAGE SMART
Blakes says: 'In some instances where space is limited clients choose to do away with a garden shed and instead incorporate garden storage into the outdoor kitchen area. This allows for more kitchen worktop space and lets the kitchen be the focal point within the garden.'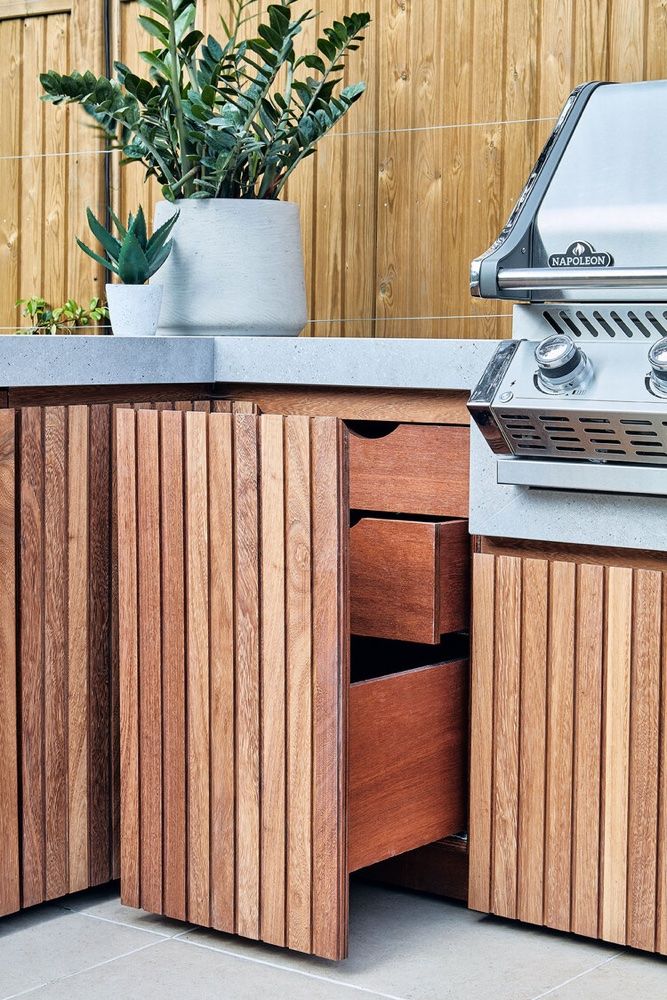 (Image credit: Blakes London)
CREATE USABLE DINING AREAS
Don't forget, you'll need a sociable and practical space to enjoy that delicious food you're whipping up in your snazzy new outdoor kitchen.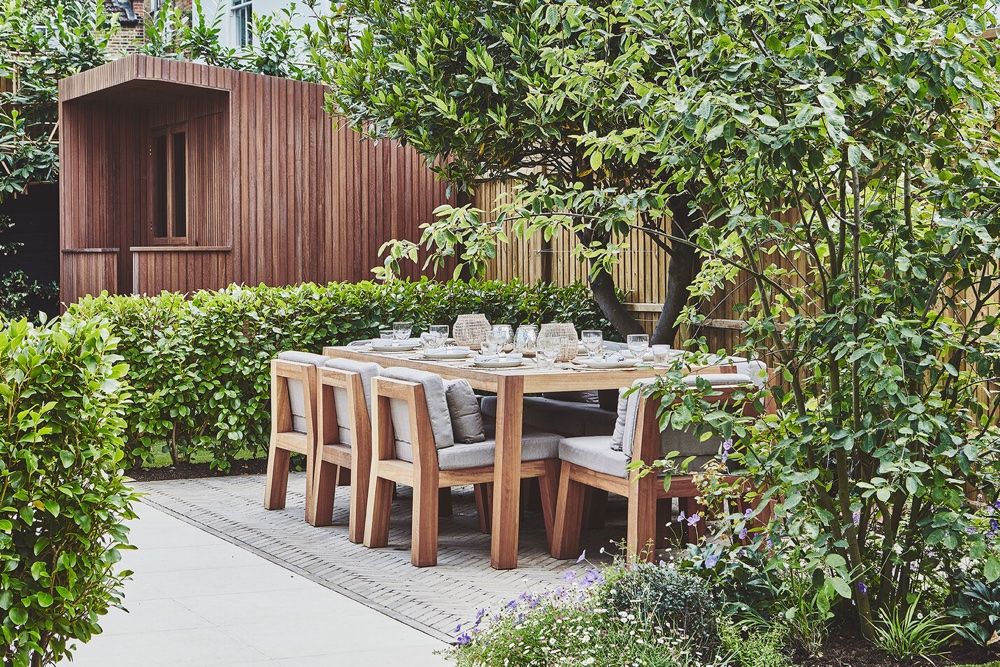 (Image credit: Blakes London)
Choose a spot not too far from the kitchen space so you don't have to carry your food and utensils too far, whether it's a big outdoor dining table for larger areas, a compact bistro set for couples and smaller patios, or a tall bar dining set for slimline areas.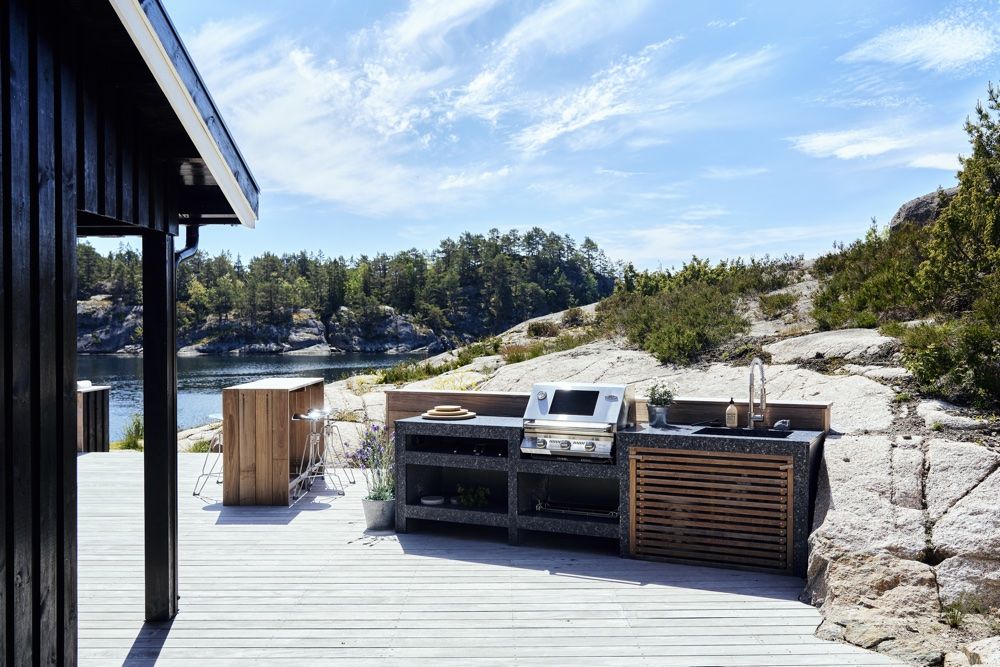 (Image credit: Lundhs / Morten Rakke)