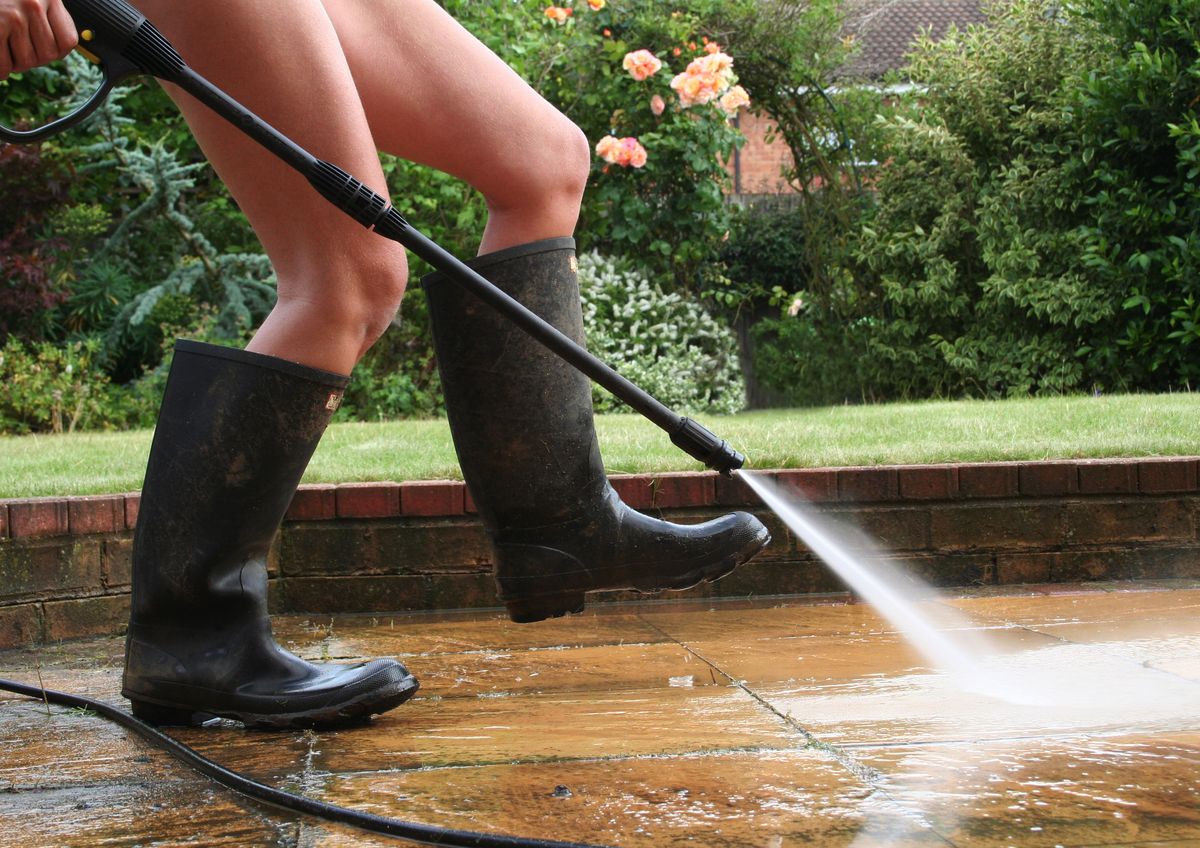 Need to find out how to clean a patio? After a long winter even the loveliest patio can look a little grubby, and even green, while debris like leaves and twigs could have accumulated on the surface. It all adds up to a patio that doesn't look like an enticing space to take a seat come the good weather.
But whether yours is made from concrete or cement, pavers, slabs, brick or stone, patio cleaning takes just a little time effort with the promise of great results. And so you can achieve your transformation, we've put together a guide to the different ways you can tackle yours, from buying the best patio cleaner, to taking on the job with a power washer and more. 
Find out the right way to clean a patio by scrolling down.
Patio cleaning essentials
How to clean a patio
The best way to tackle a dirty and stained patio will depend to some extent on what state it's in following the winter's onslaught. A patio that's only a tad grubby can probably be cleaned with soapy water. 
If you're looking for an eco-friendly approach, then our household favourite vinegar is a possibility and can do sterling work outside the house just as it does in kitchens and bathrooms.
Prefer to use a specialist product? There are some brilliant options out there, including biodegradable and pet-friendly versions. 
The best pressure washer could help you turn your patio from marked to marvellous again, too. 
Here's the lowdown on each alternative.
1. Clean a patio with soapy water
If your patio has come through the winter in fairly good shape, a soap solution might be all that's needed for your patio cleaning task and can return it to its former glory. Tidy away any furniture that's spent the winter on the patio first, then brush loose debris from the surface, and pull up any weeds.
In a bucket make up a soap solution with warm water plus washing-up liquid or soda crystals. Pour the solution over the patio and use a stiff brush to clean the stains away. You can rinse with clean water when you're done, using the hose or a pressure washer on a low setting (see below) if it's easiest. 
2. How to clean a patio with vinegar
More set-in stains might need the extra power of vinegar to lift them and clean the patio thoroughly. Although vinegar is eco-friendly, do bear in mind that it is acidic, so clearing the patio of furniture or pots before you start is vital. As with using a soapy water solution, use a stiff broom to brush the patio clear of debris before you begin as well.
Make up a 50:50 vinegar and water solution, and apply to the paving – a watering can will mean even coverage. Leave to soak for around 20 minutes, then use a stiff brush to remove stains. Once you're done, mop with clean water. Leave to dry before you put anything back on to the patio.
Patio particularly stained? Use more vinegar than water in your cleaning solution.
Today's best vinegar deals
3. Clean with a patio cleaner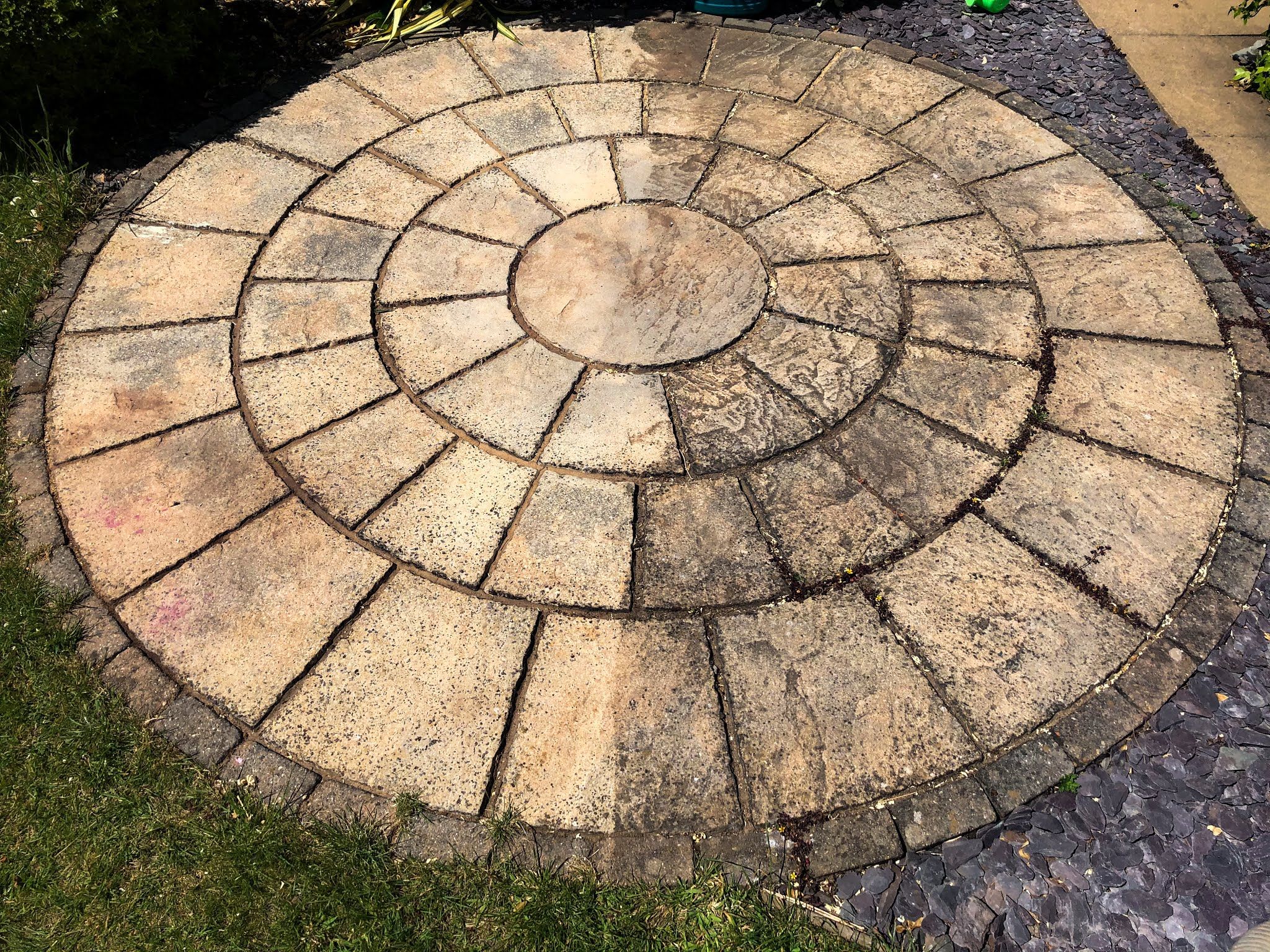 Before and after using Wet & Forget spray-on patio cleaner
(Image credit: Future)
Prefer the idea of transforming a stained and slippery patio with a product made for the job? Our number one is Ultima-Plus XP Ultimate Patio Cleaner. You'll need to keep an eye on the weather forecast when you use this cleaner as it shouldn't be applied when rain is expected within eight hours. As well as cleaning, this product promises to prevent re-growth for up to six months. You can use it on decking, fencing, roofs, sheds, greenhouses and more as well. It's safe round children and pets once the area is dried, and is biodegradable.
Looking for an organic cleaner? Check out Algon Organic Path & Patio Cleaner. Again, you'll need to get your cleaning in when there's no rain expected and the patio is dry. Simply make up a solution according to the instructions, and apply to the patio with a garden sprayer, soft broom or paintbrush. This cleaner doesn't need scrubbing or rinsing. Be patient, though. Results should be apparent within a week or so and it will stay active for months to come, the manufacturers say.
Do take into consideration what your patio is made from when you're buying a patio cleaner. Some contain acid which can damage some types of stone used for patios –particularly natural stones like limestone, travertine and some sandstones. Colored concrete can also be affected by acid. If you're not sure what your patio pavers are made from, test an inconspicuous area before going ahead.
Today's best Algon Organic Path and Patio Cleaner Concentrate deals
4. Cleaning a patio with a pressure washer
A pressure washer can be an extremely effective – as well as easy – way to clean your patio. Bear in mind that some suppliers don't recommend using a pressure washer on their paving, and if you're not sure yours will stand up to this treatment, do test somewhere inconspicuous first.
Clear and sweep the surface before you start. Start with a lower setting and increase pressure carefully as needed; avoid using a high pressure on any chipped paving. Use a low angle and a fan setting if available. Clean section by section so pressure doesn't become concentrated in some areas.
Today's best pressure washers deals
How do you clean a patio without a pressure washer?
If you want to clean a patio without a pressure washer, you'll need to opt for one of the methods above. A soapy solution can be all that's required for patio cleaning, and if you're not sure what's best, why not start with this method, as you'll likely have everything you need to get on with your patio cleaning right away.
Most of us have vinegar in the store cupboard as well, so this is the cleaning remedy to try if stains remain after you've used soapy water and a stiff brush. Worried about the smell if you use vinegar? Don't be. It will disperse rapidly after you've rinsed the patio.
A specialist patio cleaner is your friend if these methods don't cut it, but always check it's suitable for the material from which your patio is constructed (see above).
How to remove green algae and how to clean a patio with bleach
Yes, you guessed it, knowing how to remove green algae means knowing how to clean a patio with bleach.
In fact, using bleach is a simple way of solving what might look like a big problem of a patio that's turned green. All you'll need is the type of household bleach you probably have already. However, it's best to avoid a product manufactured to stick to a toilet bowl as the aim is to spread the bleach evenly over your patio to clean it.
To use bleach put water into a bucket or watering can, then add an equal amount of bleach. Apply evenly to the patio, and be careful not to get any on surrounding plants or grass – rinse thoroughly if this happens. 
Leave the bleach solution to work for a few minutes, then rinse the patio thoroughly with clean water. Don't forget to rinse your watering can or bucket, too.
Be aware that you may need to repeat the treatment if the algae is stubborn.