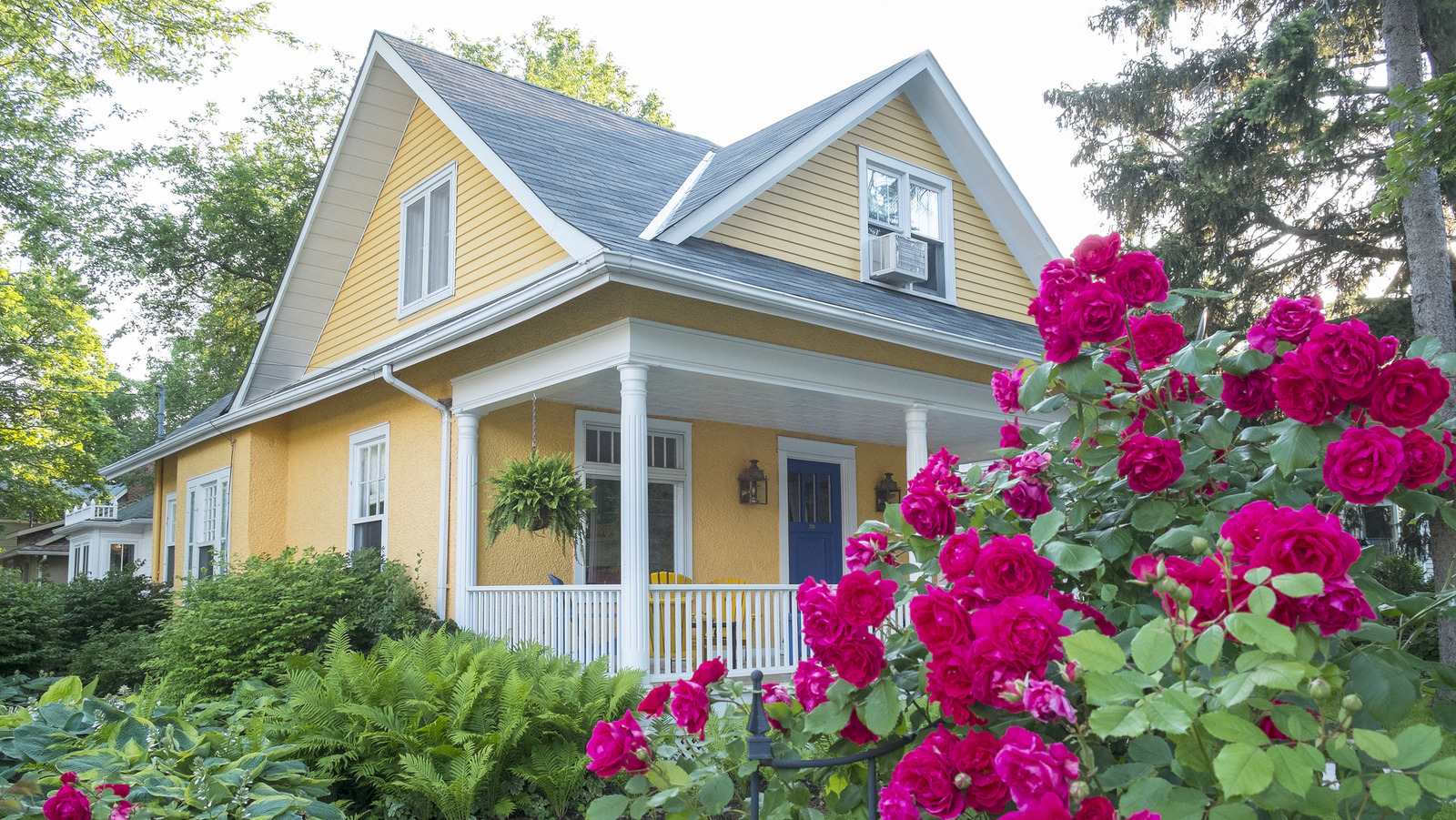 The exterior of your home can very easily become neglected when it comes to aesthetic value and appeal. Since you spend most of your time inside, you may focus more on interior design as opposed to your landscaping, siding, etc. That being said, when it comes to your home's overall resale value, curb appeal is vital. According to Professional Staging, good curb appeal greatly increases the market value of your home since it reflects a sense of upkeep and quality, as well as just looking nice.
A great way to spruce up the exterior of your home is to give it a new coat of paint, whether you start small with shutters or trim, or go big with your entire siding. Instead of traditional and classic colors, though, consider going a bit bolder with vibrant, lighter, more eye-catching shades. Lyons Lumber says that these lighter exteriors are trendy, add a layer of dimension to your home, and can help show off unique landscaping or architectural features. Keep reading for some inspiration on the vibrant color combinations you can incorporate in your own home.
1. Bright blue
Switch up a traditional blue vinyl siding with a brighter, bolder teal blue. Keep the trim white to calm it down a little bit.
2. Light blue and orange
For a beachier, summery feel year-round, paint your front door a bright orange and your siding a light blue.
3. Yellow and green
Yellow siding is always bright and cheery and great for increasing your curb appeal. Paint your front door, and even some trimming or other exterior accents, a military green to make it a little more sophisticated.
4. Two toned blue
It's almost impossible to go wrong with a blue home exterior, so why not double up on the color? Pair vibrant blue siding with a contrasting dark blue front door for some dynamic exterior color.
5. Sage green and chartreuse
Green is another classic and nearly foolproof exterior color. Go for a subtle sage green siding color, and shake it up with a muted chartreuse front door and white trimming.
6. Bright pink and blue
If you're not afraid to go super bold with your exterior home colors, bring in some tropical vibes with a bright pink exterior paint, whether stucco, siding, or something else. Go a step further with a cobalt blue front door.
7. White and pink
To add a simple but effective touch of color and personality to a plain white exterior, paint your front door a bright pink.
8. Dandelion yellow and white
A classic but nonetheless vibrant and unique exterior house color is yellow. Vary it a little by going for a slightly vintage, dandelion-yellow shade, opting for white trim and detailing. Add some color variation with a navy blue front door.
9. Dark blue and tan
For a more vintage, classic look, go for a dark but saturated navy blue, pairing it with a tan front door and dark brown detailing.
10. Sunshine yellow and blue
Blue and yellow are a timeless and beautiful color combination, and great for the exterior of your house. Choose a light, sunshine yellow siding, and pair it with a slightly aquamarine-colored front door.
11. Pink and black
Black trimming and exterior detailing add a stunning level of sophistication to any home. Highlight it with a bold and fun exterior paint color, like flamingo pink.
12. Sky blue and dark wood
Add some depth and contrast to a traditional sky blue siding by going for a rustic, dark wood front door, highlighting both of them with white trimming.
13. Yellow and ivory
White siding is classic, but it can be a bit basic. Instead, choose a darker, ivory-toned siding, highlighting it with a bright yellow front door.
14. Dark teal and red
A darker, more subdued teal shade would also make for a unique but eye-catching siding color. Don't ignore your porch flooring, either — paint the floors a vibrant but muted red color for some stunning contrast.
15. French blue and beige
Add some variety to a classic blue exterior by focusing on the trimming instead. Paint the front door, shutters, and other exterior details a vivid shade of French blue, cooling it down with beige siding.
16. Shades of brown
While it may seem a bit plain, brown can actually be a very interesting exterior shade. Victorian architecture makes excellent use of varied shades of brown, ranging from soft tans to vivid, chocolatey shades, creating a dynamic and unique final product.
17. Dark gray and turqoise
David Papazian/Shutterstock
Dark gray siding with trimming is another safe, timeless, and classic exterior color combination, but it is also quite basic. Shake it up a little bit with a vivid and bold turquoise front door.
18. Orange and forest green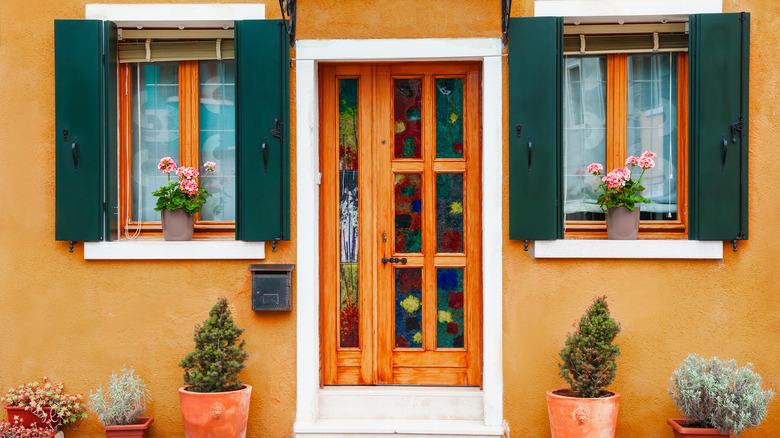 Olga Gavrilova/Shutterstock
Orange exteriors are a very classic shade in both tropical and desert climates and are stunning as is. However, if you want to add some depth to the cheery shade, consider painting your shutters a dark, moody, forest green.
19. Stone blue and olive green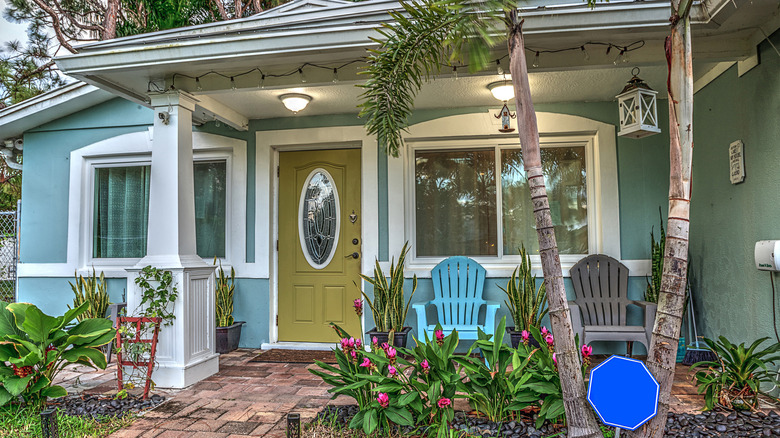 SunflowerMomma/Shutterstock
Stone blue is a grayish-pale blue shade that looks great for any home's exterior. Shake up the classic color with a bright, olive green front door.
20. Red and tan
Your siding and trim aren't the only places to add some color to your exteriors — the roof is another great opportunity, especially on older homes. Paint the roof a beautiful brick red and pair it with more subdued tan siding and brown trimming.
21. Green and blue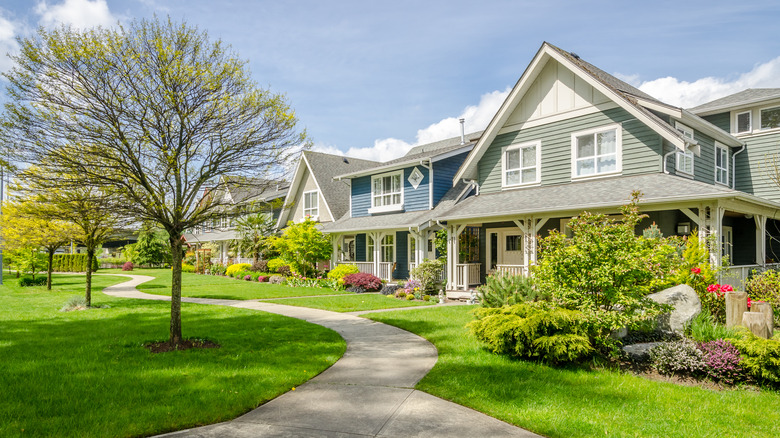 karamysh/Shutterstock
If your house is larger and has different sections, consider painting each section a different color — one a light green, the other a dark blue, the other white, etc.
22. Light blue and black
Light blue can very easily be mistaken for white when used to paint your home's exterior. Make the color more vibrant with dark black trimming and exterior detailing.
23. Navy and white
On the flip side, navy can very easily dominate a home's exterior and make it seem unduly moody. Lighten it up with some bright white trim.
24. Pear green and white
Create a tropical, beachy feel with a vibrant pear-green shade on your exterior, emphasizing it with a white front door and windows.
25. Red and teal
Don't underestimate the power of exterior detailing colors when it comes to making your home's exterior more dynamic and appealing. Add dark red trim on your roof and teal columns and fencing on your porch to make a simple beige home all the more interesting.
26. Bright blue trim
A simple and easy but nonetheless effective way to add some intrigue and curb appeal to your house is by just painting the trimming. Add bright blue trimming to a simple white house to turn it into the most eye-catching house in the neighborhood.
27. Sage green and white
Sage green is a simultaneously modern and vintage shade, making it great for your exterior paint — both timeless and trendy. Pair with white and wood shades on the detailing.
28. Yellow and orange
Create a Spanish or Tuscan-inspired exterior by painting your siding a vibrant but lighter shade of yellow, pairing it with an orange, or even terracotta, roof.
29. Peachy orange and white
For a summery, vintage-inspired exterior, paint your siding a peachy orange color. Pair with a slightly antique shade of white on the trimming.
30. Brick and blue
Brick exterior homes already have immense curb appeal and charm, but you can add even more by painting the front door a lovely dark blue shade.
31. Rustic red and blue
Add some vibrancy to a basic cabin by painting the exterior a rustic shade of French or stone blue, opting for a super warm, reddish wood tone for the exterior trimming.
32. Bright red and yellow
If you have a two-story home, have fun and make each floor a different color. Go for a bold and vibrant red for the first floor, and a more subdued yellow for the second.
33. Sky blue and warm brown
A bright sky blue is sure to be eye-catching in a sea of basic, subdued blue homes. Add even more intrigue with a rich, almost red, brown shade for your exterior detailing.
34. Bubblegum pink and gray blue
Create your own dreamy dollhouse by painting your exterior siding a bright bubblegum pink. Make it a little more dynamic with a gray-toned blue for your trimming and exterior detailing.
35. Stone blue
Stone blue is a lovely and unique shade of blue, and true to its name, would look lovely paired with a light stone exterior.
36. Bright purple and white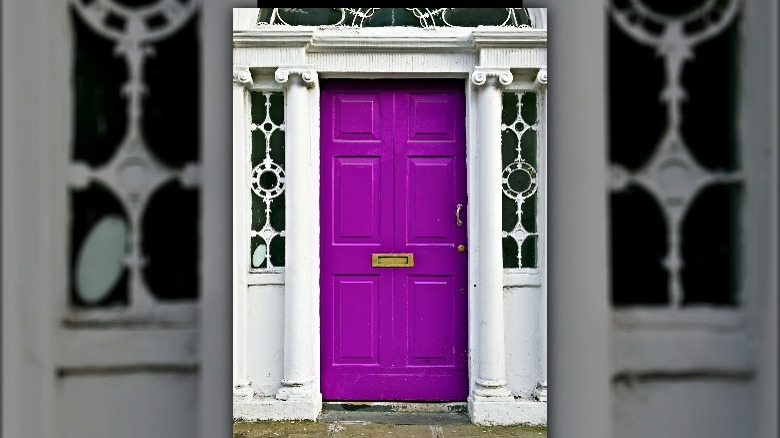 Marco Fine/Shutterstock
You don't need to go crazy with exterior paint or renovations to add some curb appeal and exterior intrigue. Instead, add a fresh coat of white paint to your exterior trimming, and paint your front door a bright, bold purple shade.
37. Baby blue and white
Add some variation to a traditional blue exterior by shifting it to a super light, baby blue shade, emphasizing the unique shade with bright white trimming.
38. Autumnal orange and white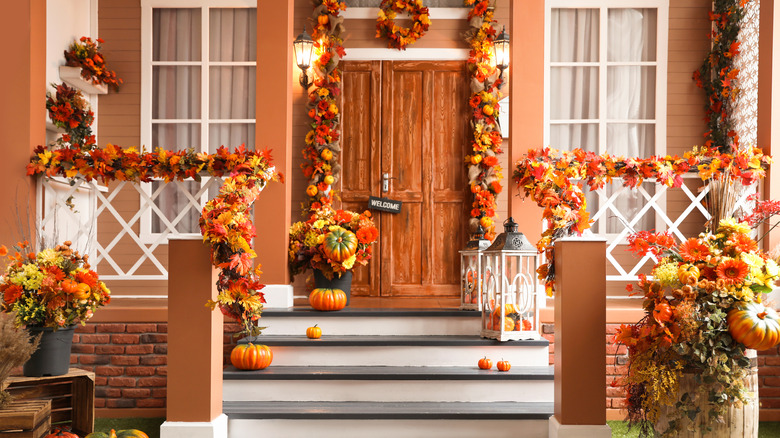 New Africa/Shutterstock
Create a gorgeous fall front porch with a rich, nearly brown, orange exterior paint. Brighten it up with white trim.
39. White and teal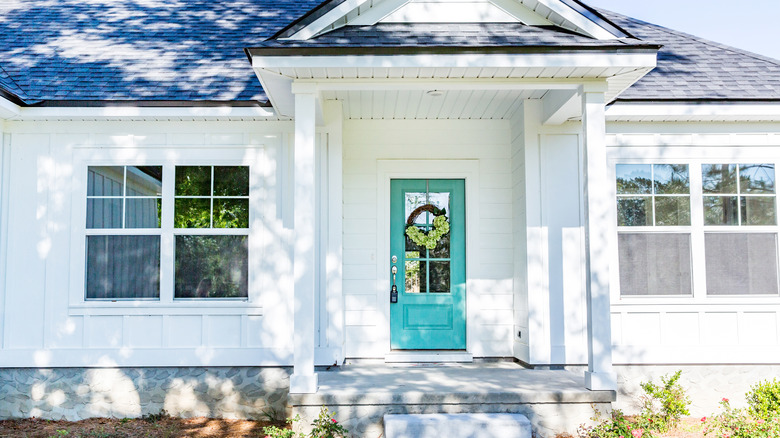 Ursula Page/Shutterstock
If you don't want to commit to a bold exterior paint color, you can still add some charm and curb appeal with a bright teal front door, highlighting it with clean white siding.
40. Green and plum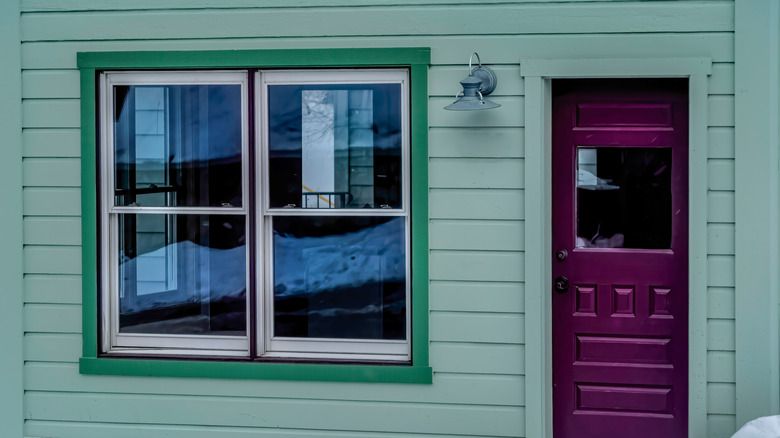 Jason Finn/Shutterstock
Add some bold contrast to a simple green exterior with a rich, dark plum front door, amping it up with a kelly green window trim.