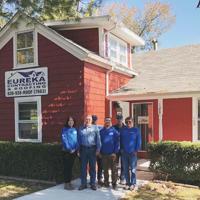 The Eureka Contracting and Roofing staff outside the office in Eureka.
Eureka Contracting and Roofing works to save money
Eureka Contracting and Roofing president Rick Hinkson said he hopes customers turn to him first.
"We are the local guys," he said. "If something does happen down the line, we are in town. We will take care of it."
Hinkson said he started the firm to provide better customer service. Eureka Contracting and Roofing does roofs, gutters, gutter protection, siding and small interior projects.
Hinkson said he will take jobs within a 40-mile radius from Eureka.
"I have worked as an insurance adjuster for about 30 years and we look at the roofs like the insurance company will look at it and evaluate and determine insurable loss," he said.
He said can save a customer money if they call him first.
"If you call the insurance company up and they look at your roof and determine that there's no damage, they still charge you for a claim," he said. "That claim goes on your record. We can get out there ahead of time and look at it and determine if there is or is not any damage to that roof. If there is no damage to it, don't turn it in and (the insurance company) doesn't charge you."
He said because his company provides assessments for free, if he determines there's no damage to the roof, the homeowner will pay nothing.
He said if there is damage, he will assist in filing a claim.
"We work with insurance companies, not against them," Hinkson said.
Hinkson said his company also does roof inspections for home buyers and sellers.
"A roof covers everything you own, protects everything you own," he said.
Eureka Contracting and Roofing is at 128 S. Virginia Ave. in Eureka. The firm can be reached at 636-938-7663 or at rick@eurekacontracting.com.