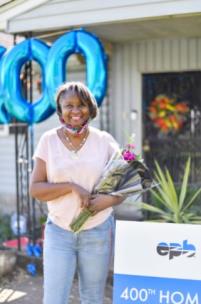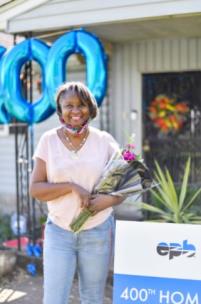 EPB and the Tennessee Valley Authority (TVA) announced Wednesday the completion of their 400th Home Uplift energy renovation and joined homeowner Eleanor Young in sharing the benefits of the program for her and hundreds of other EPB customers. 
EPB and TVA first partnered in 2015 to provide high-impact home energy upgrades to qualified homeowners with the goal of reducing their energy burden. The result is the Home Uplift program which has been replicated in communities across the Tennessee Valley. Those who qualify receive home improvements at no cost to help them dramatically reduce their power bills. On average, EPB's Home Uplift participants save $500 on their energy costs each year.
"I had sky high electricity bills because my son and I were using portable space heaters and AC window units," said Ms.
Young. "My power bill has decreased, the insulation is making a huge difference in helping the house stay warmer, my air quality is better and I have more peace of mind now because I don't have to worry about how I'm going to pay a really high power bill."
The EPB and TVA team replaced Ms. Young's HVAC unit, sealed duct work, added attic insulation and installed smoke and carbon monoxide detectors, air sealing and additional renovations.
Other eligible energy efficiency upgrades Home Uplift participants may receive include duct replacement, water heater and pipe insulation, wall insulation, HVAC clean and tune, windows and door replacement and replacing heat pumps, water heaters and refrigerators. 
"TVA believes in uplifting lives and helping our neighbors feel safer and more comfortable in their homes," said Cindy Herron, vice president of TVA EnergyRight.  "Now more than ever, EPB and TVA are focused on helping families save money by making the necessary upgrades that improve their home's energy efficiency and indoor air quality."
According to Elizabeth Hammitt, EPB director of environmental stewardship and residential services, the success of the program rests on a foundation of community engagement and data-driven decisions using smart grid information to determine where the program could have the most impact.
"We started the process with a series of community input meetings in which we invited nonprofit, government, and underserved neighborhood leaders to help us design the program," said Ms. Hammitt.  "We leveraged our smart grid data to target the areas of our community with the highest energy usage, and our findings correlated closely with areas of town with high numbers of limited income customers." 
Using third party analysis on past performance of EPB Uplift homes, Ms. Hammitt estimates that each of the 400 homes will save 5,206 kWh on average each year, for a total of two million kWh each year.  This equates to more than $500 per home per year, over $208,000 in total savings annually.
"Environmentally, the savings translate to 1,472 metric tons of carbon equivalent avoided, the environmental impact equal to 1.6 million pounds of coal not being burned or 24,345 tree seedlings grown over ten years," said Ms. Hammitt.
Local foundations Lyndhurst, Benwood and Footprint helped fund the pilot program with EPB.  The Empower program, managed by Chattanooga's sustainability nonprofit green|spaces, was funded in partnership concurrently, targeting underserved neighborhoods with higher than average energy usage as identified by EPB's smart grid data. The program has grown from the 14 home pilot to more than 400 homes.  The additional Empower workshops, funded in part by EPB, the City of Chattanooga and others, have served thousands. Additionally, in 2018 TVA, greenlspaces, Pinnacle Bank and EPB received funding from the Federal Home Loan Bank to improve 100 homes. 
The Tennessee Department of Environment and Conservation provided a $750,000 grant to support the Home Uplift program this year along with ongoing financial support from TVA and EPB.  
Since 2018, TVA has pledged $13.8 million for Home Uplift projects across seven states.  
Visit https://epb.com/homeuplift to learn more.