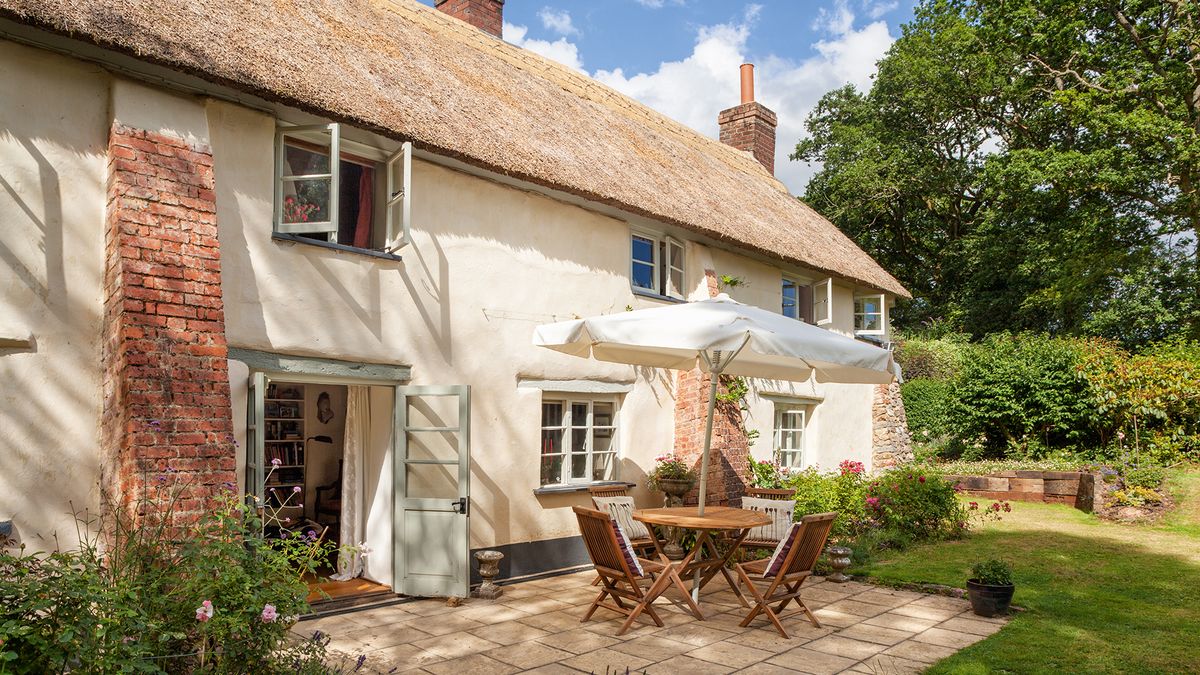 This weekend, we are spending some time browsing charming cottage patio ideas. With warmer weather on the way and the promise of long balmy days, it's time to get your garden ready to spend more time outside. 
When considering cottage patio ideas, think of it as an extension to your home. How are you going to use the space? Is it going to be a dining area for al fresco meals, or somewhere to kick back and relax after a long day? Giving your cottage patio an identity will help you to create a design that works for your home specifically. 
So, whether you want patio ideas with a cottage appeal, for period homes or traditional spaces, our inspiring picture gallery has inspiration.
Cottage patio ideas
From finding the perfect patio furniture ideas for relaxing and entertaining, to decking and paving ideas, we've rounded up a whole host of cottage garden inspiration to help you transform your cottage patio into your dream outdoor space.
1. Add a pergola over your cottage patio for shade and privacy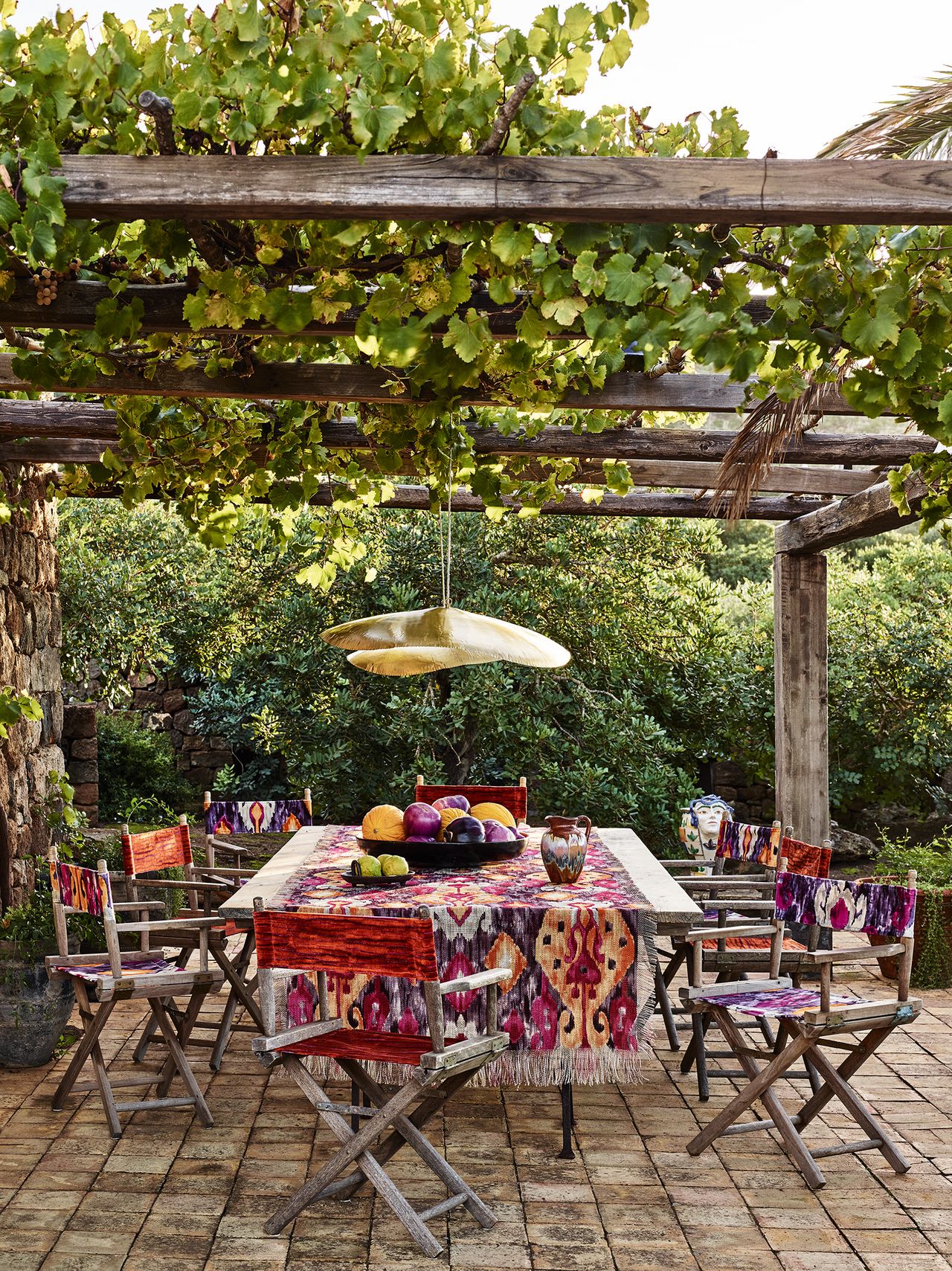 (Image credit: Zinc Textiles)
Pergola ideas are a simple addition to your backyard and provides a beautiful alternative to more substantial garden buildings. 'Pergolas, clad with climbing plants, create a cosy and private space, finish off with outdoor heating and garden lighting' says garden designer Charlotte Rowe.
While the basic frame doesn't offer instant wow-factor, it provides a structure for climbing plants like clematis and rambling roses, which when mature and in leaf will provide a shaded spot and will fill the air with a sweet smell when they bloom.
Set up a wooden table and chairs underneath the pergola for a beautiful al fresco dining space, and complement with table linen inspired by the prints of the Mediterranean to give your cottage patio that vacation-feeling at home.
2. Choose a large table so your have plenty of space to entertain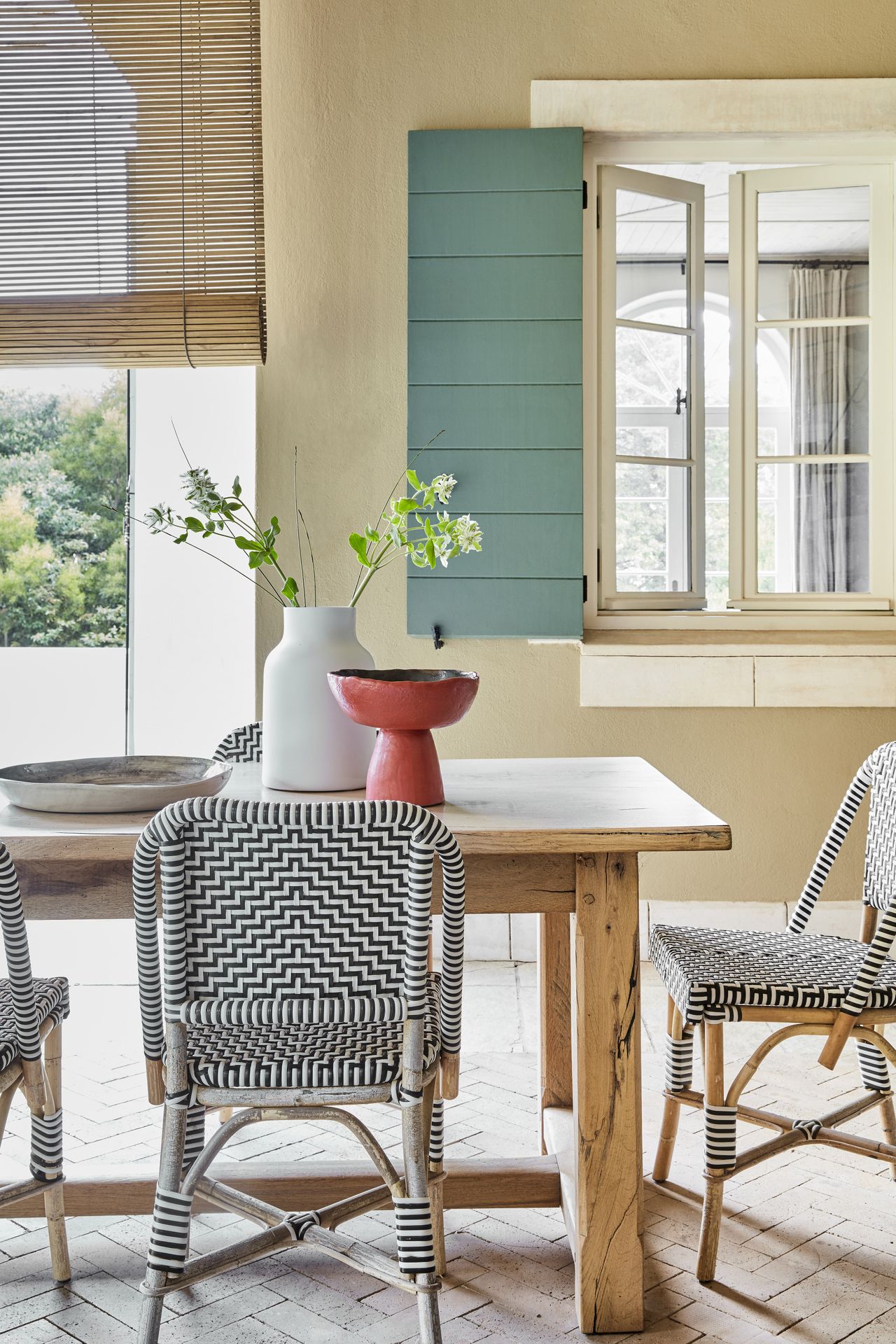 (Image credit: Little Greene)
This summer is one for celebration and reunions, so make sure everyone has a seat at the table; using patio cover ideas is a great way to ensure parties aren't interrupted by bad weather. 
Choose a long rectangular table like the one above or a round table, which will maximize the available space on a cottage patio and ensure everyone can socialize together. 
Teak garden furniture is a great choice for cottage patios as it weathers beautifully, reflecting the aged patina of your home. Plus, it is really durable so doesn't need to be stored in a shed or garage once summer is over – ideal for a cottage where space is often at a premium. However, if your cottage patio has cover, using antique furniture like the table above, creates character.
3. Make the most of stunning views from a cottage patio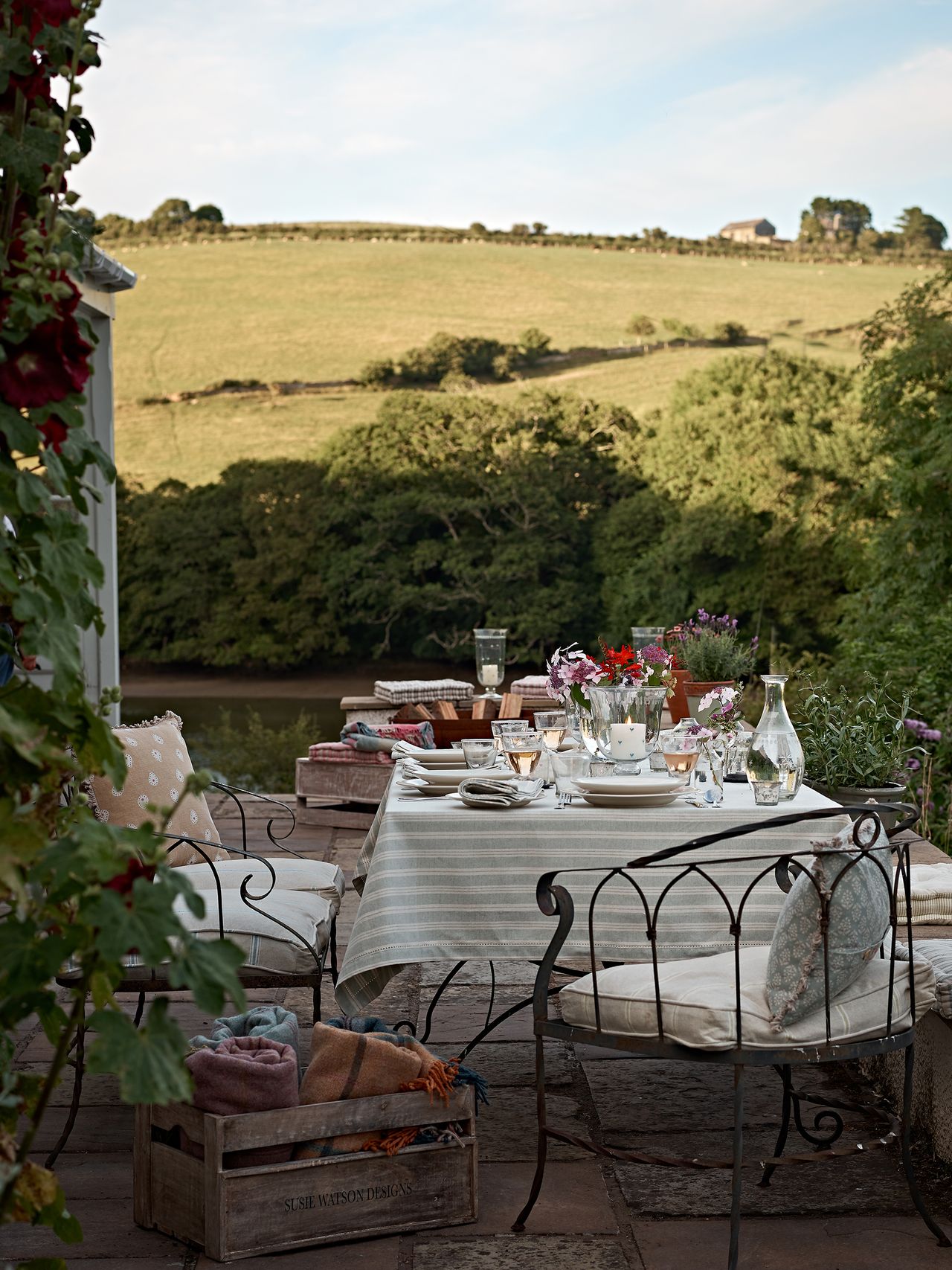 (Image credit: Susie Watson Designs)
When it comes to choosing garden furniture for a no doubt small cottage patio, the design determines the style of a small space. 
'Wrought iron garden furniture will be less clunky so won't impose on your space and will create a more decorative and attractive courtyard,' says Susie Watson of Susie Watson Designs 'Accessories with colorful garden cushions in a variety of hues will brighten up the space.'
4. Keep the party going with a firepit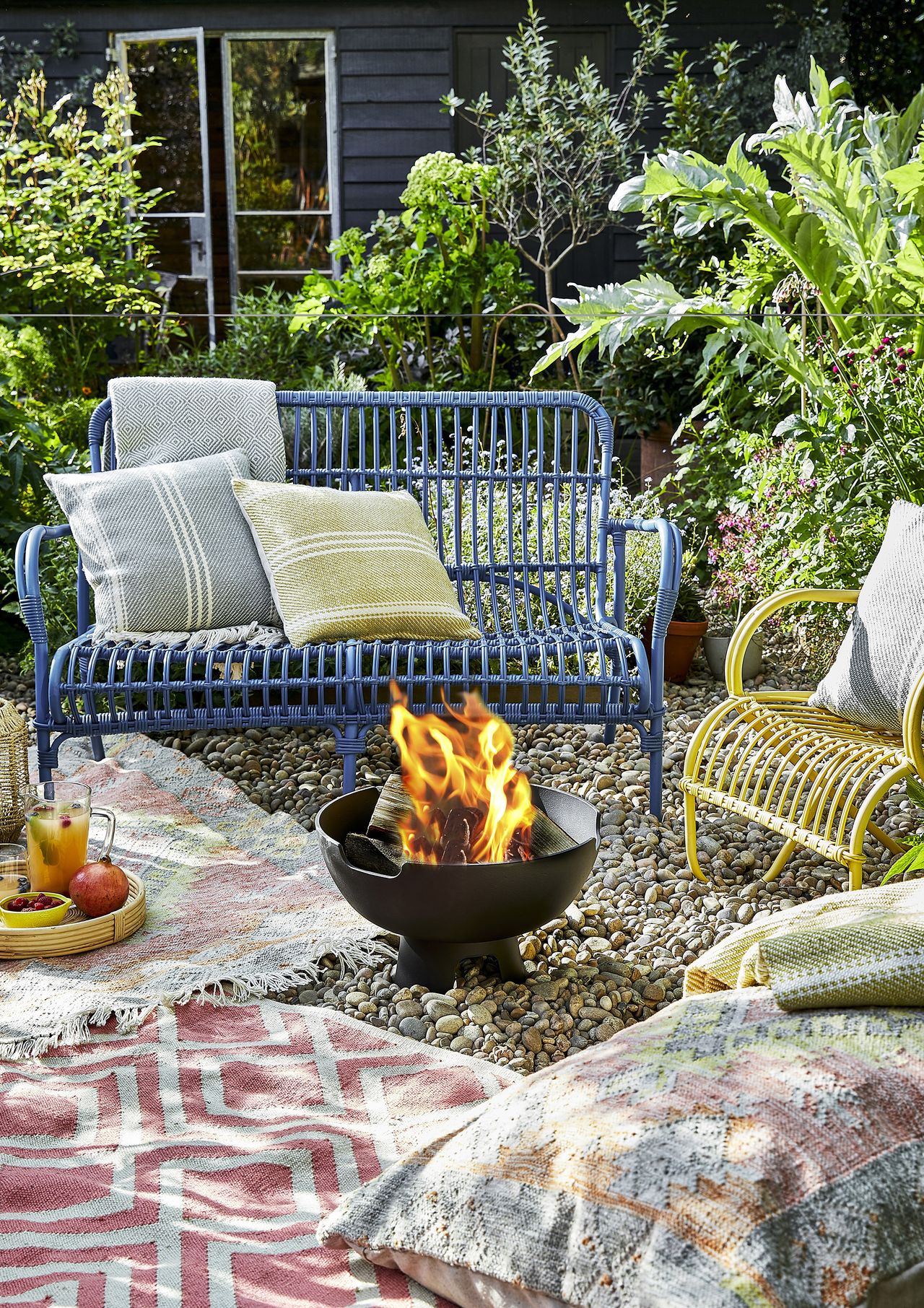 (Image credit: Morso)
Even the warmest days can bring with them cool evenings. As the sun drops, light up the fire to keep the party going well into the night. Place a firepit at the heart, then surround it with colorful cane seating and plenty of water resistant outdoor rugs and cushions to create a cozy spot for evening relaxation.
5. Create a private dining space on your cottage patio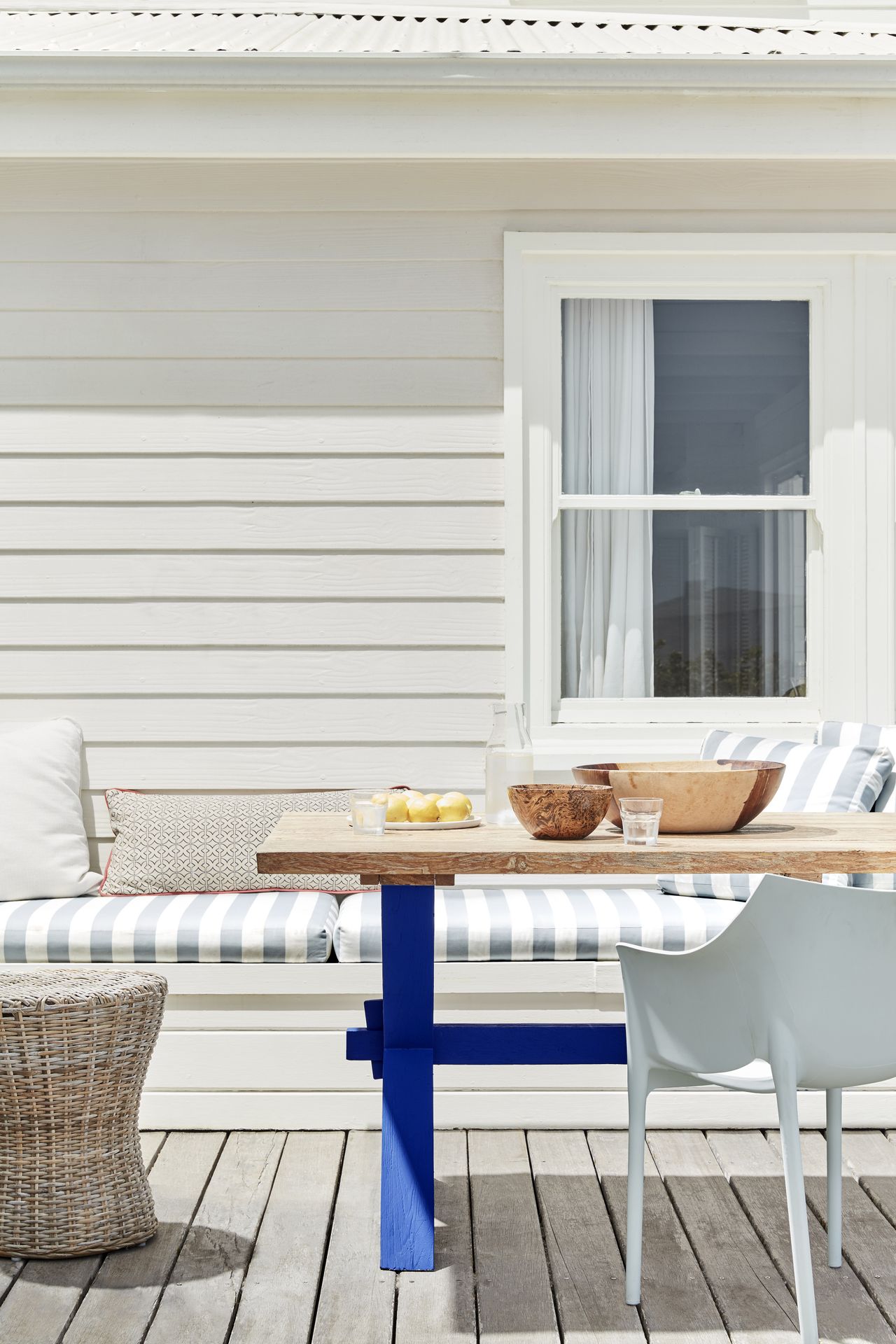 (Image credit: Little Greene)
Take advantage of an exterior wall – or garden wall – to create a secluded dining space. Pair white walls with pale flooring to create a bright sun-trap that will be a delight in spring-time and all through the summer. 
'It is important with small gardens to simplify the material and plant palette to create a cohesive scheme,' says garden designer Adolfo Harrison. Opt for a combination of seating styles to create a relaxed look.
6. Use festoon lighting to create a romantic ambience for your cottage patio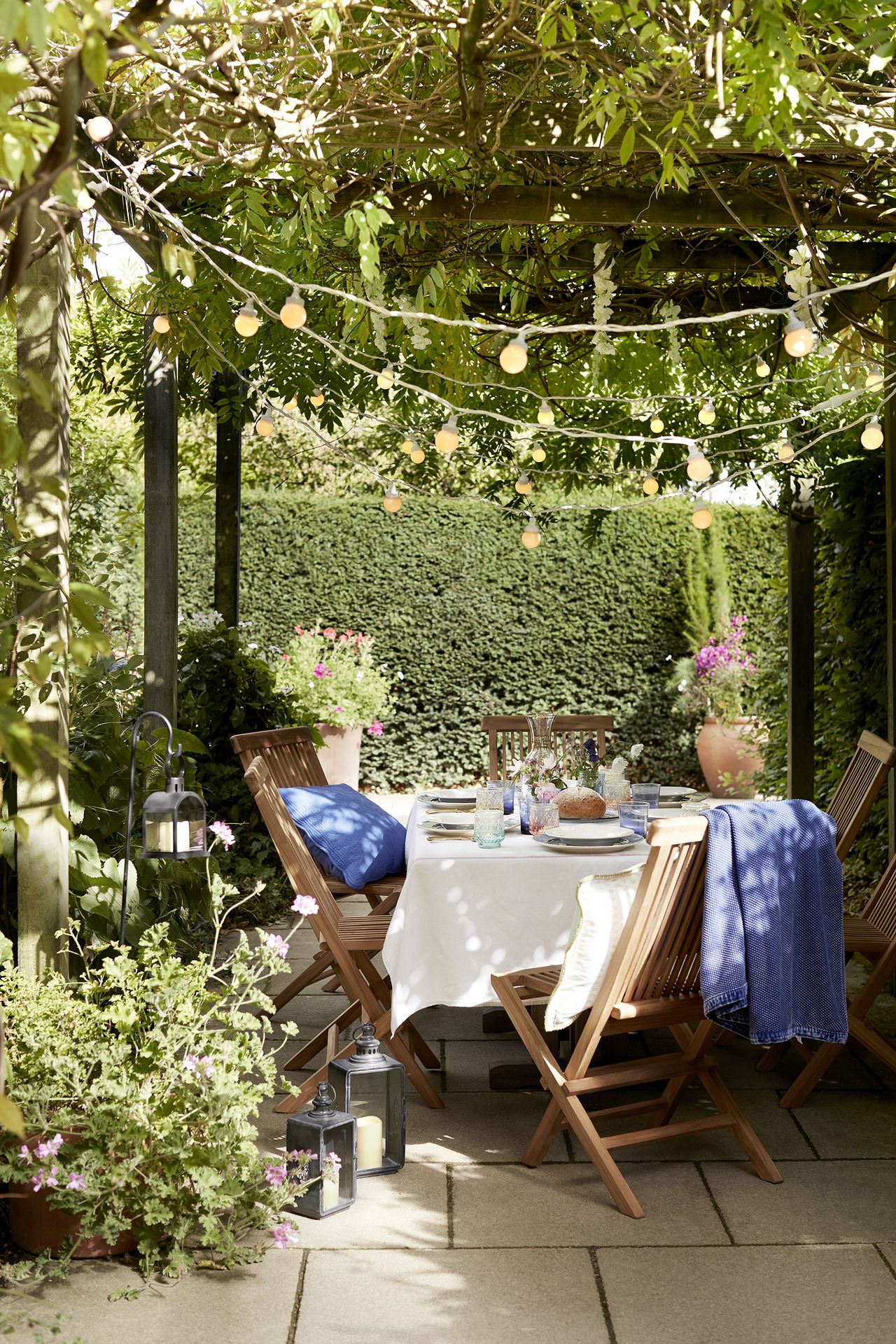 (Image credit: Lights4Fun)
Prolong al fresco summer evenings for as long as possible by illuminating your garden with festoon lighting. 
'The right designs can transform an outdoor space,' says Tina Maony director of design furniture store Go Modern. 'And advances in technology have created a much wider choice.'
Opt for outdoor lighting ideas with a warm white ambient glow to create a magical twilight atmosphere that is ideal for illuminating parties and barbecues.
7. Create an ourdoor kitchen for al fresco entertaining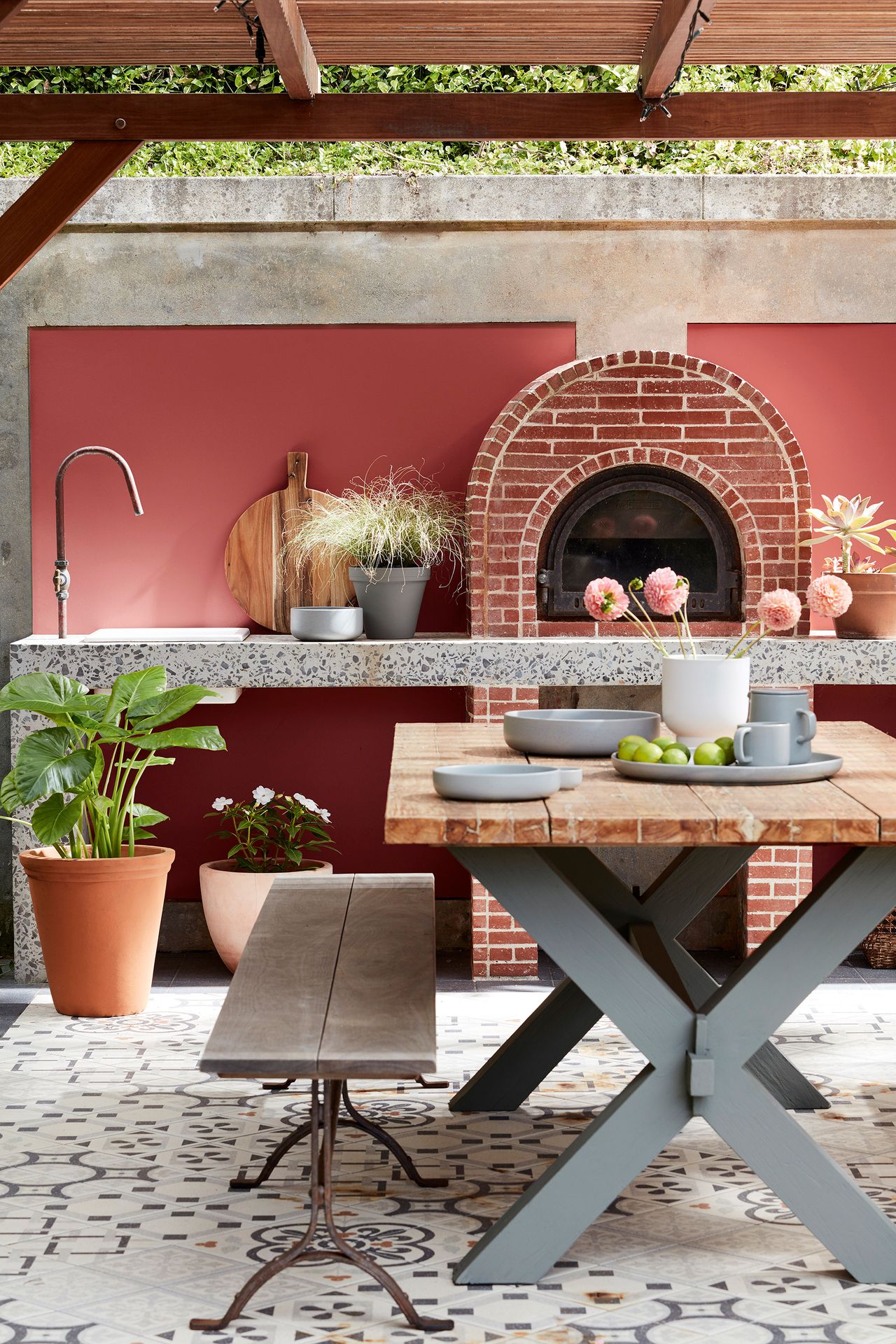 (Image credit: Little Greene)
Increasingly we are maximizing the potential of our gardens, using them as extensions of the living space to recreate that holiday feeling. Outdoor kitchen ideas have become a must-have design feature and the trend for cooking outdoors has seen the rise of pizza ovens and even outdoor kitchens being incorporated into more and more homes. 
Create a cottage patio reminiscent of the sun-baked cities of Italy by painting walls with rich terracotta and iron reds and pair with patterned tiles and chunky wooden furniture to complete the look.
8. Add a swing seat to admire your cottage patio from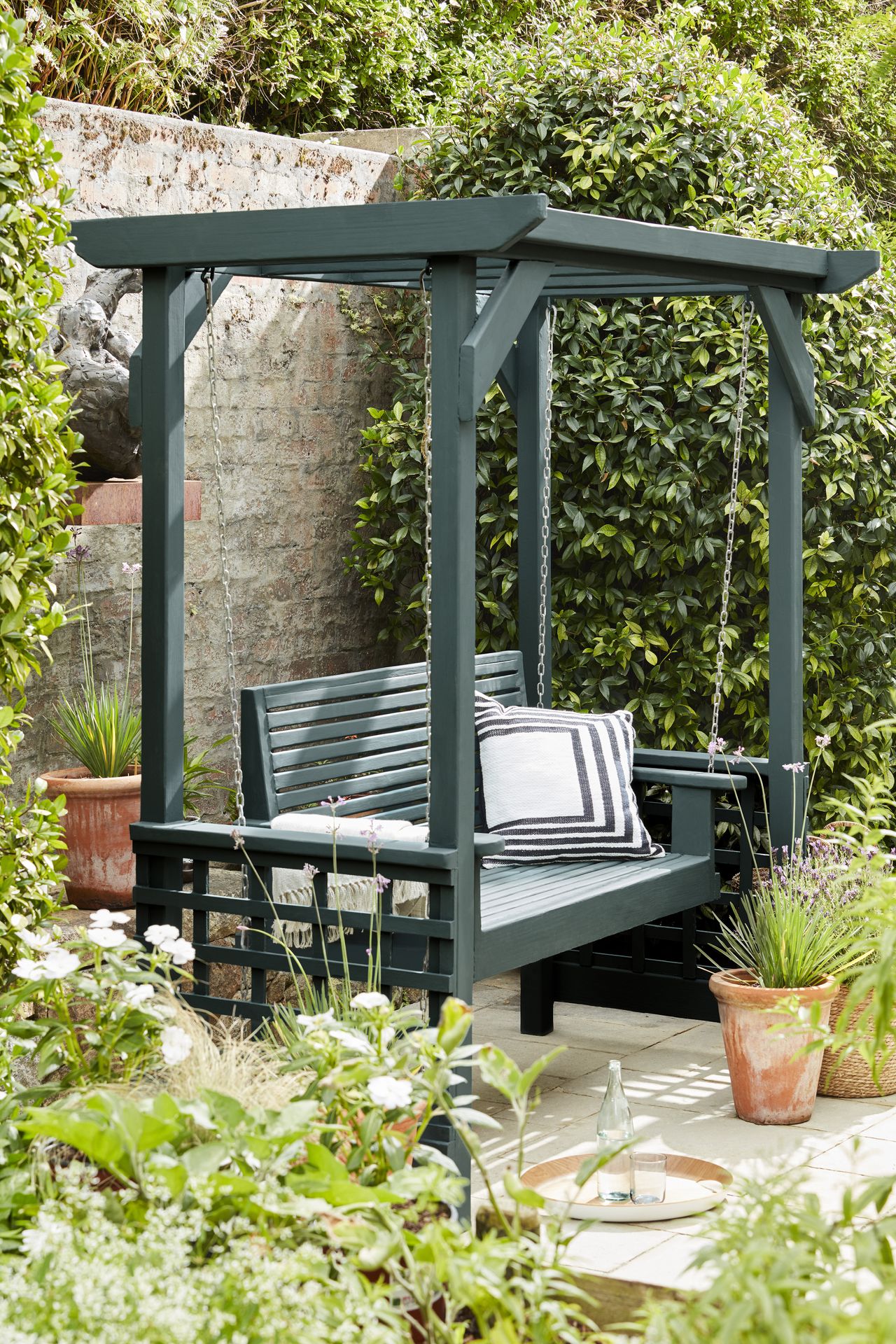 (Image credit: Little Greene)
Gardening is all about taking a moment to pause; to stop and smell the roses, as well as the jasmine, buddleja and honeysuckle. Adding a bench, or a swing seat, into your garden gives you the perfect place to sit back and enjoy the spectacle. 
A seat like this, painted to blend in with the planting, will fit seamlessly with a cottage garden and is perfect for a cottage patio area. Its frame design means it can be planted with climbers to create an oasis of colourful and fragrant blooms, while also adding much needed garden shade.
9. Add a water feature for a serene space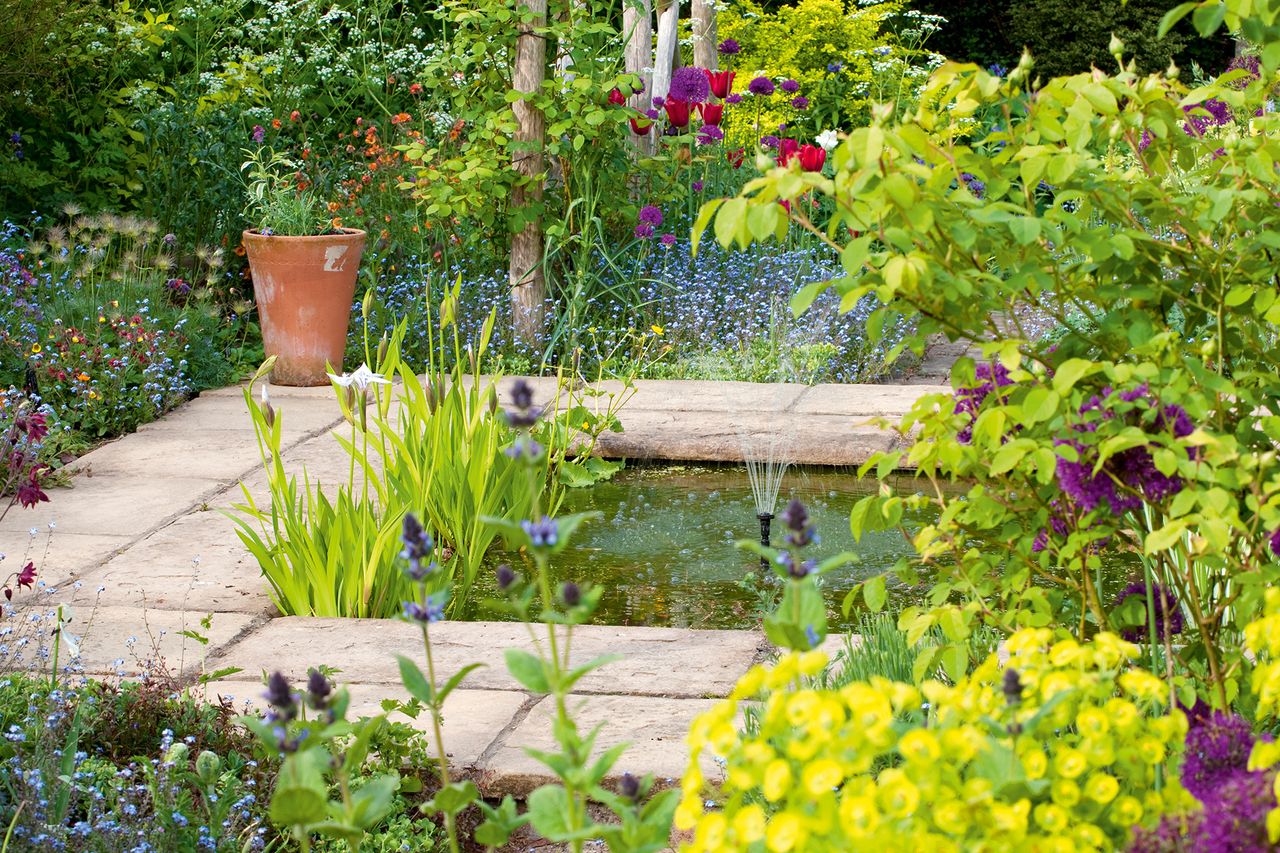 (Image credit: Leigh Clapp)
Nothing evokes calm and tranquility quite like the sound of trickling water. Introducing a water feature not only adds texture and visual interest to your garden, but will also contribute to the air of serenity, creating a restful environment that is sure to delight. 
10. Create a decked cottage patio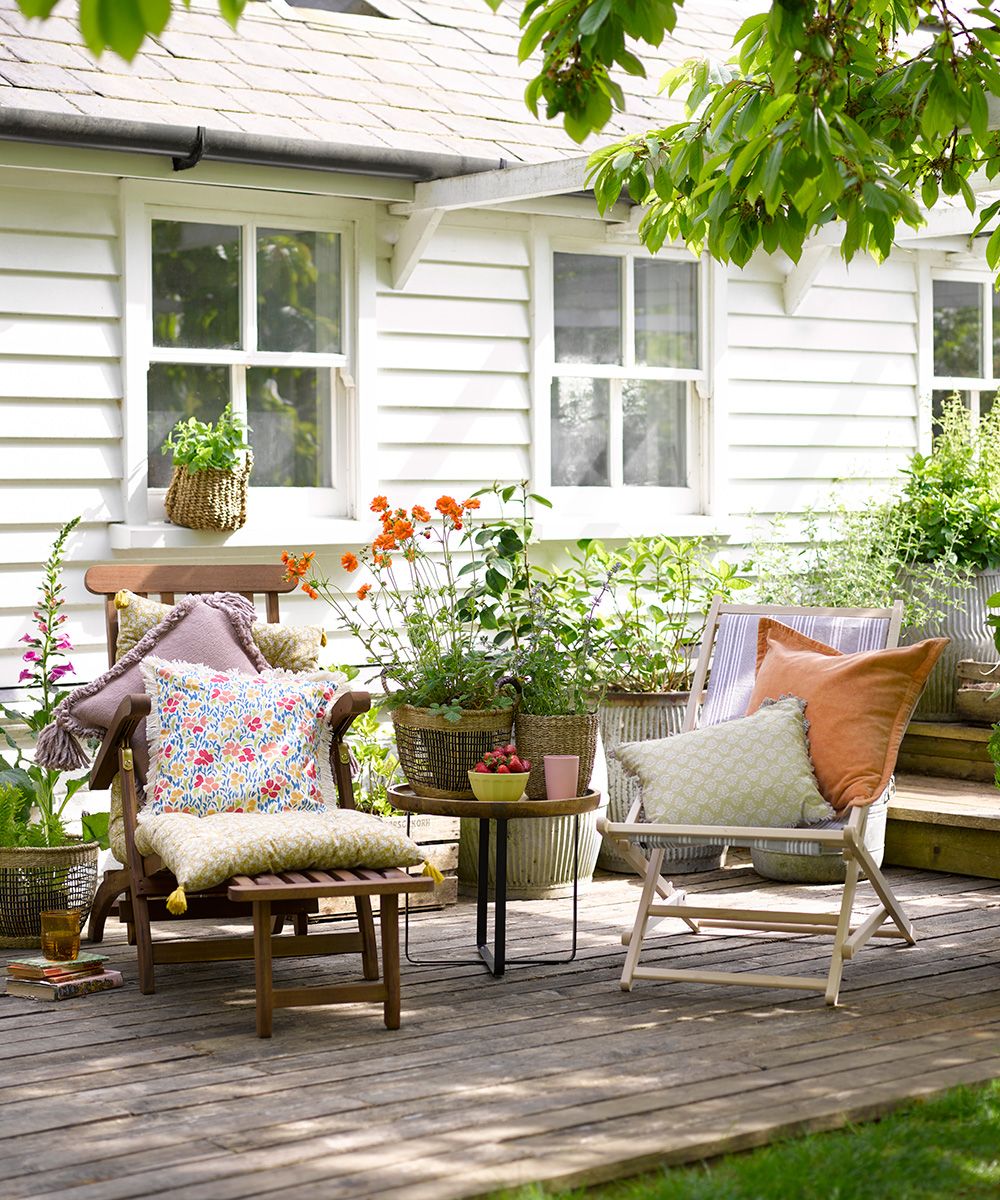 (Image credit: Max Attenborough)
Adding deck ideas to your garden opens it up to a whole host of design opportunities. A softer alternative to paving, it harmonises with trees and planting to create the perfect space for al fresco dining or relaxing, and it can be raised for better views. 
Opting for unstained wood means it will age gracefully over time, blending into the garden aesthetic and complementing your cottage home. 
11. Make your cottage patio more private with clever planting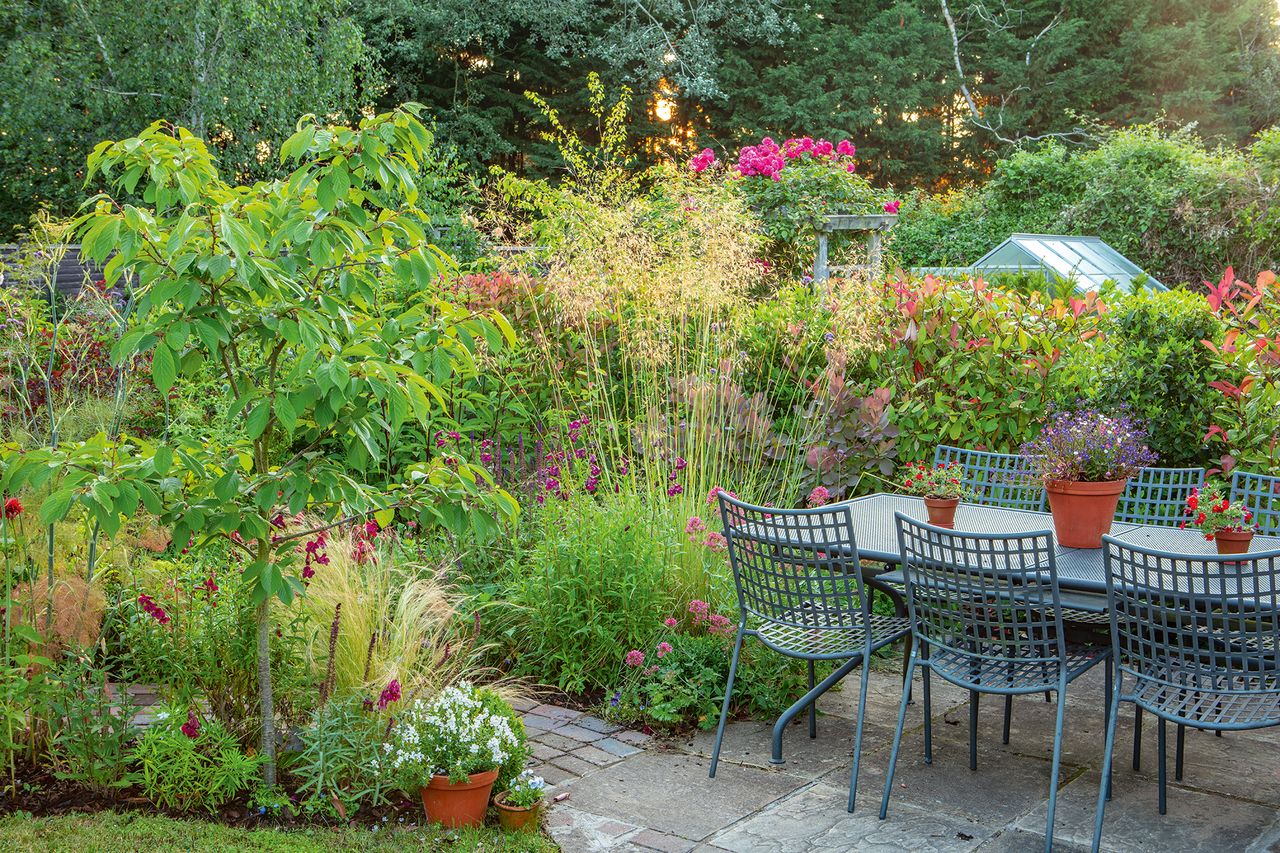 (Image credit: Future/Clive Nichols)
Are you wondering how to make your cottage patio more private? Patio planting ideas are a brilliant way to do so. Opt for tall willowy varieties, which will create a peaceful shelter both from the window and from the rest of your garden. Growing them in pots means you also have the flexibility to move them, when needed. 
Another way to increase privacy is to build a pergola over your patio area and grow climbing plants over it – roses and clematis are all great choices that will also smell delicious when in bloom.
If your garden has several levels consider building a wall to enclose your patio which will both make it feel more private and prevent onlookers. 
12. Design the perfect space for an al fresco drink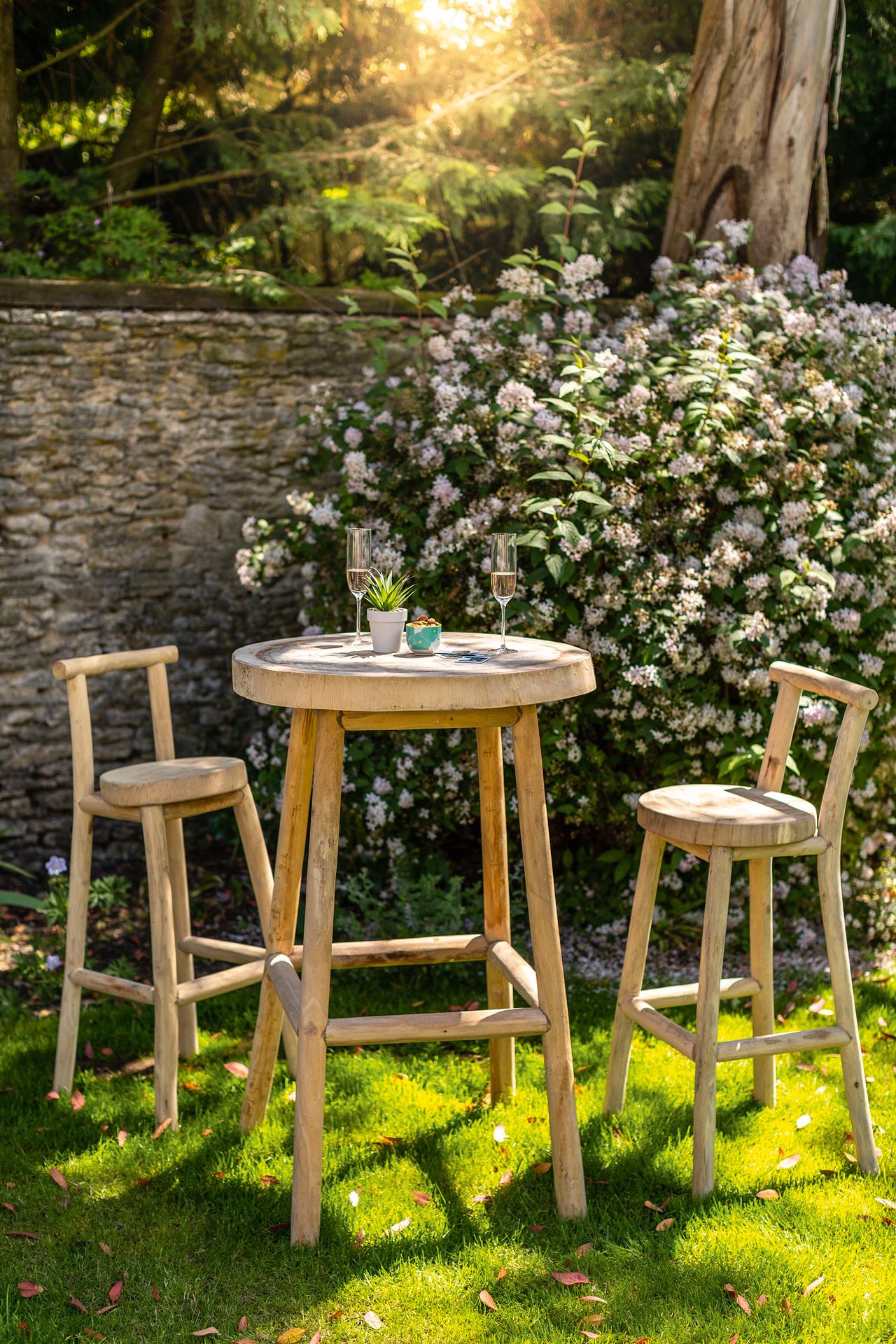 (Image credit: Indigenous)
Turn any corner of your garden into a chic pot to host a summer reception with a rustic bar table and stools. Its compact size and natural aesthetic makes it the perfect fit for a wide variety of gardens and will age beautifully if left outside. 
How do I make my cottage patio feel cozy?
Make your cottage patio feel cozy by use soft furnishings and accessories. Large, colorful outdoor cushions spread across sofa-style garden furniture, with a couple of blankets to hand for when the evenings get cold.
If you have a dining area on your patio lay an outdoor rug under your table. 'It makes the space feel considered and comfortable, and keeps evening chills off your feet' says Tasha Green, director of outdoor soft furnishing specialist Weaver Green.
A firepit also goes a long way to making the space feel warm and cozy. Position in the heart of your entertaining space so that everyone can feel the benefit of the flickering flames. 
How do you make a small cottage patio look bigger?
Make your small cottage patio look bigger with careful planting and by adding a mirror. 
A small and inexpensive addition to the garden, a mirror can revolutionise the space, flooding shady corners with sunlight and making it look instantly larger. Pick a design which is shaped like a window to create the illusion of hidden areas, giving your garden a magical air.
If your cottage patio is small, then make the most of all the available space. Think vertically, planting up fences and walls to transform your small cottage patio into a botanical oasis.