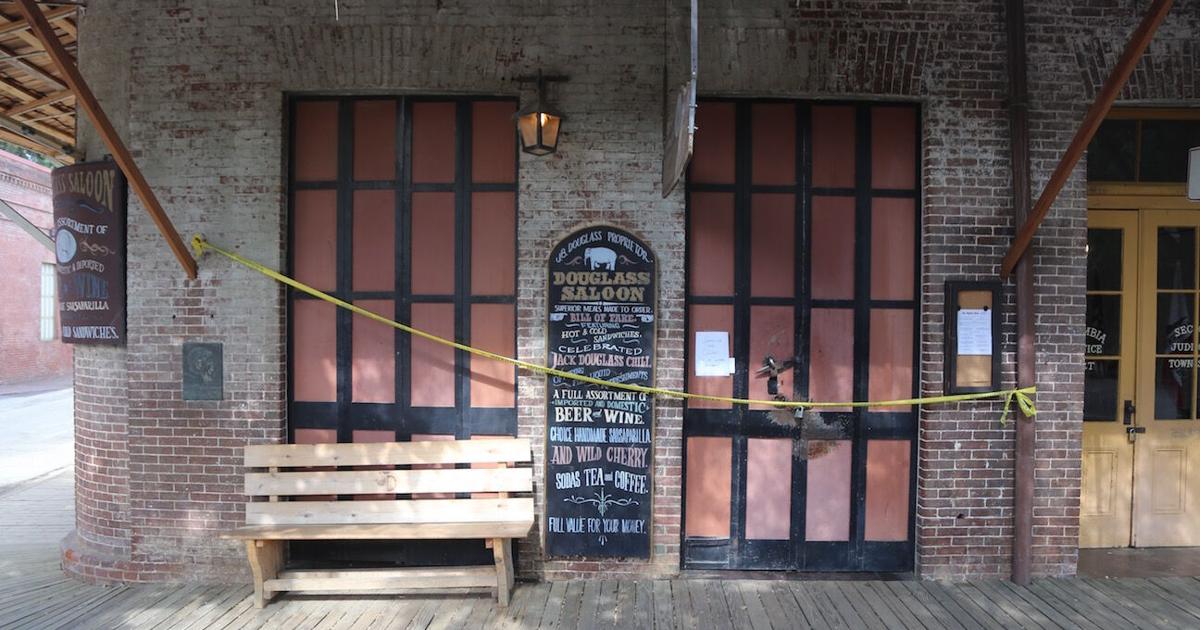 Main Street concessioners in Columbia State Historic Park were trying to rebound Monday from Friday rainstorm damage that has prompted temporary closures of Jack Douglass Saloon, Columbia Candy Kitchen, Towle and Leavitt, and Brown's Coffee House and Sweets Saloon, and the state parks-owned City Hotel and Restaurant.
The damage occurred during monsoonal moisture storms that struck in Tuolumne County between 3 a.m. and noon Friday, Anna Wanless, a National Weather Service meteorologist in Sacramento, said Monday. 
The most intense rainfall was radar-estimated to be about a quarter-inch an hour about 8 a.m. Friday, and two rain gauges near Columbia recorded 0.35 inch and 0.36 inch over the course of the storms, Wanless said.
The businesses that were damaged, as well as two exhibit spaces on State Street, were in the midst of a state-contracted re-roofing project on two blocks of state parks-owned structures, Joel Memmer, the park superintendent, said Monday.
Memmer declined to name the re-roofing contractor and did not answer questions about how much the contract was for before the storms struck, and what the timeline was for the work. 
Workers clad in white plastic suits at a fenced-in work site off Main Street on Monday said they did not know the name of their supervisor.
Three days after the storms struck Columbia State Historic Park, Memmer said Monday afternoon he could not provide a dollar estimate for all the storm damage because he and other park staff had just finished a walk-through assessment with concessioners.
Asked if insurance will cover the storm damage to concessions and other state-owned properties, Memmer said, "We are working with the roofing contractor to determine what work needs to be completed and how that will be accomplished. Once the scope is determined, we will work with insurance agencies as necessary to repair any damage."
On Friday, the unnamed contractor worked with state parks staff and local business owners to clean up water and water-logged materials, Memmer said. Dehumidifiers and fans were installed in buildings to draw out moisture from the walls, ceilings, and floors. More information about businesses reopening will come later this week, Memmer said.
Matt Leavitt, a construction supervisor for state parks, said Monday on Main Street in Columbia that he has been assigned to the re-roofing project since just before it started three months ago.
Michael and Rosanna Sharps are concession owners of Towle and Leavitt, which is damaged and closed, and they also own the concession Columbia Booksellers and Variety Store, which is undamaged and open. 
The Sharps, other concessioners and state parks representatives are all emphasizing that 20% of the park's concessions were affected by the storm, and 80% of the park's attractions remain open. Columbia business owners, like those in other towns in Tuolumne County and the Mother Lode, rely heavily on tourism.
Michael Sharps said he came to old town Columbia Friday morning to put rubber weather mats in both stores because it was raining, and the mats would protect the stores' floors from mud.
An employee at Towle and Leavitt was yelling out the door for help because a light fixture was starting to arc and pop due to water coming down the light fixture, Michael Sharps said.
"We had 10 minutes of very heavy rain and all the light fixtures were pouring water into the store," he said, adding there are a half-dozen light fixtures in Towle and Leavitt. "In addition, the swamp cooler vent was leaking, and there were several seams in the ceiling that began to leak water all over the store."
Towle and Leavitt's building dates to the 1850s, like most of the Gold Rush town, and its original ceilings were replaced long ago. The current ceilings that were damaged by rain intruding into the building appear to be made of drywall, Michael Sharps said.
During the walk-through assessment of Towle and Leavitt, the Sharps declined to allow The Union Democrat to take photos of the storm damage in their business.
"I have contacted my insurance company," Michael Sharps said Monday outside Towle and Leavitt. "In summary, they say they will not cover damages as a result of neglect, namely the roofs being uncovered."
Michael Sharps reiterated what other concessioners were saying and posting on social media: that the park is open, only 20% of the park's concessions are temporarily closed due to storm damage, and everything else is open for business.
"Everyone can still have a great time in Columbia," Michael Sharps said. "We want people to come, not cancel their plans. This is still peak season."
William Dailey, an employee at the undamaged Columbia House Restaurant said Monday the temporary storm damage closures are "going to affect tourism big time." It's been quiet and slow in the park since the Friday storms because so many businesses were closed, Dailey said.
"I know some businesses lost inventory, including the Candy Kitchen," Dailey said. "All the businesses affected are closed until they assess the damage and the repairs that need to be done. Towle and Leavitt just remodeled, and they lost inventory and clientele from people not being able to go in."
Angela Matulich is a concessioner who leases three different storefronts in Columbia State Historic Park: Brown's Coffee House and Sweets Saloon; Fallon House Ice Cream Parlor; and Columbia Clothiers and Emporium. 
Matulich said Monday that Fallon House Ice Cream Parlor and Columbia Clothiers and Emporium are undamaged and remain open for business.
"Brown's Coffee operations are now at Fallon House with extended hours," Matulich said Monday in Columbia. "We're keeping all of our staff working this way. About 10 employees altogether."
She said baking at Brown's has been suspended for the time being, so the business has temporarily stopped baking cookies, bread, lemon bars, brownies, and pretzels.
"It was a steady rain for two to three hours," Matulich said of the Friday storms. "I thought the buildings were covered. We don't get to choose our contractors. As concessioners we get told when we're getting work done."
Mike Ninneman, an employee at one of the Sharpses' undamaged concessions, Columbia Booksellers and Variety Store, said Monday that his understanding of the re-roofing project is that it was being done a couple months ago, "that's what I was told," and some of the concession owners "were led to believe the work was completed."
Then the rains came Friday morning, and there was water coming down through the ceilings, through the drywall, and through the light fixtures, Ninneman said. 
Michael Sharps confirmed that later when he said, "I thought ours was done. They had moved on to other buildings, and I assumed it was done."
Rosanna Sharps is president of the Columbia Chamber of Commerce. On Saturday morning, the Columbia Chamber of Commerce posted to social media that several businesses and exhibits that are undergoing a re-roofing project incurred water damage Friday morning when it rained for several hours accompanied by brief downpours.
"The old roofs have been removed and the new roofs have not been installed which allowed water to drain onto the ceilings/plaster resulting in significant water intrusion and damage," the Columbia Chamber of Commerce post stated. "Meanwhile, there are still a large number of concessions that have not been affected and are fully open for business. Please continue to visit and enjoy Columbia, your support is greatly appreciated while we work to get these additional businesses back up and running."
Staff at Jack Douglass Saloon, which sustained storm damage Friday, had to cancel the Ruby Day Band performance scheduled from 7 p.m. to 9 p.m. Friday. Jack Douglass Saloon remained closed Monday.
Visitors were few Monday morning at Columbia State Historic Park. A worker driving a heavy equipment loader moved materials from one rooftop to another rooftop. State authorities assessed storm damage to several concessions. Outside Towle and Leavitt were Peter Stewart, maintenance chief for the state parks Central Valley district, Michael Jasinski, a state parks historian, and Karen Benouar, a state parks architect.  
A contractor that provides 24-hour emergency and catastrophe response for water damage and restoration was on-site Monday at the park, where business entrepreneurs rent space from the state, which owns the structures.