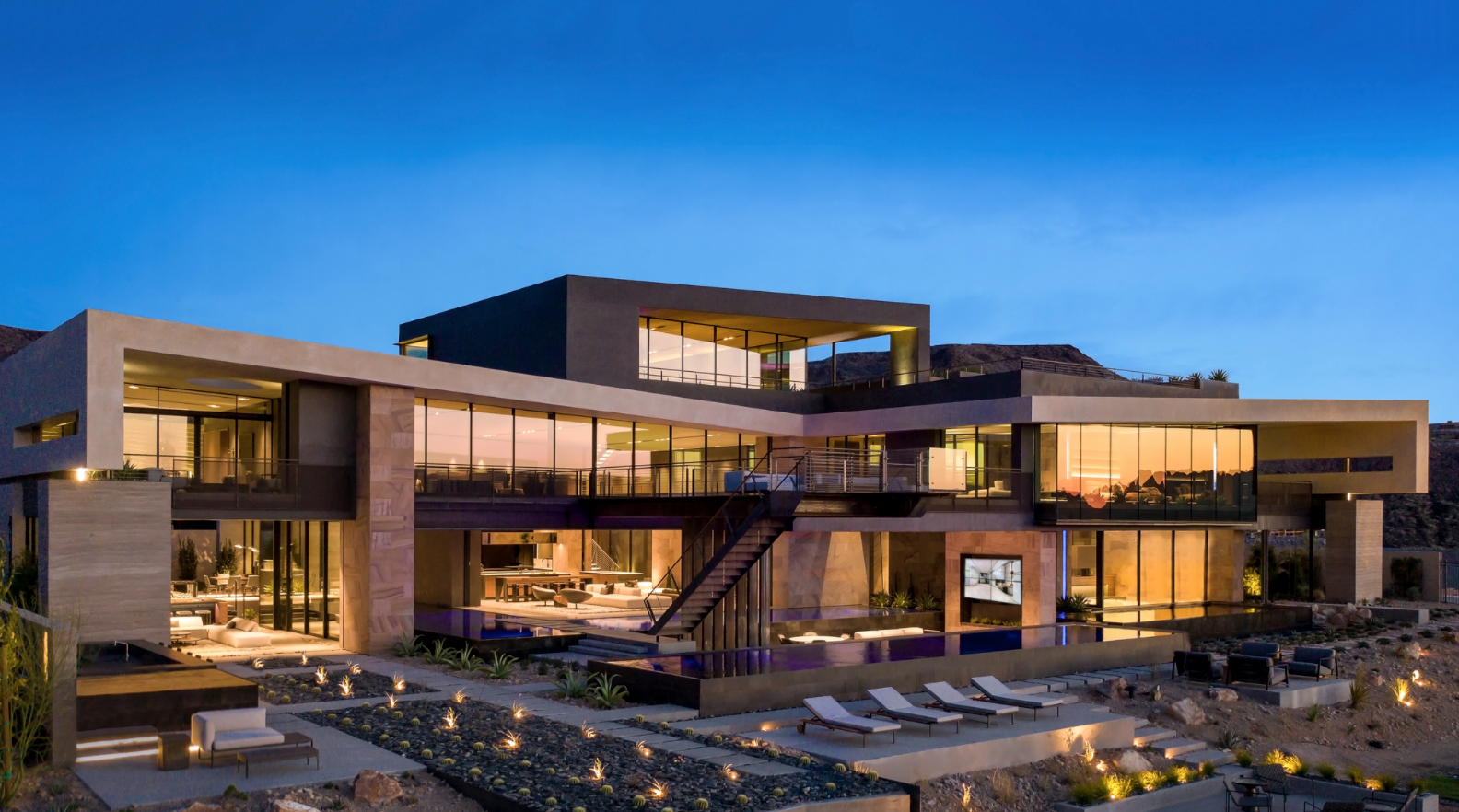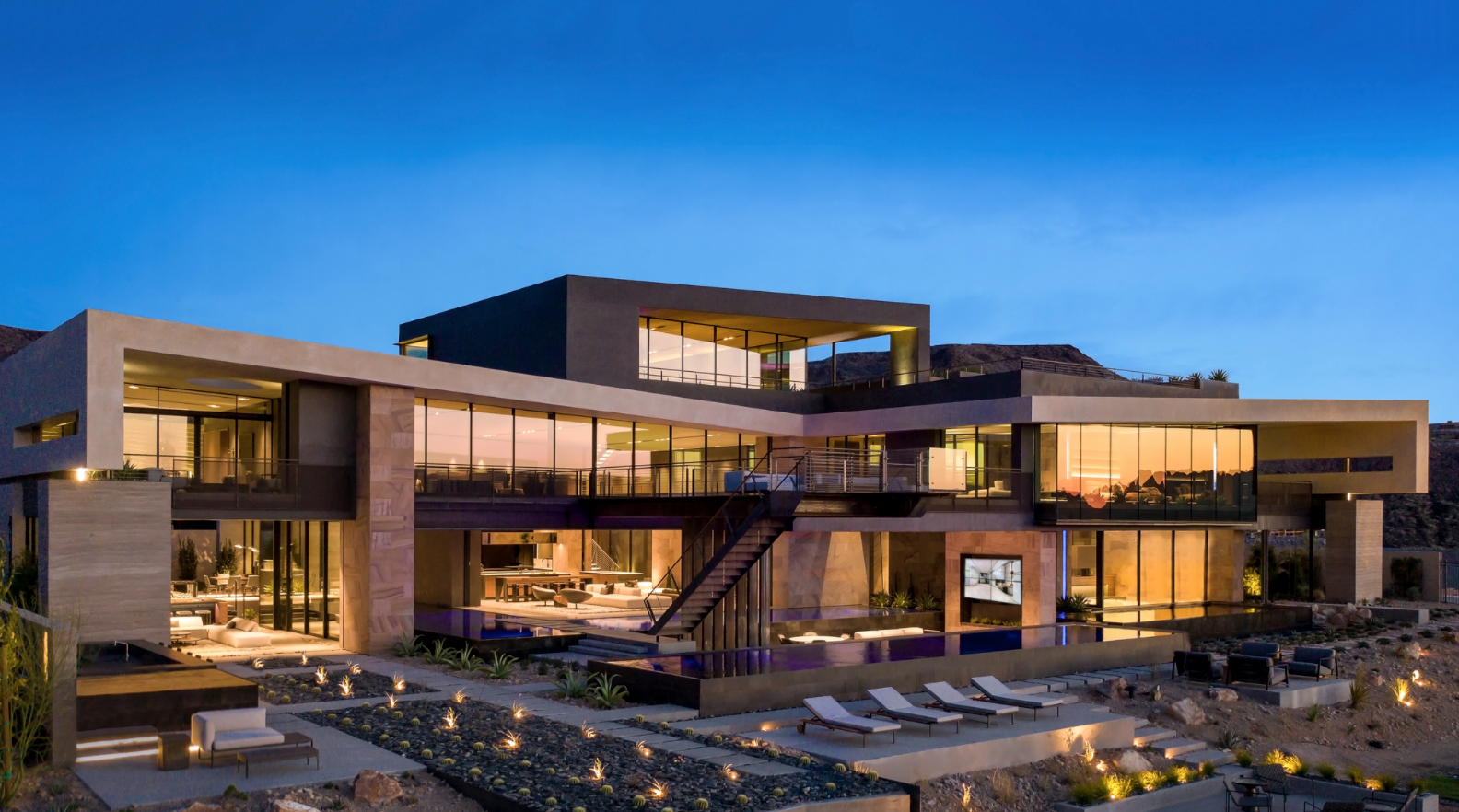 This historic sale validates our philosophies and quantifies the premium for the inspired experiences that only Blue Heron can deliver; we couldn't be more excited for the new owner.
LAS VEGAS (PRWEB)
June 28, 2021
Acclaimed design-led development firm Blue Heron announced today the record-breaking sale of Vegas Modern 001 (VM001), a pioneering 15,000-square-foot home in the exclusive MacDonald Highlands community overlooking Las Vegas. The innovative design-build sold for $25 million, making it the highest-priced residential sale in Southern Nevada, shattering the previous record of $17.55 million.
Every aspect of the three-level home at 685 Dragon Peak Drive was designed, built, and furnished by Blue Heron's in-house team of architects, interior designers, and builders. Created to showcase Blue Heron's influential Vegas Modern™ design philosophy, VM001 will continue as Blue Heron's experience center, in a unique arrangement with the buyer.
"At Blue Heron, we believe that extraordinary design will change your life, and this belief inspires everything we create. VM001 demonstrates how our approach elevates the human experience at home, and it is very gratifying to see how swiftly the market has responded to this unique offering," said Tyler Jones, CEO and Founder of Blue Heron. "This historic sale validates our philosophies and quantifies the premium for the inspired experiences that only Blue Heron can deliver; we couldn't be more excited for the new owner."
Both listed and sold by Kristen Routh-Silberman at Synergy Sotheby's International Realty, Las Vegas, VM001 offers its new owner unobstructed Las Vegas Strip views throughout the home and its commanding 1.26-acre lot. This sale sets a new benchmark for Las Vegas luxury real estate.
"The combination of Blue Heron and Synergy Sotheby's International Realty created the perfect blend of design, luxury, innovation, and global marketing prowess," said Routh-Silberman. "Having a global network of highly qualified luxury buyers is a requirement when bringing exceptional properties to market. My network, powered by decades of experience and results and backed by the Sotheby's International Realty brand, enabled me to secure a buyer on this record-breaking sale quickly."
VM001 received international press from Robb Report, James Edition, Yahoo, and Mansion Global upon hitting the market. Described by the media as "the most state-of-the-art home in the country," VM001 dramatically pushes boundaries when it comes to in-home technology.
Through a key partnership with Savant, VM001 boasts industry-leading features that make the home truly special. The new owner will enjoy full automation for every pillar of the connected home – climate, lighting, entertainment, security, and energy. In addition, a groundbreaking energy-management system from Racepoint Energy optimizes a 118-kilowatt photovoltaic solar array and battery backup system, ensuring the home can operate even if disconnected from the grid.

For more information about VM001 and Blue Heron, visit https://blueheron.com/vm001.
# # #
About Blue Heron

Established in 2004 by CEO and Founder Tyler Jones, Blue Heron is a design-led development firm crafted by custom creation and intentional innovation. Through its Vegas Modern™ design philosophy, the firm decodes the language by which human beings connect with their environment. In developing the blueprint for amplified living, Blue Heron creates new and novel experiences of exceptional quality, designed with both physical and human nature in mind.

Specializing in custom homes and boutique communities across Southern Nevada, Blue Heron is organized through a unique structure and workflow, integrating various professional disciplines, notable designers, builders, and architects. Blue Heron's portfolio to date encompasses over 16 communities and 330 homes. The team has won numerous design awards and has achieved Platinum LEED certification by the U.S. Green Building Council and Emerald certification by the National Green Building Standard.
About Synergy Sotheby's International Realty

Synergy Sotheby's International Realty (SSIR) is the Las Vegas and surrounding affiliate of Sotheby's International Realty. Founded in 1976, Sotheby's International Realty has a global footprint of 24,000 sales associates in 1,000 offices located in 74 countries and territories worldwide. Globally, the brand reported $150 Billion in sales volume in 2020. Synergy Sotheby's International Realty provides luxury real estate services to buyers and sellers throughout Las Vegas, Henderson and the outlying areas of Southern Nevada.
Media Contact

Stacy Lewis | Brandon Muratalla

Murphy O'Brien, Inc.

blueheron@murphyobrien.com

(310) 586-7170
Share article on social media or email: