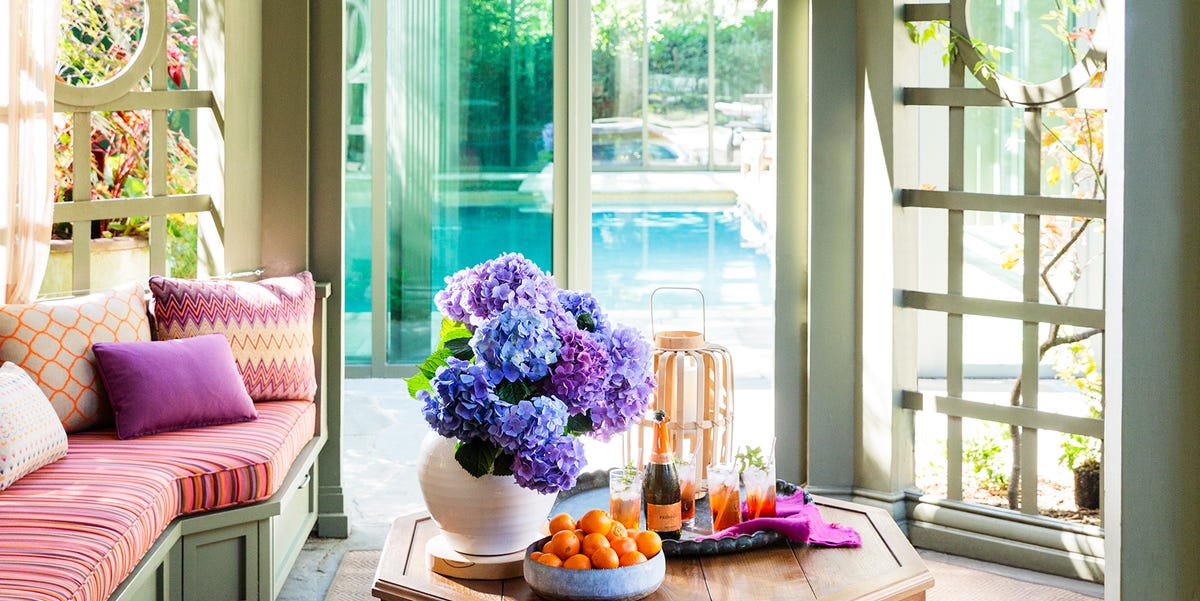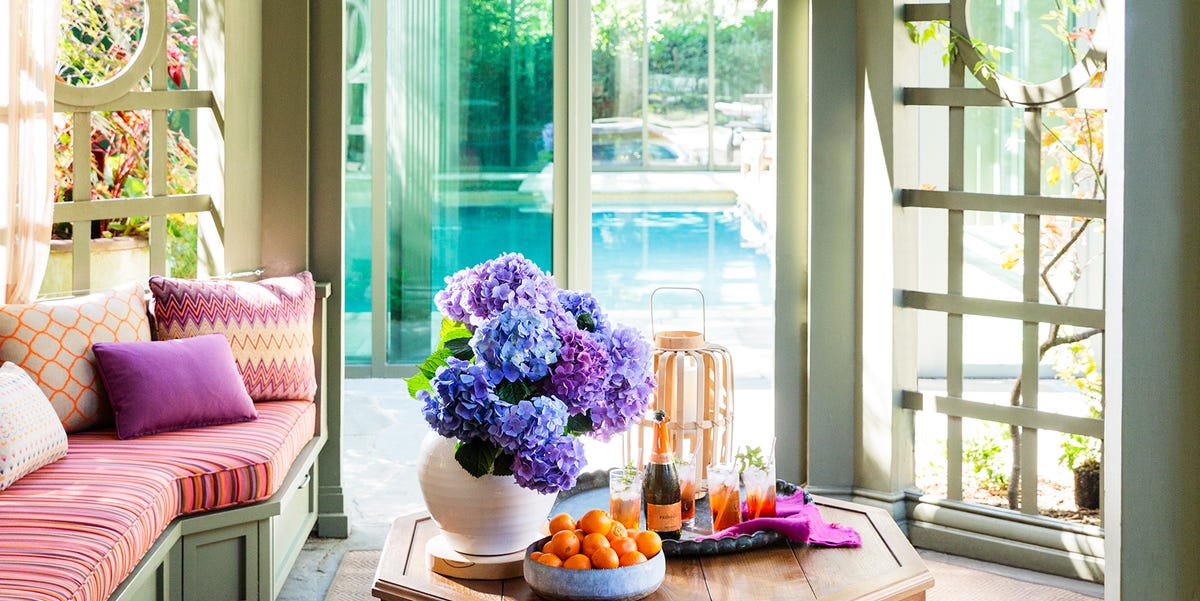 A well-designed pool house makes summer entertaining and year-round hosting way more exciting and stylish than it already is. There's just something about the added privacy, access to natural light, and cannonball proximity that, when combined with great design, is simply majestic. Read on for the best pool house design ideas that'll get your space ready for summer (or simply provide you with a mental vacation). From full-blown backyard guest houses to garden gazebos and pool-adjacent lounge areas, there's something for every budget and style.
1
Prep a Bar Space
Amanda Lindroth optimized this pool house for outdoor hangs with a bar area for cocktail prep and a ceiling fan to keep it cool. The overhead shelter provides shade while the open walkways allow for fresh air to flow through.
SHOP OUTDOOR BARWARE Cayman Glasses, $48
2
Use a Crawl Space for Storage
Aside from being a nice place to hang out, your pool house should also provide storage for all of those Insta-worthy pool toys. Keep it separate from the sitting area with a crawl space accessible by ladder, like this one in a pool house designed by Lindsey Lane. A small window in the "attic" also adds an architectural touch.
SHOP SWAN POOL FLOATS Giant Swan Pool Float, $37
3
Use Durable Materials
"We made sure to balance the client's minimalist aesthetic with how a beach house is actually used," says interior designer Catherine Kwong. "It's not a place where people are worried about tracking in sand," she assures us. Family-friendly materials, like a jute rug, mean everyone can unwind and relax after a beach or pool day.
SHOP JUTE RUGS Sisal Rug, $159
4
Compromise With a Gazebo
If you want to carve out a stylish post-swim lounge area in the yard but don't have the room, budget, or desire to build a full-blown pool house, take note of this gazebo by April Powers. The crawling vines, sheers, and camouflaging paint color allow the gazebo to blend right in with the garden environment while the bench and coffee table ensure comfort and function.
SHOP GAZEBOS Garden Pavillion Gazebo, $844
5
Forgo Rugs
Wet feet running in and out of the pool house mean you'll want to make sure your floors hold up well to traffic and are easy to clean. Porcelain or ceramic tiles can be great options, as are natural stone and concrete if you want a rustic, edgier feel; you could also choose an even more durable flooring material: brick, tiles, or whatever decking you used for the pool area and just continue it into the pool house, as Nickey Kehoe did here.
SHOP OUTDOOR TILES Setilo Tile Pavers, $4
6
Optimize the Exterior
Keep things tidy with an outdoor shower fixed to the exterior of the pool house. Robson Rak also optimized this outdoor space with a built-in bench and hooks for towels, hats, and beach bags.
SHOP OUTDOOR SHOWERS Aquart Garden Shower, $325
7
Let It Double as a Green House
This screened-in porch designed by Corey Damen Jenkins serves many functions, from a mini greenhouse and a four-season living space to a pool house hang zone. The key to creating the right environment for plants to thrive is to install climate control features like insulated screens while still allowing for total light filtration for a summery vibe.
SHOP WALL PLANTERS Ceramic Wallscape Planter, $30
8
Make It a Guest House
Turn a big-enough pool house into a guest cottage that can double as a home office or bathing suit changing station. We love the look of gray blues, especially in a waterfront pool house, but any color will do. Get inspired by this special retreat designed by Sarah Richardson.
SHOP PLANTERS Natural Planter, $79
9
Add a Bathroom
A bathroom by the pool is such a game-changer, especially when the main house is a trek from the swimming area. In this Anna Spiro–designed bathroom, tropical wallpaper is all it takes to establish a fun style moment. The light green skirted vanity and rattan mirror carry the color scheme outside and tie everything together.
SHOP TROPICAL WALLPAPER Birds of Paradise Wallpaper, $220
10
Create a True Escape
When designing a vacation home, the pool house should feel like a true escape. Wendy Owen designed this luxe-meets-rustic lounge in Sonoma, California to feel like a French villa in a bygone era. That's thanks to the scraggly stone, candlelight, antique salvaged wood tables, and generally romantic ambiance.
SHOP RECLAIMED WOOD TABLES Wooden Coffee Table, $550
11
Corral Your Towels
Make sure there's a place to easily grab towels and put them aside when they're ready for a wash. A stylish basket can double as a hamper when it's time to lug them to and from the laundry room. We're loving the rattan one designer Sarah Richardson chose in this corner—it complements the sun hats.
SHOP BASKETS Braided Basket, $165
12
Get a Fire Pit
Create cohesion with curtains that match the natural landscape and then add a pop of color with your cushions for a simple, clean, and approachable yet fun aesthetic, like this pool area by Peti Lau. Oh, and an outdoor fireplace is always a plus.
SHOP OUTDOOR FIREPITS Geometric Fire Pit, $175
13
Keep Things Open and Airy
A pool house is the perfect place to experiment with an indoor/outdoor concept. Opt for a retractable door or floor-to-ceiling glass doors that let the breeze inside. Hanging some sheers or linen curtains, as designer Lindsey Lane did here, will give it a dreamy feel.
SHOP SHEER CURTAINS Sheer Curtain Panel, $11
14
Beautify the Entrance
Think of the pool house entrance like you would any other front door. In this pool house designed by John Wooden, the door is flanked by large planters and sconces for a polished entryway.
SHOP PLANTERS Rocklin Planters, $72
15
Set Up a Game Room
When everyone isn't in the water at your pool parties, they'll want something to keep them busy inside. A design-savvy pin pong table, like this one in a teen-friendly space by Alexander DB, is a great choice.
SHOP GAME TABLES Indoor Tennis Table, $680
16
Use Consistent Prints and Colors
To make the entire pool area feel like one cohesive zone, find a way to tie the pool house and patio furniture together. We love how these graphic orange and white striped awnings are literally cut from the same cloth as the umbrellas and loungers at this Amanda Lindroth-designed property.
SHOP UMBRELLAS Orange and White Square Scallop Umbrella, $138
17
Consider Going Modern
Though a crisp white bungalow or nature-inspired cabana have their appeal, we're really into the edgy design of this modern black pool house by Marc Merckx. It simultaneously stands out while also blending in nicely with the environment.
SHOP OUTDOOR CHAIRS Sunset Teak Lounge Chair, $719
18
Give It Vacation Vibes
With a straw roof, raffia pendants, and wood paneled floors, this pool house lounge area has us dreaming of summer vacation. It opens straight into the outdoor area, making it the perfect place to hang out in the evenings or when you need some shade.
SHOP RAFFIA PENDANTS Headlands Bell Pendant, $298
19
Opt for Sky-High Ceilings
Super high ceilings will give your pool house a more open and airy atmosphere, mimicking the great outdoors. This Malibu space by celebrity decorator Martyn Lawrence Bullard takes things to the next level with reclaimed wood exteriors, striking a nice balance between rustic and formal.
SHOP BRASS ACCENT TABLES Zeeland Brass Drum Table, $100
20
Add a Media Room
Instead of a formal living room in the pool house, make it a family room/media center, as seen in this pool house designed by Studio Lifestyle. It'll feel like a private hangout tucked away from the rest of the home.
SHOP RUGS Flatweave Jute/Sisal Natural Area Rug, $47
21
Feature Bright Florals
With bougainvillea climbing up the exterior of this Spanish-style pool house designed by Tom Callaway, it feels like a secret garden oasis. We're loving the tile on the raised hot tub and those gorgeous sconces, as well as the cozy built-in bench.
SHOP THROW PILLOWS Embroidered Floral Throw Pillow, $41
22
Build a Cabana
Aside from looking like the coolest treehouse hangout ever, this John Wooden–designed pool house nook is also comfortable and durable. Everyone is going to be fighting over who gets to sit in that hanging chair.
SHOP WOVEN BASKETS Woven Straw Basket for Walls, $32
23
Put the Living Room Outside
If you're tight on space and know you want to use the main indoor room as a bathroom, kitchen, or bedroom, set up the main hang out area outside. This adjacent outdoor conversation zone designed by Alexander DB flows with the rest of the space, but since it's tucked into the corner, it feels nice and intimate.
SHOP WOODEN BENCHES Two Tone Wood Bench, $120
24
Use Creative Decor
Don't forget to spruce up the walls in your pool house à la Jeff Lincoln in this Palm Beach sanctuary. Flea market finds, like these small antler busts, are a great way to introduce character without having to spend a ton of money on wall art.
SHOP ANTLER WALL ART Antler Trophy Wall Décor, $114
25
Set Up Outdoor Bar Seating
A large casement window and bar connected to the pool house kitchen is going to keep the air flowing, and it's also a great way to extend your time spent outside with al fresco dining. As a bonus, you won't have to invite guests and kiddos inside for lunch. When you're done admiring at Studio Lifestyle's gorgeous pool house project, get inspired by the landscape design.
SHOP SEATING Cotton Round Pouf, $73
26
Stick to a Theme
This pool house designed by Lindsey Lane is making a strong case for coastal-themed pool houses. Opt for classic staples and furniture to anchor the room, and then use throws, lighting, and tabletop decor as an opportunity to set the mood and have fun.
SHOP THROW PILLOWS Tropical Leaves Pillow, $27
27
Add a Changing Area
Whether or not you have a separate pool house, an outdoor shower by the pool, or in a beachside locale is always a good call. Not only will they prevent your interiors from getting dirty, but they also happen to be gorgeous additions to any landscape design. This modern example by Alexander DB is proof. A changing area separated by a curtain is the perfect transition from indoors to outdoors, too.
SHOP BEACH TOWELS Eve Handwoven Beach Towel, $55
28
Go Rustic
Your pool house doesn't need to be full of bells and whistles. Case in point? This rustic open-concept pool area. With a wood burning stove, a dining nook, and a modern countertop work space, this pool house is transporting us to the Tuscan countryside.
SHOP TABLECLOTH White Tablecloth, $9
29
Provide Some Shade
A large canopy stretching from your pool house over the patio makes it the perfect place to sit and relax all summer long. Take a cue from Lisa McFadden's Hampton cottage if you want to throw a memorable al fresco dinner party.
SHOP AWNING CURTAINS Sunbrella Awning Stripe Curtain, $149
30
Give It a Classic Look
Sometimes, all you need are a few quality pieces like the striped umbrella and Janus et Cie lounge chairs in this Madeline Stuart–designed home. The furniture pairs well with the Spanish Revival architecture. The basics never disappoint!
SHOP LOUNGE CHAIRS Seaton Reclining Chaise Lounge Chairs, $306
Hadley Mendelsohn
Senior Editor
Hadley Mendelsohn is House Beautiful's senior editor, and when she's not busy obsessing over all things decor-related, you can find her scouring vintage stores, reading, or stumbling about because she probably lost her glasses again.
This content is created and maintained by a third party, and imported onto this page to help users provide their email addresses. You may be able to find more information about this and similar content at piano.io