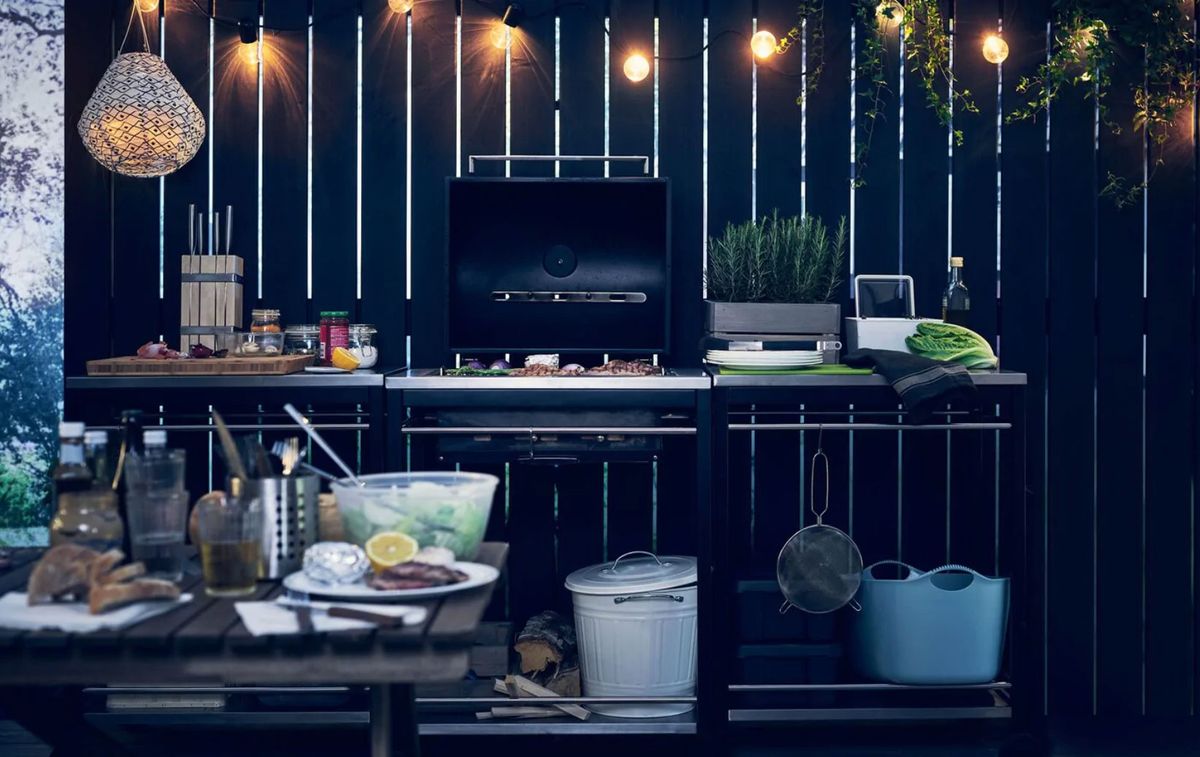 These outdoor kitchen ideas are next level brilliant. Because, who doesn't want to take food prep into the backyard all summer long, if not even all year? Al fresco cooking is more relaxed, super sociable whether it's your family or your friends you're making a meal for, and the food just tastes better when it's cooked out in the fresh air.
An outdoor kitchen is a step up from a BBQ. It adds the preparation space and storage you need to make cooking as smooth a process as it is inside your home. You could even incorporate an outdoor sink and a fridge to ensure you have absolutely everything you need in one place.
Whether you already have an outside space to cook, or you're installing one for the first time, we've got loads of ideas to make yours functional and stylish. All you need to do? Just scroll down. 
Are outdoor kitchens worth the money?
In one word – yes. Outdoor kitchens are becoming increasingly popular and if you build one out into your backyard, the ROI could be at least 50% if not 100%. Plus, it is sure to add significant value to your property.
Having this small extension (real or figurative) of your house comes with so many benefits also. Not only will the extra living space, especially if yours is covered, help free up a busy household but, spending more time outdoors has a near miraculous effect on overall heath and stress levels also. 'This is bolstered by longstanding research which outlines the number of health and wellbeing benefits from time spent outdoors, from increasing productivity and performance in both adults and children* to significantly improving problem solving skills and reducing stress levels**.' from Caesarstone who analyzed Studies from the University of Exeter***. These factors, combined with the versatility and flexibility today's outdoor living solutions offer,  mean we are all truly understanding the value of time spent outdoors.'
Convivial and, as you're about to witness, very stylish, every modern home and household deserves this upgrade. Plus, an outdoor cooking station needn't be expensive or a no-go for renters. There are plenty of DIY outdoor kitchens to pull together that you can simply pack up and take with you when you move homes.
Outdoor kitchen part of a new garden design? We can help with that .
The freshest outdoor kitchen ideas
We caught up with Jonathan Stanley, VP Marketing for Caesarstone UK & EMEA about how the trend for outdoor cooking and living has been growing over several years now, 'We are increasingly looking for more sophisticated spaces in which to do this. We now want to step seamlessly from our new kitchen, via our bifold doors, into an outdoor space that is every bit as well designed and inviting. It is therefore not necessarily a new trend, but rather a trend that has gathered pace over time.' These are some of the best outdoor kitchen looks for2021, and there's inspiration for backyards of all shapes and sizes, plus for all budgets too.
1. Go for a simple outdoor kitchen design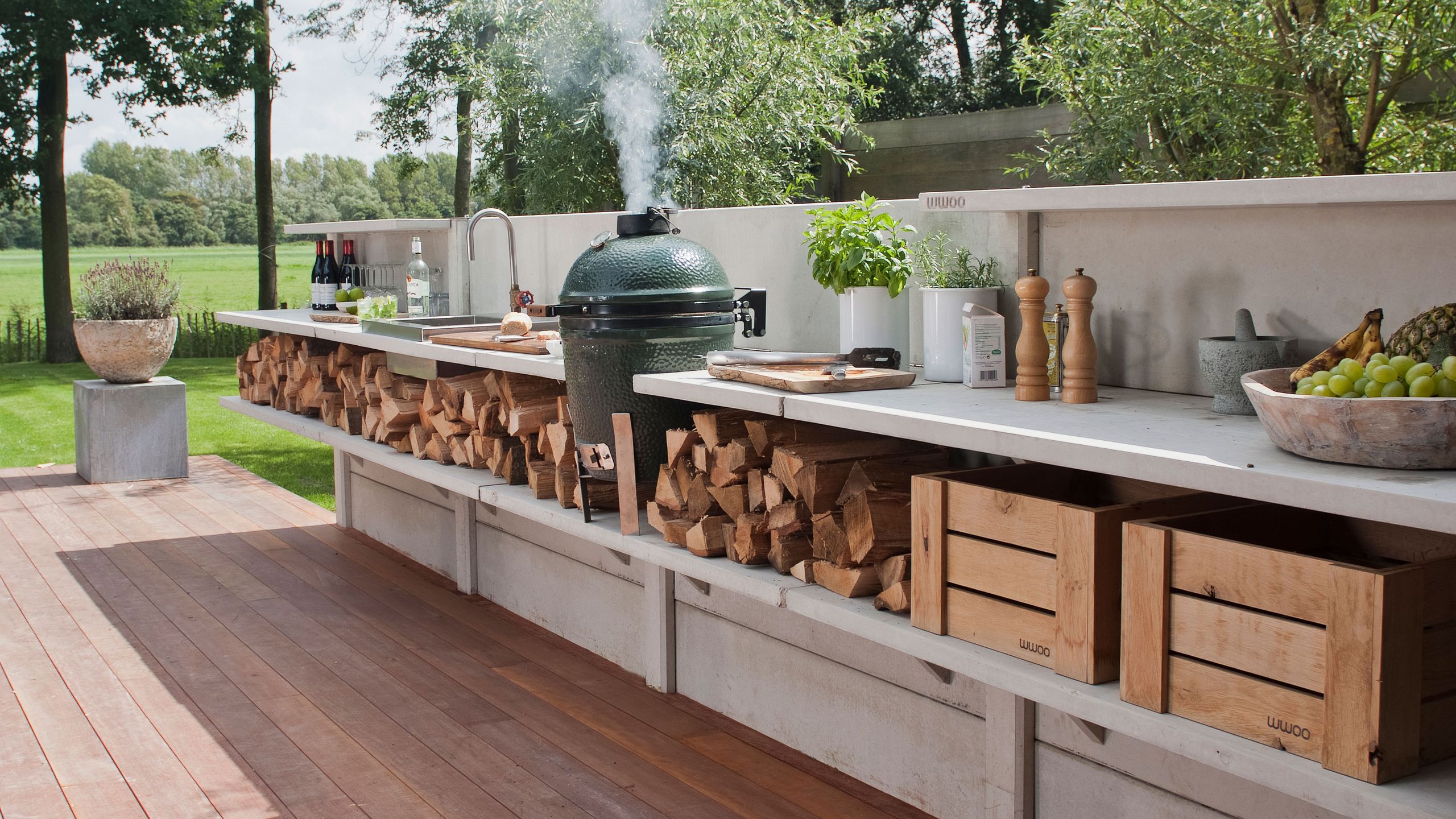 (Image credit: Garden House Design)
This elegant and spacious outdoor kitchen set up is also really clean-cut and simple in design. Well thought out under-counter storage means everything you need – wood, utensils, etc. – is well within reach, and large counter means that you'll never be fighting for a space to prep food, drinks and more.
2. Pick concrete countertops for a contemporary look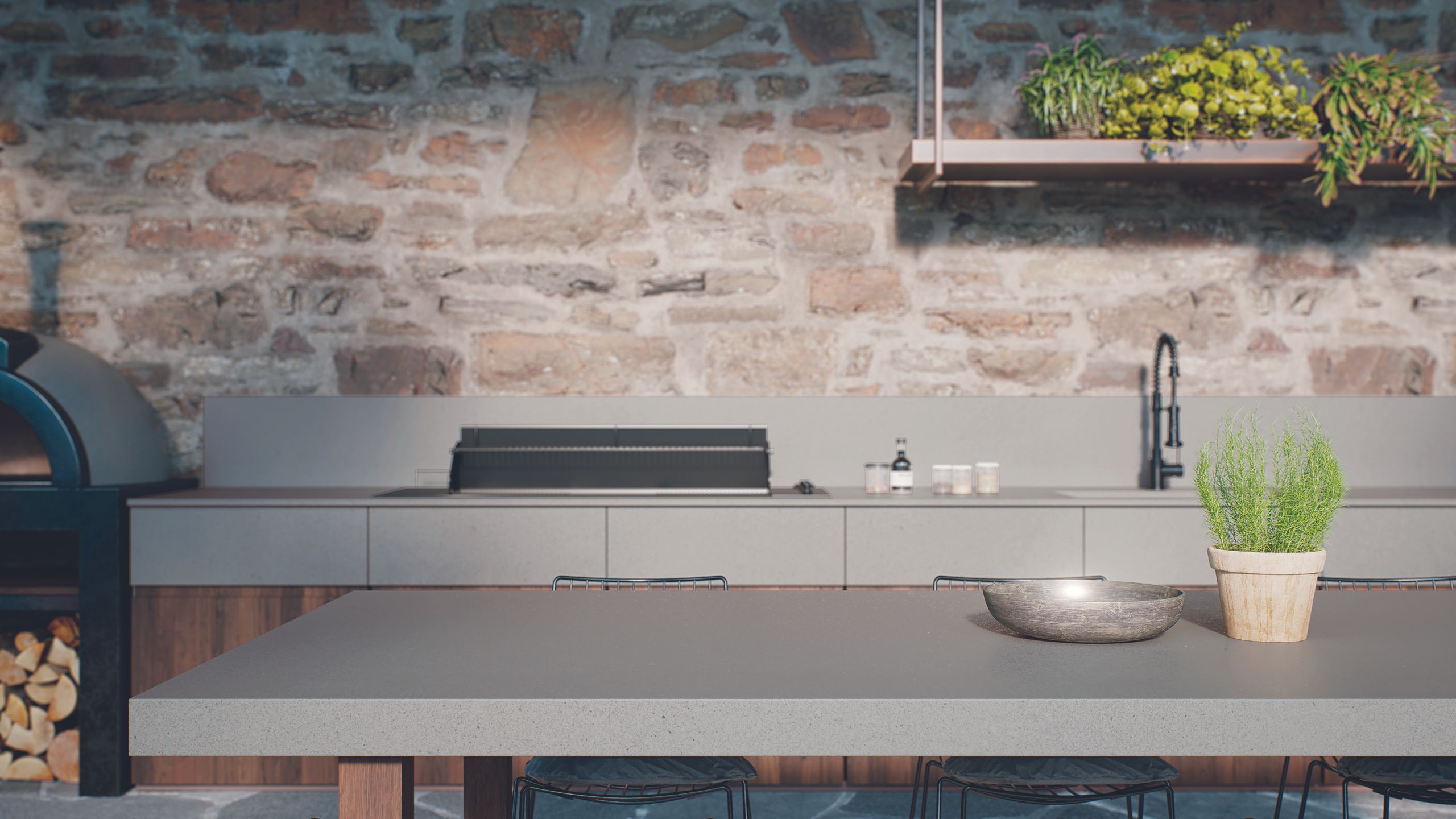 (Image credit: Caesarstone)
Concrete countertops will give an outdoor kitchen an industrial, modern feel, plus, it's a really resilient material so ideal to withstand the great outdoors. Stanley answers a global question, from both consumers and professional customers, "can I use Caesarstone quartz outside?" 'Now they can.'
3. Give it a restaurant feel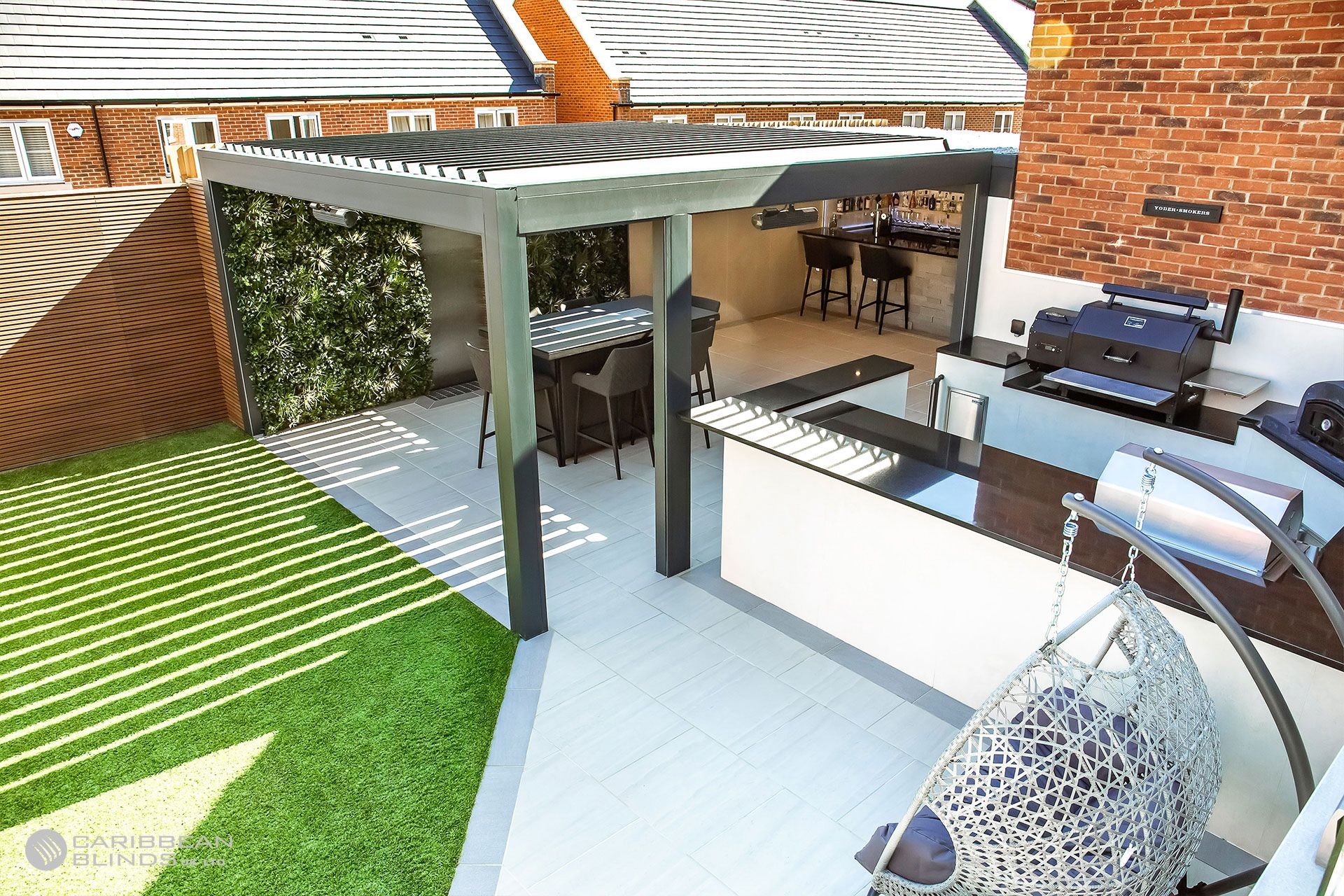 (Image credit: Caribbean Blinds)
Zoning your entire outdoor kitchen area using vertical garden structures is a great way to make the space feel like a restaurant's outdoor seating area. Keeping the cooking station just a little bit away from the bar makes it even more luxe.
There are plenty more garden ideas in our dedicated feature, too.
4. Keep shelter close by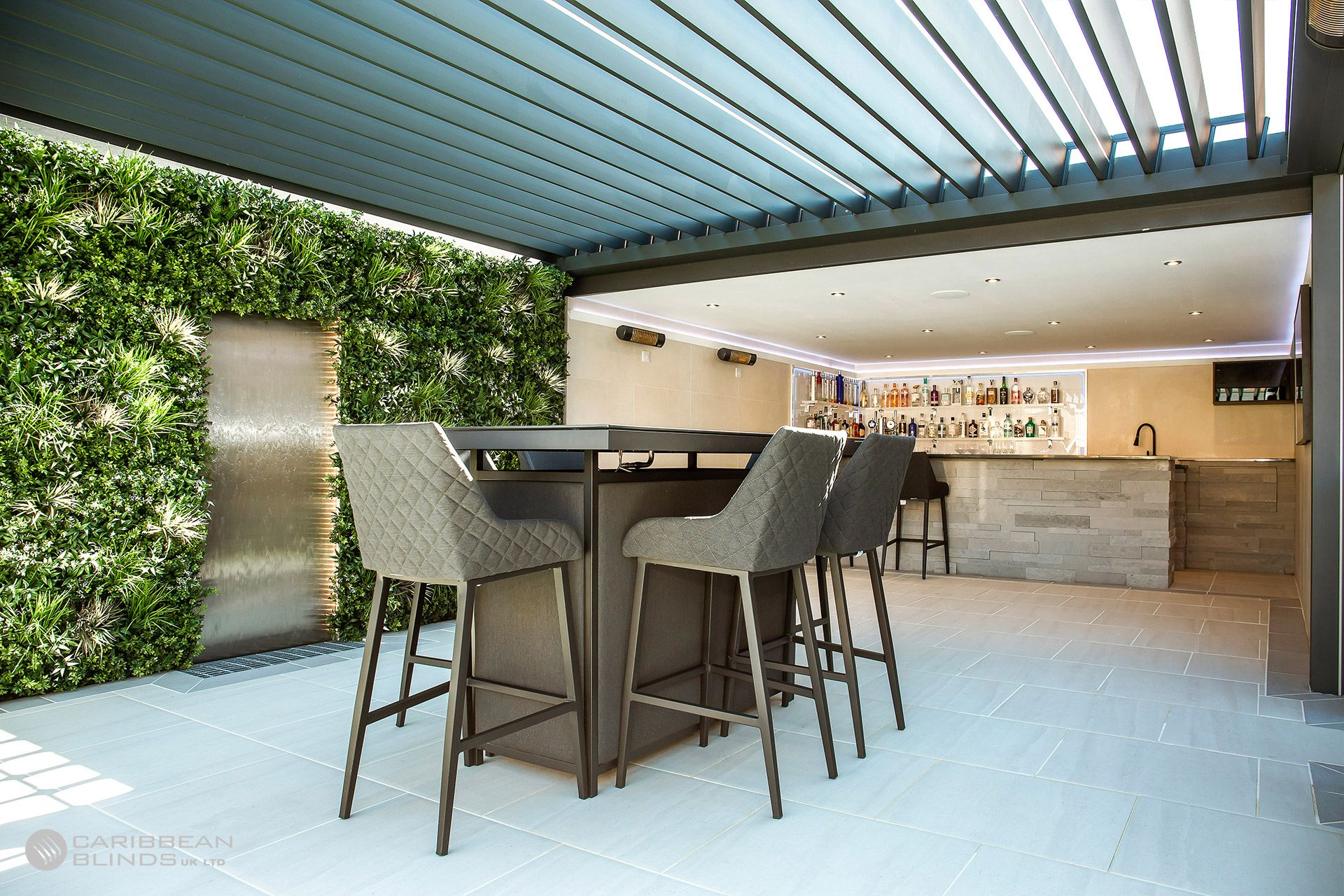 (Image credit: Caribbean Blinds)
This enviable set-up includes an all- weather Outdoor Living Pod pergola by Caribbean Blinds to cleverly conceal and protect the dining area of this outdoor kitchen space. It adapts to changing ambient conditions, so will keep guests comfortable and dry even in cooler conditions.
5. Choose a small barbecue for ease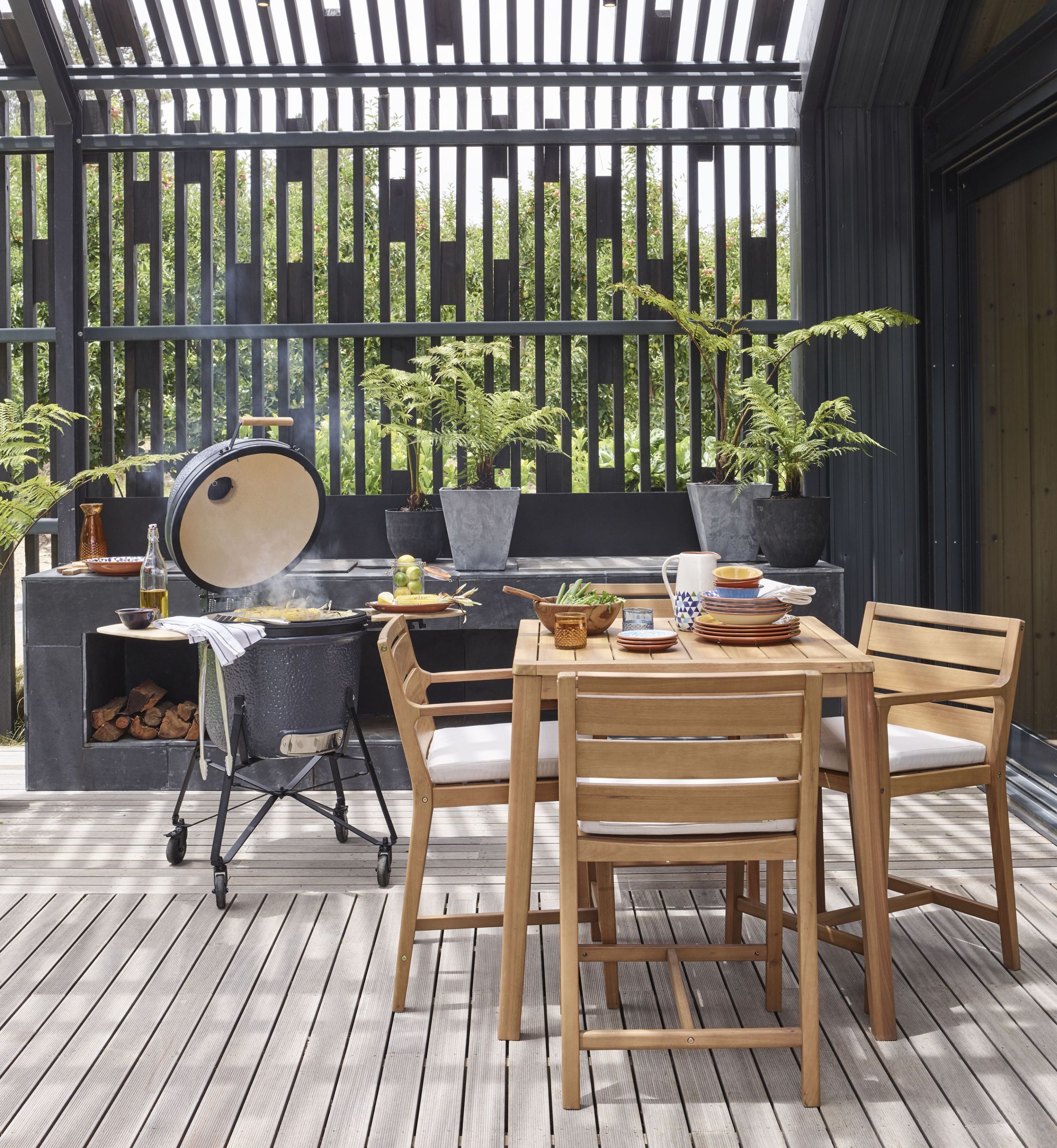 (Image credit: John Lewis)
If your back yard space is quite compact then a small BBQ can be a great option to keep things simple. This pine outdoor dining set isn't far from the outdoor kitchen prep station either, making for seamless service when entertaining the family. Be sure to think carefully about the positioning of your best BBQ to keep smoke away from your diners.
6. Mix up drinks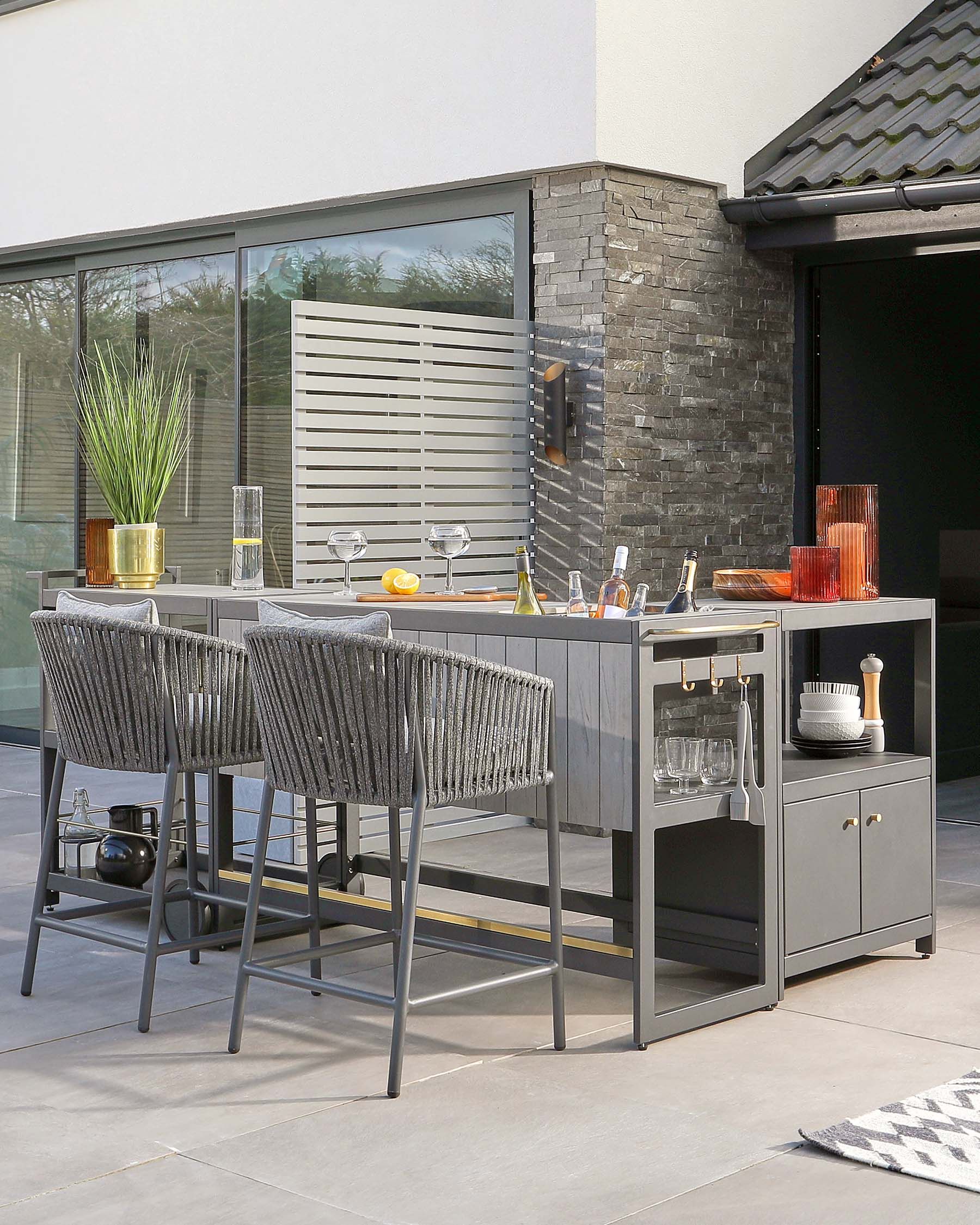 (Image credit: Danetti)
Add a bar to your outdoor kitchen and you can mix up a cocktail for guests to start the evening – and they can sit right there while you do. How's that for a vacation feel at home?
This Palm Outdoor Kitchen Bar Set from Danetti has space for all you need, including glasses, cocktail shakers and bottles and it even has hooks for utensils so everything is to hand. It's made from anti-rust aluminium with a sleek grey powder coat and polywood surface.
7. Match outdoor kitchen fittings with the surroundings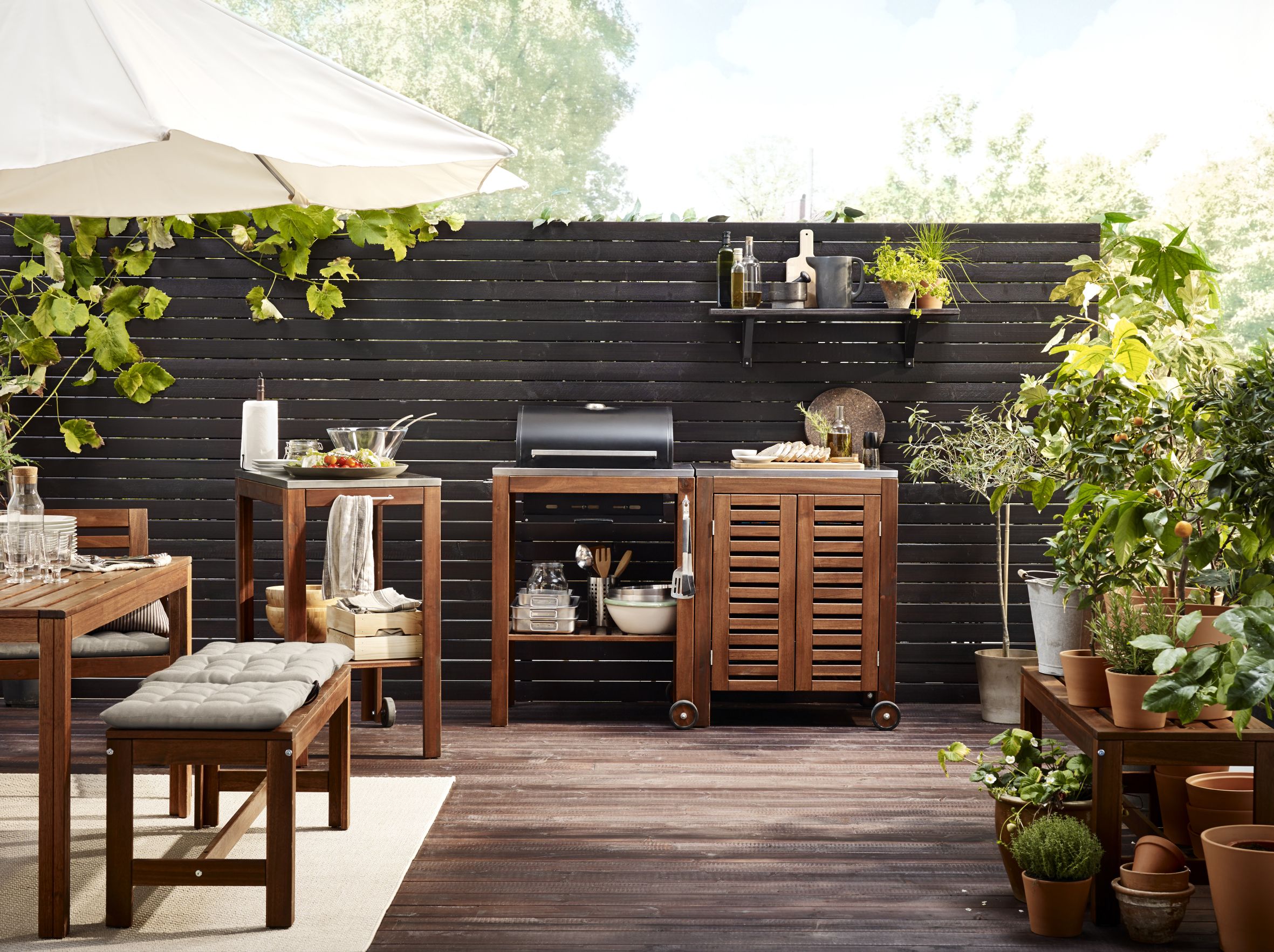 (Image credit: Ikea)
For your outdoor cooking space to blend seamlessly into your outdoor living space and surroundings, it's a great idea to match the materials and finish of caddy cupboard doors and any additional compartments of your kitchen area to the surrounding decor on your patio. Plus, wooden tones will always look beautiful in an outdoor space, bringing it back to nature.
8. Cook under cover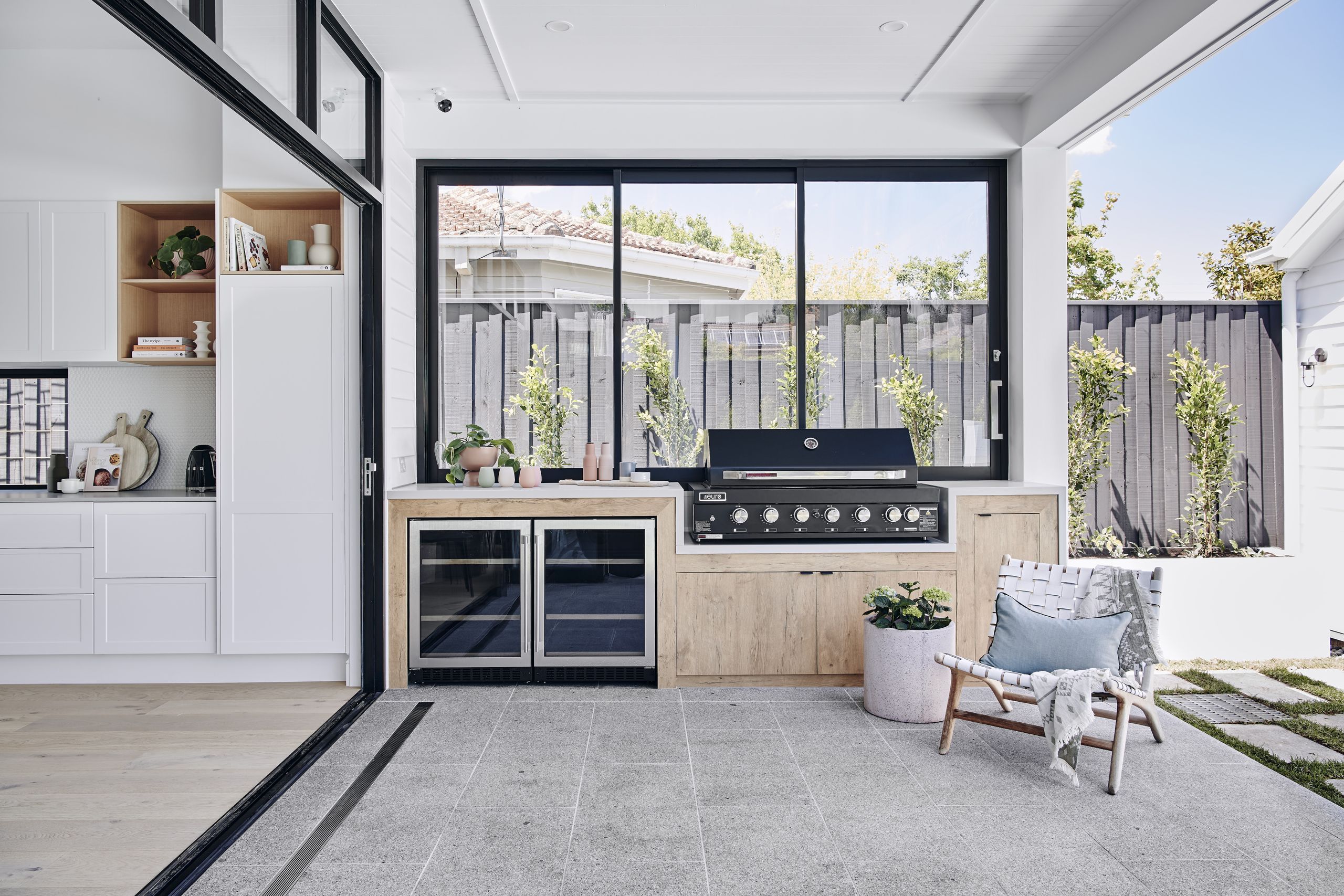 (Image credit: Norsu Interiors)
If you want to be sure you won't get rained on, be inspired by this outdoor kitchen design. The bifold doors open from the house's kitchen to the outdoor kitchen which is, in turn, open to the garden. But it's protected by a roof overhead that keeps meal prepping dry. 
The project was designed and completed by Construct Melbourne with styling by Norsu Interiors.
9. Go all out on decor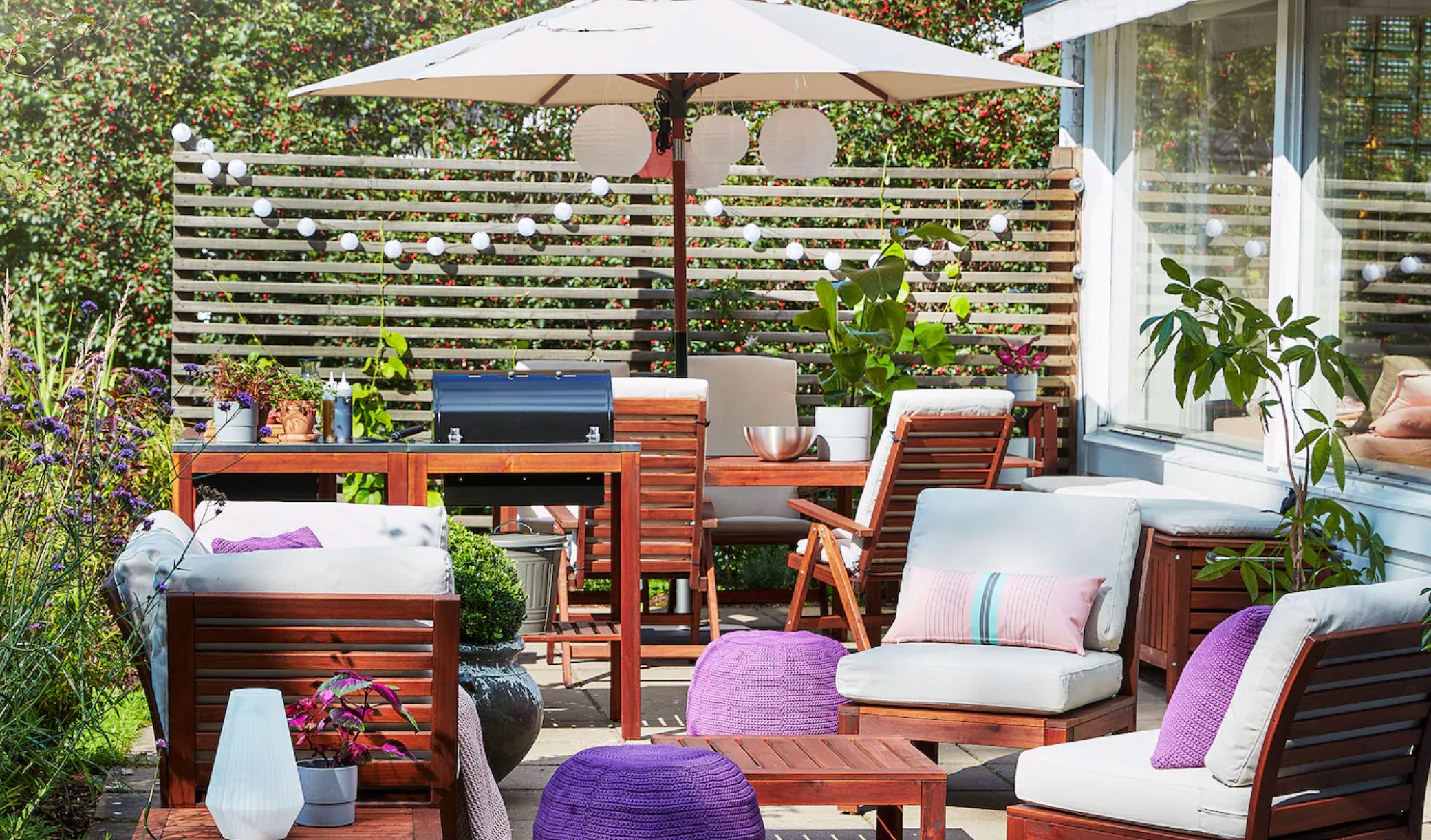 (Image credit: Ikea)
This outdoor kitchen's seating area is brought to life with bold accent shades, while festoon lighting and large potted plants help elevate the space further. Come winter, simply bring out the blankets and enjoy many a mulled beverage. 
10. Opt for a modular outdoor kitchen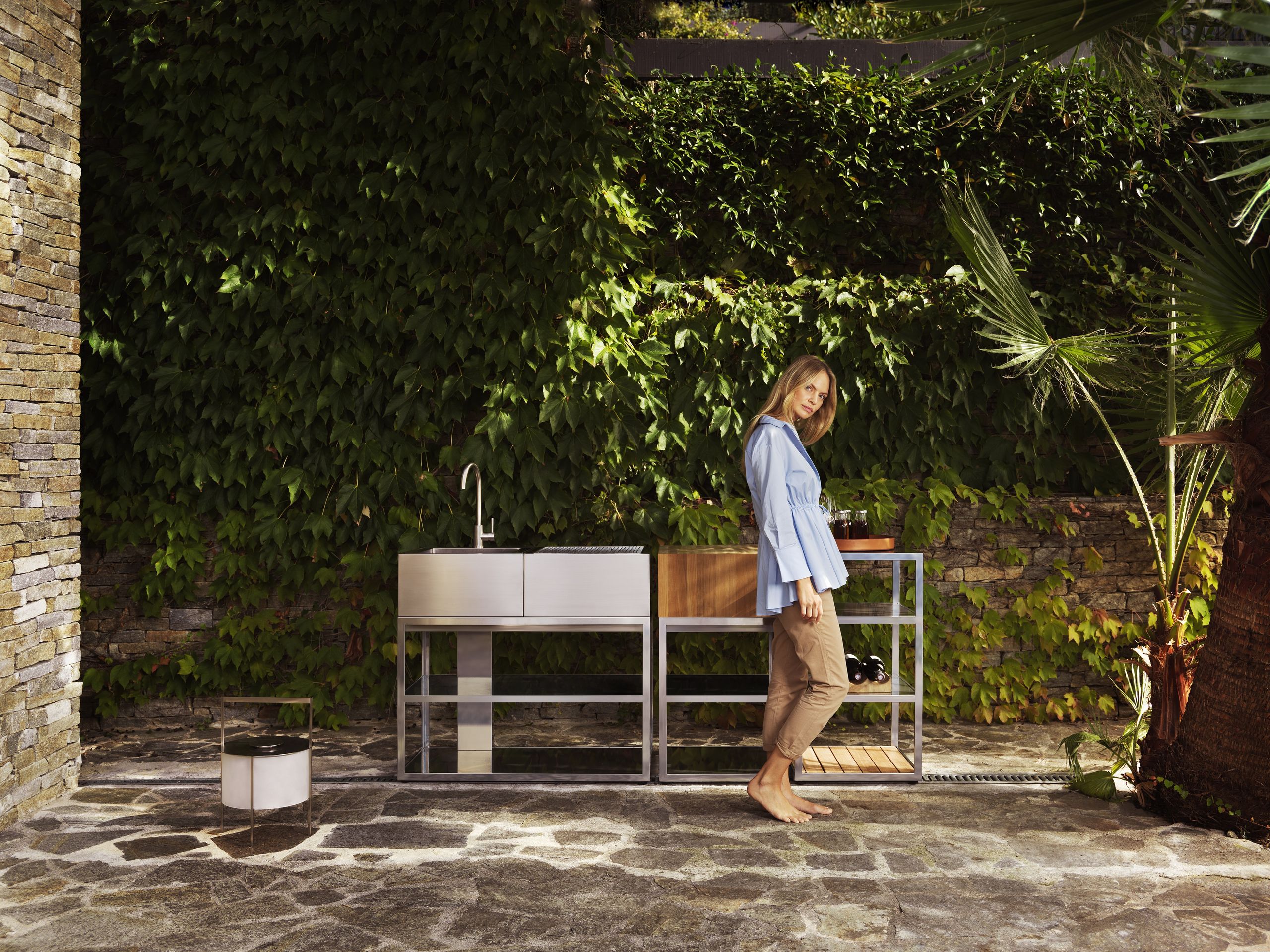 (Image credit: Chaplins Furniture)
If you choose a modular outdoor kitchen design, you can configure it exactly to your needs, and the dimensions of your space. In other words, bespoke style. 
Shown are modules from the Open Kitchen from Roshults at Chaplins Furniture, including sink and charcoal grill, plus sideboards and cutting boards.
11. Spice it up with shelving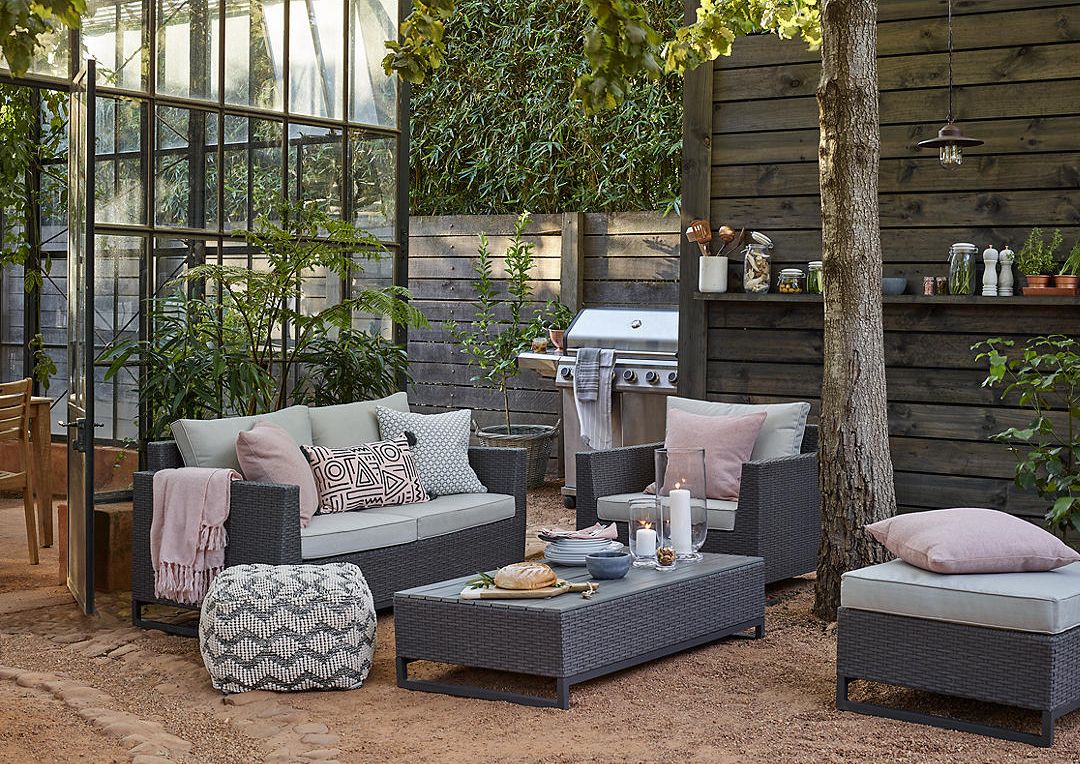 (Image credit: John Lewis & Partners)
Use your surroundings to their full potential with easy-to-add storage options that will help keep your outdoor kitchen space tidy. The addition of a simple shelf on a nearby garden fence means that small but necessary items like salt and pepper mills, cutlery and herbs can be on display and ready for use when needed without cluttering the outdoor cooking or dining space. 
Open storage is perfect throughout the warm and dry(ish) season, but consider more closed storage options to ensure full use of your outdoor kitchen space even when winter kicks in.
12. Dedicate space for your best tableware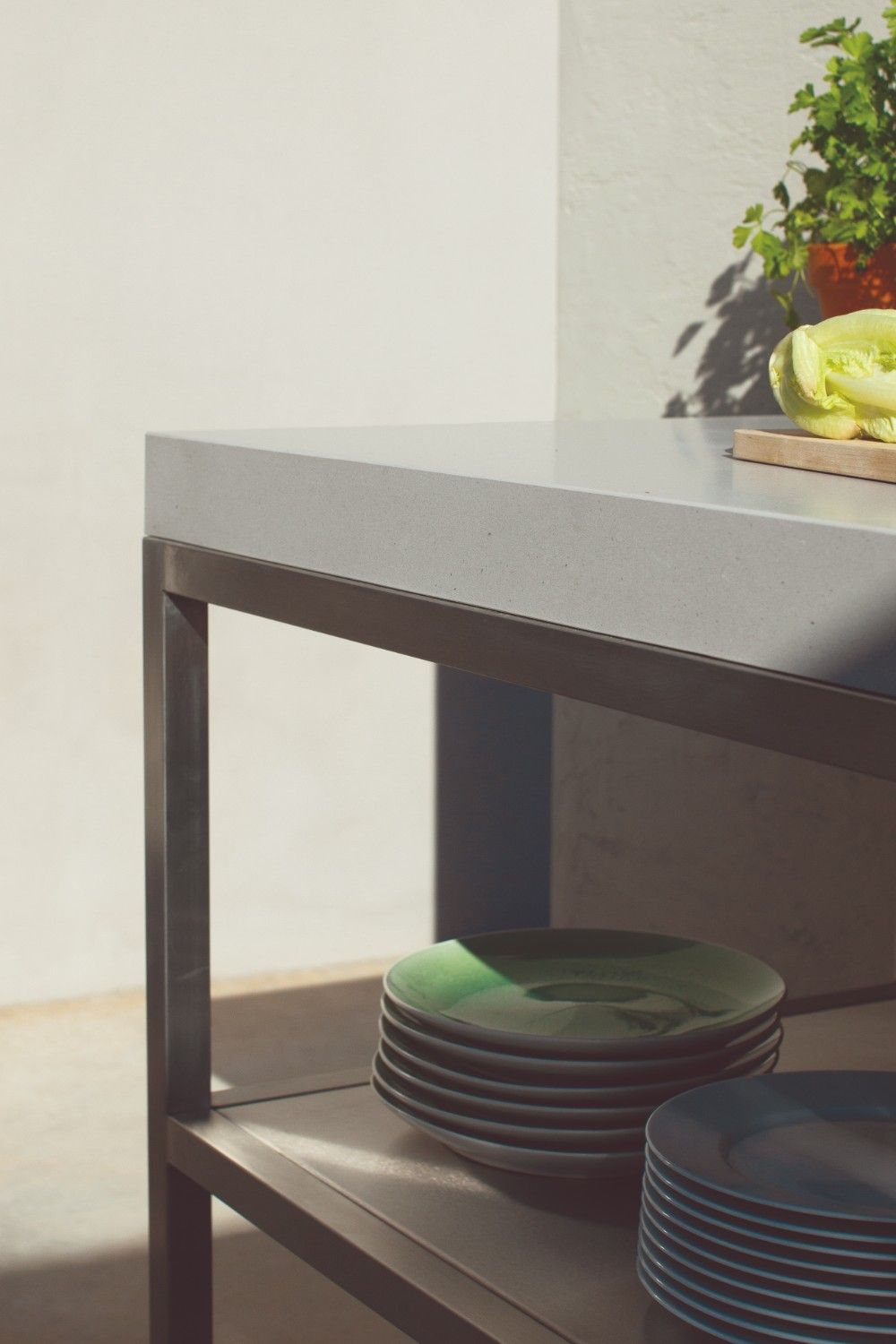 (Image credit: Caesserstone)
Remember that wind and rain can cause havoc on your best dinnerware so choose a storage bench or trolley with integrated shelving for added protection.
13. Make a feature of the outdoor sink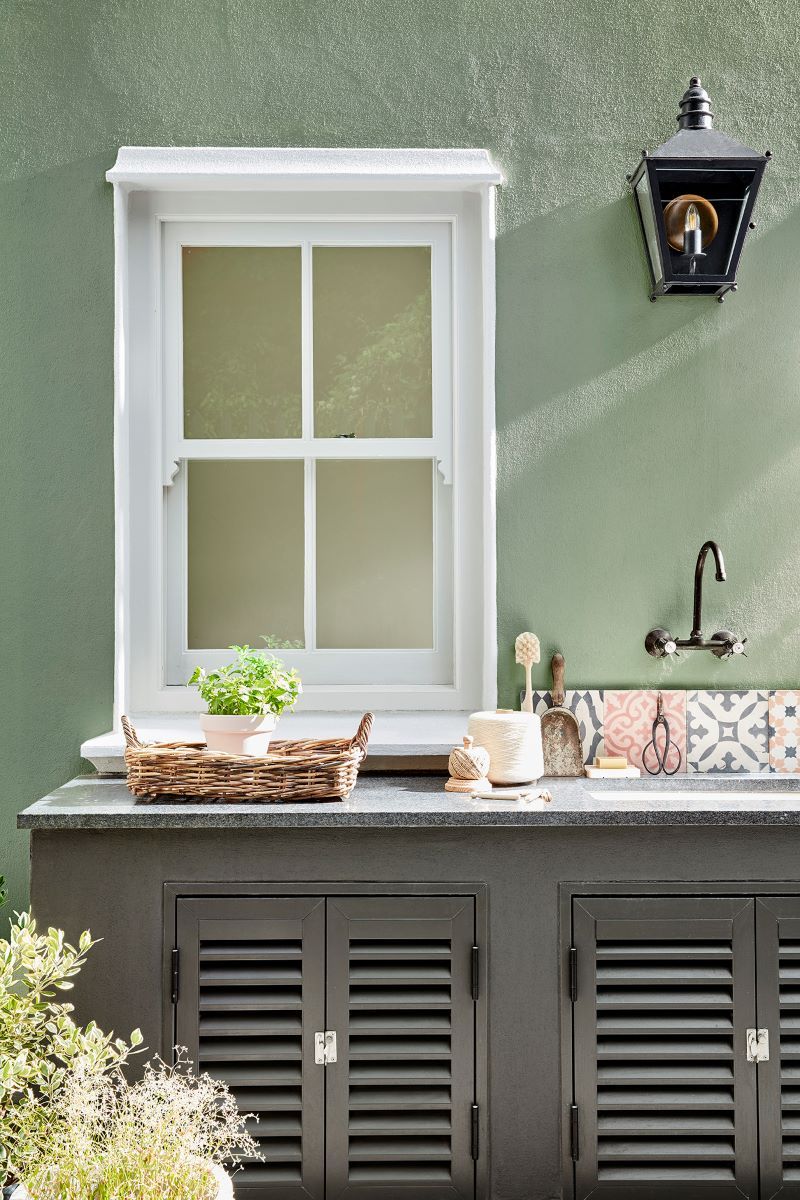 (Image credit: Little Greene)
A sink can be a really useful part of your outdoor kitchen set-up. But why not make it into a feature as well as a practical addition? Tiling can help define the area and is another element of an indoor kitchen which translates beautifully to the outdoors. Go plain or for a pattern like this one which looks so good against the Little Greene lime wash garden wall. With a water station this good, you'll be (happily) cleaning dishes until the sun comes up.
14. Use structured shelter for your outdoor kitchen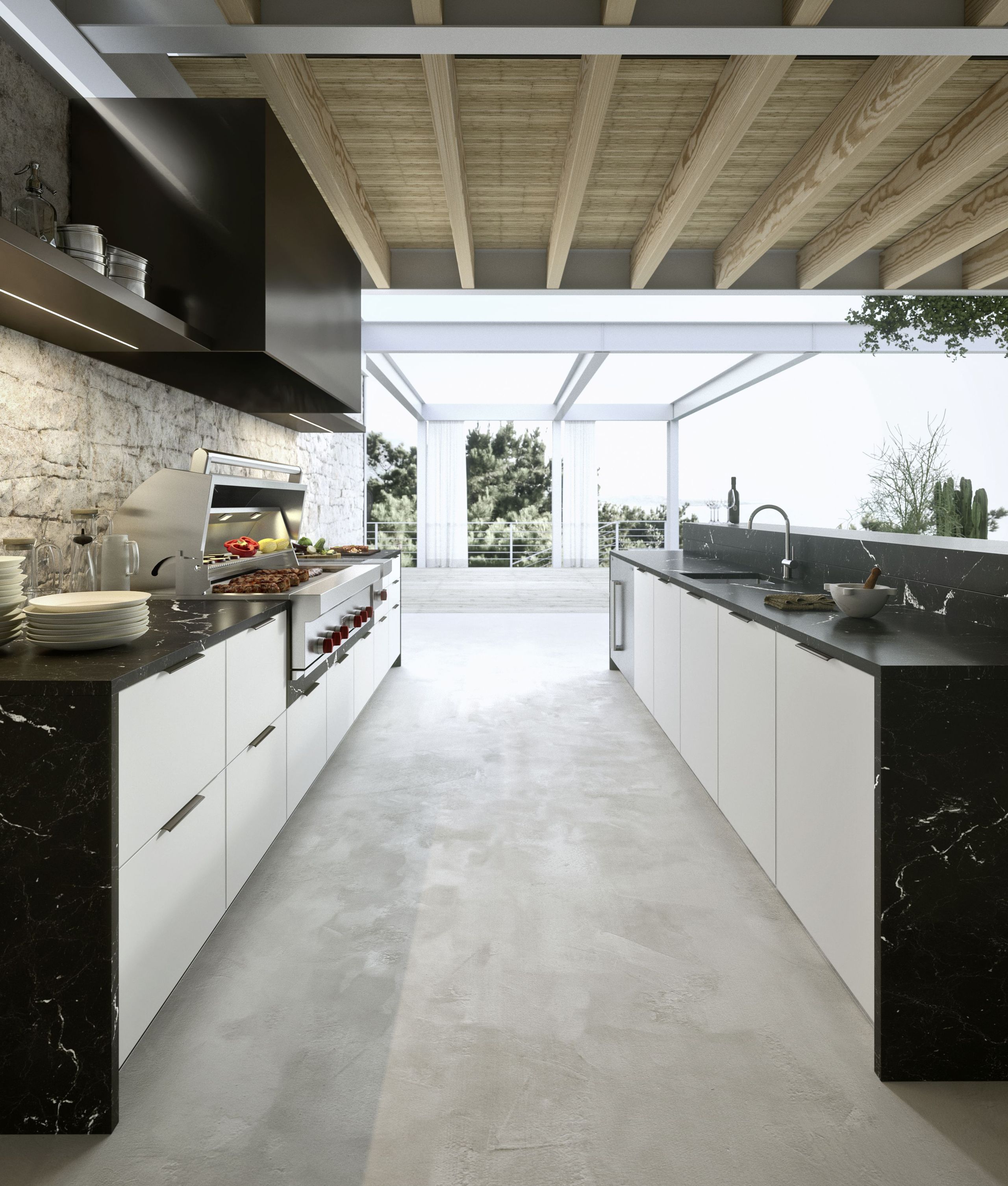 (Image credit: Hub Kitchens)
Including walls around and a roof over your outdoor kitchen design will create a more formal and refined finish that will also protect you against the elements. A complex extension-like design like this will cost more than other outdoor kitchen ideas might, but if you plan on spending a lot of valuable time in this space then it's worth the investment. And of course, you can create a cheaper structure than this with the help of a good carpenter.
15. Be seamless with stone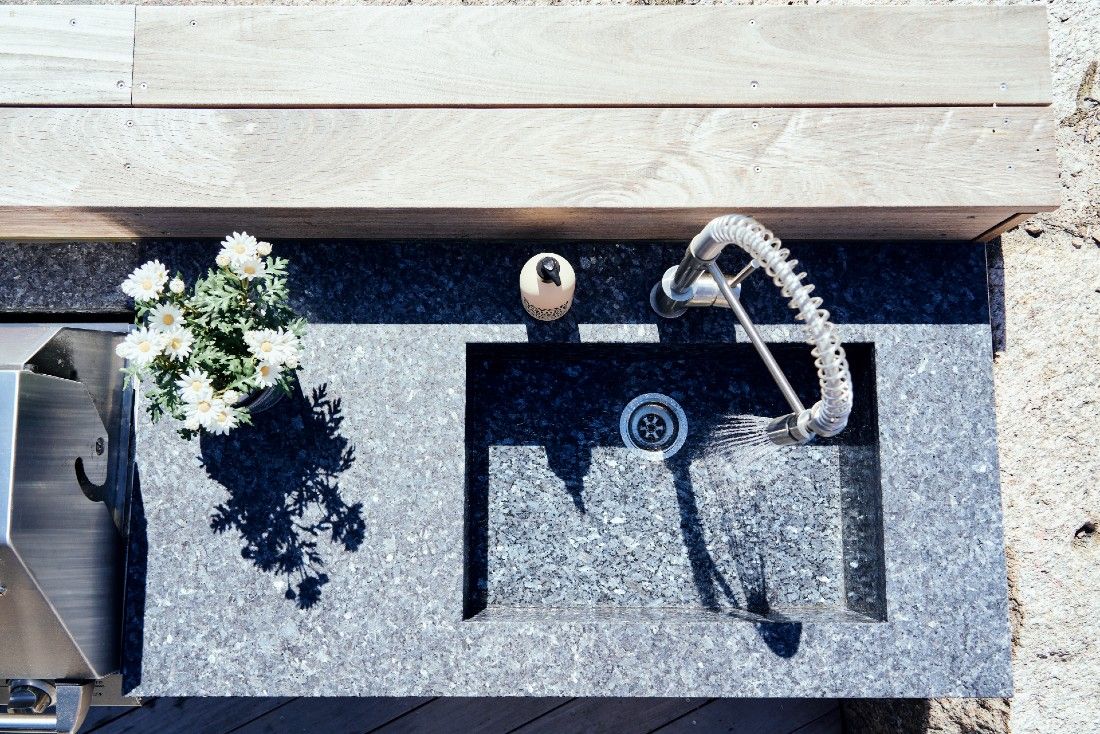 (Image credit: Lundhs Real Stone)
Refined and stunning, Caesarstone notes how 'An integrated sink in the same stone as the worktop gives a seamless and calm surface' and we couldn't agree more.
16. Don't forget the drinks fridge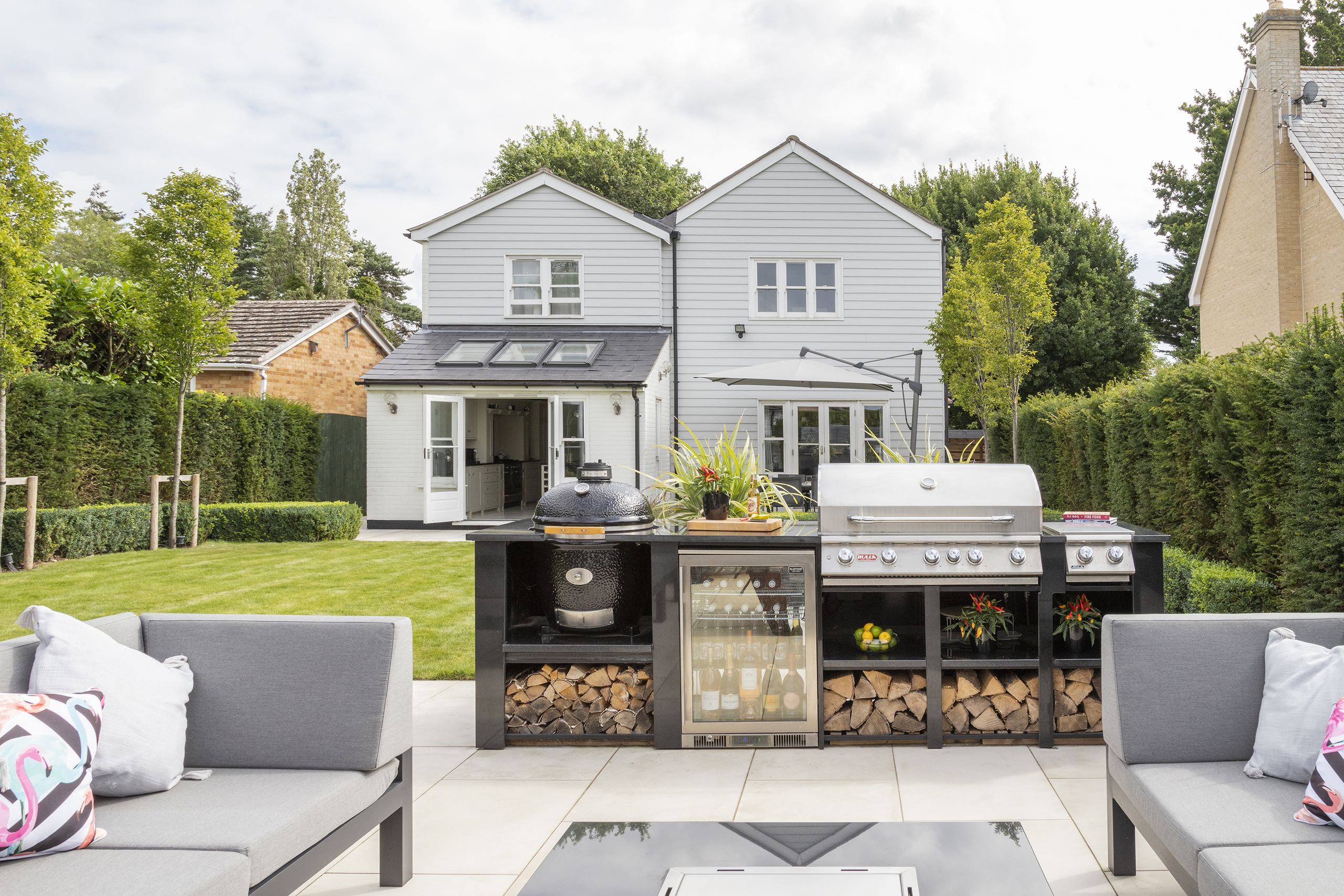 As part of a garden makeover for an Essex home, Cube 1994 created a bespoke granite covered kitchen incorporating a Monolith kamado grill – available to buy online – outdoor fridge and double barbecue, with shelving for logs and cooking utensils. Large sofas face a Rivelin gas fire table
(Image credit: Gap Photos)
A vital component of all outdoor kitchens in our eyes: after all, would dining alfresco be the same without your favorite drink? We highly recommend including a mini fridge in your design. It's a touch more fancy, but the perfect way to stretch out the evening.
17. Put your outdoor kitchen on wheels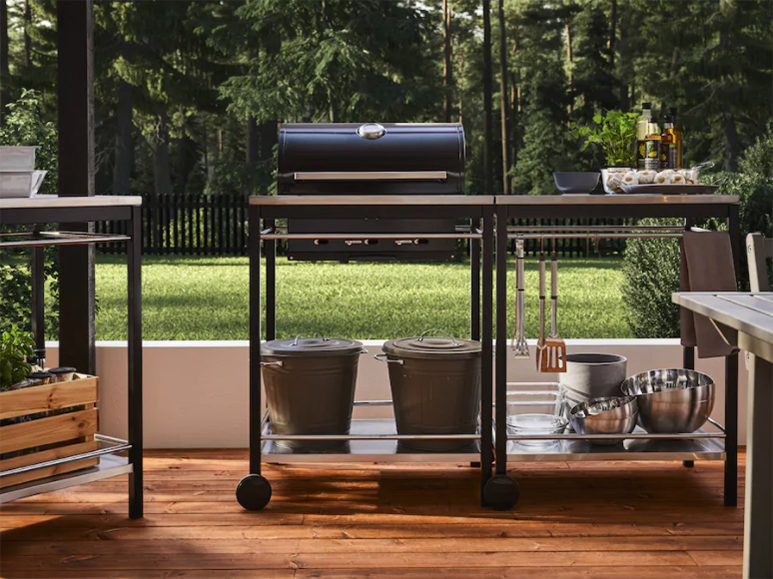 (Image credit: Ikea)
When style meets functionality it's a clear win, especially in an outdoor kitchen. Sticking to cooking decks and outside storage that has wheels is a great way to keep your set-up as versatile as you need it to be. Particularly useful if you're short on space, it's also a great outdoor kitchen idea for renters who can take theirs with them the day they move. We love the nifty Ikea Klassen BBQ trolley which makes a stylish and useful addition to every outdoor kitchen design.
18. Choose a simple setup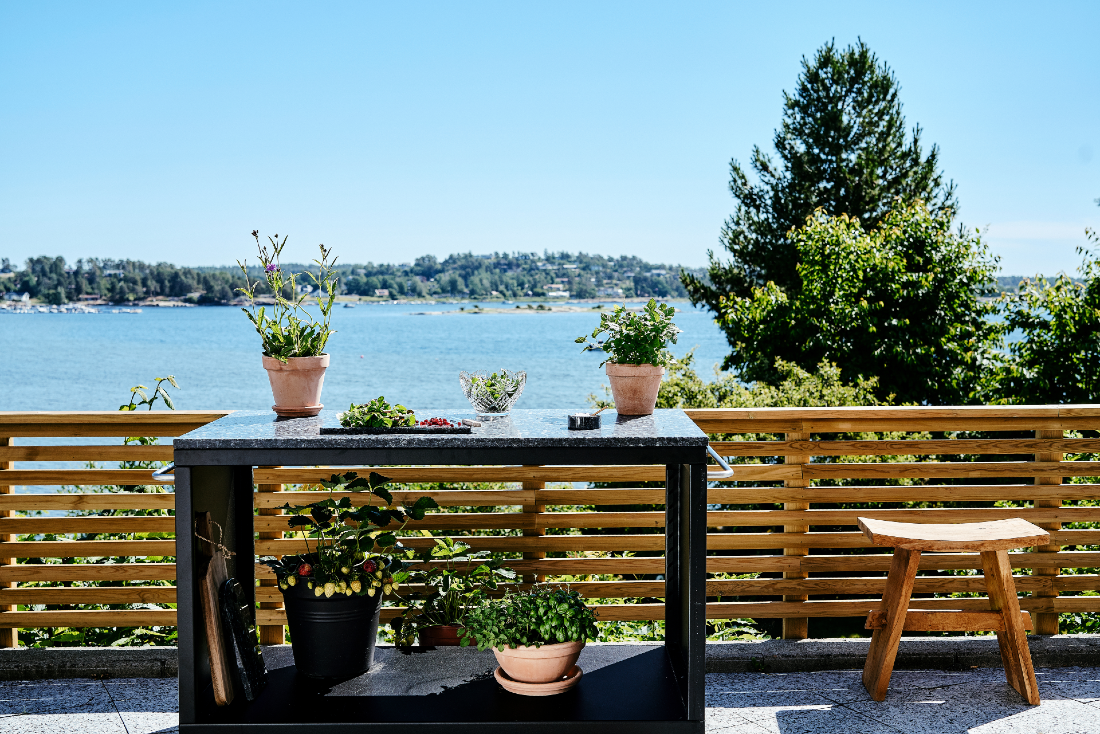 (Image credit: Lundhs Real Stone)
Simplicity is often the most best route to success. If you have an outdoor space with a big view, go for a pared-back look with your outdoor kitchen design to add all the function and beauty – without going overboard. 
19. DIY your outdoor kitchen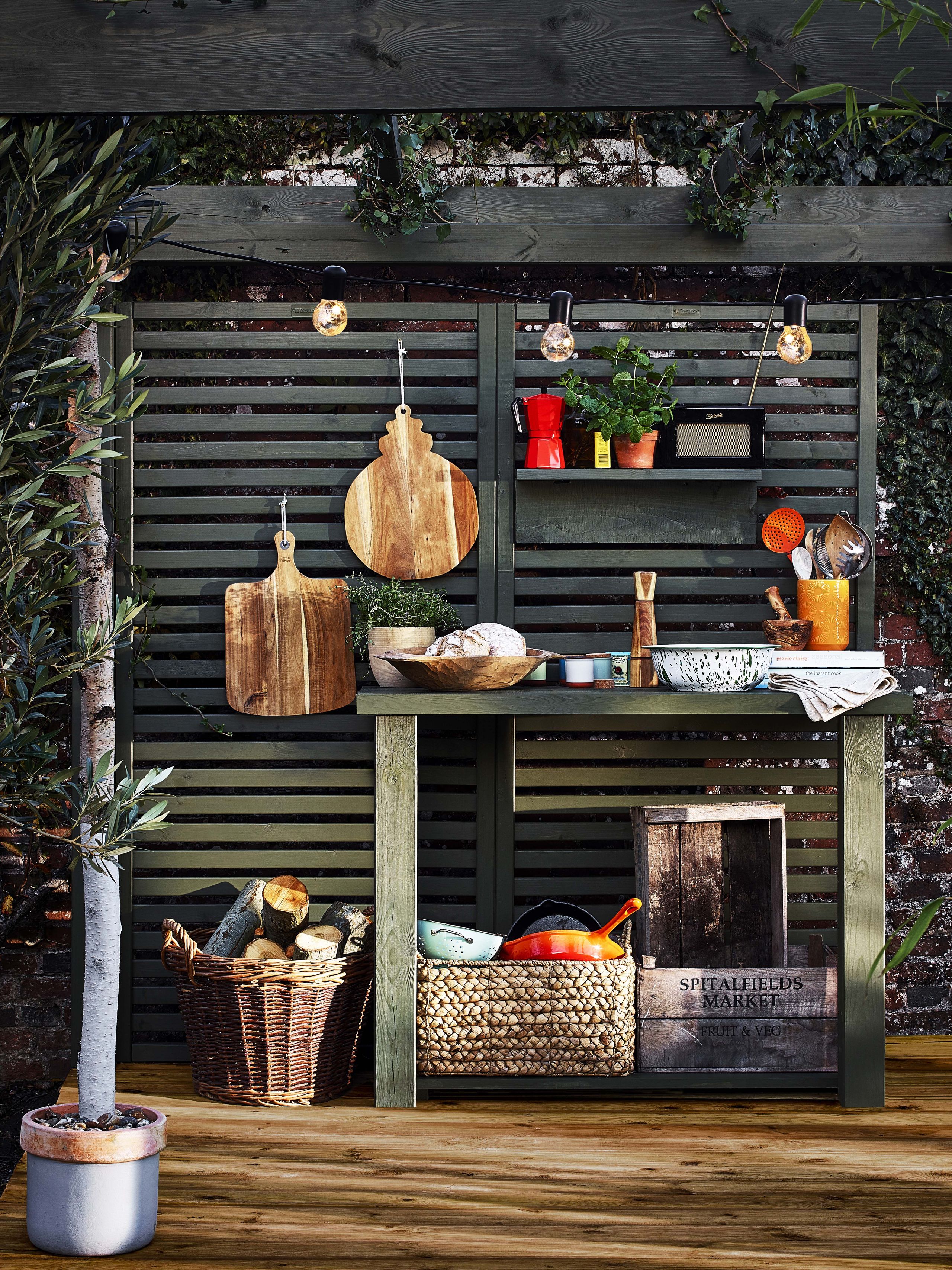 (Image credit: Cuprinol)
A little creativity and know-how from the experts will see you whipping up a pro outdoor kitchen space in no time. Cuprinol says 'You don't have to fork out to create an outdoor kitchen that blends seamlessly with its surroundings and stands tough against the elements. Open your imagination and see what you can achieve with a little DIY skills and some Cuprinol Garden Shades.' Here is their quick DIY recommendation:
Step 1
Frame your outdoor kitchen with a wooden pergola. Covering it in lush foliage will help form a natural canopy.
Step 2
Then install a sturdy splashback with a horizontal, slatted fence panel to add depth and interest. 
Step 3
Finally add a kitchen worktop and paint your pergola, splashback and worktop in the same rich Old English Green/or another colour for years of protection against the elements.
20. Keep it green with a living wall backdrop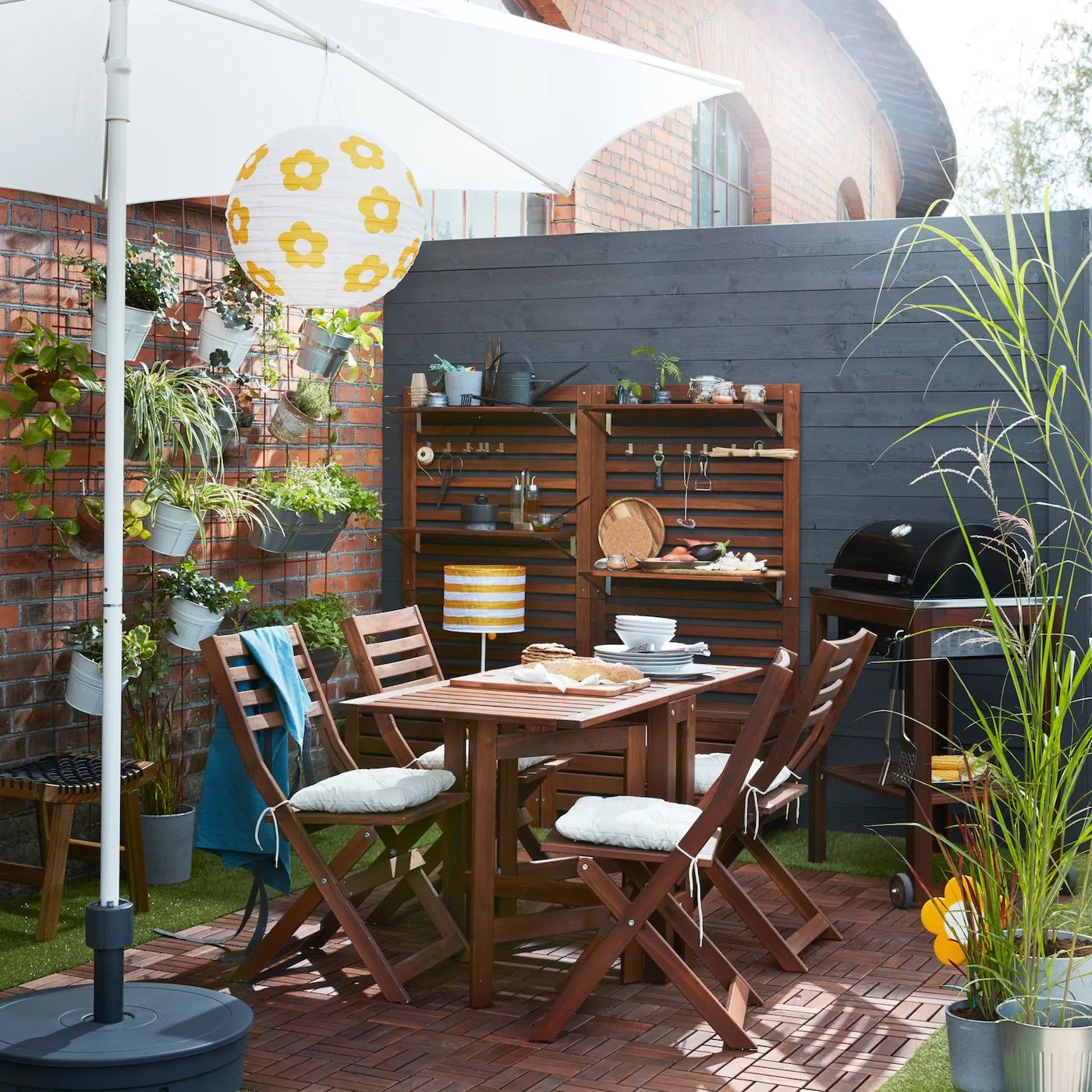 (Image credit: Ikea)
We adore the idea of a vertical garden anywhere, and it makes a great addition to an outdoor kitchen space too we're sure you'll agree. Mix flowers and evergreens for year round interest.
21. Nod to coherency for better flow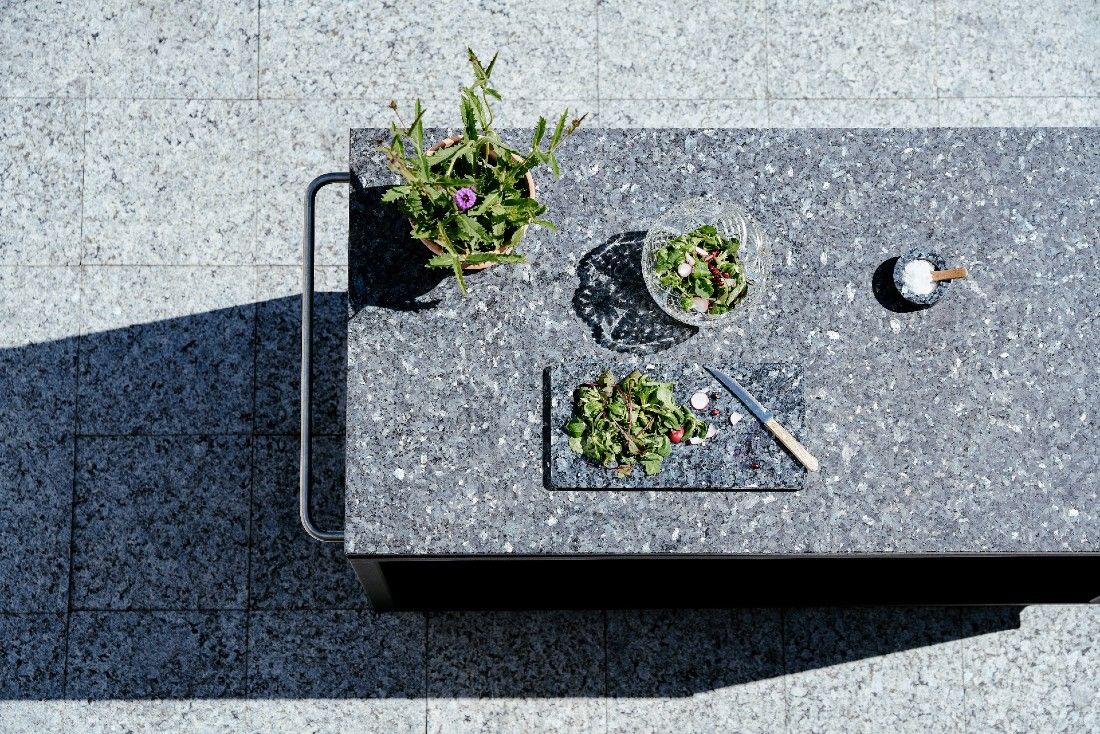 (Image credit: Lundhs Real Stone)
Choosing similar hues and materials to go with your patio floor or decked area will help the entire space flow. It doesn't need to be an exact match, but choosing something that's in-keeping with your existing style will create refined and modern vibes.
Check out our gorgeous patio ideas when you have a minute.
22. Keep herbs close by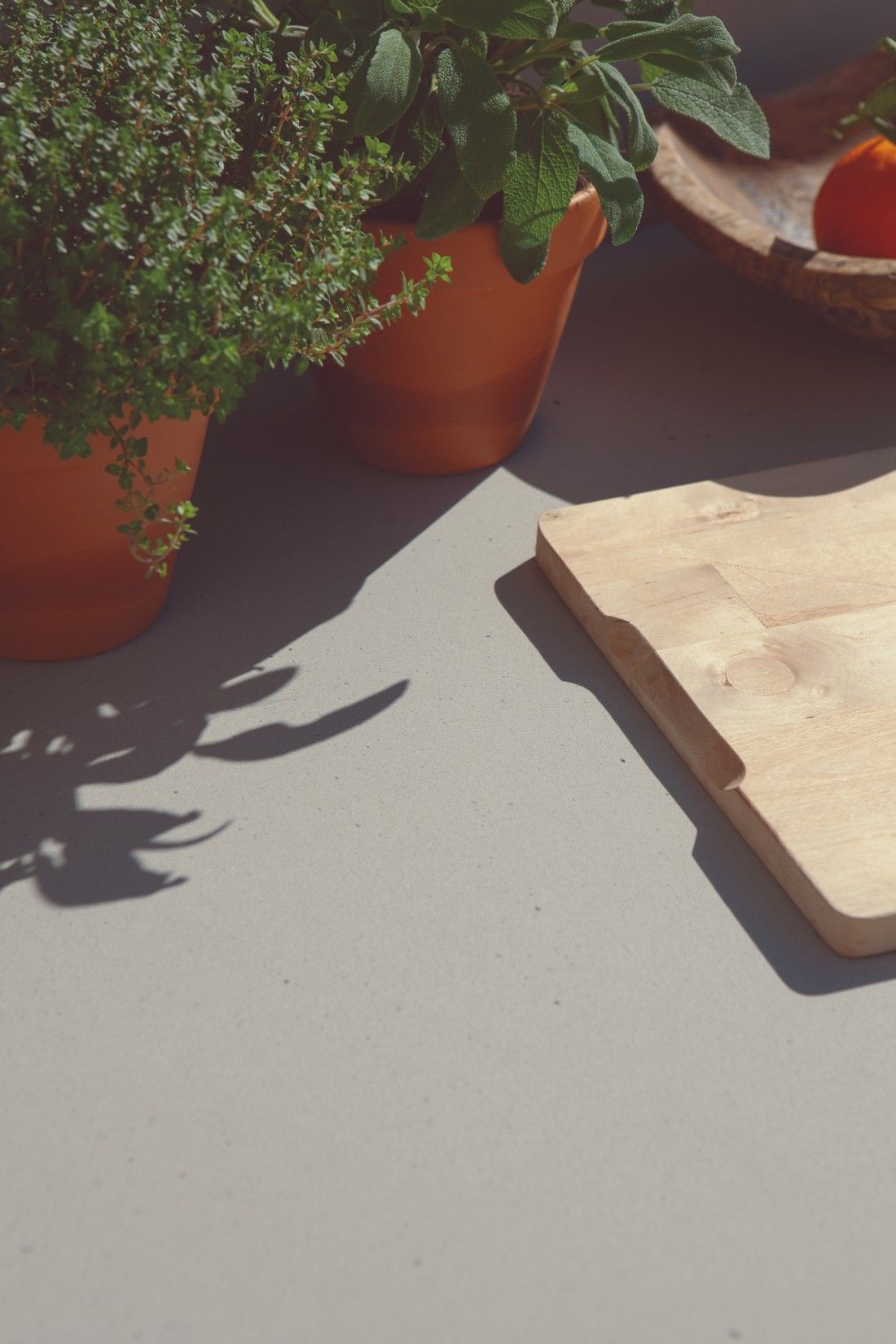 (Image credit: Caesserstone)
Having a herb garden within reach of your outdoor kitchen is a swell idea to achieve culinary success. How better will you flavor food than with the freshest of herbs? Mix pots of mint, rosemary, thyme, lavender and the likes with grasses to create a textured and tasty display.
23. Go for a small space solution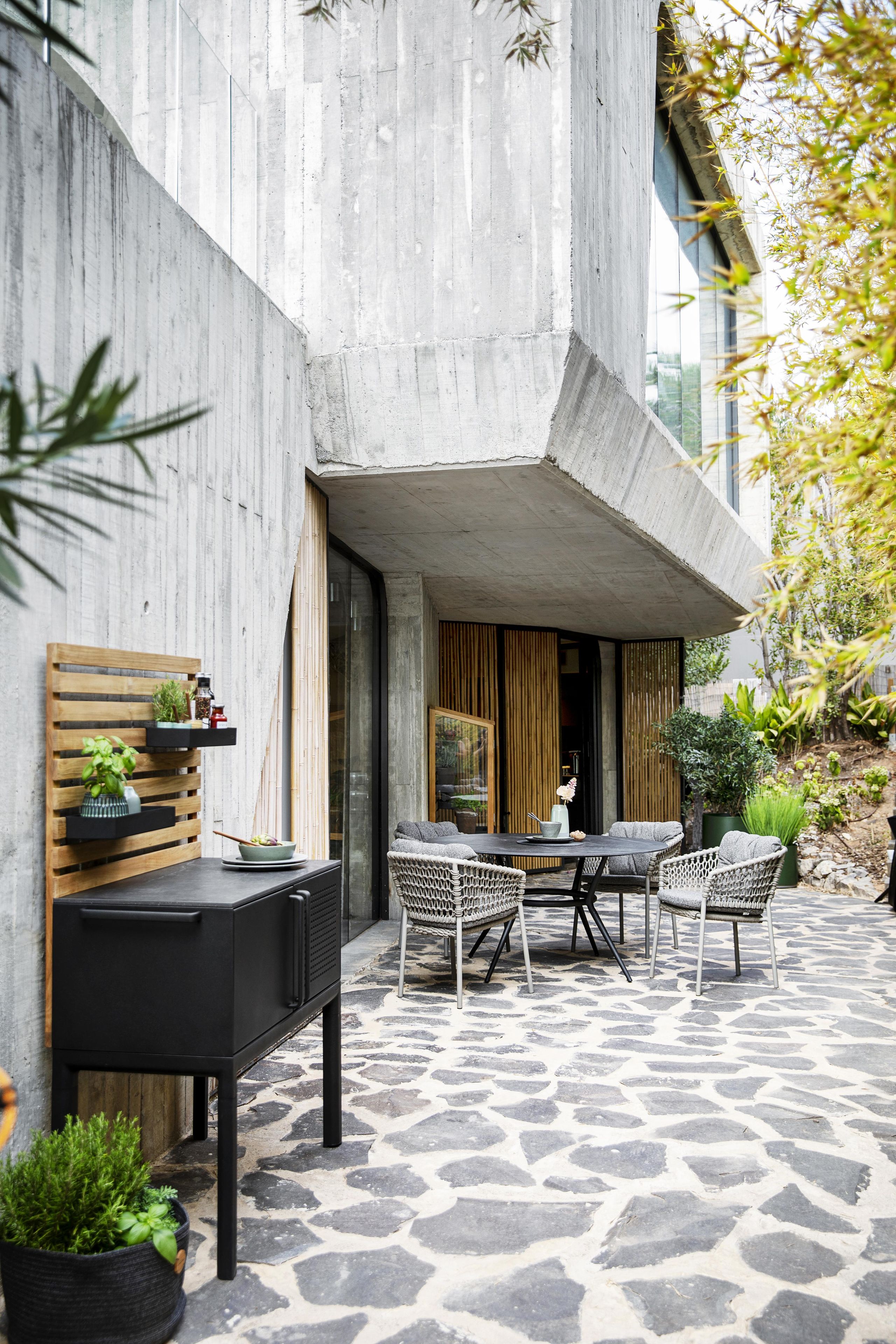 (Image credit: Nest)
So, you've already got a BBQ you like, but you want to upgrade to an outdoor kitchen. Then check out this idea. This Cane-line Drop Outdoor Kitchen Unit from Nest has two storage cupboards, along with a beautiful solid worktop and a durable back wall for hanging shelves, utensils and accessories, covering your preparation and stashing requirements. Team it with the barbecue and – hey presto – an outdoor kitchen is yours and it'll fit in the most modest of backyards. 
24. DIY your outdoor kitchen splashback for a tiled effect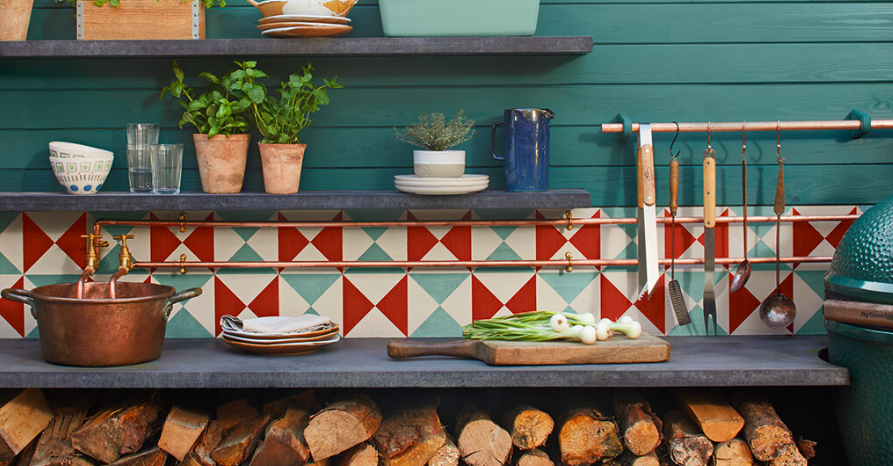 (Image credit: Cuprinol)
Created by simply masking off the pattern and painting an MDF plank in warm terracotta, natural stone and blue garden shades by Cuprinol – this quick DIY proves that you can create the effect of a real kitchen outside, without spending big bucks or the need of an expert.
25. Keep it linear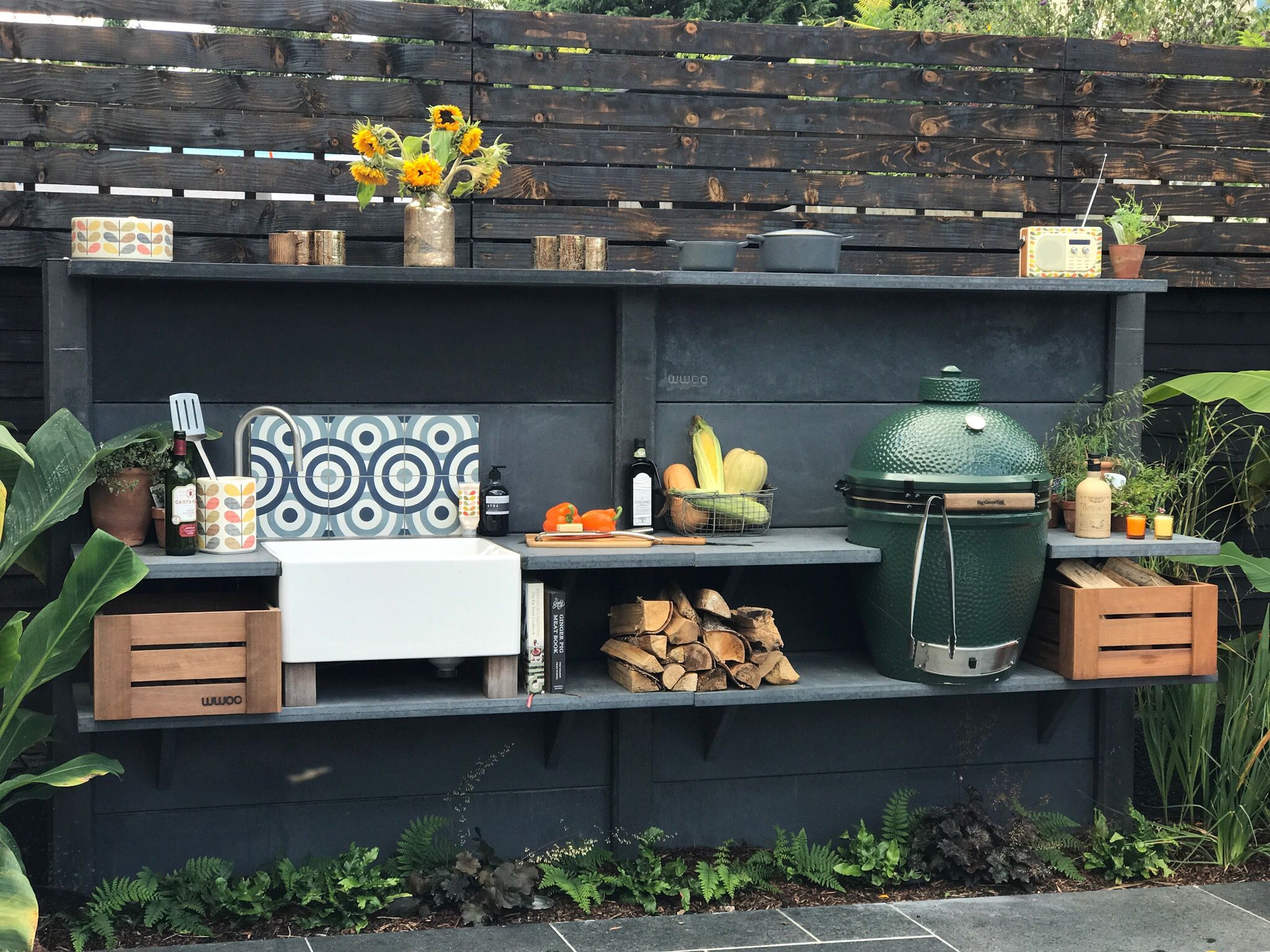 (Image credit: Garden House Design)
Just like inside your home, a single line kitchen can be a space-efficient way to fit in all you need and still leave an area sizeable enough for a dining table and chairs outdoors. Think about which elements you'd like to include: you might prefer a gas BBQ or a kamado charcoal version, which makes a great feature as well as cooking beautifully. A pizza oven is a must-have for many, too.
This WWOO Outdoor Kitchen is by Garden House Design and comes in three different heights of 1.3, 1.65 and 2m with each length being 1.5m wide, so you can size your kitchen to your needs, space and budget.
26. Make yours with an outdoor pizza oven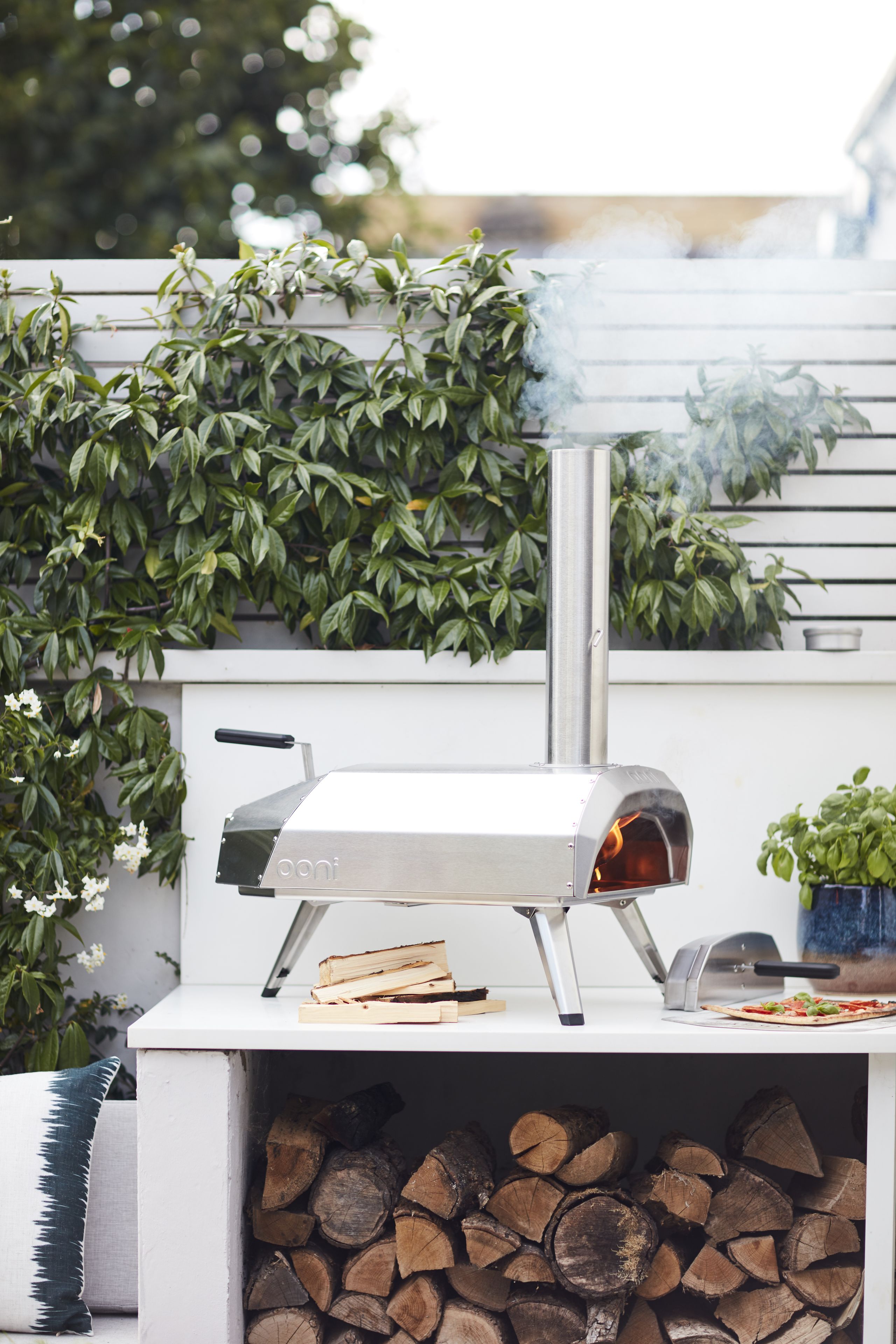 (Image credit: Dobbies)
It can be straightforward to build your own outdoor kitchen, if you prefer to. The simplest version could combine a surface on which you can position a great pizza oven like this Ooni Karu 12 Multi-Fuel Pizza Oven as well as prepare and serve. Leave room for your fuel supply below and you're ready to delight family and guests with delicious slices of pie alfresco.
27. Keep it casual with a fire pit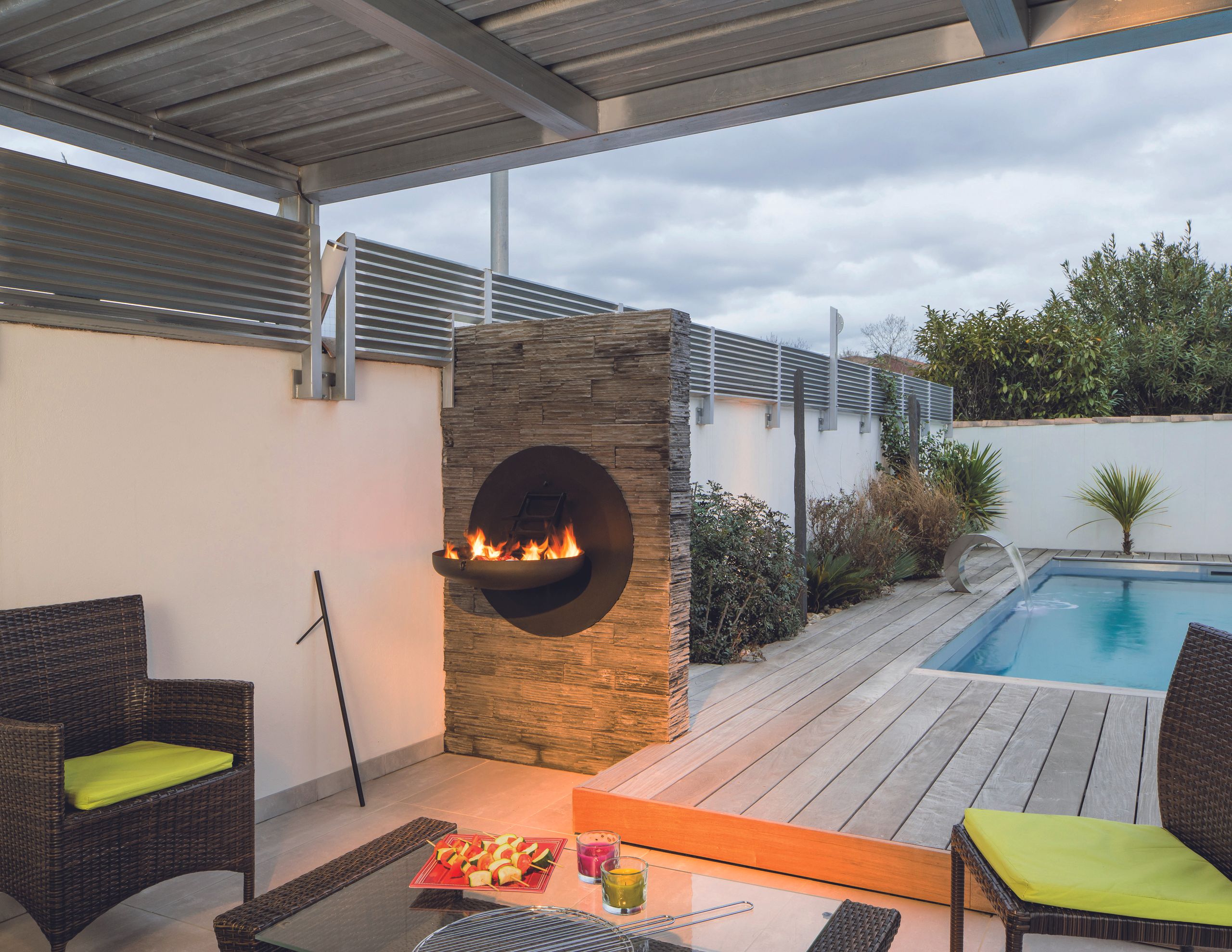 (Image credit: Focus)
Fire pits aren't just very stylish and warming but many can act as barbecues also, like this wall mounted model from Focus. Make your outdoor kitchen setup a mini and casual one, but nonetheless a brilliant one. 
How do you design an outdoor kitchen?
There is lots to consider when designing and building an outdoor kitchen, and this will change depending on the size and structure of your outdoor space. 
First point to note is that an outdoor kitchen will require a level, smooth and strong base. As spills are a possibility, avoid porous paving and opt for a version that can be easily washed down. And when choosing where to put your outdoor kitchen, make sure the floor surface won't be slippery when it's wet, too. Steer clear of decking, which leaves space for food to fall between the boards.
Then it's simply a case of deciding what kind of outdoor kitchen you'd like. Think about whether you want to include walls in the outdoor kitchen design or not. Walls will mean you can position storage and shelving easily in addition to your chosen cooking equipment and they may also be helpful in providing shelter from the wind. Going without makes for a more open design, but you'll need to plan more storage into the kitchen structure.
Other design considerations include whether you want a roof on an outdoor kitchen for maximum utility, or overhead features such as beams or a canopy to provide shade.
To create a permanent outdoor kitchen, the first thing to consider is how you'll want to cook. These are your options:
Outdoor kitchen BBQ
Think about building in a barbecue, remembering that you'll need to locate it at a safe distance from a shed or fences for safety. Bear in mind the way the wind tends to blow, too, to avoid creating a nuisance with smoke – think about the neighbours as well as your own comfort. 
Outdoor oven
You might also think about an outdoor oven, which is suitable for cooking pizza, baking bread or roasting meat. They can be fuelled with wood, or use options such as charcoal or gas. 
Smoker
A smoker will allow you to cook food slowly and these are good for dishes such as pulled pork.
Kamado grill
For the latest in outdoor cooking options, how about a kamado? Looking like a giant egg, one of these makes an interesting feature and it can be used for grilling, smoking, roasting, or to make pizza or undertake other baking.
Other possibilities
Think also about including burners that'll let you boil and heat, and/or a teppanyaki.
And if you like the idea of extending evenings in the garden and the months during which you can enjoy your outdoor space, it could be worth investing in an outdoor fireplace or chimenea.
What do you need in an outdoor kitchen?
This largely depends on what kind of outdoor kitchen you want, and on how much of your indoor kitchen you want to replicate in the garden. Do you like the idea of building in storage outside with suitable cabinetry? This could avoid the need to go back to the house for the equipment that's required. Don't go over the top, though. You won't need nearly as much storage space outside as you do in your kitchen.
Outdoor kitchen cabinets and surfaces
Fitting outdoor cabinetry also creates the opportunity to provide adequate worktop space above it for the preparation of meals. Work surfaces need to be weatherproof, so you may want to opt for suitable stone or micro-cement, for example.
Outdoor fridges
Think, too, about whether you'd like the luxury of outside refrigeration to keep both ingredients and drinks cool. You will need to invest in a cooling model that's designed to go outdoors, of course – designs made for indoors won't be suitable.
Keeping food warm can also be an issue, so decide whether you'd prefer to include warming drawers in your design.
Sinks and water
A fully equipped outdoor kitchen would also include a sink and tap, providing water for washing ingredients as needed as well as for boiling.
Heating
Outdoor heating may also be useful to make the kitchen and dining area comfortable when the weather isn't doing its best.
Lighting
Adequate (and gorgeous) garden lighting is a must with an outdoor kitchen should you want to use it after sunset. Be sure to keep cooking areas well lit, while dining and seating areas can benefit from more atmospheric lighting. 
Planning your outdoor kitchen design and layout
Weigh up different layouts early in the design process. An outdoor kitchen could be linear or L-shaped, for instance, to suit working preferences and the space available. An L-shape can create a useful partition to keep the cooking area apart for safety and convenience, as could a layout that includes an island.
If you're running electricity and water to an outdoor kitchen, this may affect where you can position it, and this could be a factor to consider when allocating the budget. Remember to plan services in from the beginning so that they work with paving and partitions in your patio area.
Think about how the dining area will relate to the cooking space. It's best to avoid a long walk to take food to the table. Consider also the orientation of preparation and barbecue areas – do you want to be able to talk to seated guests while you're working, or will you have your back to them? 
You might want to include planting areas for both herbs and vegetables in the design so you can take advantage of fresh ingredients in your recipes.
Is a permit or planning permission needed for an outdoor kitchen?
Generally, a permit or planning permission isn't a necessity for an outdoor kitchen's construction, but you might need to bear in mind the rules on placing a structure near a boundary, and its height. If you live in a conservation area or a listed home, there may be other restrictions. And if any electrical or plumbing work is required you will need to abide by the rules. Contact your local planning department for guidance.
Kitchens with walls and roof may need to adhere to the building regulations and don't forget that competent professionals will need to undertake the installation of services to it, including the connection to gas if that's how your barbecue is fuelled.
Where can you buy an outdoor kitchen?
If you want to do the work yourself you can shop for units in DIY stores. Make sure you site a barbecue in a fireproof compartment within your set-up.
Alternatively, specialist manufacturers sell outdoor kitchens with everything you need from storage to cooking options, including as complete sets.
Some companies offer all the elements you might want, and will also plan and fit your outdoor room. Alternatively, employ a garden designer or landscape architect to work on a version that complements your home's architecture and the rest of the hard and soft landscaping of your plot.
How much does it cost to build an outdoor kitchen?
The cost of an outdoor kitchen will depend on the complexity of the design. Expect to pay from around £5,000 ($7,000) for a straightforward version and from £10,000 ($14,000) to £20,000 ($27,900) and more for a sophisticated arrangement with a barbecue, side burner, sink and fridge.
*'Physical activity and sedentary time in relation to academic achievement in children', Journal of Science and Medicine in Sport, Nov 2016.
**Call to the Wild: This is your Brain on Nature .
***Studies from the University of Exeter analyzed mental health data from 10,000 city dwellers and utilised high-resolution mapping tools to track subjects over an 18-year period, discovering that those living with, or near more green space reported less mental distress; meanwhile, Dutch researchers found lower incidences of life-threatening illnesses – depression, anxiety, heart disease, diabetes, asthma and so forth – in residents living within half a mile of green space.
We'll meet you by the grill 👌