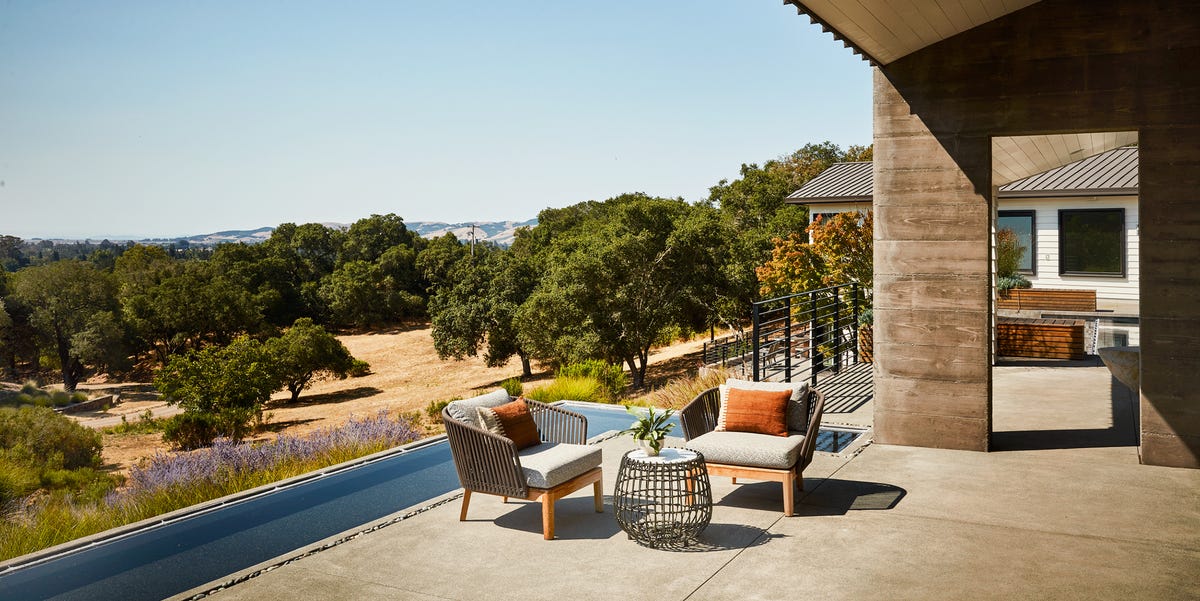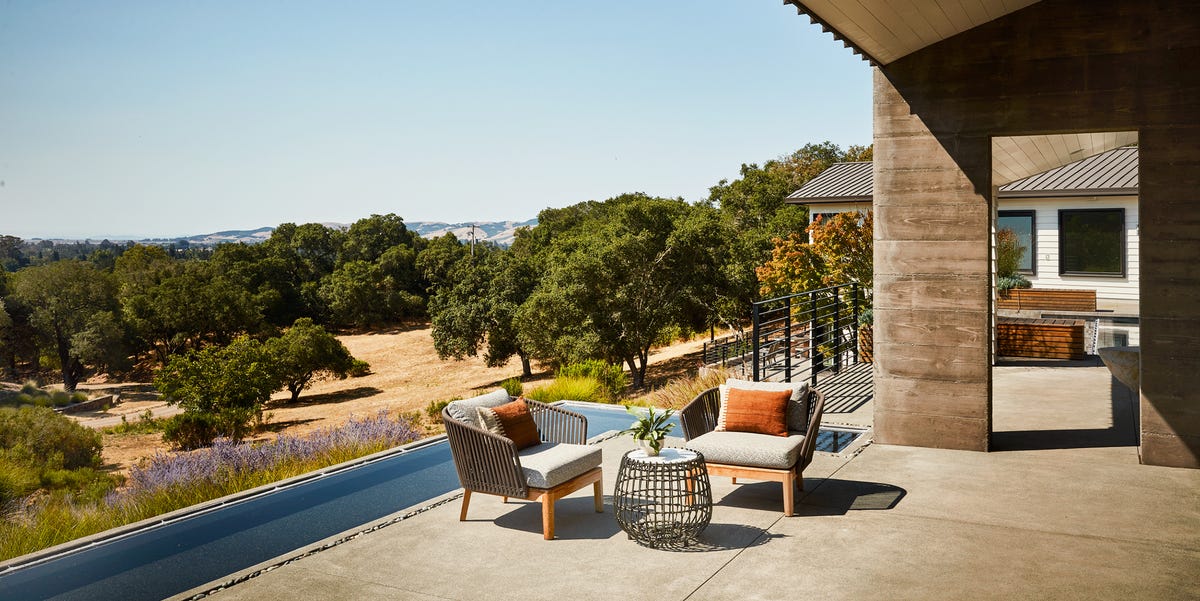 Sunbathing season is finally upon us. While there are plenty of good ways to bask at the beach or in a park, the best quality vitamin D time is spent by a pool. All the better when that pool is surrounded by a well designed patio or deck. To get your outdoor space ready to make a big style splash during the warm months ahead, we're spotlighting 25 beautiful pool deck ideas from landscape designers and architects across the country. Take notes from these stylish hangout setups to find the right decking materials, patio lighting, and more so you can live your best outdoor life.
1
Maximize Green Space
A sleek swimming pool, manicured lawn, and native palm trees make this Hawaiian home designed by Catherine Kwong a modern oasis. Minimal landscaping accentuates the incredible views, but the best part of this pool area is all the lush greenery. If you love the tropical look, limit the patio and decking materials to the perimeter of the pool.
2
Embrace Existing Quirks
"I thought, I don't want to fight this house; I want to go with it. It has storybook whimsy—the beautiful ivy on the brick, the magical old windows—that I couldn't take away," says designer Leanne Ford of this LA home. Irregular stonework on the deck hugs an oblong-shaped pool that feels like a lagoon hidden in a majestic forest thanks to overflowing greenery.
3
Build a Transparent Enclosure
Danielle Fennoy of Revamp Interior Design worked with Morrel Landscape Associates to create this sleek pool deck for a contemporary home. A few pieces of modern furniture, clean polished concrete flooring, and barely-there glass enclosures let the geometry of the house's architecture take the spotlight.
4
Allow Materials to Set the Scene
Designed by Martyn Lawrence Bullard, this Point Dunne Malibu swimming pool makes life feel like a permanent vacation. Lawrence Bullard and architect Robbin Hayne clad the home in reclaimed barn wood for a rustic feel that dresses down the luxe furnishings and sleek lap pool.
5
Don't Let Size Stop You
Designer Fitz Pullins's Jacksonville, Florida, home balances a modest backyard and even smaller pool with a dramatic tree and climbing vines.
6
Opt for a Fun Wood Stain
Designer Tamsin Johnson Interiors, gives classic cabana-striped lounge chairs a contemporary edge thanks to whimsical umbrellas, playful side tables, and a refreshingly modern light gray stain on the wood decking.
7
Make It Round
Ike Kligerman Barkley designed this circular pool to play off the wave-like shingles of the pool house's show-stopping roof. The combination feels whimsical yet sophisticated and creates a softness in the landscape design that you don't get from rectangular swimming pools.
8
Match It to the Roof
While the pool and rippling terra cotta shingles draw us into this backyard by Nickey Kehoe, it's the climbing vines and canopy of trees that really make it pop. The symmetry between the brick patio and the clay tiles is another nice touch.
9
Find Clever Work Arounds
In this breathtaking Sonoma property by architect George Bevin and designer Ken Fulk, a narrow water feature surrounds the outdoor areas and eliminates the need for view-obstructing railings. It hooks around the patio and continues around the bend, feeding into a larger pool behind the house.
10
Use Fun Tiles
Designer Madeline Stuart gave the backyard of this SoCal home by architects Wallace Neff and John Byers plenty of personality, from the eclectic tiles lining the pool to the blooming bougainvillea and playful umbrella.
11
Set a Solid Foundation
This backyard in a home by Amir Khandwala uses low hedges as a visual divider, sectioning off separate activity zones without disrupting the flow. A concrete slab under the pool loungers makes for easier maintenance and creates a sturdy foundation that matches the pool's surroundings.
12
Ease Transitions Between Zones
Design a pathway that visually draws the eye to the pool and also provides a clear way for people to approach it. Here, Janice Parker Landscape Architects opted for an offset stacked bond pattern of stepping stones that eases the transition between the stone tile patio, lawn, and pool area.
13
Optimize for Night Swims
Get your pool deck ready for night swims with the appropriate mood lighting. Of course, pool lights are a game-changer, and if you look in the far left, you'll notice the garage skylight that gives you peek at the cars below and allows for shared light. Add a few spotlights and hurricane candles and voila.
14
Use Unexpected Materials
An all-white plaster-effect material gives this pool deck a modern, bohemian edge. Just add simple white cushions for comfort and you've got yourself a relaxing oasis at home. A raffia roof hanging over the deck is a nice touch too.
15
Elevate It
Distinguish the sitting area from the pool deck with an elevated patio. It will look separate but also consistent when the pool design reflects style of the home's architecture. On this property designed by Nicole Hollis Studio, the modern, dark pool tiles and clean lines reflect the open-air structure beyond.
16
Strive for Durability
This Sag Harbor pool deck by Elizabeth Cooper Design is the perfect blend of polished and laidback. The brick paving on the patio is durable (bonus: it's more affordable than wood decking or tile) and it also boasts a nice lived-in aesthetic.
17
Enhance Privacy With a Wall
This pool deck by Janice Parker Landscape Architects has it all, from the grassy hillside view to separate sitting and dining areas, and a sleek yet classic swimming pool. The stone wall helps separate the outdoor living area from home, enhancing privacy.
18
Make the Most of Your Space
No room for lounge chairs? No problem. Interior designer Jenn Feldman improvised with two mediation lounge cushions and just placed them directly on the pool deck for a comfortable, easy-to-move, and stylish solution.
19
Encourage the Kids to Play
A simple, contemporary swimming pool will age with the house as your kids grow up, but why not make it ultra fun while they're still little? Studio Life/Style built a water slide and play house structure in this Los Angeles backyard.
20
Make It Sultry
It doesn't get any chicer than this backyard designed by Night Palm Studio. With black and white swirly side tables, curvy, wave-like daybeds, a sleek concrete foundation, and lighting built into the underside of the benches, it's the ultimate edgy pool deck. For extra point, stain your wood fence black.
21
Give It a Curve
The soft edges of rounded swimming pools tend to fit in well with traditional architecture and design. This one in a GRT Architects-designed home also features natural stone, making it feel even more serene and relaxing.
22
Make it Minimalist
Landscape designer and architect Ed Hollander opted for a sleek backyard design where the pool is flush with the lawn and patio. The light blue lounge chair cushions bring in a little pop of color without contrasting too much.
23
Add an Adjacent Fire Pit
Here, Studio Robert McKinley used light wood decking materials and extended it up the facade of the house for a fresh, nature-inspired take. Just off to the side, you'll see the extra perk on the pool deck: a fire pit. The concrete flooring under the fire pit sitting area is durable, low-maintenance, and affordable.
24
Create Visual Intrigue
Instead of lining up some classic lounge chairs, customize your pool area with a modern daybed. Take a cue from this pool deck by KAA Design Group, where the attached day bed brings some geometric drama and sexier poolside lounging.
25
Invest In the Right Furniture
Invest in patio furniture that can double as seating to sun on if you don't have the space for two separate hang out areas. It can still look elevated and comfortable with the right approach, as demonstrated in this space by Jenn Feldman Design.
Hadley Mendelsohn
Senior Editor
Hadley Mendelsohn is House Beautiful's senior editor, and when she's not busy obsessing over all things decor-related, you can find her scouring vintage stores, reading, or stumbling about because she probably lost her glasses again.
This content is created and maintained by a third party, and imported onto this page to help users provide their email addresses. You may be able to find more information about this and similar content at piano.io