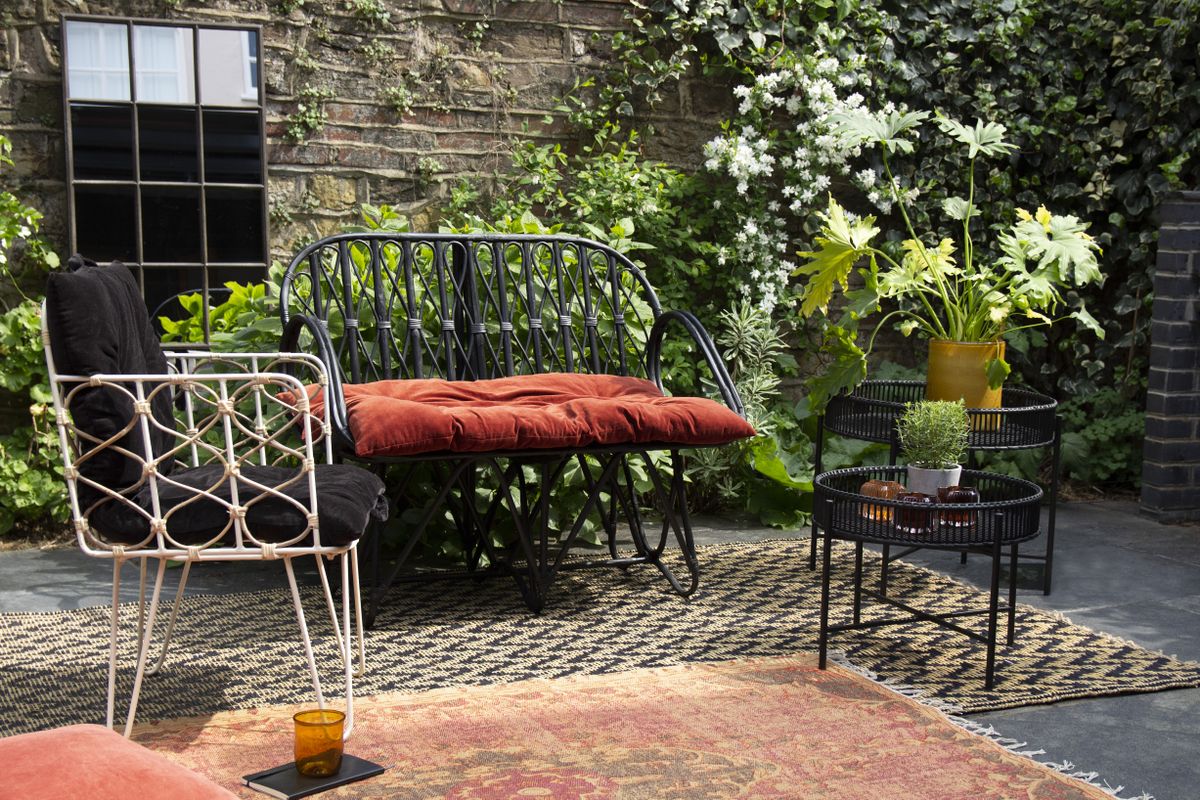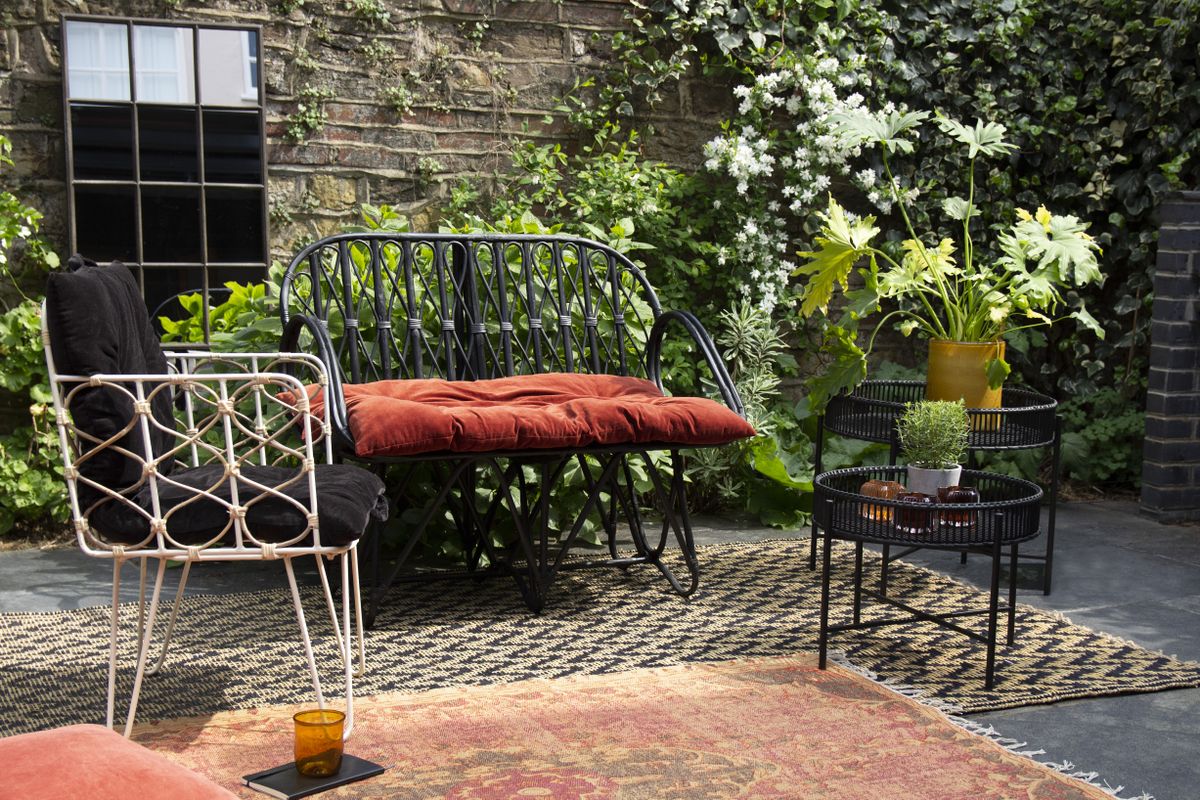 Have your backyard looking gorgeous all year round with these patio ideas for all types of space. Whether you want yours to be the place for lounging, dining, partying or all three, you can transform your existing patio, no matter how drab it may be, into the most stylish area going with the right decorative advice.
Your patio might be in need of a splash of color, more flowers and foliage to enjoy, or a touch of scent. Or perhaps you're looking for furniture to turn it into an outdoor room you can enjoy whenever the weather is kind enough to step outdoors? Whatever your patio is missing right now, we've got plenty to inspire you.
How can I make my patio look nice?
There are three main things you need to think about. The first is the surface itself. Removing any weeds, and cleaning a patio will transform it instantly. Painting it to give it an update is also one of our favorite budget patio ideas.
Secondly, and one of our favorite patio ideas altogether, bright planting. That's both plants in containers on the patio, and the plants that surround it. Flowers and foliage can make a patio a lovelier place to be and create privacy if you're overlooked, too.
Finally, the right furniture is essential. It's the furniture that will make your patio into the outdoor living or dining room you want it to be and it's key to the look of your patio as well. 
1. Create a summery vibe with a light bistro set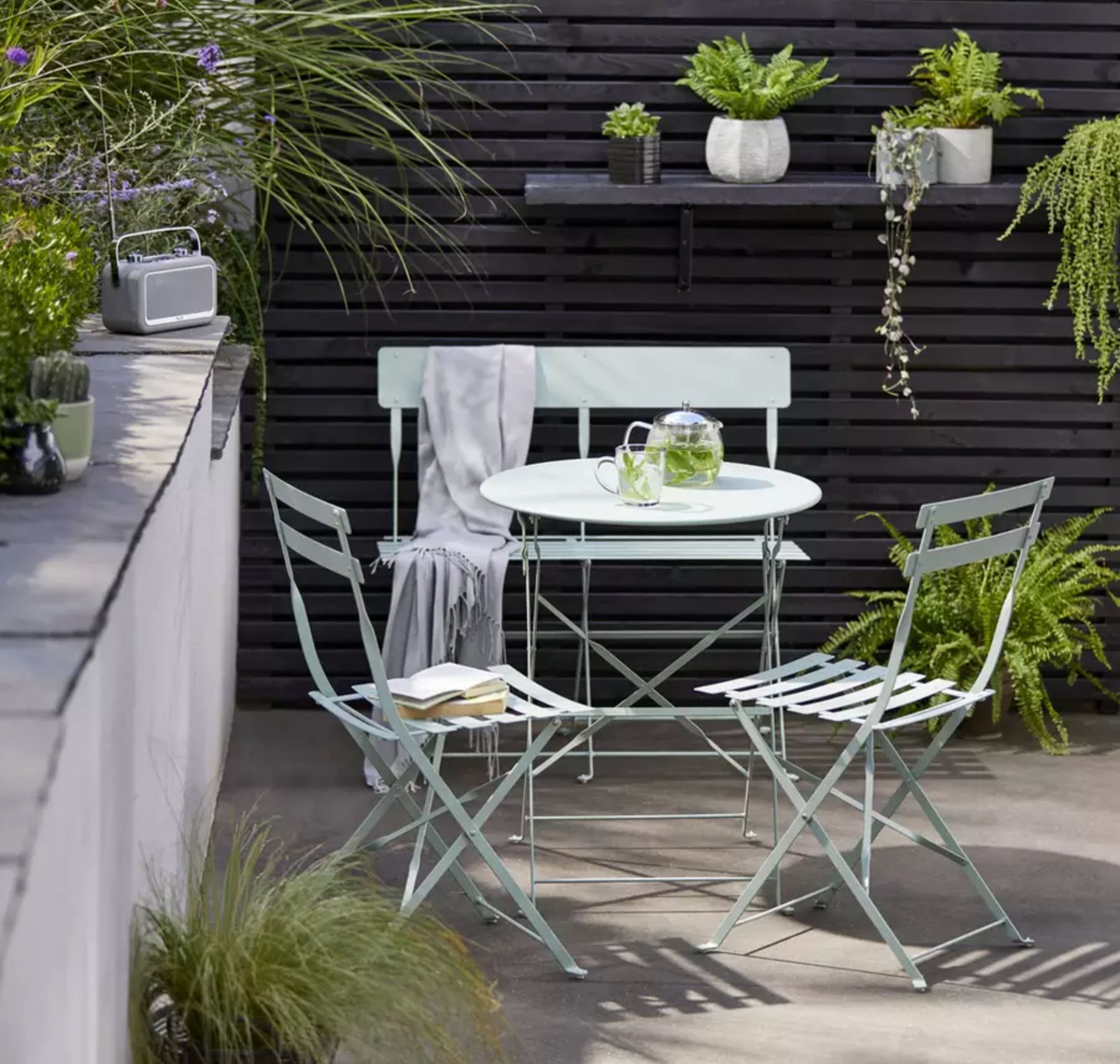 (Image credit: Argos)
If you are after small patio ideas, we think a bistro set in the way forward. Nothing quite suggests summer in the same way as a good-looking bistro set and the light pastel color of this one helps you feel all the summer vibes. 
2. Choose low but bright seating for a boho setup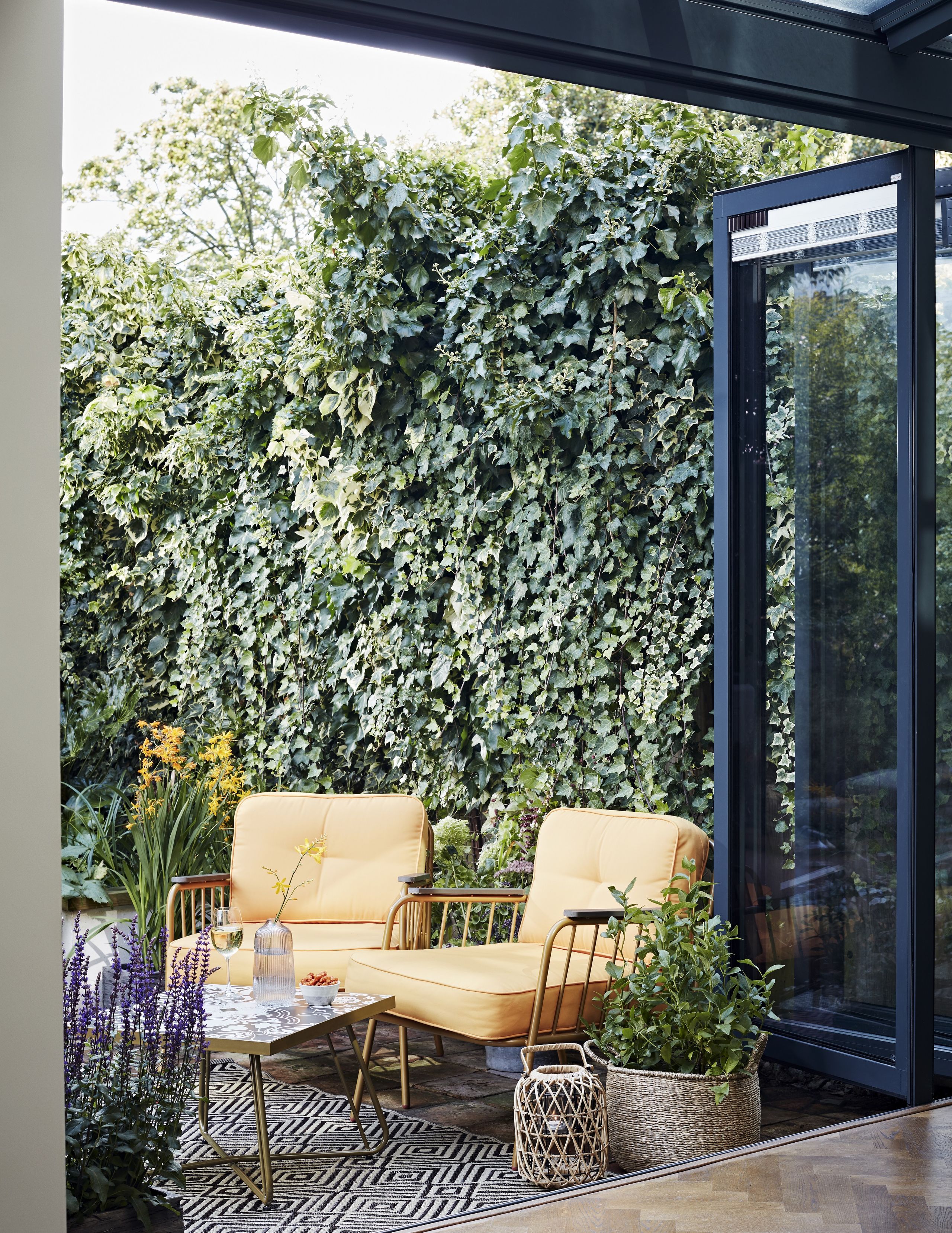 (Image credit: Dobbies)
Low seating works even for smaller patios, especially when it's brightly colored. If your patio is overlooked and tiny, low seating will not only make it feel larger (plus you'll be able to see over it from inside to the garden beyond), it will also help improve privacy in your garden. Win win.
3. Embrace natural materials and organic lines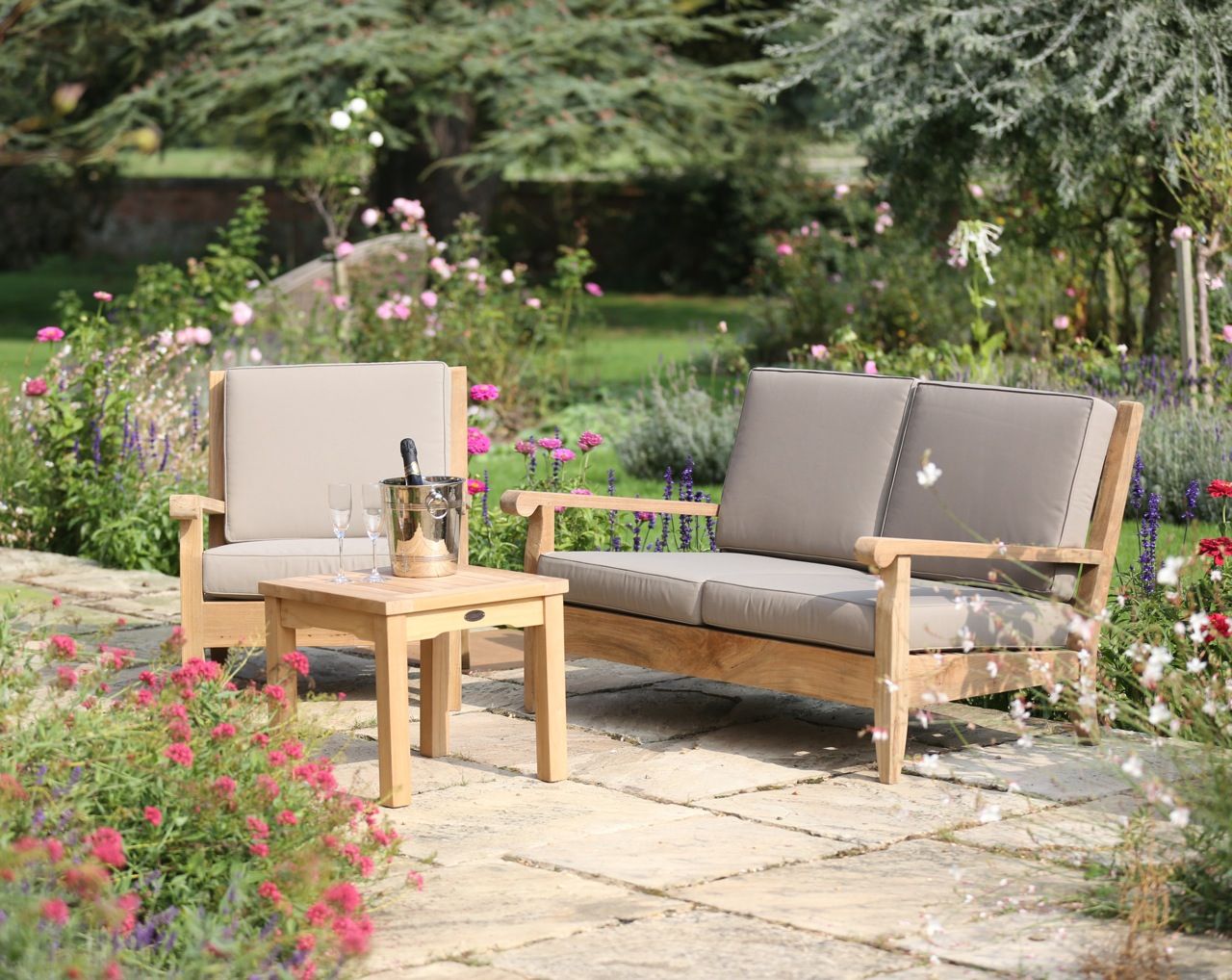 (Image credit: Jo Alexander )
Choosing natural materials will help a patio area feel a little more organic, perfect if your backyard is loaded with trees and more greenery to complement this area. Teak, whether new or reclaimed, or timber is the most durable of all garden furniture and you'll be able to find a finish that suits your style too.
Find all types of garden ideas to complement your home in our edit.
4.  Cluster bright container plants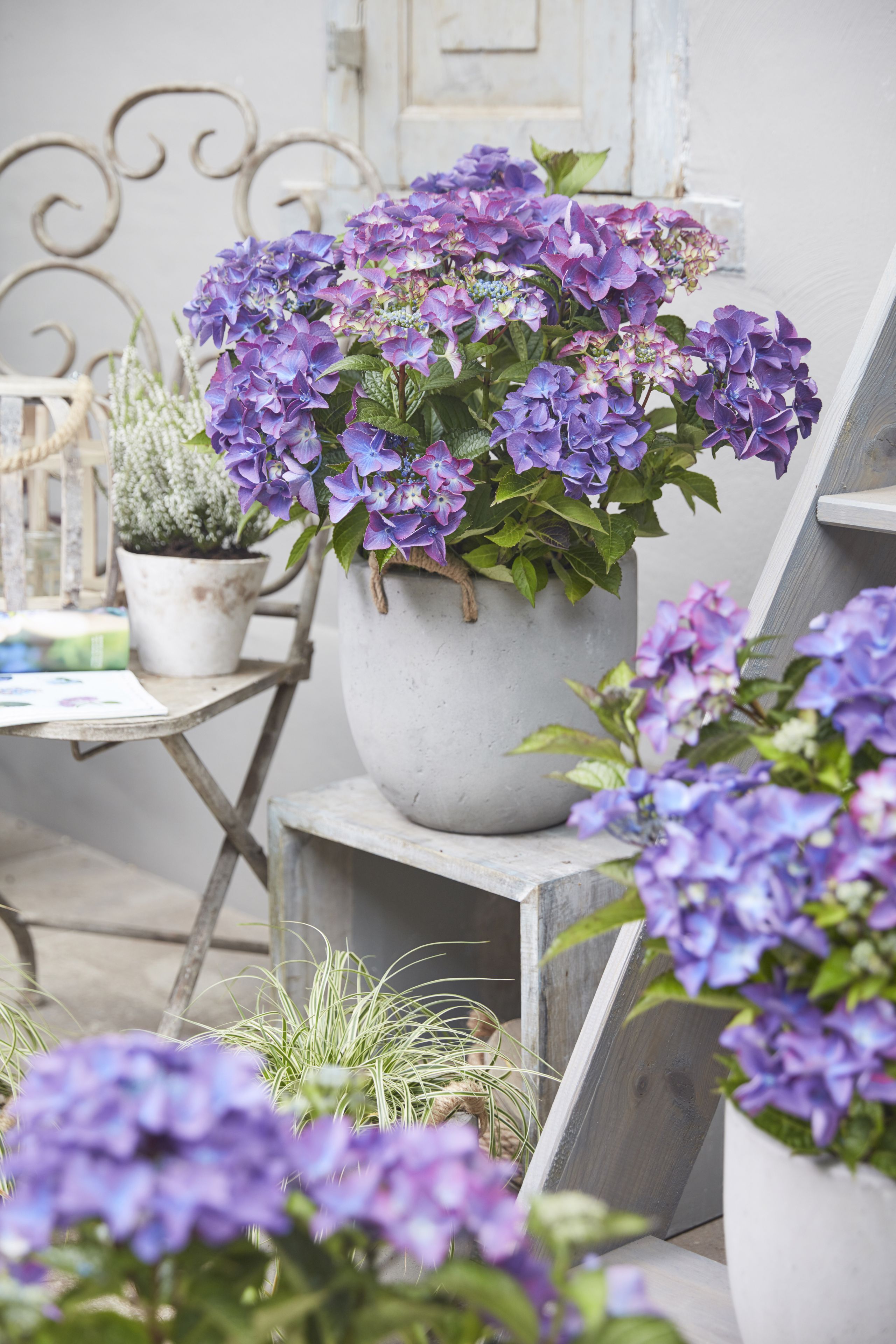 (Image credit: Thompson & Morgan)
Bring color to your patio with clever container gardening by grouping similar colors and plants together. The repetition will create a really beautiful and organic visual, whether you have a small or big space to work with. 
Choose low maintenance plants for ease – we love hydrangea and geranium, or go exotic with palms, citrus or olive trees to bring more Med vibes to your space.
4. Choose one eclectic accent – just one
(Image credit: Habitat)
Add an instant splash of color, without sacrificing comfort, with a woven rattan chair. It can add an accent shade, or an array of brilliant hues, to a patio so you don't have to wait for flowers to bloom. Try the Salsa Garden Mini Chair from John Lewis, which comes in a wonderful yellow shade.
You can also re-create this look by painting your own colorful garden chairs – a cheap patio idea even a beginner can tackle. 
5. Make yours a cozy lounge space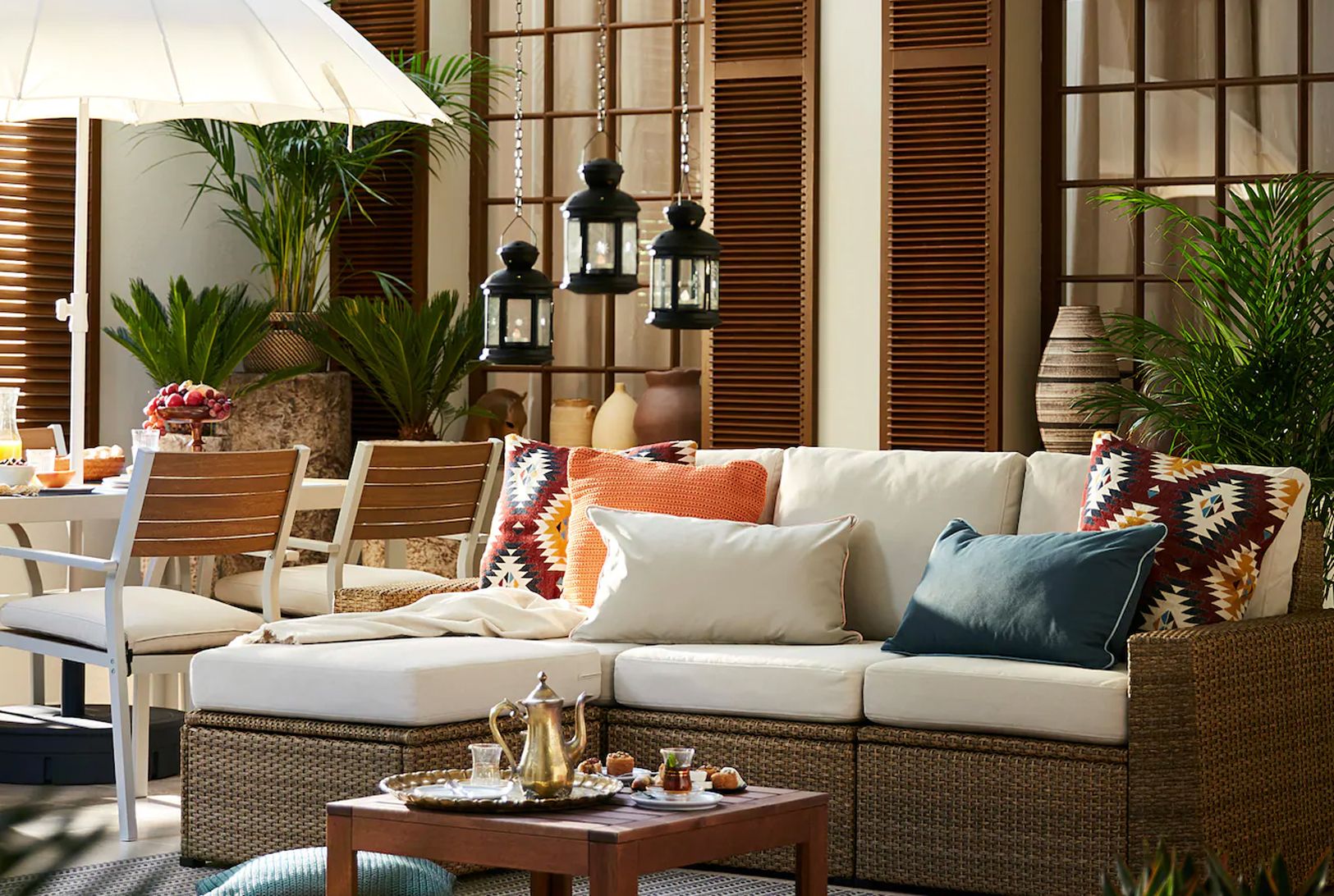 (Image credit: Ikea)
It's all about creating outdoor living space right now, so go for those deep seats that you and the kids can lean right back into on outdoors movie night. Perfect if you've got a covered patio area and maybe a cheeky outdoor projector.
6. Think lazy hazy luxury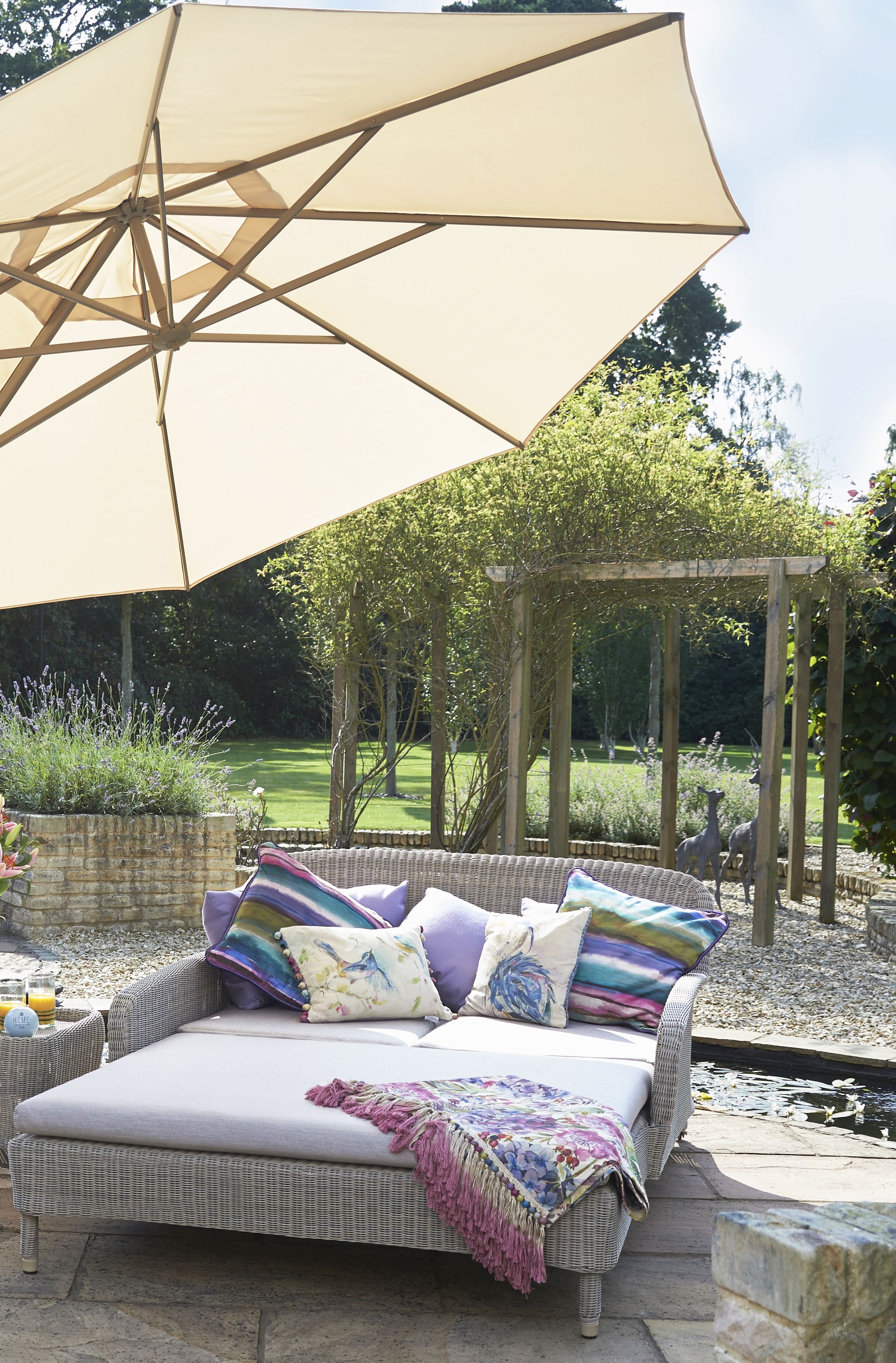 (Image credit: Bridgman)
Lunchtime summer sun can get overwhelming – even if you're in the UK… So, create a shady corner – and a splash of color and pattern – with a stylish parasol. Got a spacious patio? A garden parasol will give you plenty of coverage which you'll need when you're napping on the biggest patio bed going…
7. Create a secret secluded seating area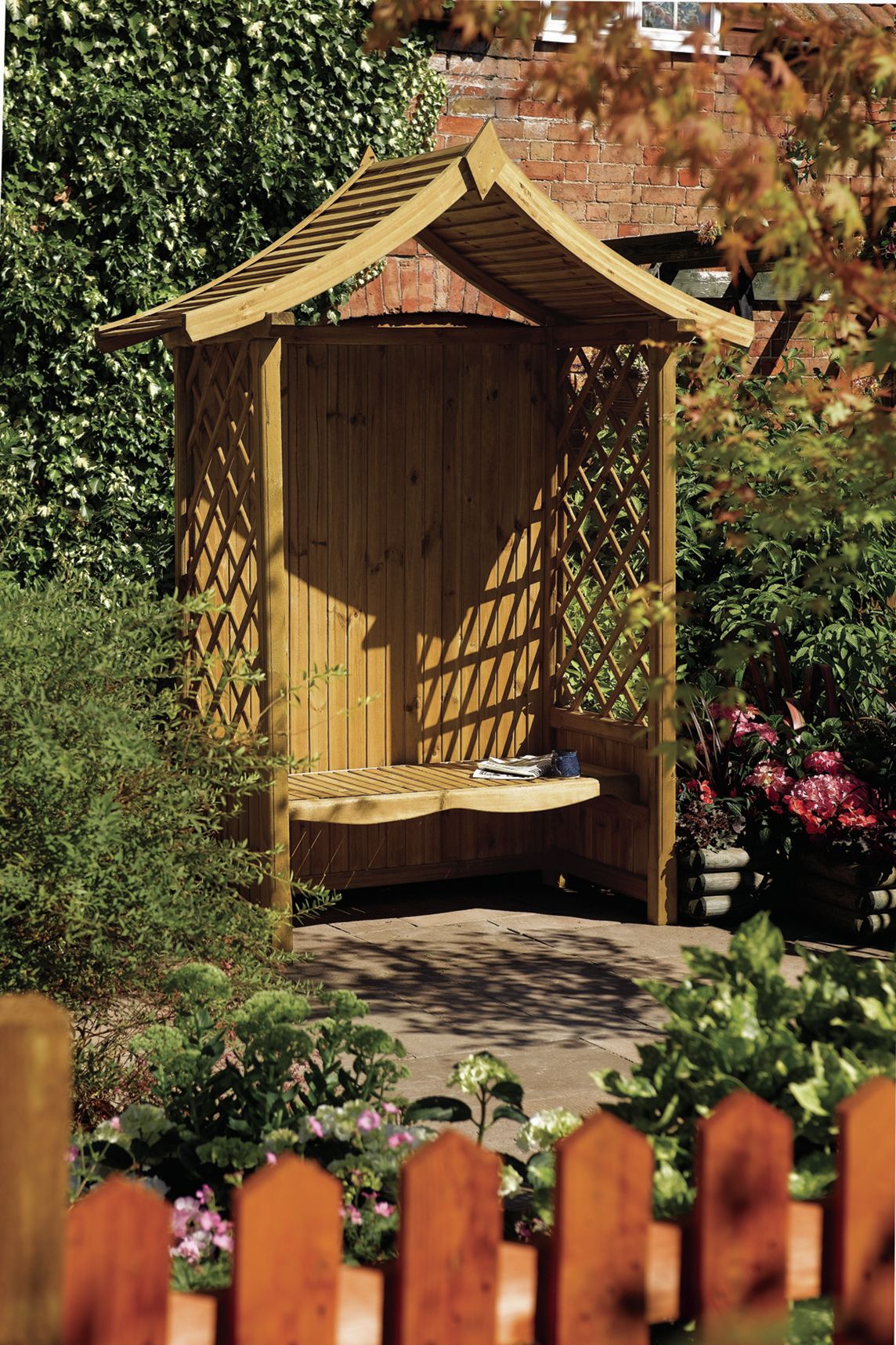 (Image credit: Cuckooland)
For some of us, the outdoor area is more of a retreat. For a chance to have some time all to yourself, and away from neighbours' (and kids') eyes, opt for a spacious arbour seat on your patio, grab a book (grab some wine) and hide away for a few hours.
8. Or, work in a tropical corner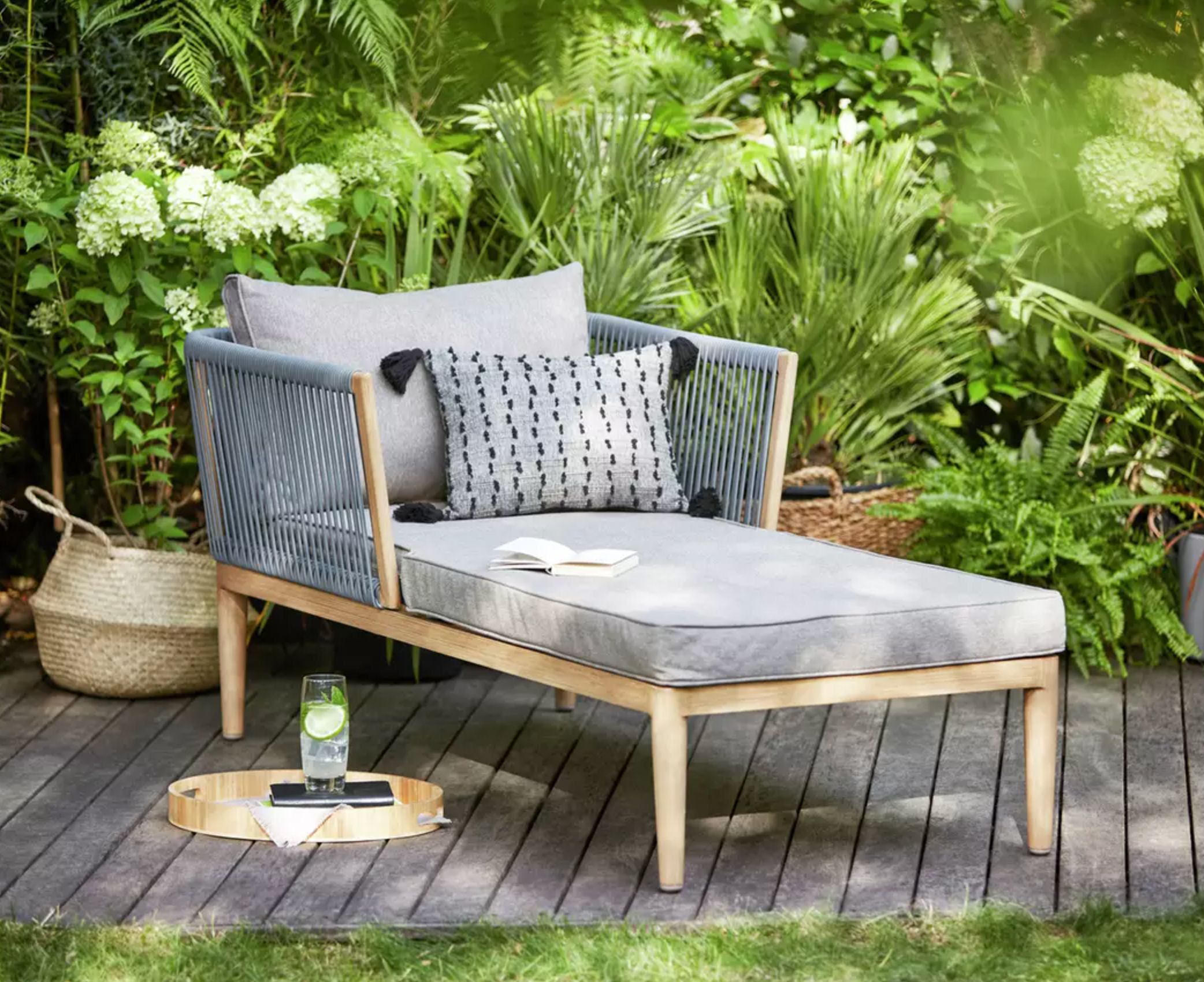 (Image credit: Argos )
Make sitting on your sun lounger feel like you're actually sat in the jungle by planting all the greenery around this patio space. Lush? Check. Sun? Check. Piña Colada? Coming!
9. Warm it up with a long fire pit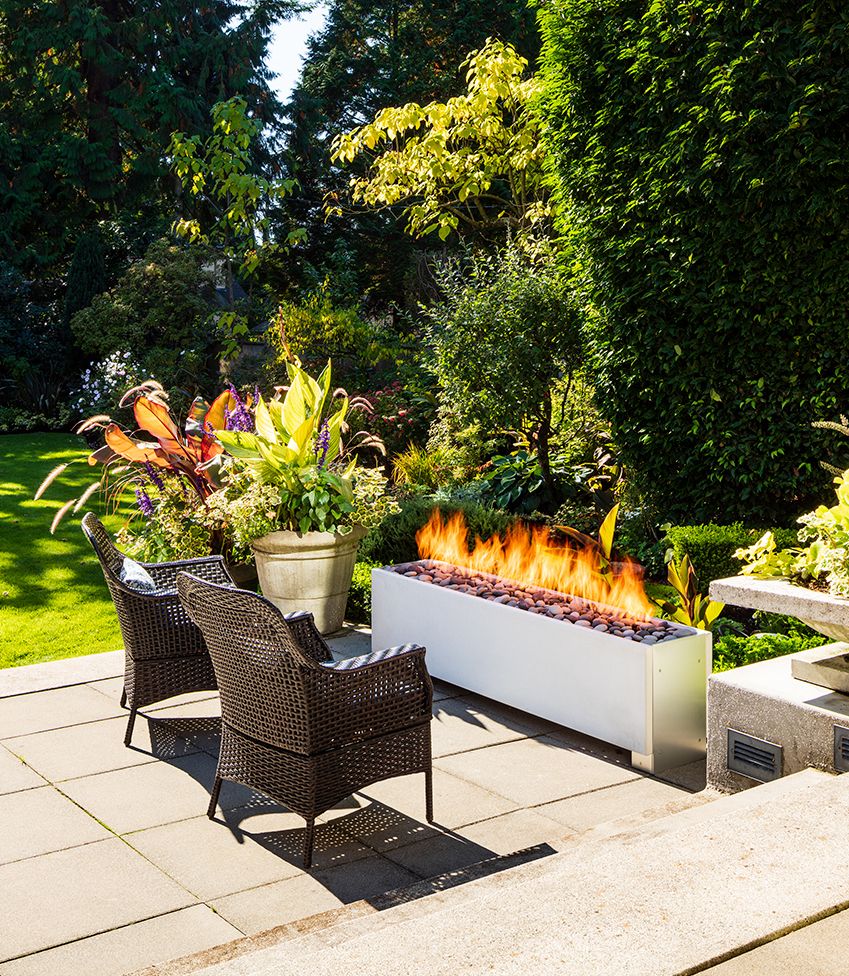 (Image credit: Solus Decor)
Open patios can usually do with warming up, even on summer nights. So plan for cooler days and evenings and consider investing in the best fire pit for your space. Guaranteed to keep you warm, and perfect for conjuring up a convivial atmosphere, this lengthy fire pit makes a modern and stylish companion to a simple patio lounging area for those days when the sun goes down earlier than you'd anticipated.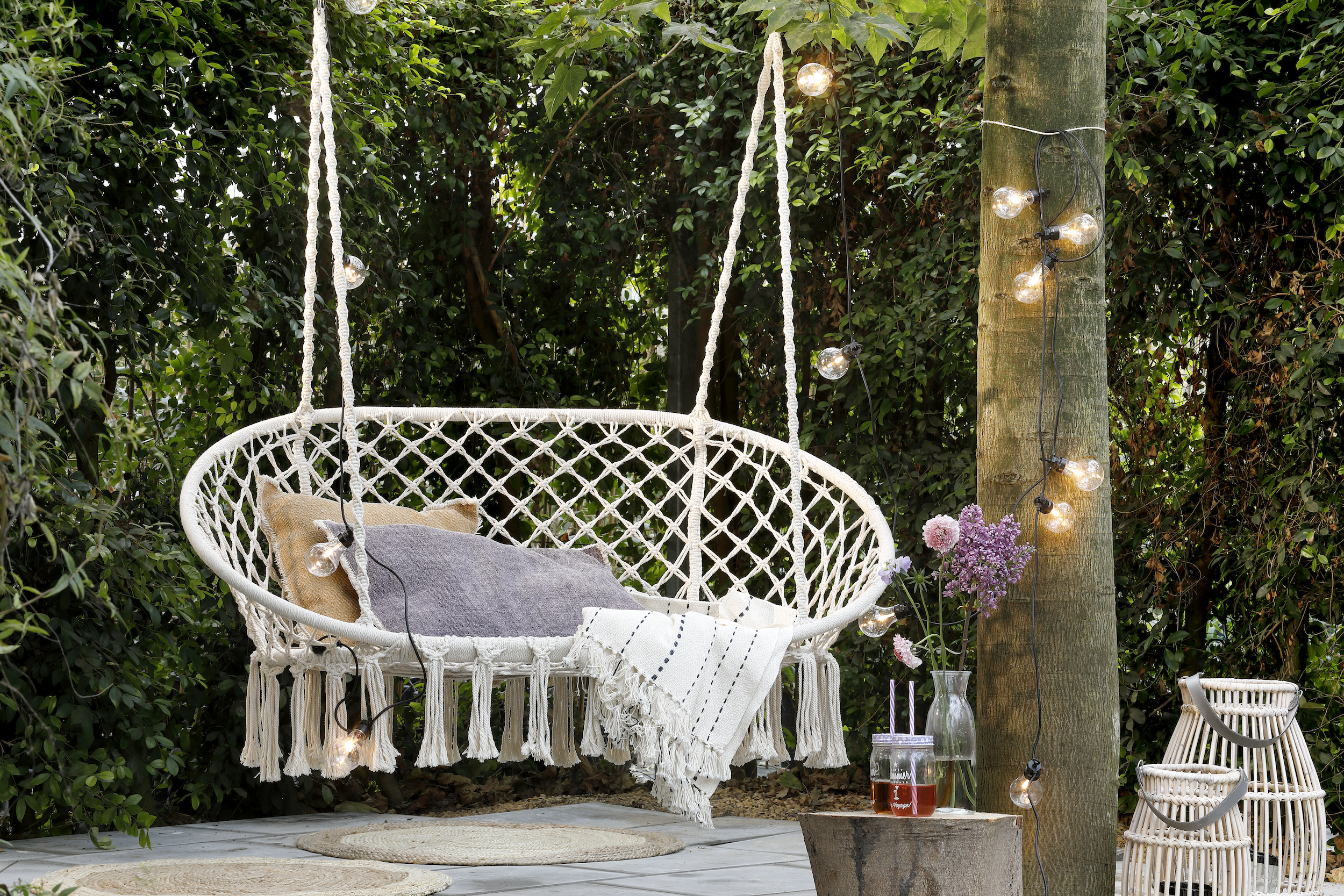 (Image credit: Not On the High Street)
Hanging seats are the ultimate patio lounging luxury and so extra, they make the perfect talking point for your garden party. There is just something infinitely relaxing about gently swinging in a seat that is one step away from becoming a hammock. Put yours in a shady spot and string up some festoon lights to recreate the patio idea.
11. Create your own outdoor cinema on your patio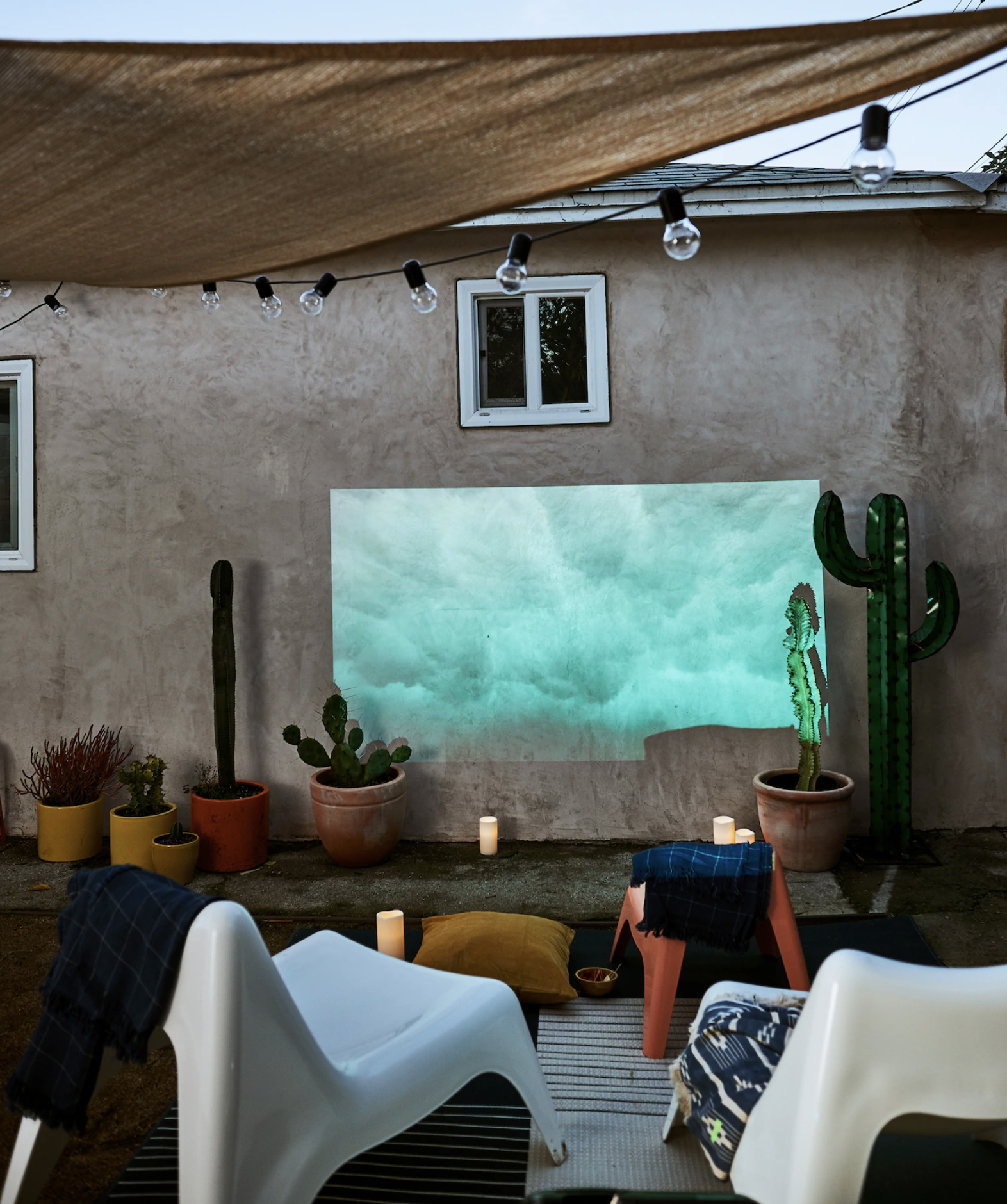 (Image credit: Ikea/Benjamin Edwards)
The cutest of all the patio ideas. What more perfect a spot is there to create an outdoor cinema? All you need is a blank white wall or just suspend a white sheet and you're good to go. 
As for chairs, you'll need the right ones for movie nights. The Vago chair (above) is for sure one of those indoor/outdoor pieces: great on a balcony, great in the corner of the kitchen. The design is just a classic. 
Today's best Garden Chairs deals
12. Add height with lighting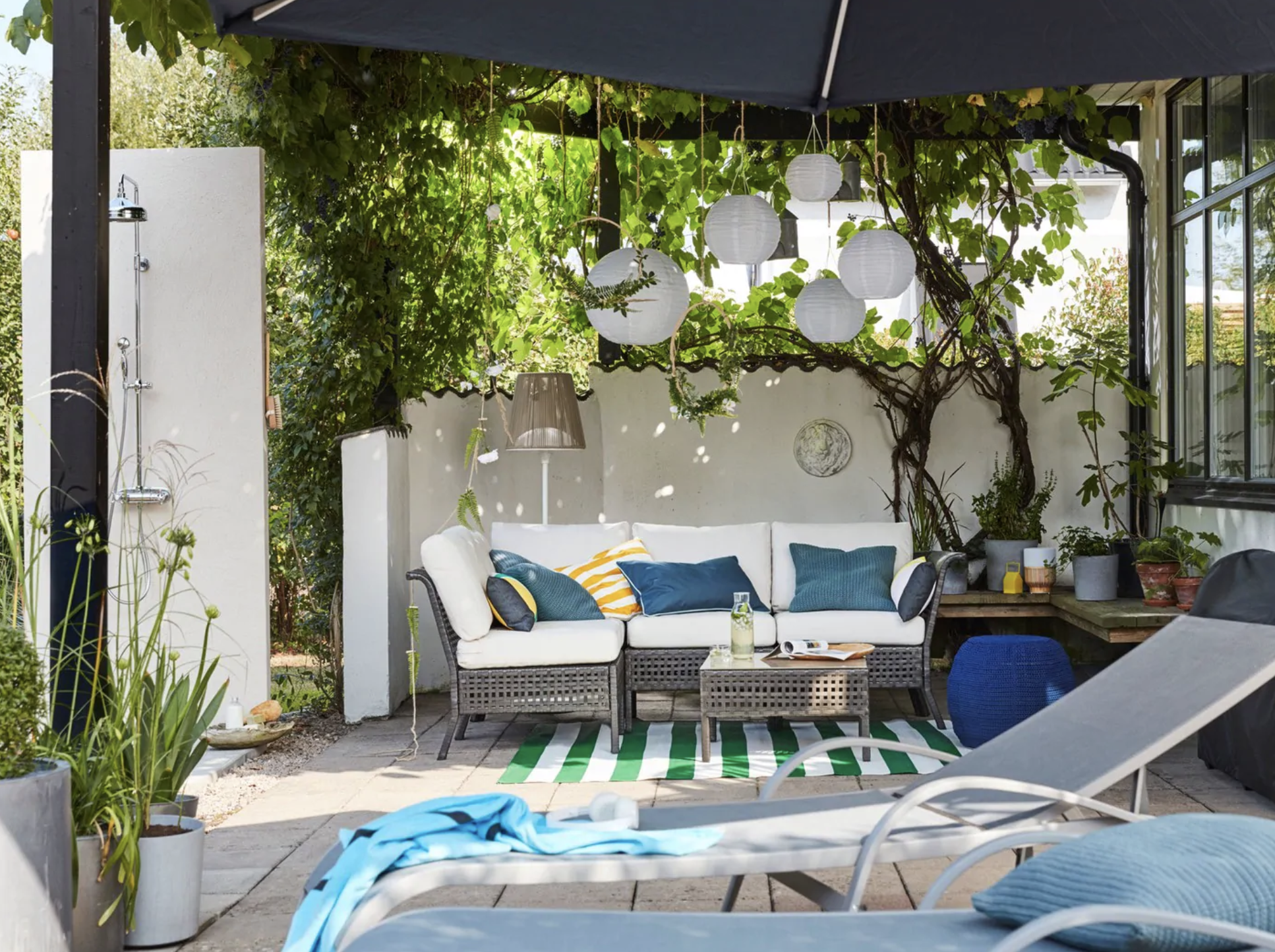 (Image credit: Ikea)
Adding height to a covered patio space is easily done with good garden lighting ideas. Hang lanterns and over your outdoor couch, and layer up with tea lights and more elsewhere by night for a multilevelled patio look. 
To really max out the space, choose a sofa that fits with your space. You can build up how many seats you want, add armrests, corner sections, pick colors and cushions to go on top – just a really versatile piece of garden furniture and a great patio idea if you're squeezed for space. 
13. And make use of vertical space with ladder planters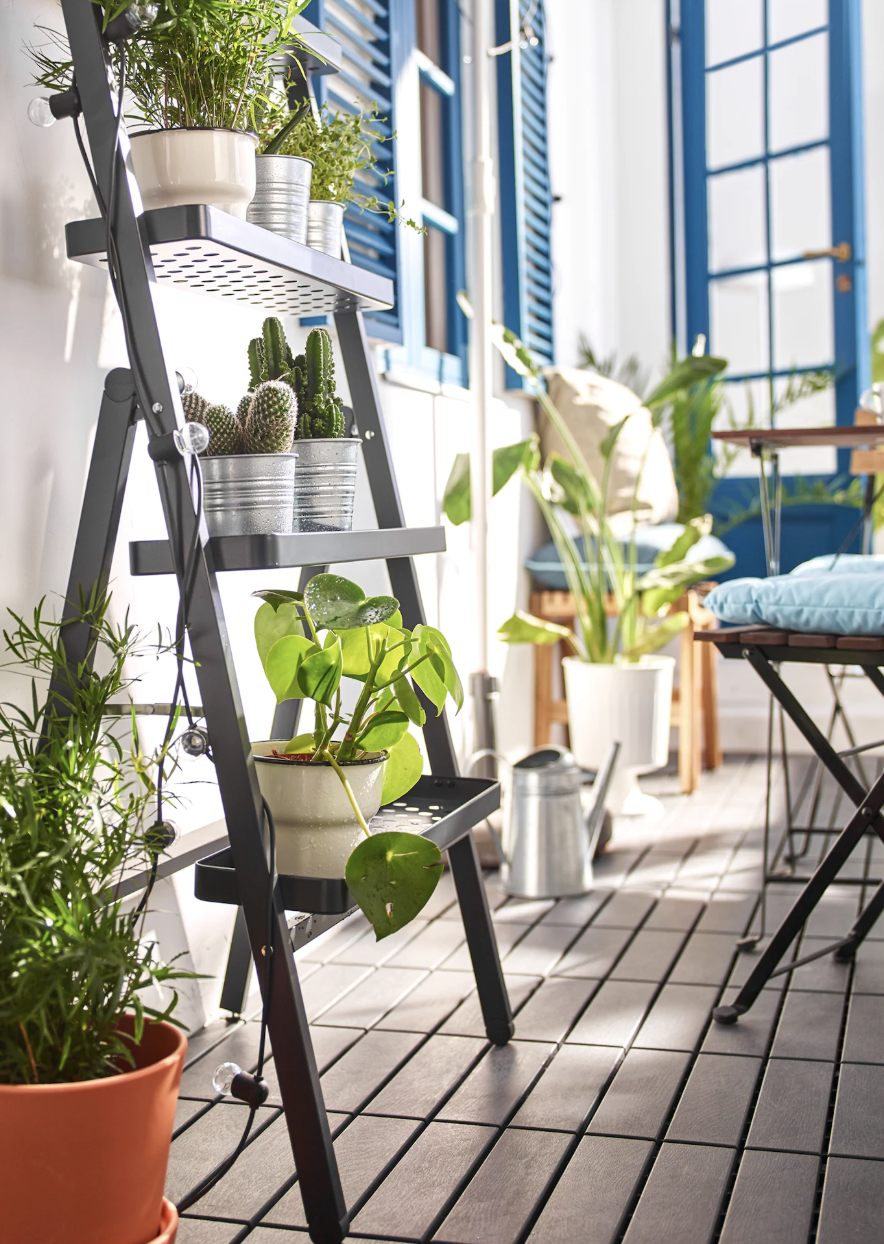 (Image credit: Ikea)
Vertical gardening is your friend if you're looking for small patio ideas. Opt for a ladder shelf and style with plenty of plants to ensure you maximize the potential of your small patio.
Today's best Ladder shelf deals
14. Add pizzazz to your patio floor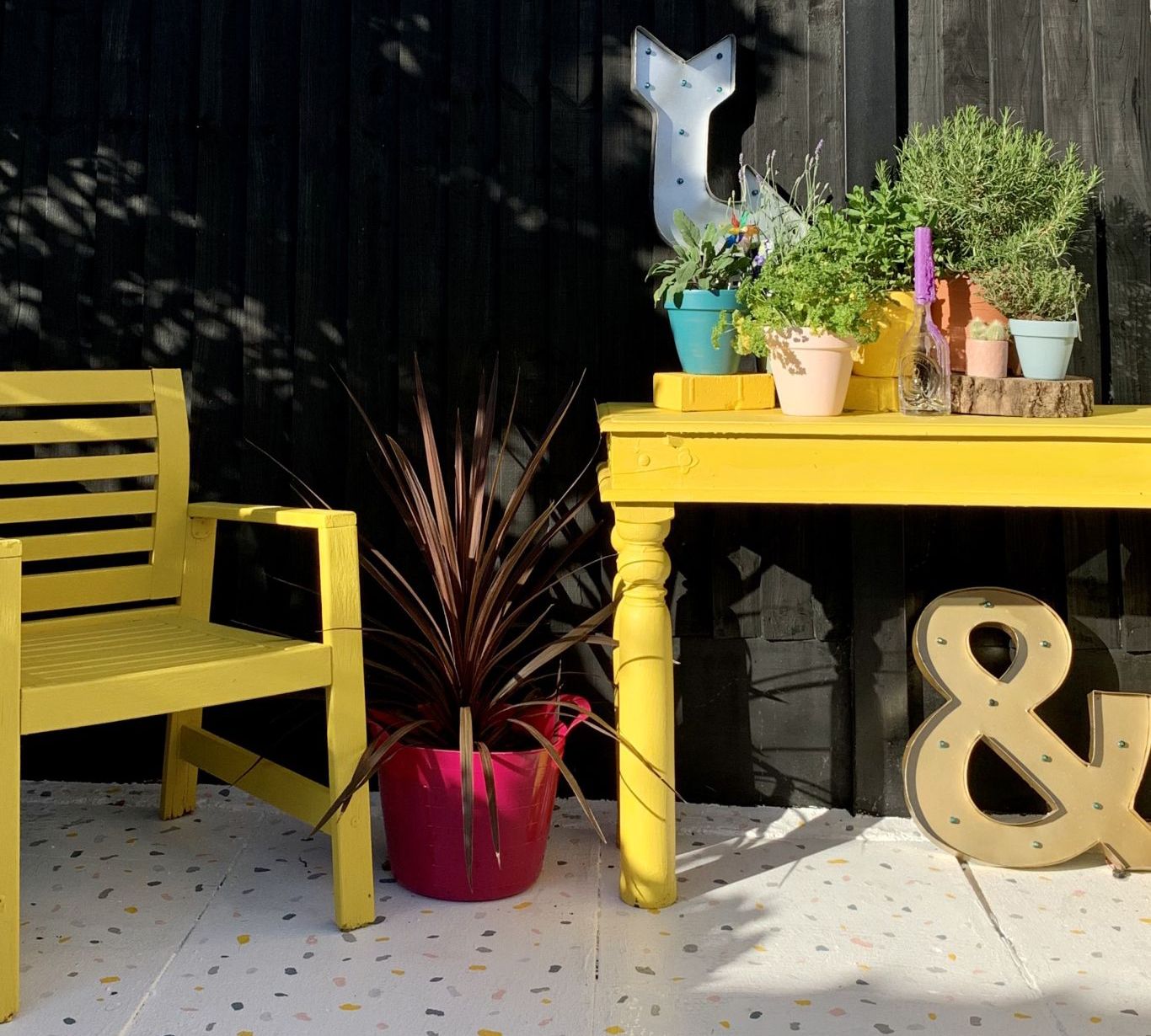 (Image credit: Emily Smith)
This patio paving is the epitome of summer loving and a super easy DIY deco job. Grab some masonry paint and cover up those tired looking pavers. You can add stencilled patterns too, or create a terrazzo effect like the one above. 
15. Go big with your outdoor rug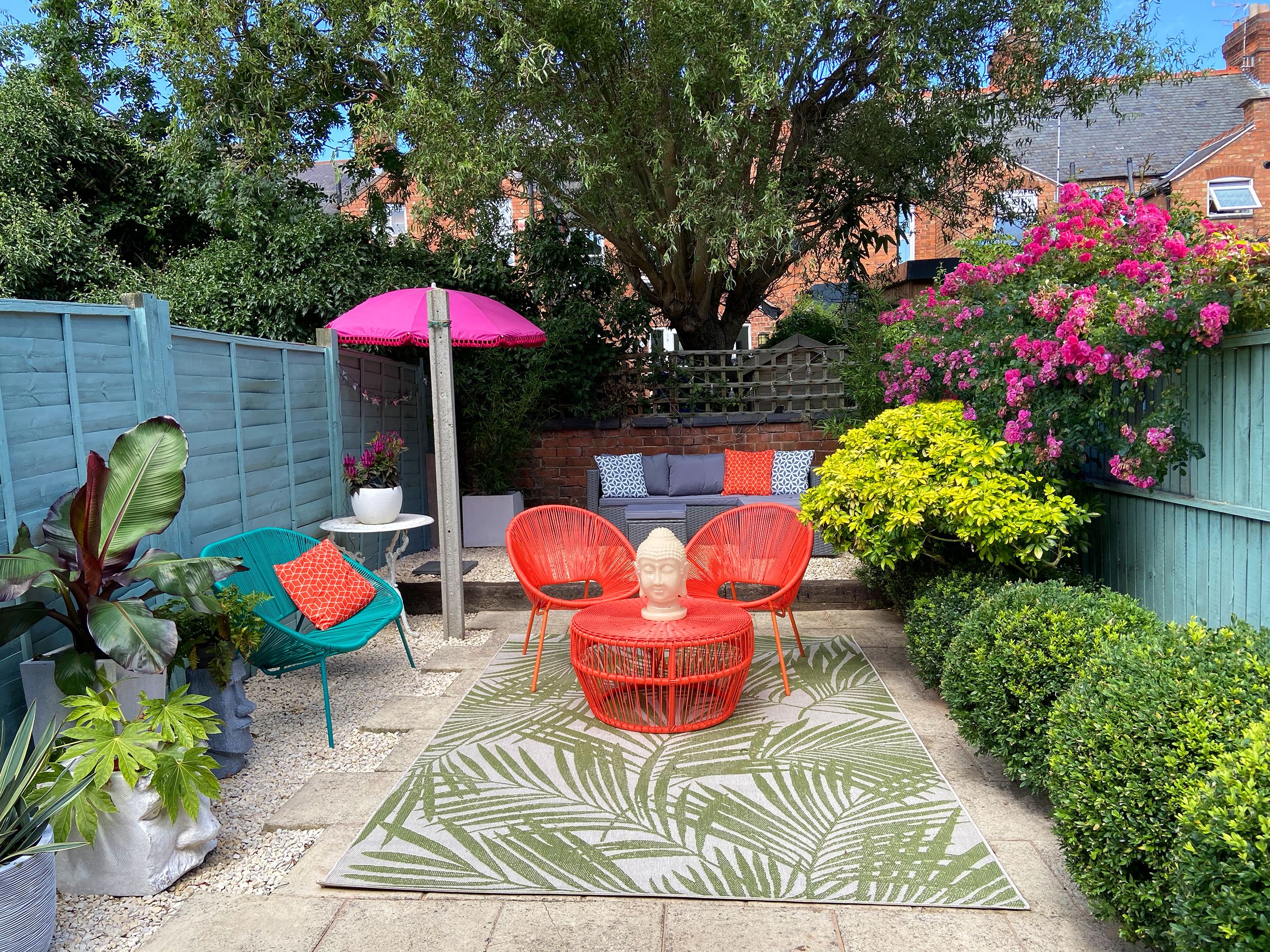 (Image credit: Audenza)
Lay a rug down on your backyard patio and your space is well and truly styled. We love a rainforest print anywhere, but most especially on an outdoor rug for a pop of color and pattern. What's more? It can conceal tired paving when you don't have the money or time to update it, and it's even quicker than painting so it's super budget-friendly. You will need a rug designed for the outdoors, of course, so that it can stand up to the conditions and prove easy to care for. 
16. Stay on top of weeding (the easy way)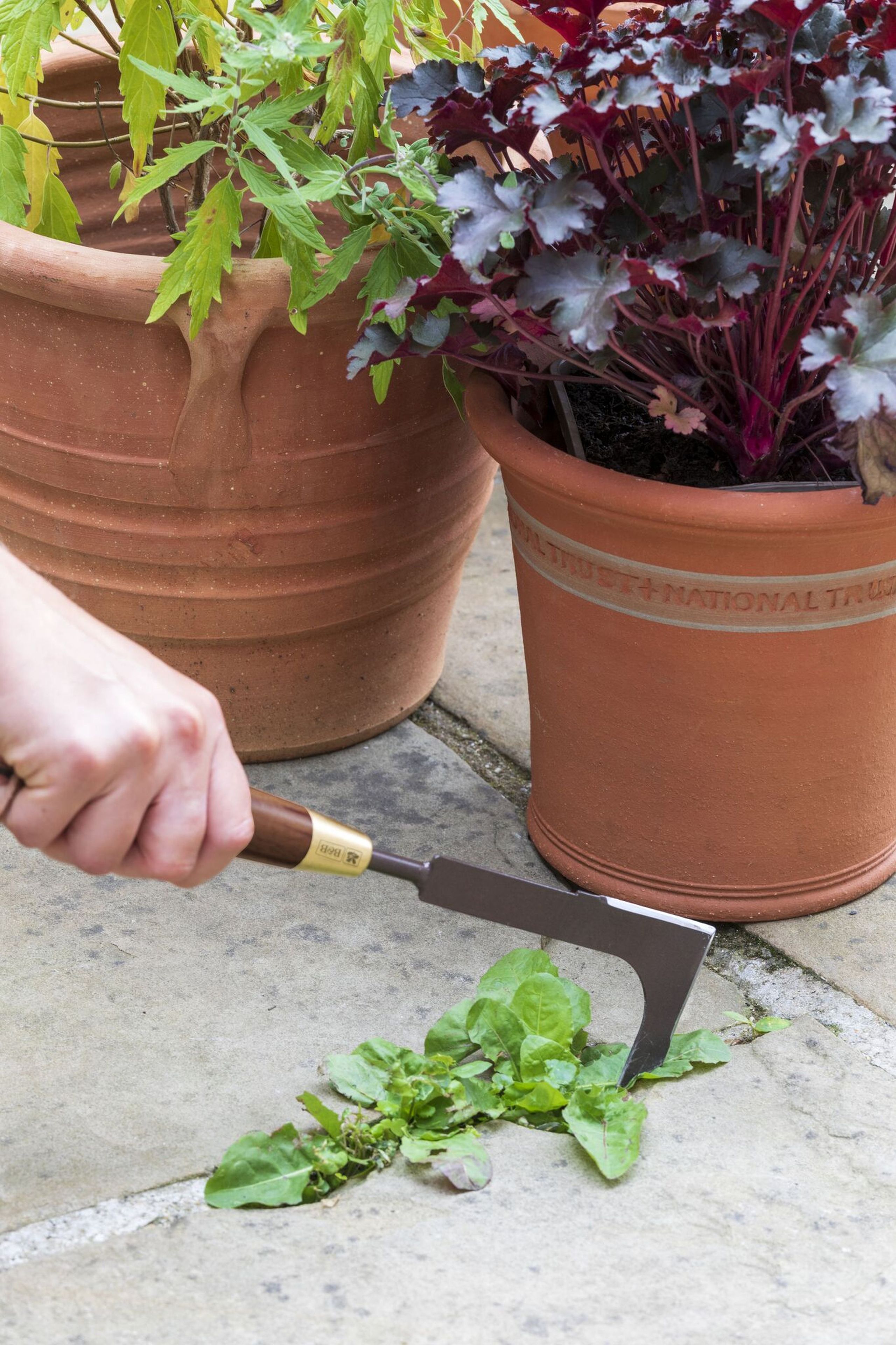 (Image credit: Annabel James)
While we're talking patio ideas on a budget, keeping on top of the weeding is a cheap way to make any patio a whole lot lovelier. It's inevitable that weeds will take the opportunity to make themselves a home between the pavers, so get in the habit of rooting them out as soon as they appear.
We like this Patio Weeding Knife from Annabel James because it's specially made for the job, helping you hook the offenders out from narrow spaces. It'll work beautifully on moss, too, so you can keep your patio greenery-free.
17. Pave the way with your favorite finds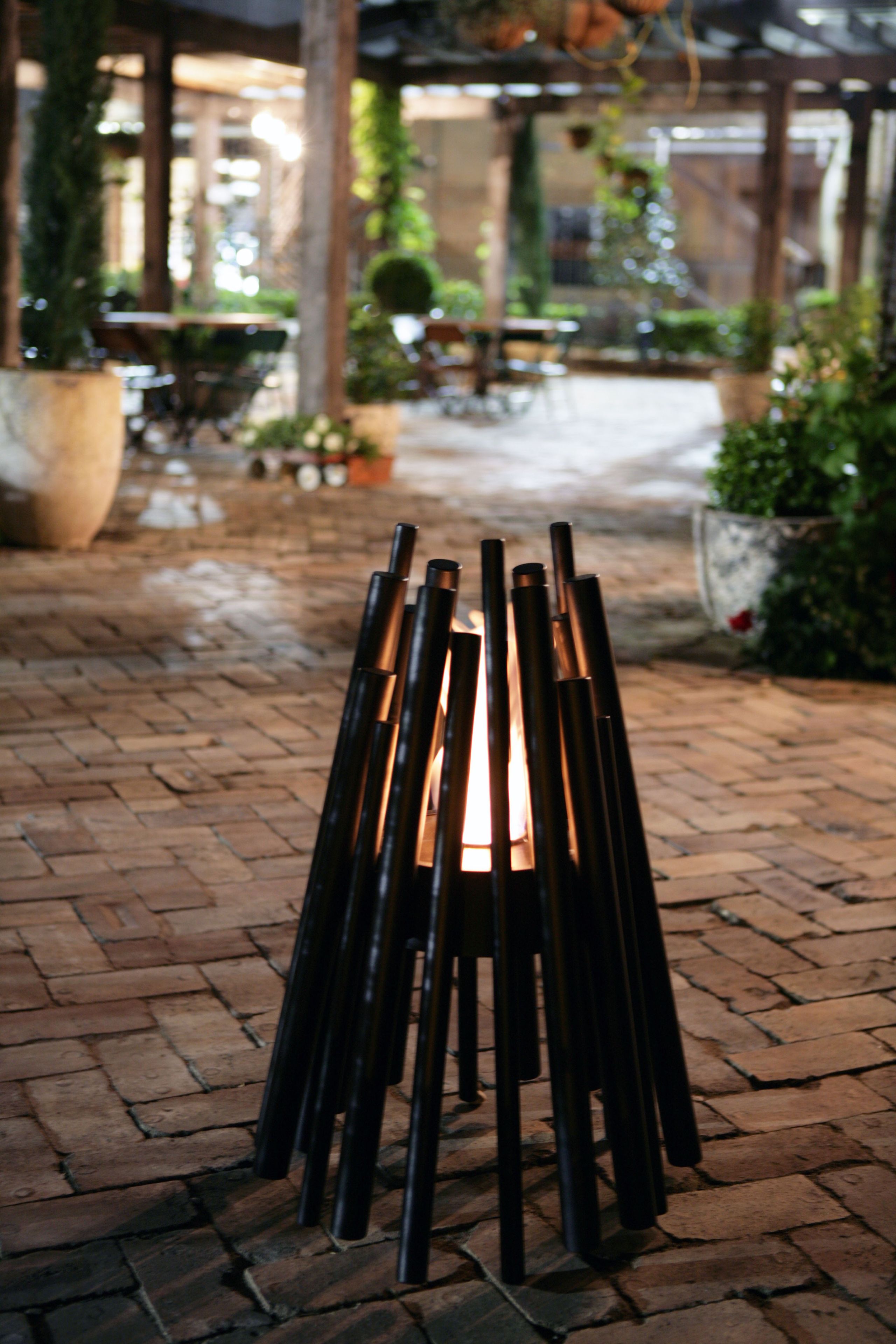 (Image credit: Lime Lace)
Just as it is in an individual room, creating a focal point is a great way to add personality to your backyard patio. Using a couple of your favorite stand out pieces to carve out a pathway from your patio door through to the backyard is an easy way to lengthen your space 
18. Pile on the comfort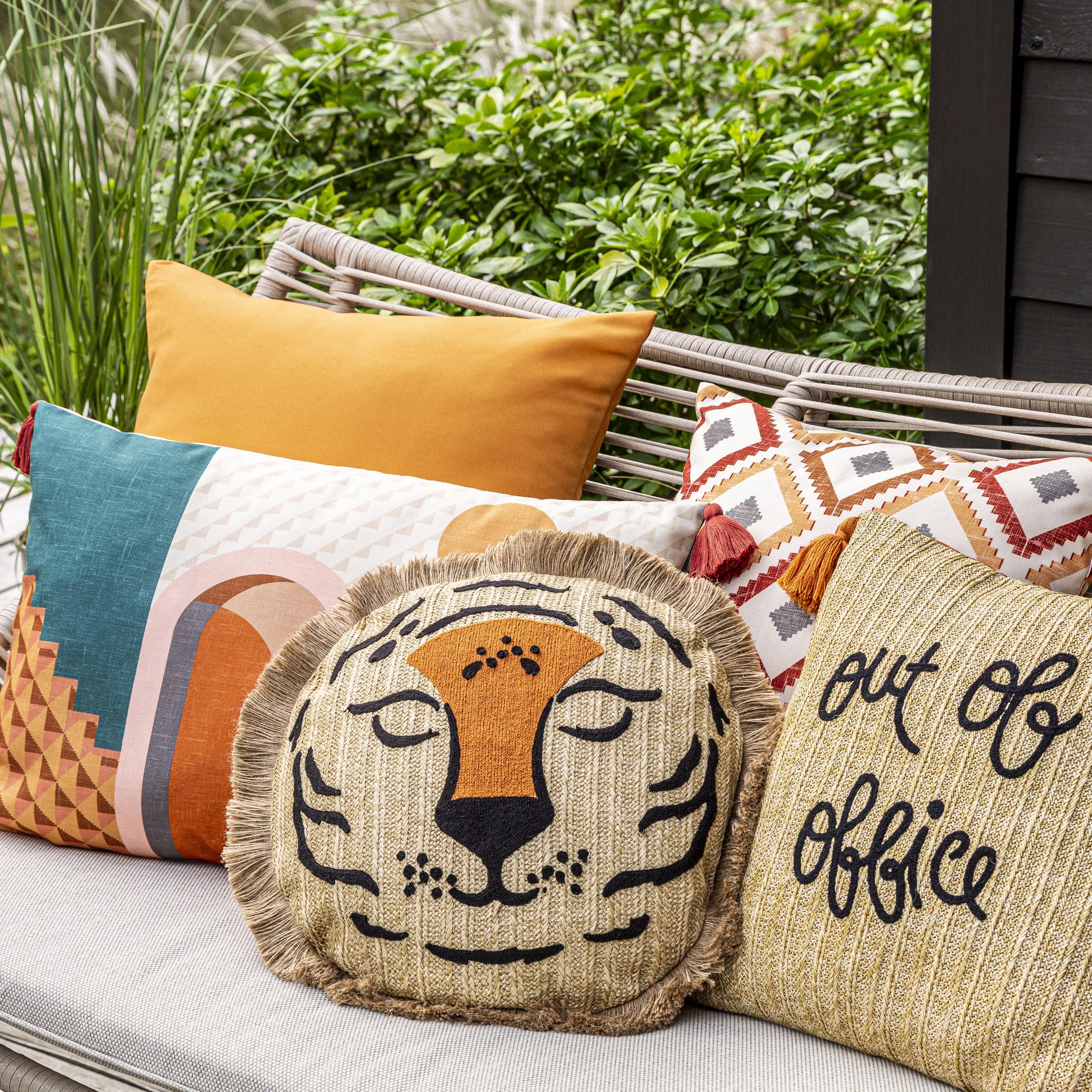 (Image credit: Dunelm)
We know you wouldn't leave your sofa or armchairs indoors undressed, and why should it be any different on the patio? Pile up the pillows and you can get really comfortable on your outdoor seating.
Adding color, pattern and even a little fun to the patio is also a great reason to invest in a selection for a garden sofa or chair. 
Yes, you could take the pillows from your living room outside, but we'd recommend going for designs made for the outdoors like these Outdoor Living Cushions from Dunelm so you don't have to worry about a sudden shower spoiling the fabric.
19. Layer the greenery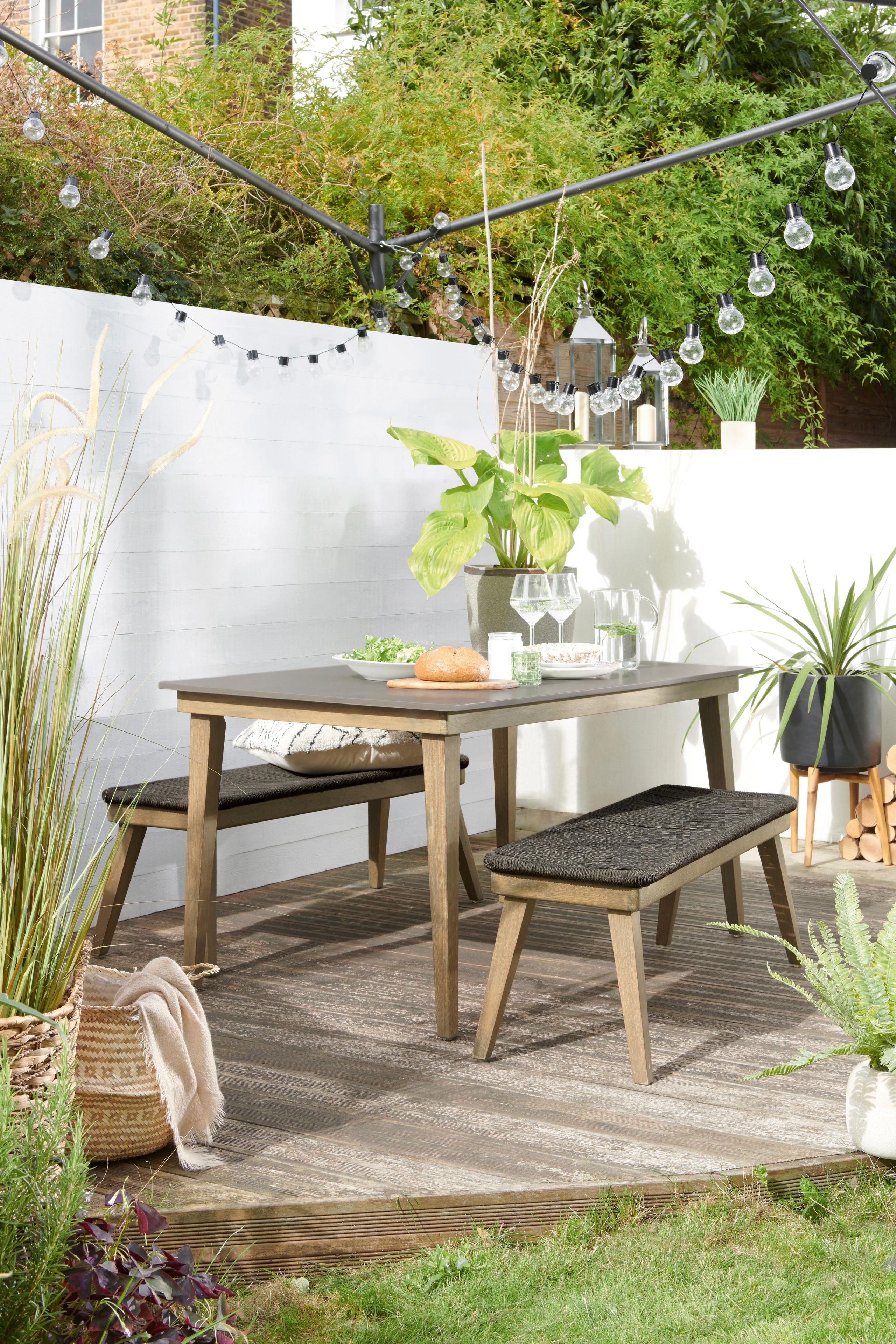 (Image credit: Next)
Decorating your patio area with greenery all around makes for a truly inviting set up. Complement your grass (or lack of) with more plants on a table and keep cool containers close by for a loosely crowded plant party.
20. Pay attention to detail for atmosphere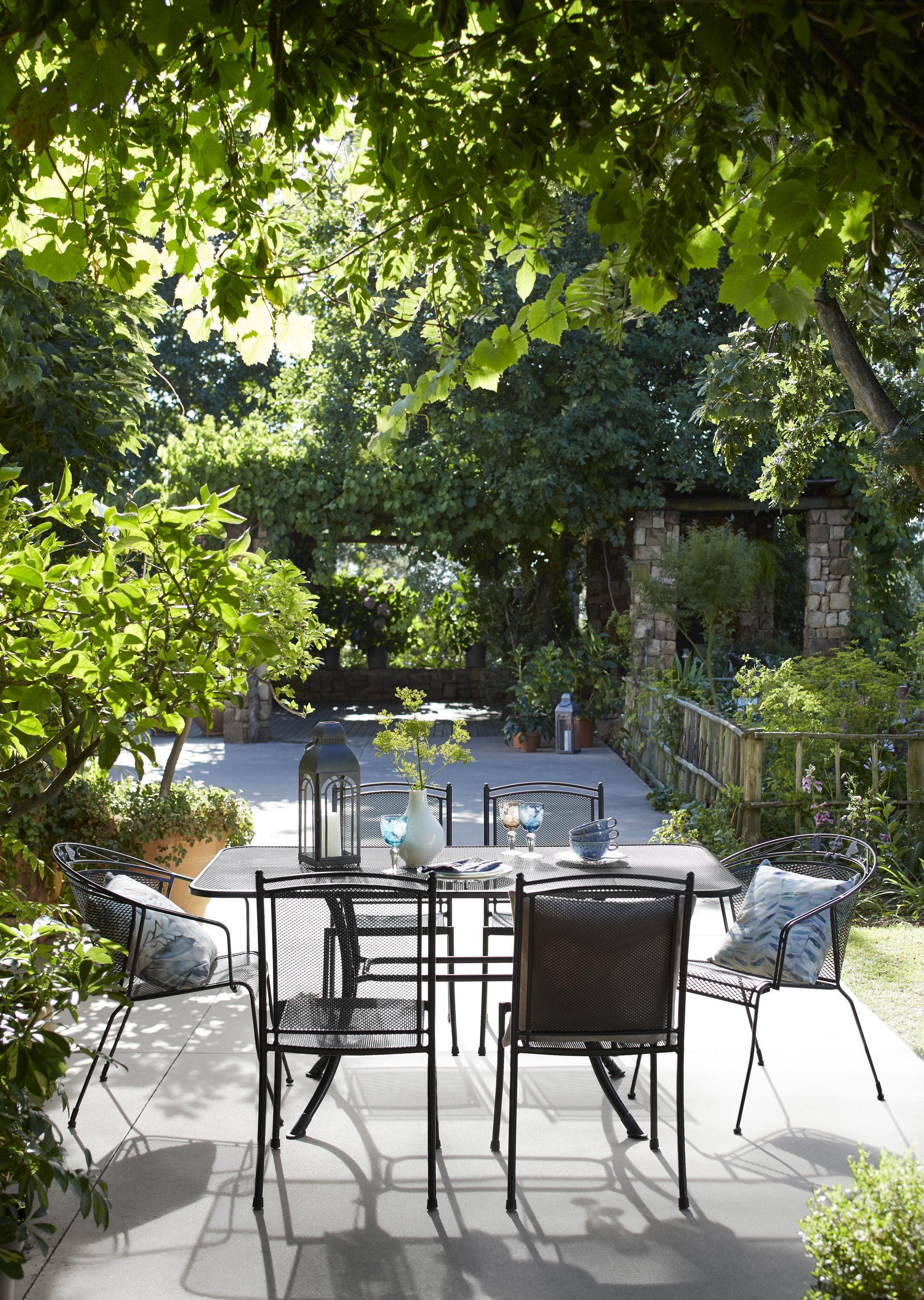 (Image credit: John Lewis)
Pretty up your garden by day and night by adding lanterns and cute table accessories to help set off a dining or coffee table. Try and match up materials like the lantern above with the metal dining table for a seamless and elegant finish.
How do you design a patio?
To design a patio successfully, you'll need to think about its position in the garden, take into account its size and how many people are going to use it, think what you're going to use it for, and decide on the style. 
Start by considering when you're going to use the patio and where the sun will be when you do so. This way, you'll know whether you need to create shade either with a parasol, patio cover, using planting, or a combination.
The patio's size and how many of you need to share it are important: does it need to be a private spot for two, fit the family, or suit a crowd when you're entertaining?
You'll also need to bear in mind what the patio is for. It might just be a dining or lounging spot, but you may want it to provide space for both in which case zoning it can be a good solution.
Finally, think style. This will influence your choice of furniture, planters, and the colors you choose for the space.
How to build a backyard patio on a budget?
To build a cheap backyard patio, you'll need to equip yourself with the pavers you prefer along with a few other materials and tools and you'll be ready to go.
Start by marking out the patio area using pegs and string. Then dig out the area to a depth of 5 inches (13cm) plus the depth of the pavers. Compact the soil with a tamper and then spread gravel across the area to create a 4 inch layer. Add 1 inch of builder's sand and compact and level again. 
After that you can lay the pavers, tapping them down with a mallet. Put them as close together as possible. Spread sand over the area and sweep it into the areas between the pavers so they're filled.
Patio = beautiful.