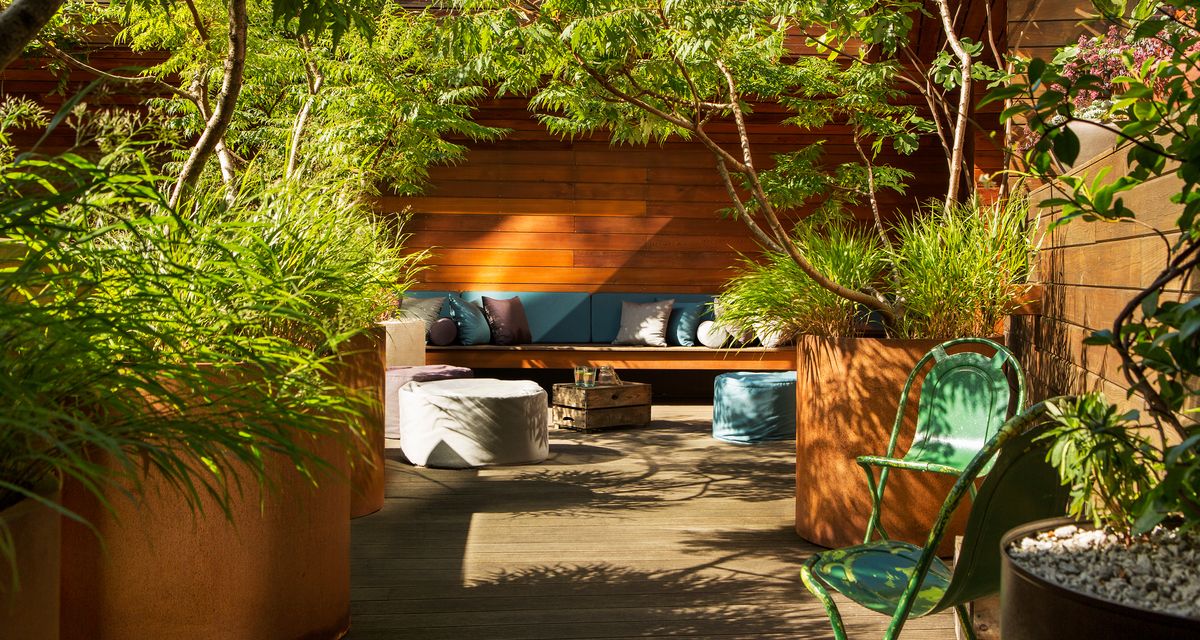 Whether you're looking for backyard ideas because you are planning a complete redesign or simply want a quick makeover, the key to a successful garden is a mix of clever, innovative tricks. 
Start with the architecture of your property and the local area and take your lead from there. It's a great place to start, but ultimately it comes down to your vision. 
Get the hard landscaping and planting right by following tried and tested garden design rules we've detailed below, then add your own unique spin to give your space the standout factor. 
Backyard ideas
When it comes to choosing backyard ideas for your outdoor space, garden designer Kate Gould explains there is a number of factors to consider, to personal tastes, to location and whether you're looking for backyard ideas on a budget or have a bit more to spend:
'While the same design principles can be applied to all types of garden, no matter their shape or size, ultimately each will be exclusive to its owner's tastes and requirements, as well as the plot's unique situation,' she says.
'Two small gardens, side by side, facing the same way will be markedly different because of their owners' wishes. This individuality makes garden design so much more interesting.'
Garden designer Tom Massey adds: 'The most successful gardens reveal their details and invite discovery. Zoning and dividing gardens is a useful technique to draw the eye and the visitor into the space.'
So if you're looking for inspiration, here are some of our favorite ideas for transforming your backyard…
1. Zone your backyard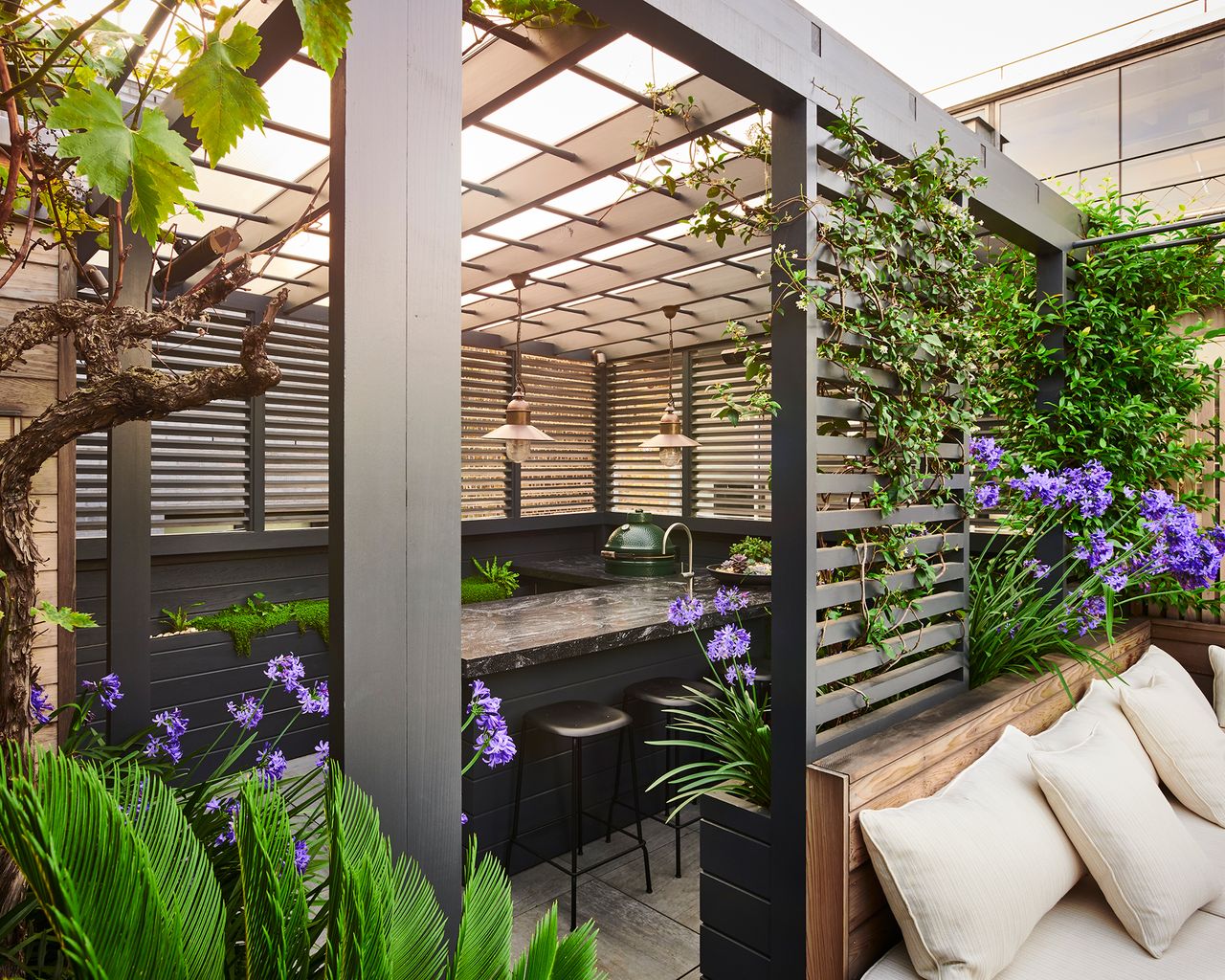 Photography/Peter Schiazza
(Image credit: Adolfo Harrison)
Think about how you would like to use your outside space. Consider creating an outdoor kitchen and dining area for entertaining and impromptu barbecues, and perhaps a separate lounge area for some quiet relaxation. Explore our guide to the best outdoor furniture for inspiration.
Adding a tucked-away bench where you can enjoy your morning coffee or a G&T at the end of the day can be another way to create more interest in the garden. Ideally this should be revealed as a surprise that can't be seen from the house. Covered patio ideas work well in this respect.  
The way you divide up the space – known as garden zoning – matters, too. 
'In terms of creating distinct zones, it's important to use screens, climbers and plants that act as veils to divide spaces rather than solid walls that can't be seen through. This makes for a more dynamic space without making it feel smaller,' says garden designer Adolfo Harrison. 
2. Go for bold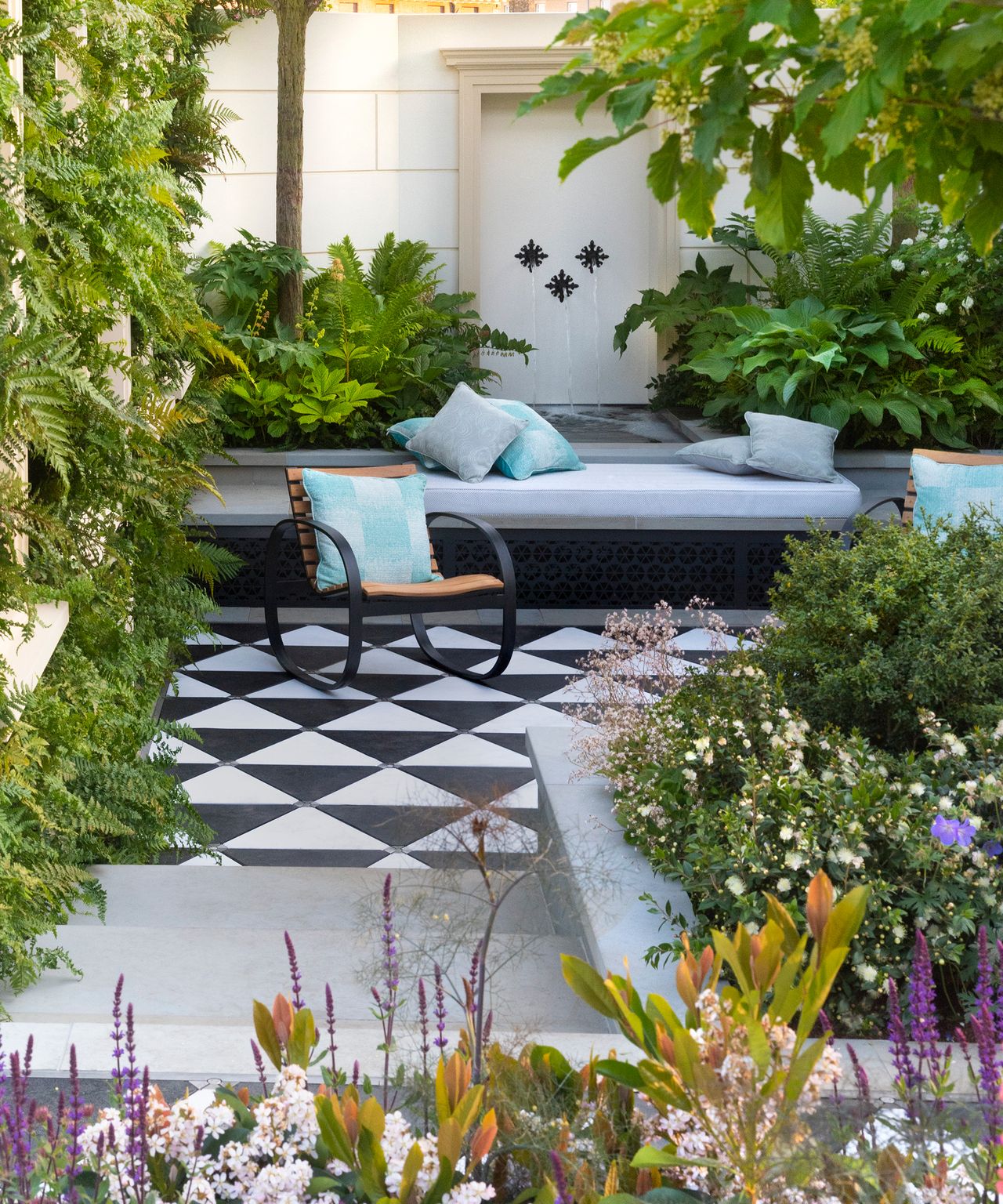 Photography/Helen Fickling
(Image credit: Kate Gould)
Courtyard gardens are a great way to tap into the 'inside-outside' lifestyle trend, where the garden is seen as an extension of the home. 
A successful small space always requires careful consideration and inclusion of all the components that make interaction between house and garden possible. Choose hard surfaces for entertaining and relaxing, and mix in a surprise design element such as geometric tiles for wow factor. 
'Ensuring that your design is bold will give it longevity and make it appealing for as much of the year as possible,' says Kate Gould. 'Get the bones of the scheme right and the planting will shine.'
3. Create a visual link between indoors and out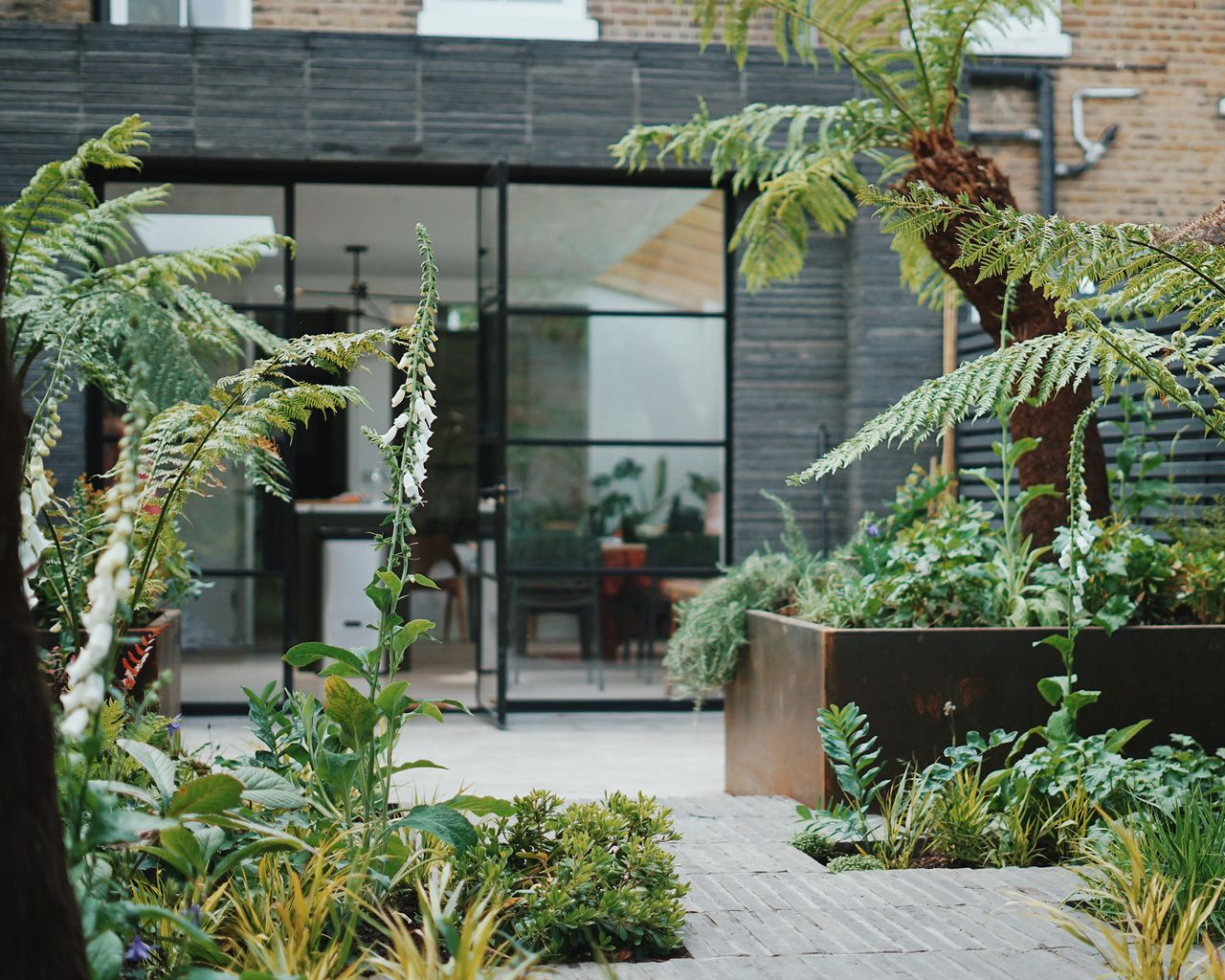 Photography/Britt Willoughby Dyer
(Image credit: Tom Massey)
Take one small element such as a landscaping material and use it to create synchronicity between house and garden. 
The understated hand-thrown clay pavers in this garden create a soft and natural look that works in both contemporary and traditional design schemes.
'The clay pavers used on this house extension have been repeated on the garden path in the same stack bond format,' says Tom Massey. 'This creates a visual link between house and garden. The staggered laying pattern creates pockets for planting to fill and soften the hard landscaping.'
Another simple way of creating a link is to pick up a color from the house and repeat it in the garden.
4. Choose integrated seating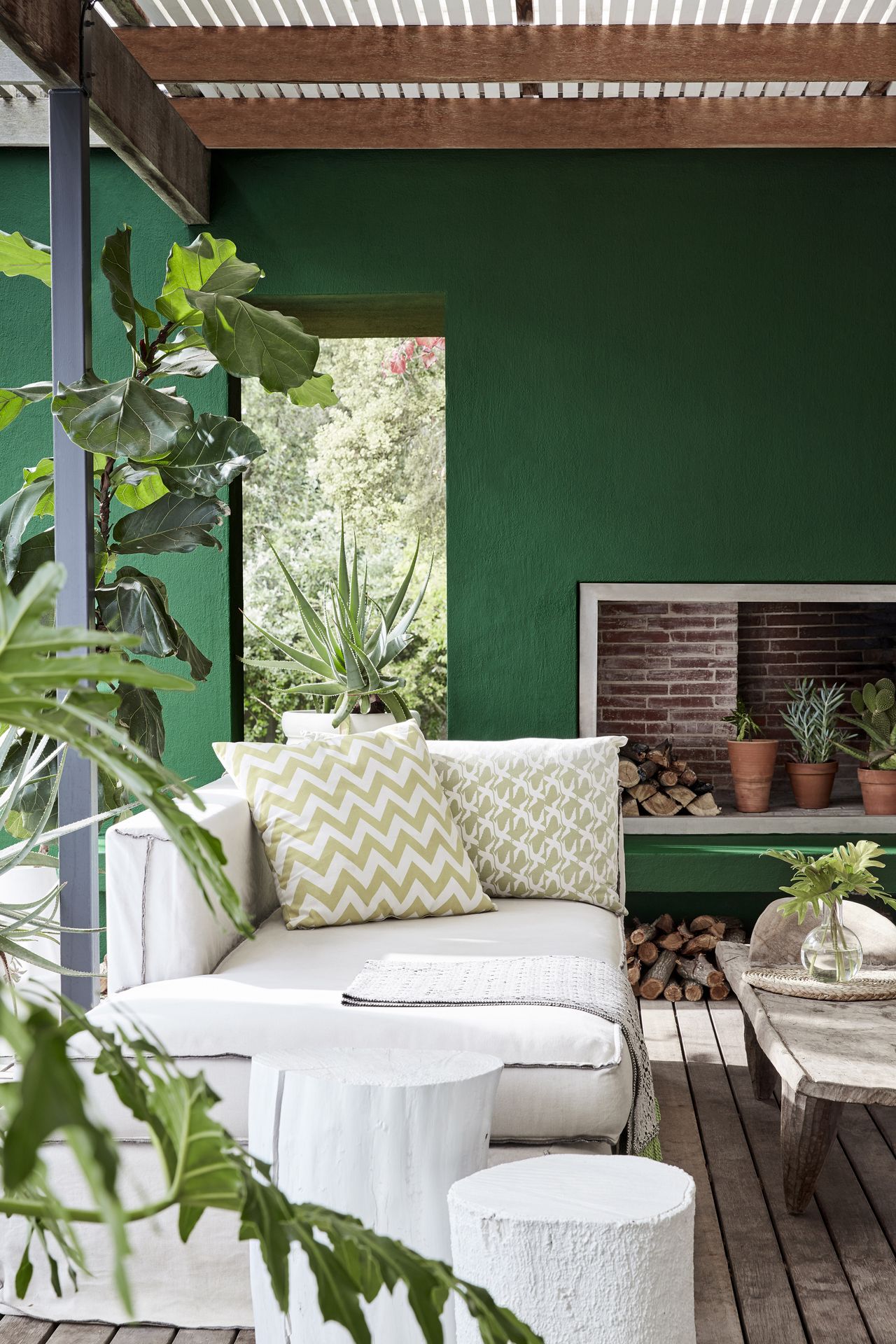 (Image credit: Little Greene)
Space permitting it's good to incorporate several different seating areas into your backyard ideas to add interest. 
This would include choices for dining and relaxing, as well as introducing the odd wild card such as using Adirondack chairs in a secluded corner for quiet reading or browsing. 
Consider adding customized seating in materials like stone, brick or wood specially designed to integrate into your space. Stylish seat pads can then be added that co-ordinate with your overall scheme. 
Think about incorporating a lift-up design to create storage space for cushions when not in use. Freestanding benches are a great choice as well when you need extra seating.
5. Add a pergola for privacy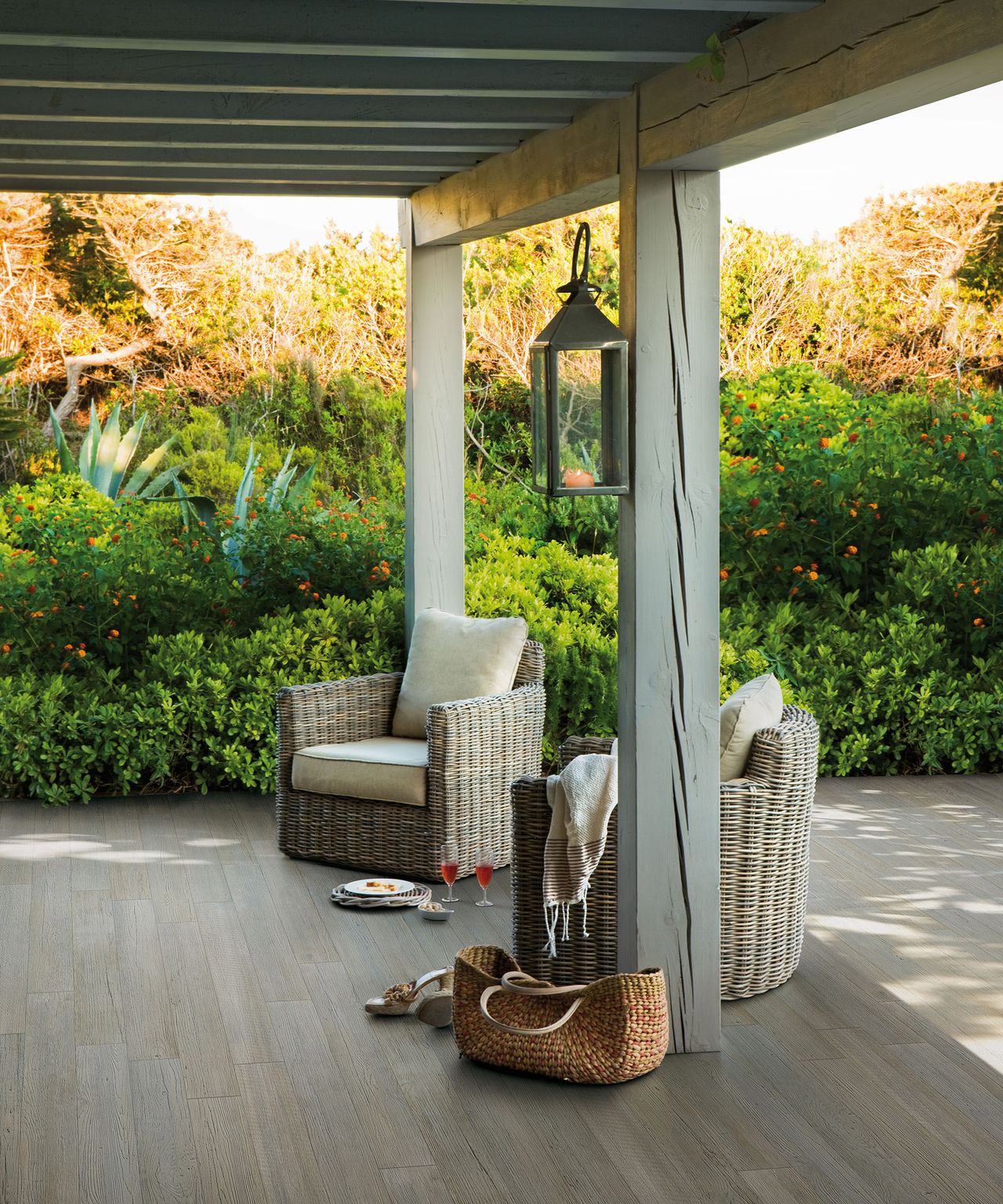 (Image credit: Real Stone and Tile Co)
Think vertically to make use of the space above your back garden too. 
A pergola-style structure will add an eye catching architectural element, especially if you leave it unplanted so the clean lines are allowed to work as a design feature. 
Offering garden privacy and shelter, it will add a new dimension to the possibilities for entertaining in your back garden, offering up a space that can be used whatever the weather. 
When there's a chill in the air, simply add an outdoor rug, fire pit, or heater so you can max up the time you spend outside. This lounge area is inviting and secluded because of the privacy created by the overhead structure and it's an easy look to replicate. 
6. Enhance plants with lighting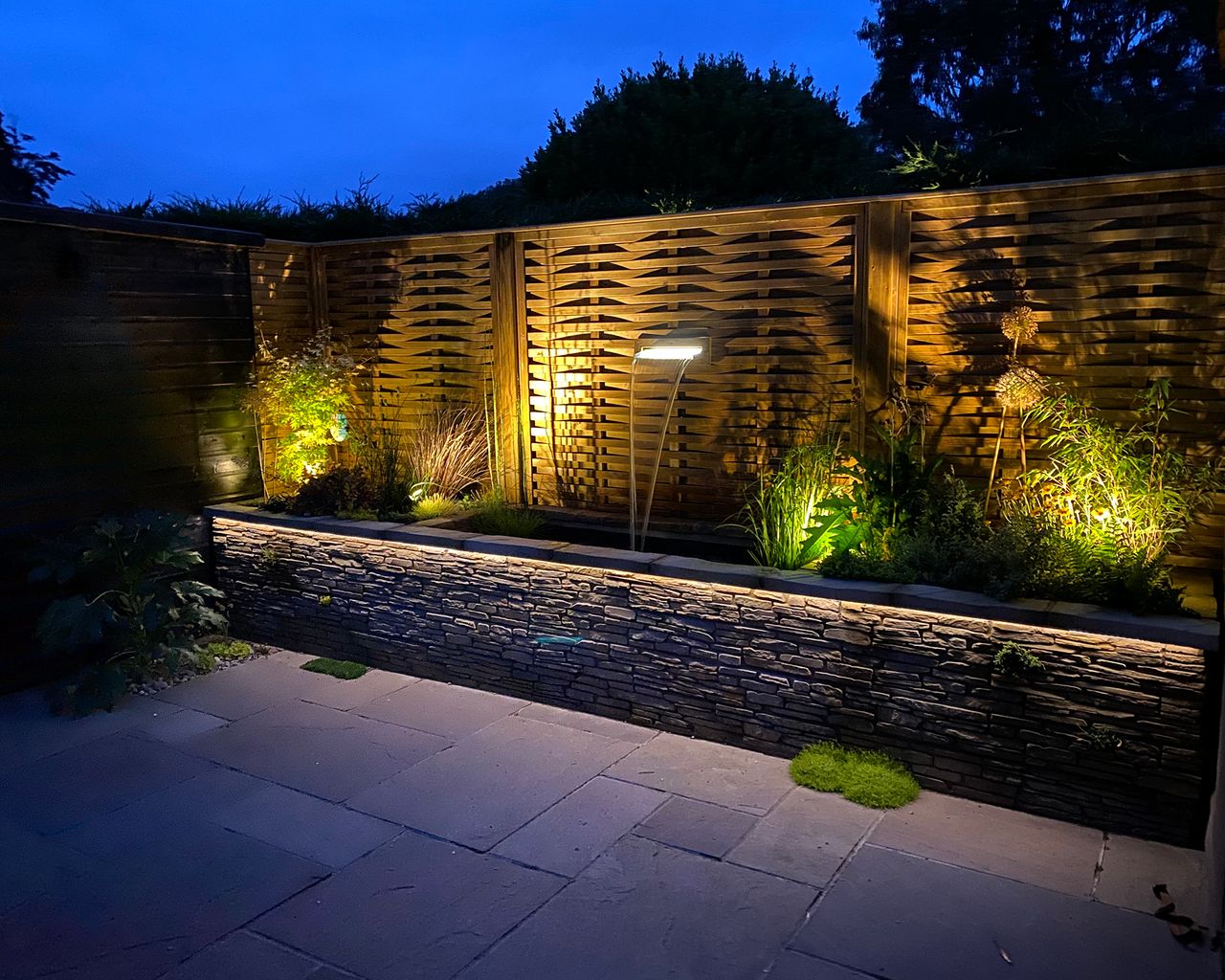 (Image credit: Jacksons Fencing)
Discreet garden lighting ideas add drama to the evening garden and create a welcoming ambience. It brings another dimension to an outdoor space, making the garden usable all year round. 
Plants take on architectural qualities when uplit, adding a dramatic quality that's very different from daytime. 
Choose uplights that are either recessed into the ground or set on a moveable spike as they are ideal for illuminating plants and can be shifted to suit the mood. The light diffuses up through the plants to cast sculptural shadows against the backdrop of a wall or fence. 
Uplights work best with ornamental grasses, bamboo and palms, which all have architectural forms to create shadow play.
7. Create seclusion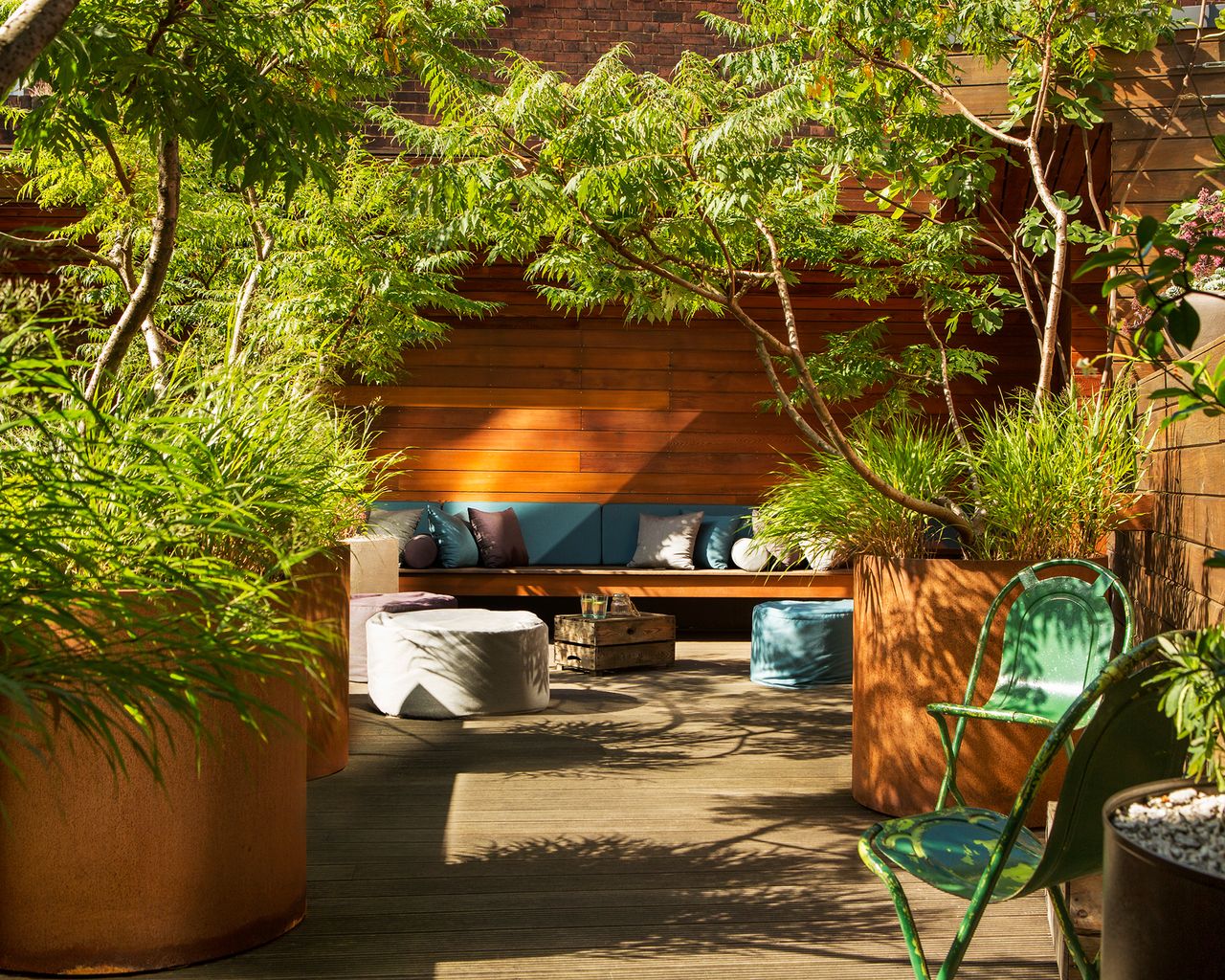 Photography/Mischa Haller
(Image credit: Adolfo Harrison)
Consider what elements can be introduced to make your space feel more private, particularly if it's in close proximity to other properties. 
Using small trees – like these best trees for small gardens – in large planters is a good way of creating a secluded space. Take inspirations from Mediterranean garden ideas and used Med-style planting that will thrive in a sheltered environment like this but remember to factor in how big things are likely to grow as this needs to be included in your plan. 
'The use of trees in these corten planters provides a sense of enclosure for an overlooked terrace,' says Adolfo Harrison. 'Corten steel suits both traditional and contemporary schemes. It's a good way of mixing in a modern material that has an old feel about it. The orange hue looks stunning as a backdrop for greenery, too.'
If your space is overlooked from above but planting isn't an option, then a garden parasol can also be used as a freestanding screening device. Whether you opt for cantilever or traditional, our guide to the best patio umbrellas offers some useful options. 
8. Style your space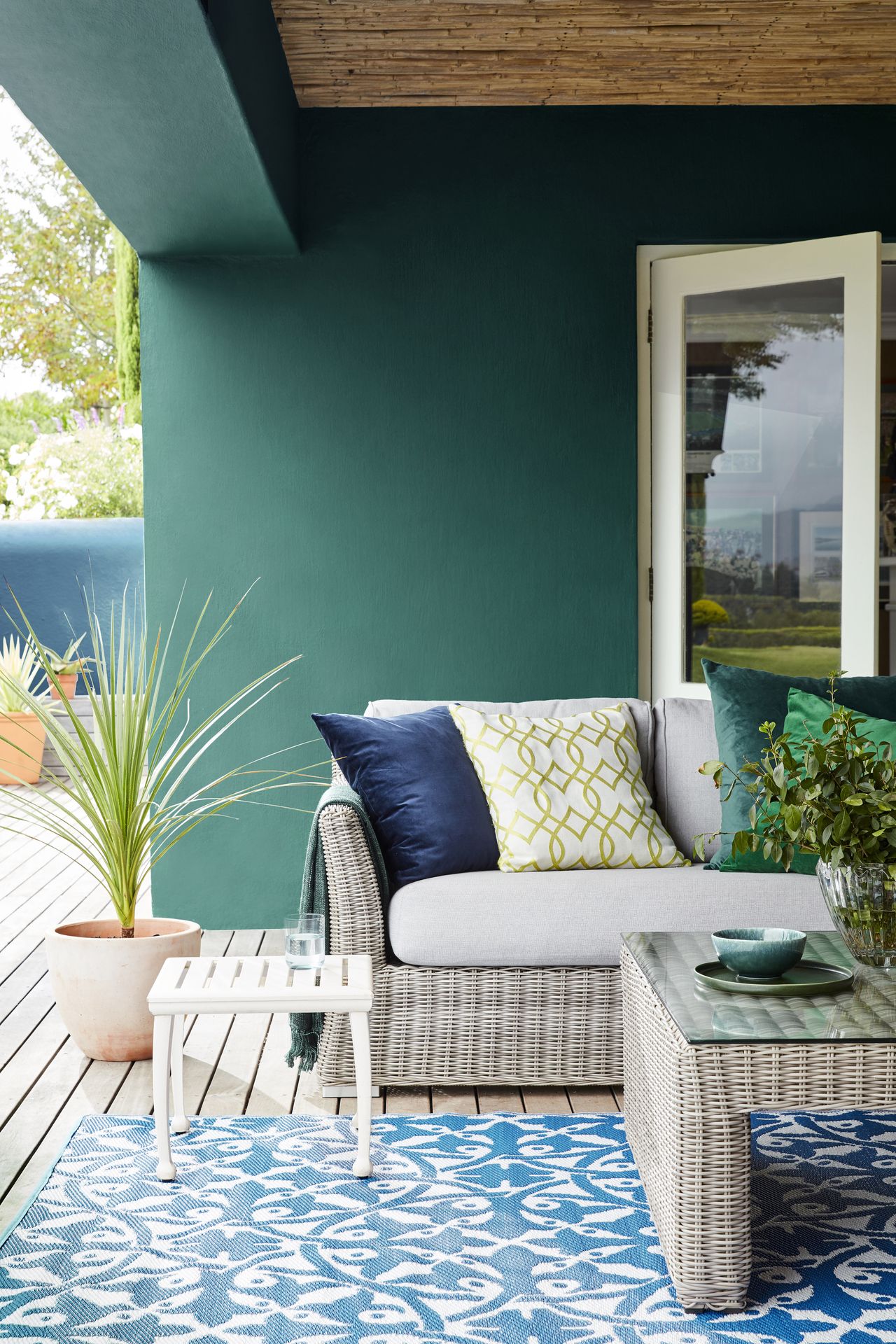 (Image credit: Little Greene)
Add a personal touch with carefully chosen pieces that pull the whole look together. 
Whether it's cushions, throws and outdoor rugs, or bigger items like furniture and garden sculpture, aim for these finishing touches to tie in with the design theme. Foldaway tables and outdoor chairs are a great additional choice to bring out when you're entertaining. 
Rugs, cushions and throws in muted tones of dove grey are contemporary yet have a classic quality. Grey is also a good neutral to tie in with your planting scheme, complementing the cool tones of lavender and white shown here. It's a natural fit with landscaping materials such as concrete and stone too.
9. Opt for flexibility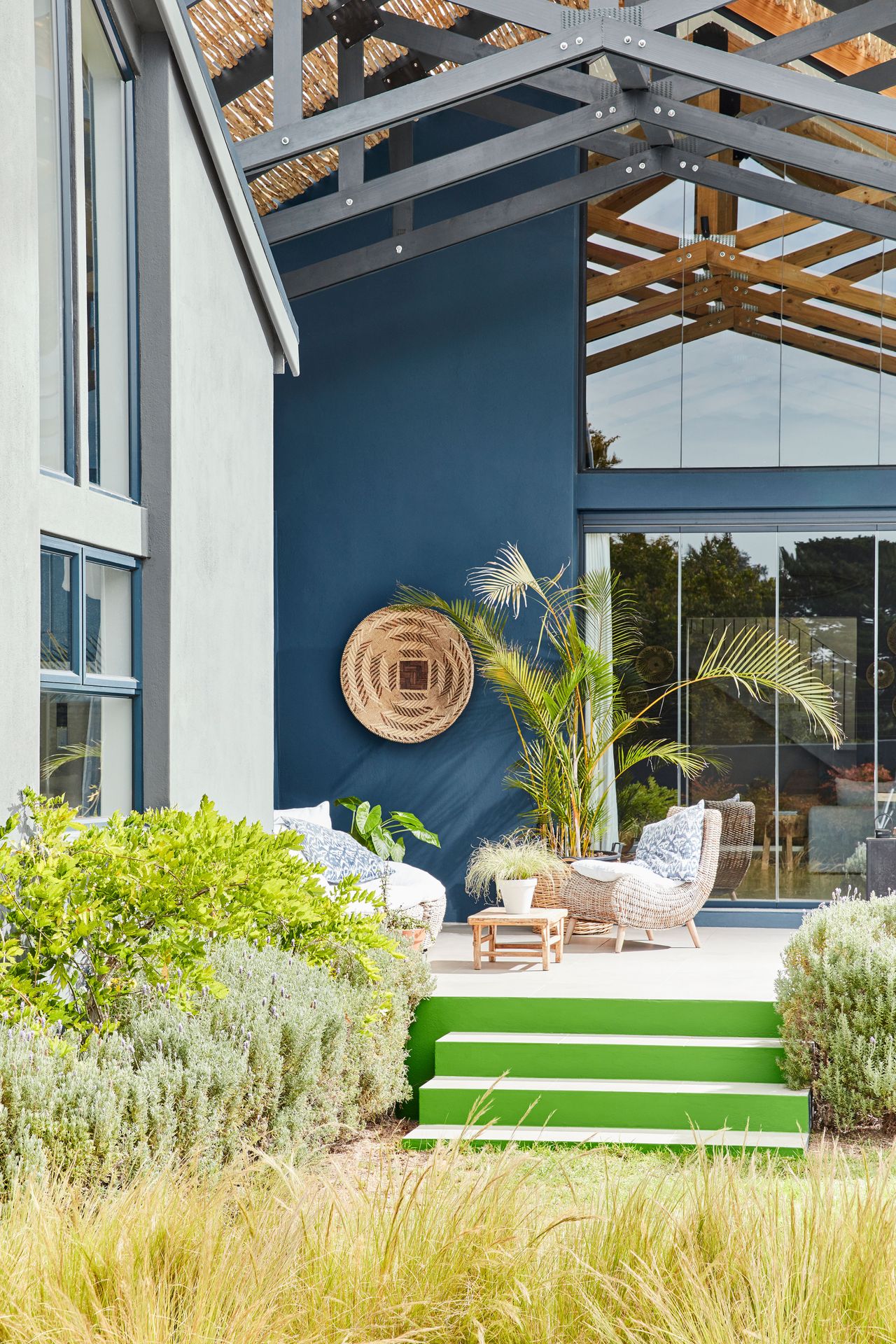 (Image credit: Little Greene)
Even the smallest backyard or patio can be turned into a great entertaining space, as this patio idea demonstrates. 
This stunning courtyard backyard has a cozy seating arrangement, surrounded by planting to make it feel secluded.
10. Create a focal point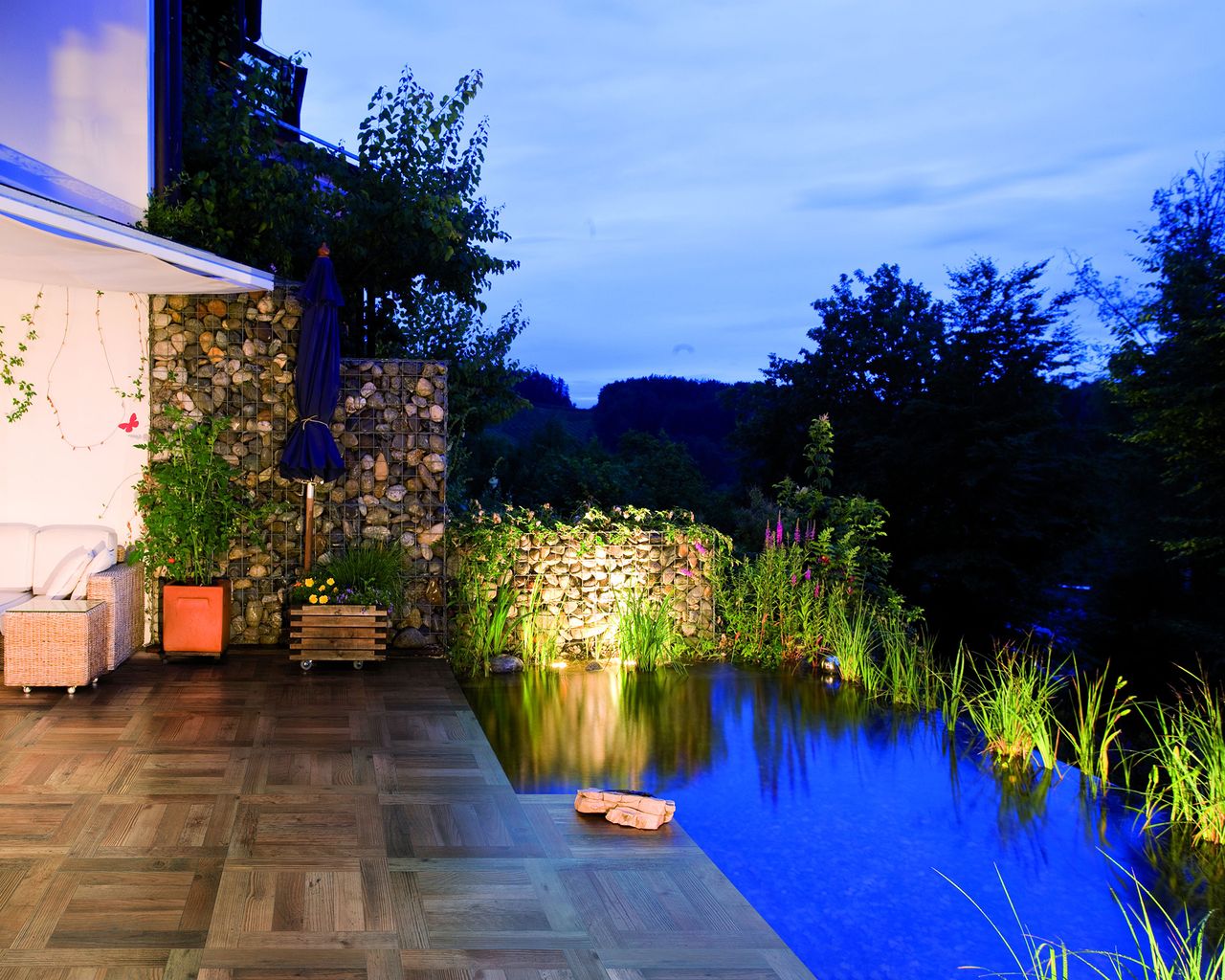 (Image credit: Real Stone and Tile Co)
A focal point in the garden that you can see from the house will tie the two spaces together. 
This could be a water feature, garden pond ideas, sculpture, decorative planters or architectural plants lit for effect at night to create an atmospheric backdrop that can be enjoyed from indoors too. It has the bonus of making the interior feel more spacious as the eye is drawn outside beyond the walls. 
This luminous pool is uplit to draw the eye to the stylish gabion baskets filled with smooth stones that flank the edges and the sculptural qualities of the planting.
11. Keep planting simple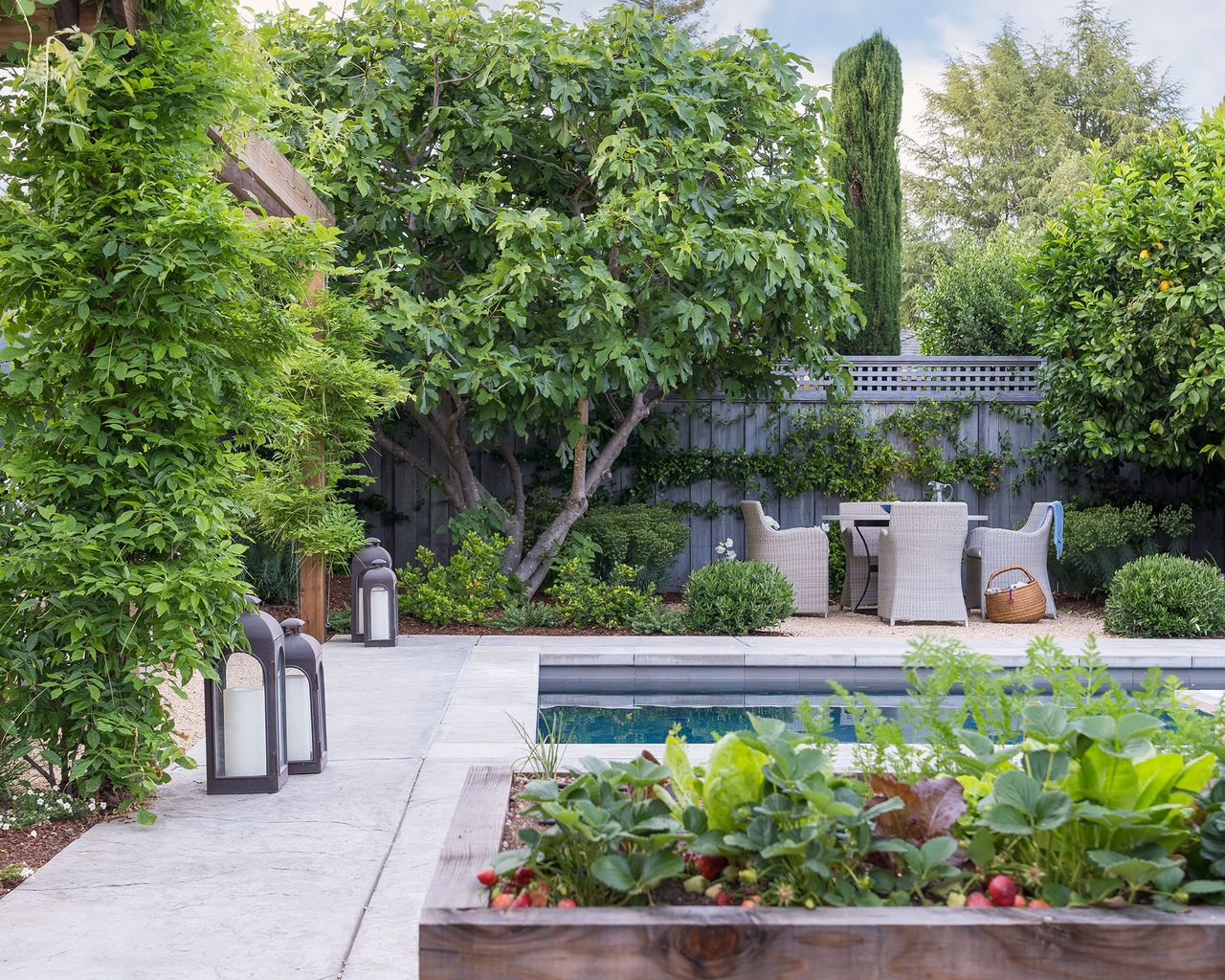 (Image credit: Courtesy of Christian Douglas Design)
For a low maintenance option that looks good, stick to a palette of planting with only one or two colors in addition to green. 
Limit the number of different types of plants, especially if you're working with small backyard ideas, as too much can look crowded and fussy. 
Always use a combination of structural and seasonal planting, such as a stylish and easy mix of low evergreen hedging, grasses and perennials.
Structural plants form the framework of a garden and help to define the space, so deciding where to position them is an important first step during a makeover or redesign. 
12. Limit your color palette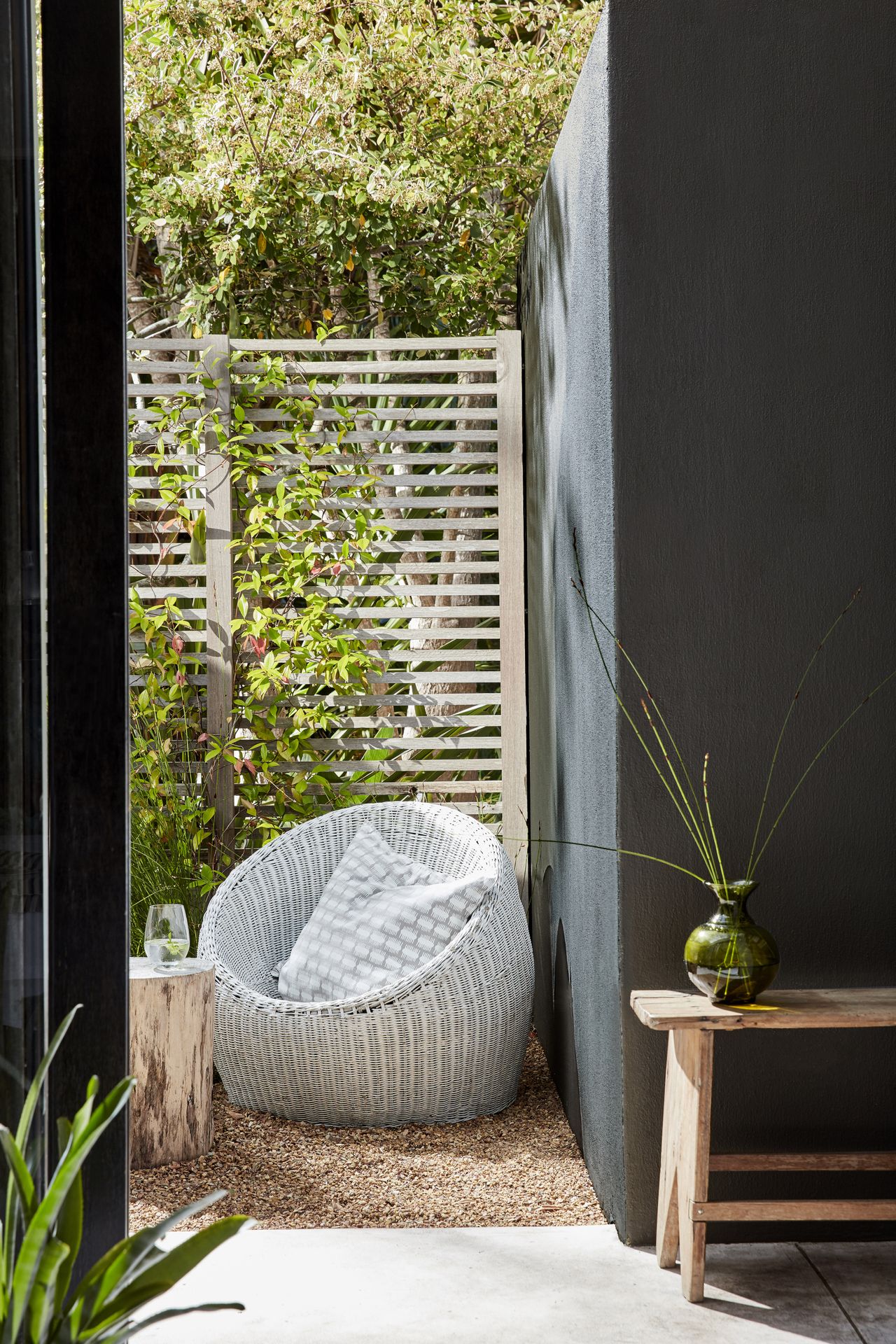 (Image credit: Little Greene)
Co-ordinating seating and walling materials in sympathetic tones allows the planting to take center stage and pulls the space together.
'Limiting your palette to a tonal range or selecting one finishing touch as a highlight will create a much more calming effect," says Kate Gould. Choose materials that are in keeping with your property and the surrounding area. 
Be sure to maintain this vision for your space at all times and don't deviate from it however tempting other options might be. Throwing the kitchen sink at your garden just complicates things. Stick to your plan and this will ensure that your finished garden is exactly what you had in mind.
13. Add a water feature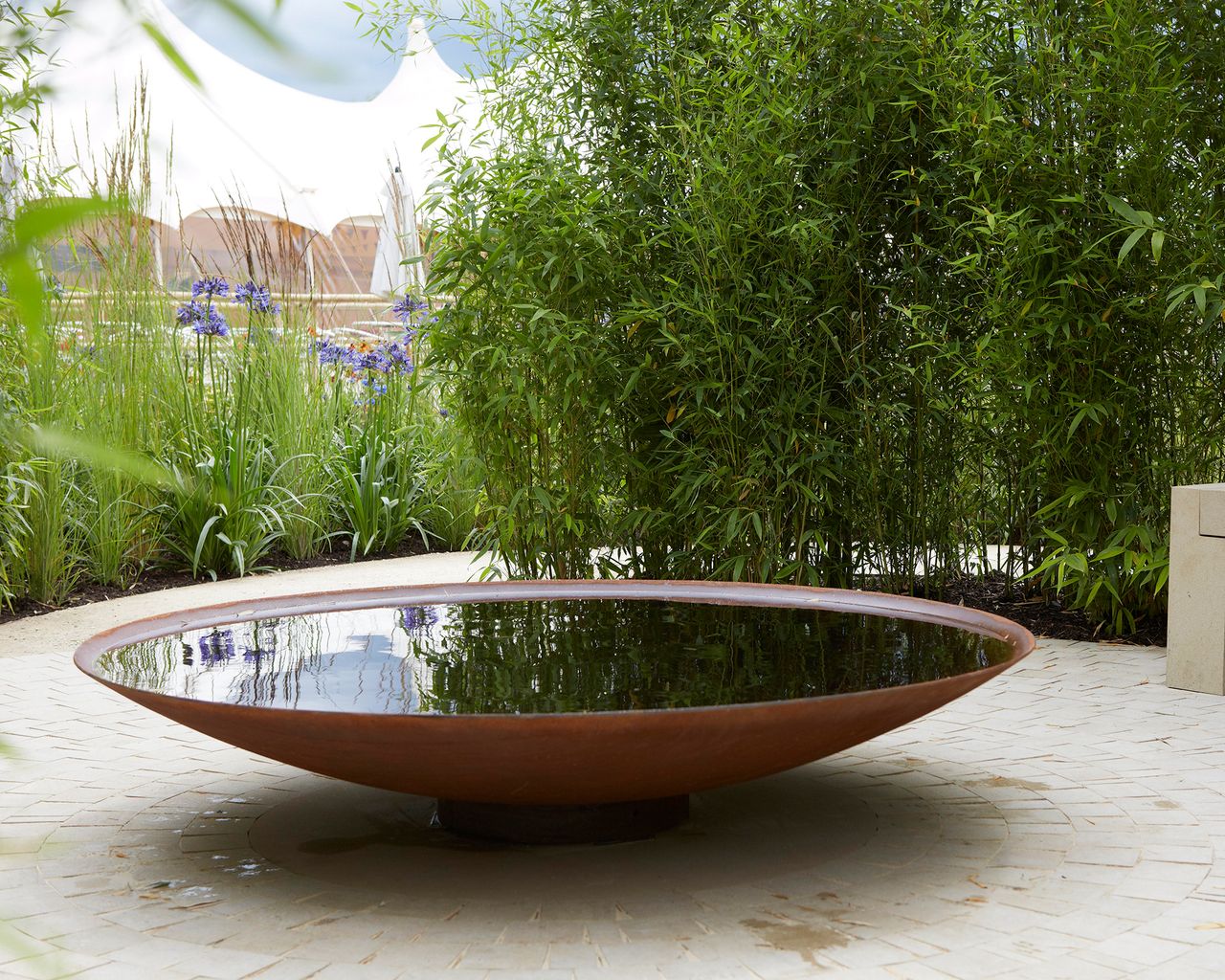 Photography/Britt Willoughby Dyer
(Image credit: Tom Massey)
Top of everyone's wish list when it comes to ways of introducing a relaxing element in the garden, soothing water features look most natural when paired with lush planting. 
'This corten steel bowl is filled with water that's been dyed black, a simple and low cost way of including water in your design,' says Tom Massey. 'The key to its success is simplicity. The black water is still and reflective, creating a calm atmosphere surrounded by the lush green bamboo planting.'
A reflection pool like this is easy to do and works well if you like a sleek and minimal look. There's no pump, electricity or water supply involved either – which is good if you're trying to keep an eye on the landscaping cost of your yard.
14. Get the structure right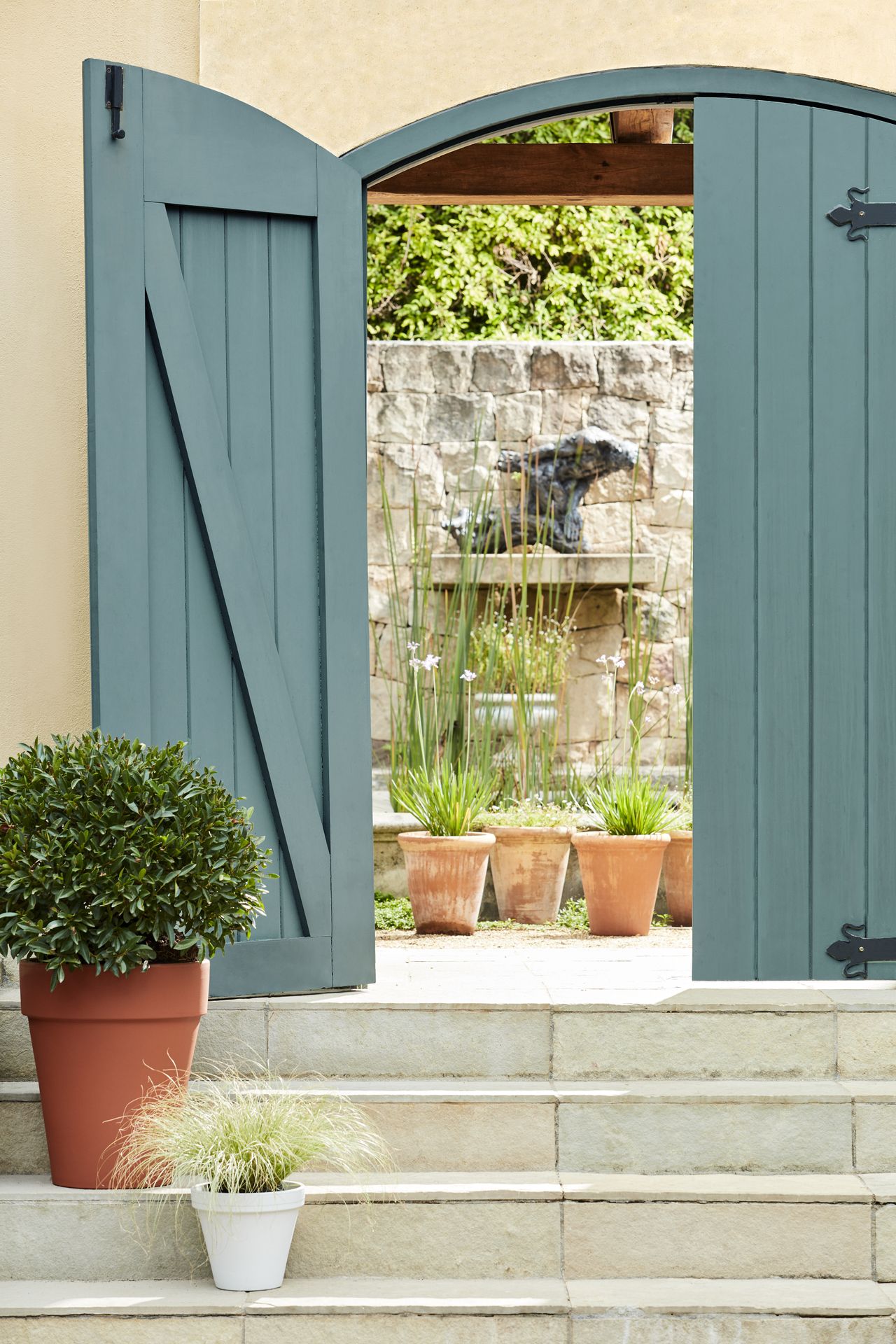 (Image credit: Little Greene)
Less is more when it comes to hard landscaping materials so limit your choices to a couple of options. 
Raised garden beds that co-ordinate with the patio pavers also work as a boundary, shifting the emphasis and leading the eye away from the next door garden. They also help to create a secluded seating area. 
Flooring materials that can be easily swept and cleaned, and are tonally or materially the same as the interior finishes of the property help link the spaces and are a practical option when indoor-outdoor living comes together like this.
15. Prioritize relaxation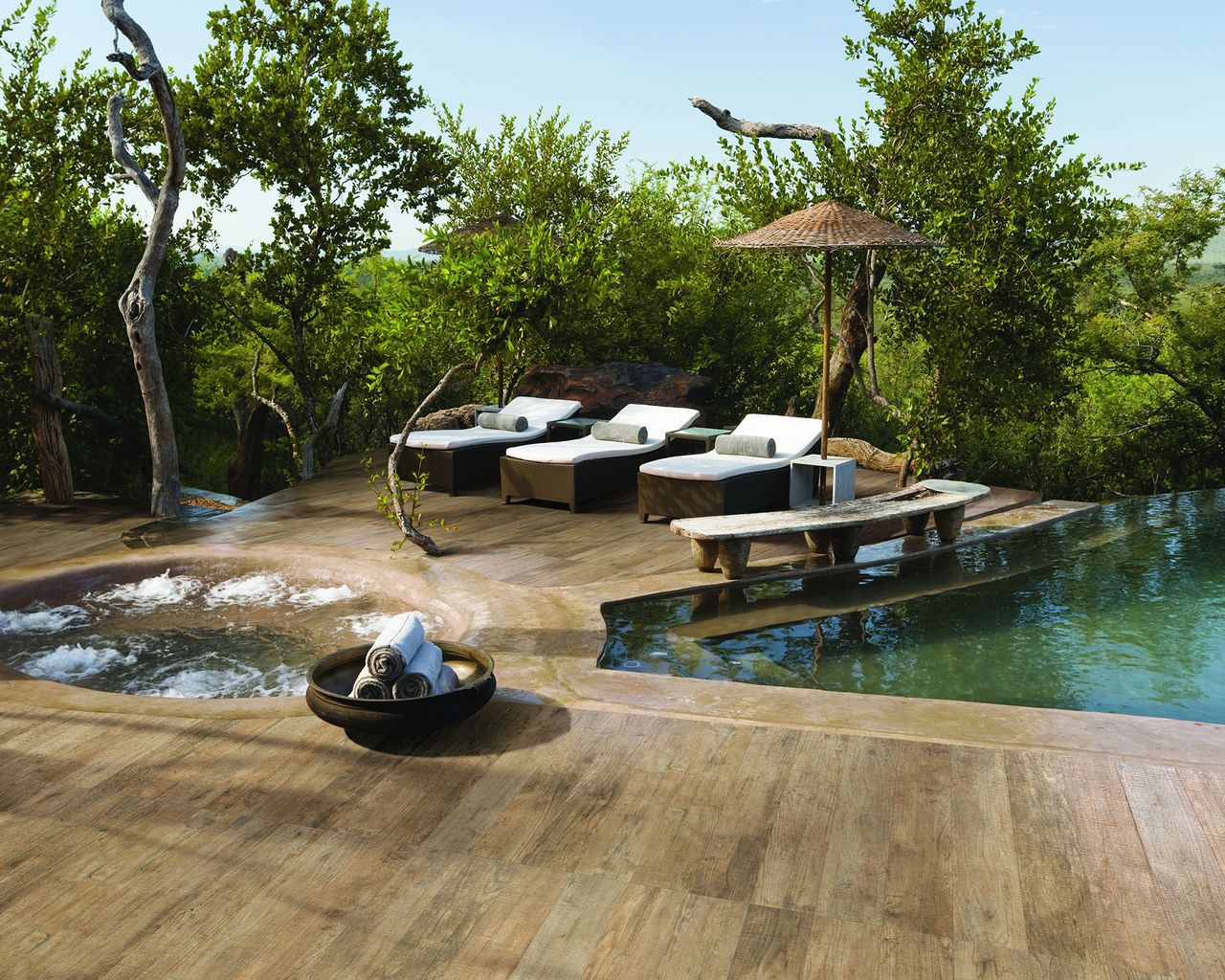 (Image credit: Real Stone and Tile Co)
Your back garden is very much your own private space. It should be somewhere to relax in. You could even turn it into your own spa-style area. 
Maybe you like the idea of an integrated hot tub to relax in, fancy a full-on pool to take a dip or simply want a place to park your yoga mat or take a few rays. Whatever your choice, relaxation should be a key factor in any garden design. After all, taking a vacation in your own backyard is quite the trend now. 
Choose from hard wearing, low maintenance, deck ideas such as non-slip porcelain tiles which are practical when water is part of the design and also easy to keep clean.
16. Design a small space carefully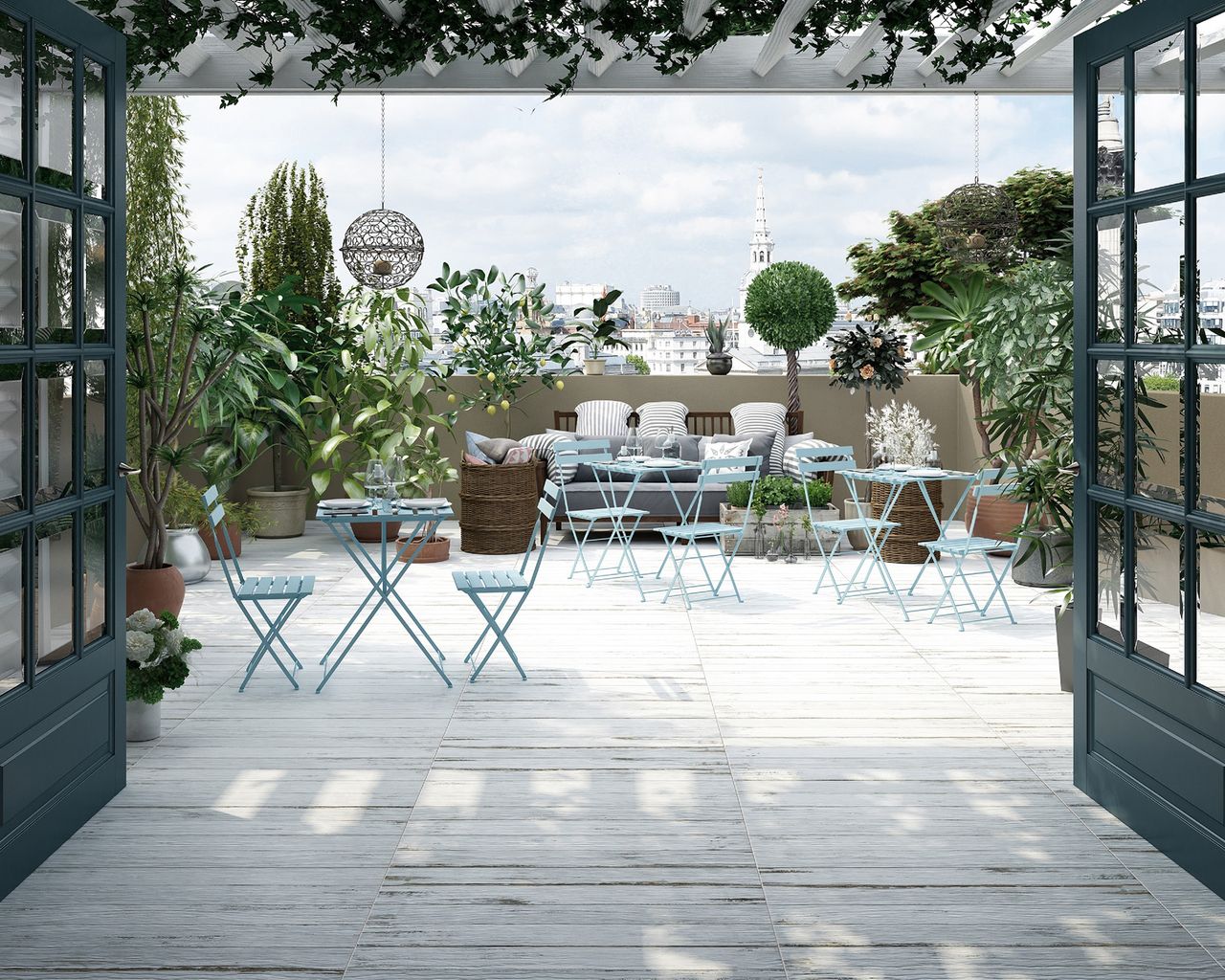 (Image credit: Real Stone and Tile Co)
Balcony gardens and roof garden ideas need extra planning, particularly when it comes to how you're going to maintain the space. 
'While real wood has become a desirable aesthetic to incorporate into your outdoor space, it also demands regular maintenance and care,' says Leigh Price, Director of Real Stone and Tile. 
'Wood-effect tiles give you the ability to create the same stunning design, without the high price and annual upkeep. Porcelain tiles are water and stain resistant, which makes them the perfect for outdoor entertaining.'
17. Fix your lawn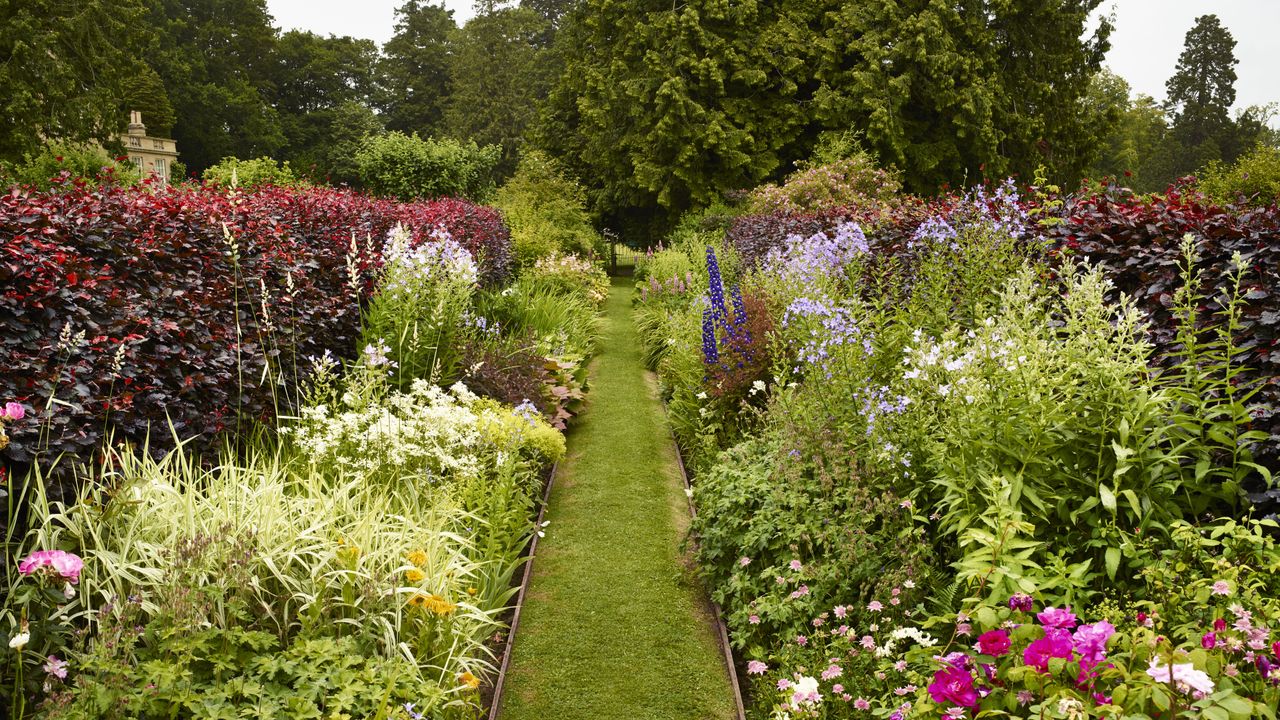 (Image credit: Future)
Walking barefoot on a green swathe of velvety lawn is one of life's pleasures and for many it's a backyard must-have. 
Cutting your lawn frequently leads to the best results. This generally means once a week during summer. Leaving the grass slightly longer can reduce the chances of it going brown and drying out. 
Treat your lawn to a nitrogen-rich liquid feed that's formulated to green things up. You should see an improvement within a week. 
What should I put in my backyard?
Keep things simple. Decide what you want your space to look like and stick to your vision. Trying to squeeze in too much will often leave the end result feeling busy. 
Hard landscaping materials are the bone structure of the garden while planting is used to soften and enhance the space. Aim for a streamlined combination of the two. 
Focus on planting that offers year-round interest with a balance of color, fragrance, foliage, structure and winter stems. Always include some evergreens in your planting scheme to green up the space permanently. 
Include several seating area perhaps one for lounging, one for dining and another to provide a space for quiet contemplation. Aim to follow the sun (or shade) round the garden.
How do you style a small backyard?
Plan a 'journey' through the backyard, even if the space is small. 
Create areas of the garden that are not seen on initial view and can only be appreciated once you are immersed in the space. This helps build a sense of anticipation. It fools the eye, and makes the garden seem larger than it is. 
Distinctive features and focal points will encourage progression through to maximise the space. 
Choose dramatic planting to shift the eye away from cramped dimensions, and contrasting textures and materials to make a space feel larger. Look at the details too. 
Adding a stylish mirror panel will create impact and enhance the space by bouncing light around and creating interesting reflections. 
How do you make a backyard feel cozy?
Outdoor fireplace ideas immediately make a backyard cozy. Setting up a seating area around a firepit, log burning brazier or chiminea is a tried and tested formula to make a backyard feel cozy. Consider a retractable roof cover or explore pergola ideas for your patio to add to the sense of enclosure too.
Lighting is also key to creating an intimate space. Add drama and atmosphere with a selection of lighting for that all-important glow at dusk. 
For best results, add layers of lighting at different heights, starting with low level recessed uplighters and battery powered lanterns. Then add hurricane lights at table height, finishing with wall-hung styles and outdoor string lighting looped through branches or from a pergola. 
How do I make my backyard more private?
Boundaries are one of the first things you need to take into account if you want to create a sense of privacy in your backyard. 
Slatted fencing panels let air in and feel less rigid than solid blocks. 
Vertical living walls are another good way of masking a view while enhancing your own green space. 
A row of pleached trees will help to block out neighbouring houses if your garden is overlooked and can be uplit at night to shift the spotlight on to your own space. 
A pergola also gives you privacy from above if you're overlooked.