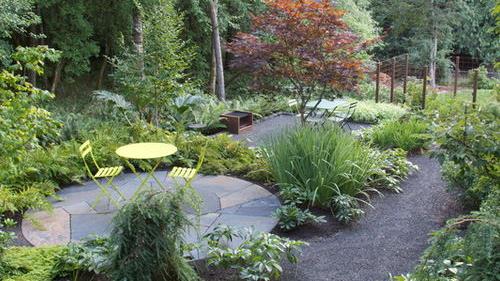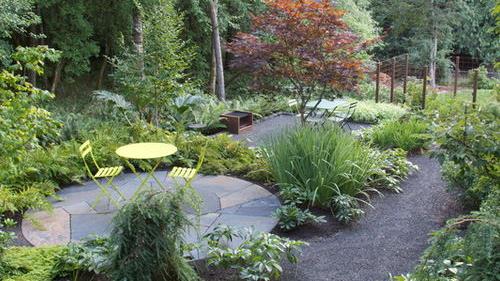 3. Curved lounge. While the primary patio or deck off the house may serve as the spot for an outdoor dining table, a second smaller patio creates an opportunity for a more intimate gathering area. In this contemporary garden in London, designer Kate Eyre used curves to carve out planting beds, walkways, the main patio and a smaller satellite one. The curvaceous design with multiple destinations transforms a narrow, rectangular city lot into a dynamic backyard.
4. Leafy retreat. For a greener look, use pavers planted with creeping ground covers as the floor for your satellite patio. In this garden in Melbourne, Australia, reclaimed granite pavers lead a visitor from the larger patio off the house through lush, curving borders to what feels like a clearing in a forest. Bright chairs and a sleek table give a reason to wander down the path.
5. Dining destination. Elevate a satellite patio to give it more presence in the landscape. Taking a few steps up to a stone terrace gives the sense of a journey to a destination and can make two parts of a small garden feel like distinct areas.
6. Evening hangout. If the main patio off the house receives most of the day-to-day use — perhaps as an area for cooking and eating outside — create a satellite patio for after-dinner enjoyment. Place chairs around a flickering fire pit, or light lanterns to cast an inviting glow around an outdoor lounge.