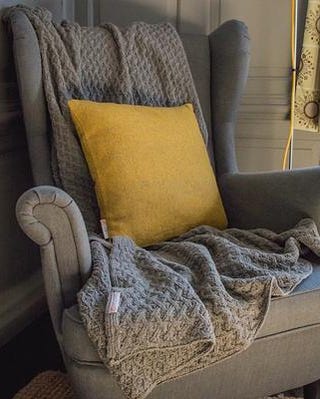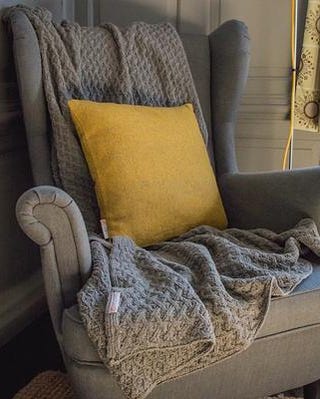 Looking to create a lasting impression? Pink, red and grey are among the most popular house exterior colours taking the UK by storm in 2021, research by Dulux Weathershield has found.
As part of their inaugural Great British Exterior Trends Report, the paint brand analysed Google searches to uncover which exterior colours are gaining the most attention. While grey scooped first spot, other trending hues to dip your paintbrush into include blue, beige and black.
Described by Dulux Weathershield as "welcoming colours", these are the perfect shades to paint either your front door or outside brickwork. As well as boosting kerb appeal, previous research discovered that some hues could even boost your property value by thousands.
"The colour you paint the outside of your house probably says more about you than the clothes you wear and the car you drive so it's important to choose a palette that you and your neighbours will love for years to come," Marianne Shillingford, Creative Director at Dulux, says.
"Colours that work with the building materials and the surrounding landscape are probably the most popular for painted masonry, eaves and window frames but when it comes to front doors and gates, we tend to throw caution to the wind and add a good slug of something that makes us happy and will attract big smiles and admiring glances from passers-by."
Blue also made the list
Dulux
Elsewhere in the report, Dulux Weathershield also analysed search data over the last few years to uncover which trends are here to stay. At the top of the list is exterior wall colours, with a whopping 92,900 monthly searches in 2020. Meanwhile, garden decking is the second biggest trend, with Google searches expected to increase by 437%.
Take a look at the full findings below…
10 popular exterior paint colours for 2021
Grey (7,130 trend volume)
White (3,570)
Blue (1, 160)
Pink (570)
Green (450)
Cream (350)
Yellow (220)
Black (40)
Red (40)
Beige (40)
10 popular exterior trends for 2021
Outdoor wood paint
Brick paint
Upvc door paint
Grey decking paint
White masonry paint
Black wood paint
Patio slab paint
Waterproof paint for wood
Outdoor concrete paint
Garden slab paint
22 stylish, sustainable homewares pieces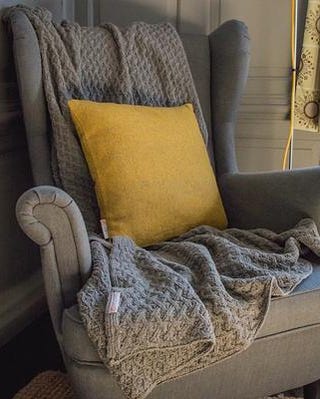 Zig Zag Square Recycled Wool Cushion
Hemming & Wills
hemmingandwills.co.uk
£19.50
Forget what you thought about scratchy, recycled fabrics – these wool cushions are really comfy to snuggle up with. Choose from a denim blue or ochre tone, but we'd recommend the yellow as it really draws your eye. Your sofa will look much more cheerful as a result.
Why's it eco? The cover is made from recycled wool clothing and the cushion pad is filled with an eco-friendly polyester made completely from post-consumer recycled plastic bottles.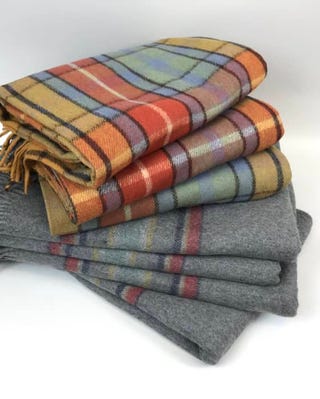 Recycled Wool Blanket
The Tartan Blanket Co.
trouva.com
US$42.00
Every home needs a good wooly blanket – use it to wrap up in on your armchair on a winter's evening, as a picnic blanket in the summer or as a decorative throw for your sofa. You don't even have to faff about with hand-washing either, as these go straight in the machine – impressive.
Why's it eco? Each blanket is made from material that would otherwise go into landfill, with at least 70% being wool.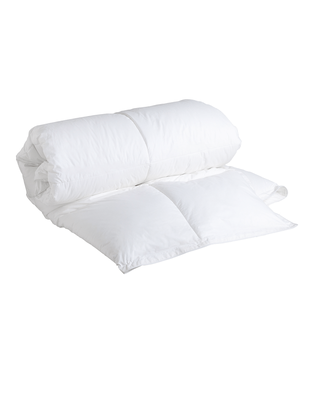 ReDown Recycled Feather & Down Duvet
Soak & Sleep
soakandsleep.com
£31.25
Forget stuffy polyester or commercially farmed down duvets – this is a far more sustainable choice. Stock up on two or three so you're sorted for all seasons; they're available in a light and airy 4.5 tog up to a thick and luxurious 13. We know it's still chilly outside, but if you're savvy and invest now, you can get the lightest version for 25% off. 
Why's it eco? It's filled with GRS-certified recycled feather and down.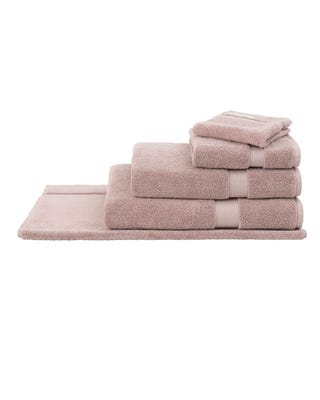 Eden organic cotton towel collection
Sheridan
sheridanaustralia.co.uk
£3.00
When your current towels have reached the end of their life, recycle or donate them and then replace them with a set of these quality organic cotton ones instead. They're super soft and fluffy; we tried the bath sheet and it's a real treat. Even better, they're currently on sale, so now's the time to stock up. Choose from dusky pink, black, grey or ivory. 
Why's it eco? These towels are made from GOTS-certified (that's the highest standard possible) organic cotton. Among other credentials, that means that no nasty chemical fertilisers or pesticides were used to grow it.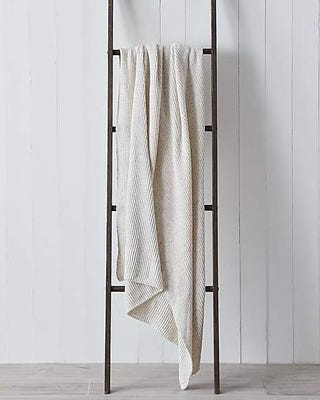 Thea Recycled Knitted Throw
Dunelm
dunelm.com
£30.00
We love this Dunelm throw. Not only is it completely affordable, but it comes in a choice of eight different colours. We opted for the Mink shade, which is a lovely warm neutral that works well with the pastel pink tones in my bedroom. 
Why's it eco? It's made entirely from recycled materials – 51% upcycled cotton and 49% recycled polyester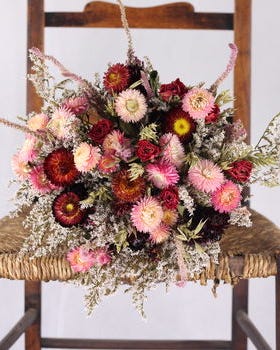 Autumn Skies Dried Flower Posy
Cottage In The Hills
£40.00
Adding a bunch of flowers to your dining table, chest of drawers or console table is such an easy way to boost the mood of a room, but the cost of your weekly bouquets can soon add up. Opt for an (equally lovely) dried version instead and enjoy them for far longer. 
Why's it eco? Rather than buying a fresh bunch every week (and all the plastic wrapping and intensive farming that involves) these should last for at least a year, so long as they're well cared for. A worthy investment.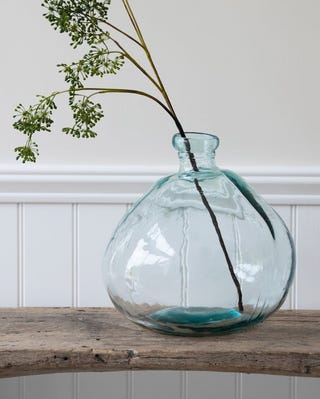 Wells Bubble Vase, Wide
Garden Trading
gardentrading.co.uk
£40.00
This elegant vase has a pale blue tone that will make for a soothing addition to your dining table or dresser top. 
Why's it eco? It's made from 100% recycled glass.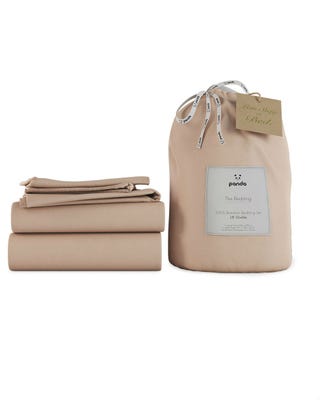 Vintage Pink Bamboo Bedding Set, Double
Panda
ethicalsuperstore.com
£145.00
This cosy bedding set comprises a sheet, duvet cover, two pillow cases in a matching dust bag. Our favourite is this dusky pink set but it's available in four other colours too.  
Why's it eco? It's made from 100% bamboo (yes, even the buttons), which is a highly sustainable resource as it's one of the fastest growing plants on the planet. It also only needs a third of the amount of water needed to grow thirsty cotton plants.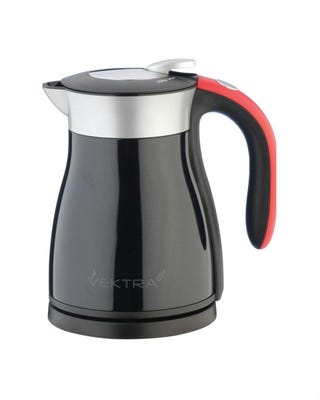 Vacuum Eco Kettle
Vektra
ethicalsuperstore.com
£59.95
We all know not to overfill the kettle when we use it, but still, we often find ourselves with a couple of mugs of water leftover after making our morning cuppa. This innovative kettle keeps water hotter for longer after boiling, preventing the need to reboil for your next top-up.
Why's it eco? This kettle has vacuum flask technology that boils water efficiently then keep it hot for up to four hours – so you're not continuously re-boiling, saving money, time and energy.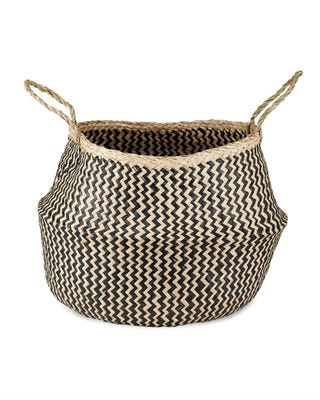 Black & Natural Ekuri Seagrass Basket, Large
Natural Collection
naturalcollection.com
£29.95
Use these decorative baskets to store blankets and other bits and bobs in, or use them as a pot cover for your favourite house plants. Do remember to use a normal pot inside, as well though, to avoid them getting grubby or water leaking through!  
Why's it eco? They're handmade to Fairtrade standards from sustainably-sourced seagrass (which is totally biodegradable).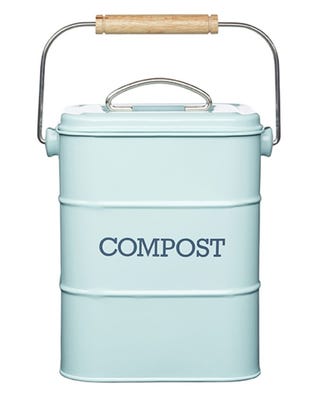 Vintage Blue Compost Bin
Living Nostalgia
naturalcollection.com
£16.99
This powder-blue composter is much prettier than your standard-issue council brown food waste bin, so it won't look unsightly in your kitchen. There's also an in-built filter to help keep bad smells to a minimum. 
Why's it eco? So the materials themselves may not have any extra-special sustainability credentials, but being able to pop all of your food waste in here rather than your rubbish bin helps to reduce the amount of waste going into landfill and put it back into your garden instead.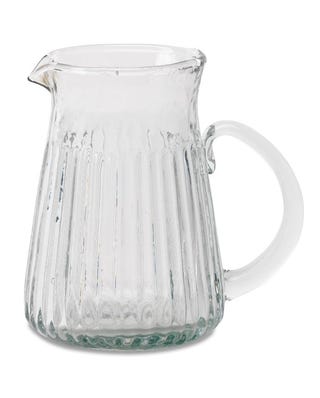 Ruri Recycled Glass Jug
Nkuku
naturalcollection.com
£11.85
This ornate jug will serve you well throughout the summer months for many glasses of Pimms. Snap it up now, as it's currently on sale.
Why's it eco? Recycled glass, on average, uses 30% less energy to make then virgin glass – and this is 100% recycled.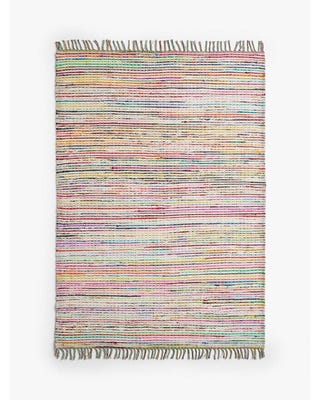 Recycled Cotton Chindi Rug
John Lewis & Partners
johnlewis.com
£12.00
Add a splash of colour to your living space with this vibrant rag rug – we think they'd look good in a dining or hallway area. 
Why's it eco? The cotton in the rug is recycled.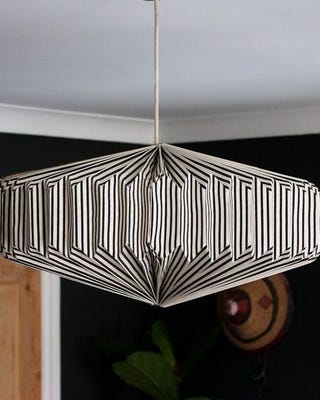 Indian Recycled Paper Saucer
Trouva
trouva.com
£35.00
So it's a bit unusual, but this paper lampshade is a guaranteed talking point – it's certainly a far cry from the dusty paper globe shades that adorned your student digs.  
Why's it eco? It's made from 100% recycled paper and there's no plastic bulb holder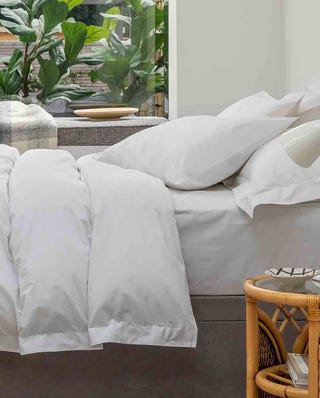 200TC Organic Cotton Double Duvet Cover
Soak & Sleep
soakandsleep.com
£24.74
Soak & Sleep's all-white bedlinen will create a hotel-style sanctuary in your own home – and you can sleep even more soundly knowing it's made from planet-friendly organic cotton. 
Why's it eco? The cotton is organic, so no chemical pesticides were used throughout the production process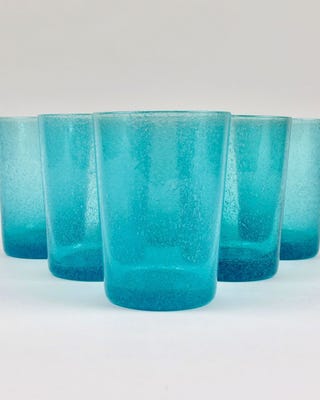 Set of 6 Recycled Glass Tumblers
British Colour Standard
£42.00
If you've accidentally dropped one too many glasses and your selection is looking a bit thin, replenish your stash with this bright and beautiful set of six. 
Why's it eco? They're made from 100% recycled glass.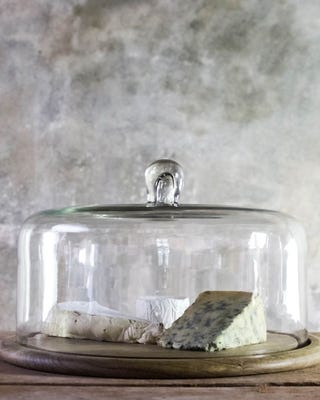 Recycled Glass Cake Dome
Keep cakes, cheese and other treats safely away from flies under this glass cake dome, which makes for a beautiful decorative piece in its own right.
Why's it eco? The glass is completely recycled and the base has been made from sustainably-sourced mango wood.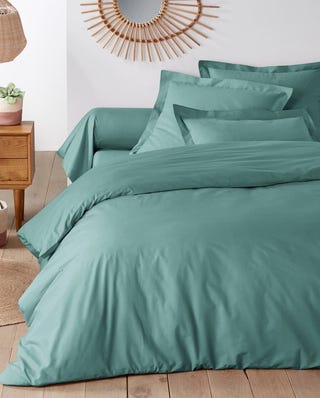 Scenario Organic Cotton Duvet Cover
La Redoute
laredoute.co.uk
£40.00
If the all-white look isn't for you, go for this organic bedding set from La Redoute instead, which is available in an array of bold and more neutral tones. 
Why's it eco? The cotton is organic, so no chemical pesticides were used throughout the production process.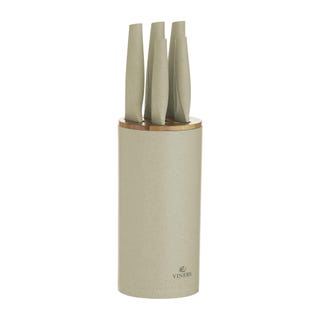 Organic Natural 5 Piece Knife Block
Viners
silvermushroom.com
£29.95
This minimal block is available in a sage green or calming oatmeal and contains all the knives you should need – a chef's knife, carving knife, bread knife, utility knife and a paring knife. 
Why's it eco? The knives have been made from at least 85% recycled steel and the block and handles are part-made with wheat fibre; a natural by-product from the wheat farming industry that's usually burned. The bamboo lid on the block can also be recycled or composted.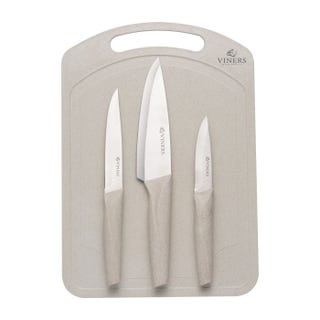 Organic Knife Set with Board
Viners
viners.co.uk
£21.00
Want to complete your set? Add this matching organic knife and chopping board set to your Viners collection. The knives are super-sharp and the board is great quality, too. 
Why's it eco? Like the knife set above, this set has been made from wheat fibre, which will break down under normal composting conditions within three to 36 months.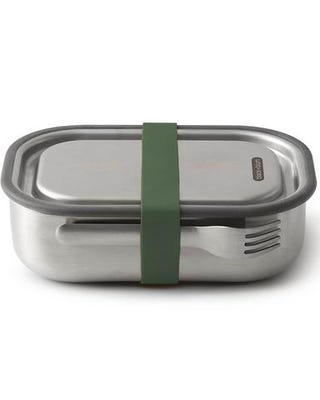 Stainless Steel Lunch Box
We love this steel lunchbox and fork combo. It's got a removable metal divider inside so you can keep salad away from grains, for example, or leftover curry separate from rice. It can also be used as an oven dish or a freezer container, making it really great value for money. 
Why's it eco? With care, this lunchbox should last you a lifetime – so you'll never have to buy another. It's made from BPA-free, quality steel under ethical conditions in China.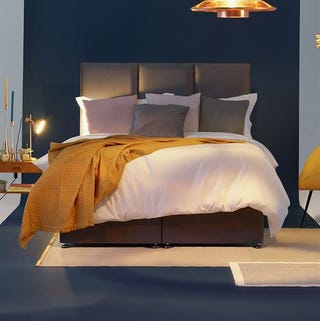 The Lux Mattress
Brook + Wilde
brookandwilde.com
£599.00
Obviously, a new mattress is a serious investment – so sleep guilt-free by checking the eco-credentials of your new mattress company. Brook + Wilde are a premium British mattress-in-a-box company with a focus on quality – and sustainability. I have the medium Lux mattress and would say it's on the firmer side, which personally, I prefer – my back feels much better in the mornings since switching. 
Why's it eco? For every mattress sold, B+W will plant a tree – and operates a zero-waste policy throughout production. Impressive.
This content is created and maintained by a third party, and imported onto this page to help users provide their email addresses. You may be able to find more information about this and similar content at piano.io